Breakfast in Bed Ideas (5 Simple Ideas)
These quick and easy breakfast in bed ideas for Valentine's Day, Mother's Day or Anniversaries are romantic, fun and require simple food items and supplies.
*Thank you Dunkin' Donuts for sponsoring today's post so that I can share 5 easy breakfast in bed ideas with all of you. As always, all opinions are mine.*
Get ready to BRIGHTEN your partner's morning with one of these breakfast in bed ideas!
They are quick and EASY to make, romantic and so colorful!
I think the first time I had breakfast in bed was on my 21st birthday when my sister woke up early, cooked everything, set it all up in a pretty tray and came into my room to surprise me.
We had the best time ever and it's still one of my fondest MEMORIES!
Since Valentine's day is only a day away, I thought I would share these SIMPLE breakfast in bed ideas that are sure to win you some brownie points 😉
Let's start with this pink and white breakfast in bed tray, which is my absolute FAVORITE.
It includes:
Strawberry milk
Triple chocolate granola bars
I LOVE how Dunkin' Donuts released these Chocolate-Covered Raspberry and Brownie Batter Crumble heart donuts just in time for Valentine's day.
THEY are ADORABLE and delicious plus it's a WONDERFUL way for two people to share their love for sweet treats! 😉
I bought a dozen to sample and honestly, we had none leftover. Everyone LOVED them!
You can also get more updates about Dunkin' Donuts new products here. They are constantly coming out with new treats and it's so exciting!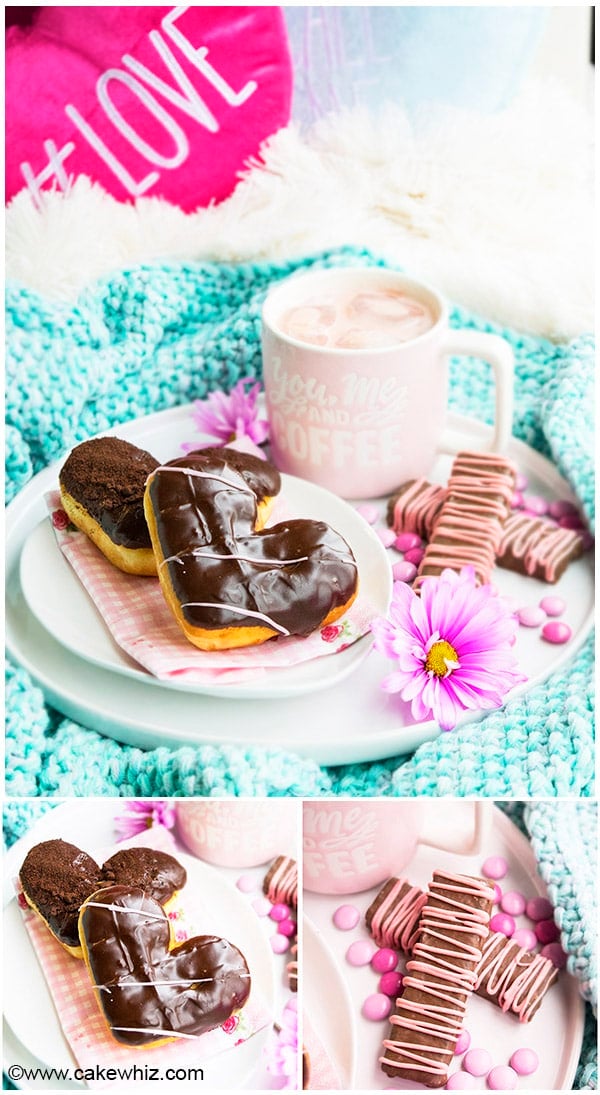 Here's another breakfast in bed idea.
This one reminds me of SUMMER and sunshine and brings a big smile to my face.
It includes:
Tea
Pears
Dunkin' Donuts croissant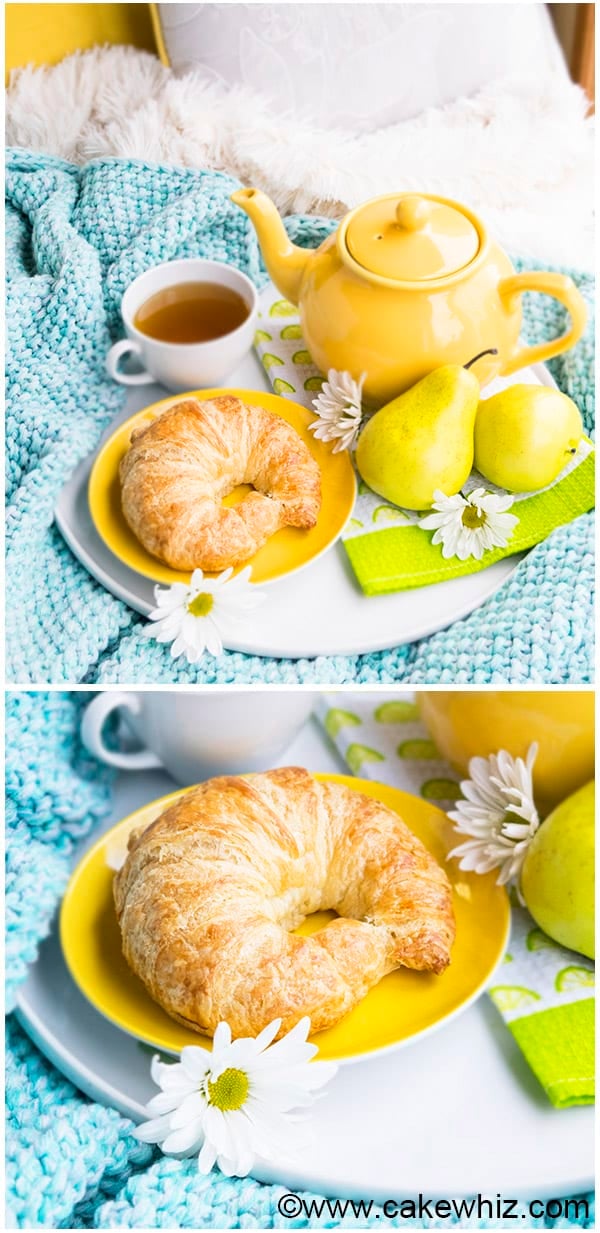 My son helped me set up this next tray and I love how BRIGHT and colorful it turned out.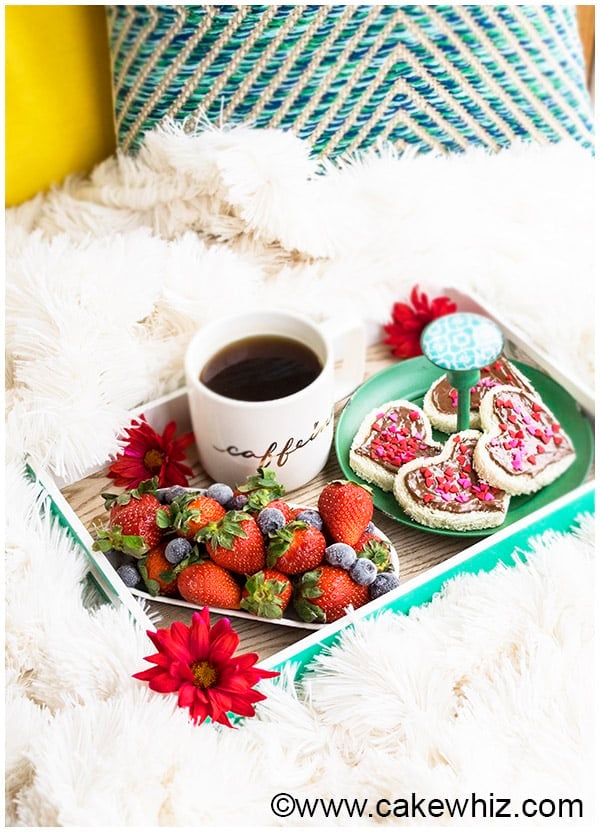 It includes:
Heart shaped Nutella sandwiches
Strawberries and frozen blueberries
Dunkin' Donuts "Vanilla Cupcake Swirl" Coffee (Guys! This coffee in INCREDIBLE! You can taste the wonderful vanilla cupcake flavor in each sip and smell the PHENOMENAL sweet aroma. It is a strong flavor but not over-whelming which is fantastic! Seriously, I have been ordering it every morning for the past few days…lol. They have also released a "Fudge Brownie Swirl" coffee flavor and that's really good too. You can taste hints of chocolate and brownie in each sip….Mmmmmmmm! Also, you can enjoy both of these flavors in hot or iced coffees, lattes and macchiatos. I, personally, like it in my hot coffee).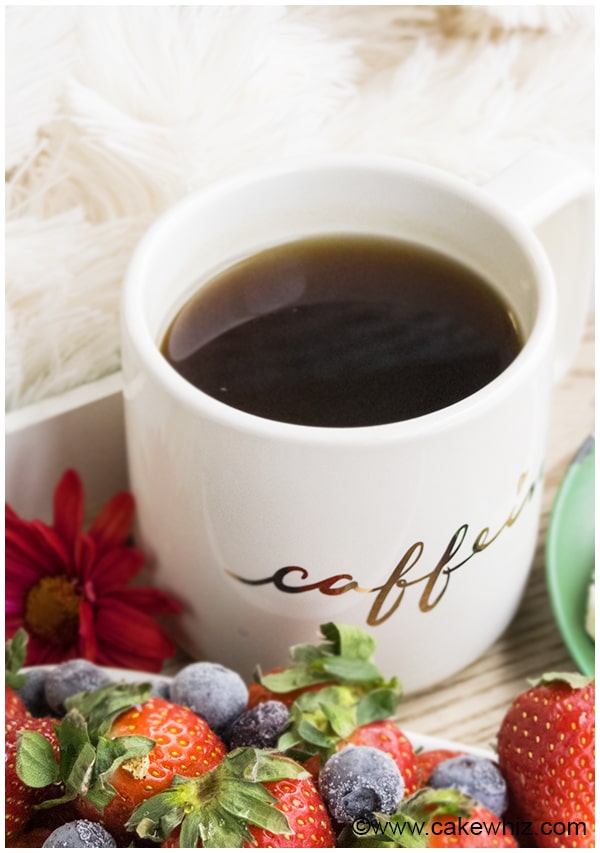 Now, this next breakfast tray would be a GREAT breakfast in bed for your boyfriend, husband or even your dad.
This tray has a masculine RUSTIC charm, thanks to the wooden tray and blue color scheme.
It includes:
Coffee
Chocolate dipped cookies
Dunkin' Donuts croissant donut (These have the flavor and texture of a donut and croissant all wrapped into one incredible treat!)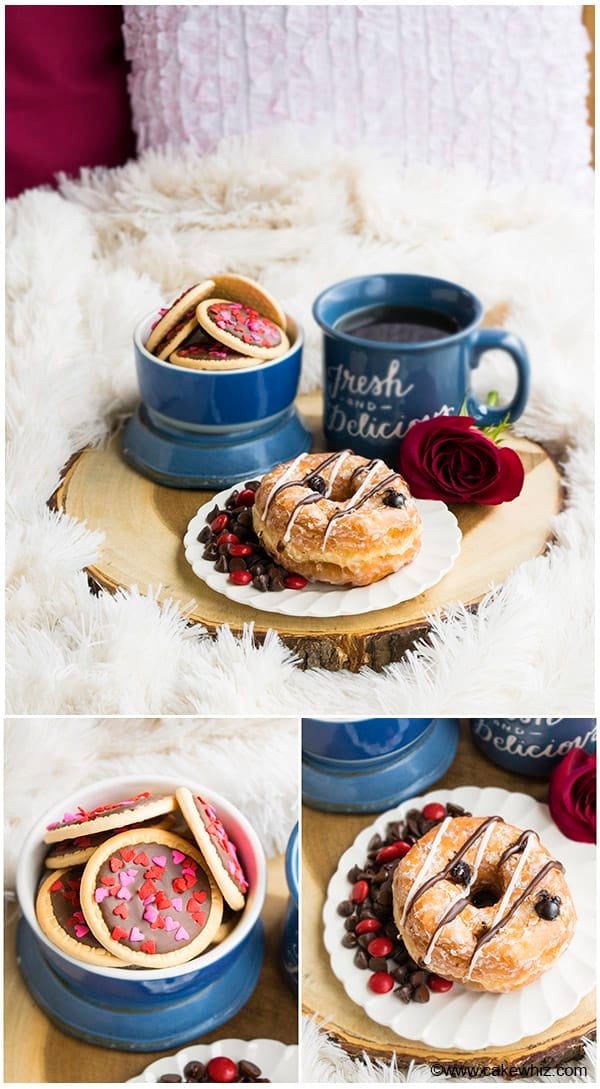 Here is another "MANLY" breakfast in bed tray with more neutral color tones.
It includes:
Coffee
Apples
Walnuts
Dunkin' Donuts poppy seed bagel with cream cheese filling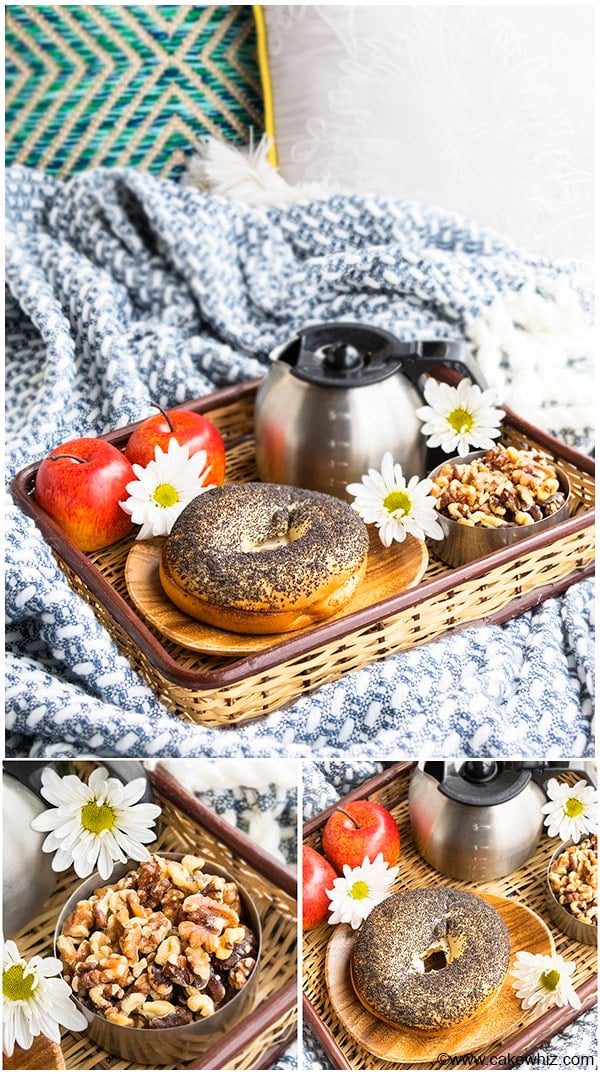 Here are some TIPS for making the PERFECT breakfast in bed tray:
Make sure to coordinate colors of your tray, plates, napkins, utensils properly. The colors should all compliment each other.
You don't have to make everything from scratch. You can buy a lot of food and drinks from the grocery store or your favorite bakery and coffee shops like Dunkin' Donuts.
Don't over-fill your tray. It should be kept simple and clean and must include your partner's favorite breakfast items.
Make sure to use a sturdy tray so that everything is stable and nothing is rolling around when you place it on the bed or the side table.
Also, here are some COMMON questions and answers that are probably going through your mind…
What is best breakfast in bed? What makes a good breakfast in bed?
That varies greatly. It all depends on what your partner enjoys.
In my opinion, a good breakfast tray should include the following: 1 beverage, 2 food items, 1 type of decoration (e.g. flowers or petals), 1 magazine or newspaper, utensils and napkins. It makes the most balanced tray without looking cluttered.
What to have for breakfast in bed?
You need breakfast food items like:
Croissant
Bagel and cream cheese
Fresh fruits
Sandwiches
Omelette or scrambled eggs with toast
Beverages like milk, juice, coffee, tea or even champagne
Donuts and other pastries
Oatmeal
Cereal
Pancakes
Waffles
Muffins
Nuts
How to make breakfast in bed?
It's simple. You can either cook or bake his/her favorite breakfast items or buy them. Then, arrange everything in a nice tray and surprise your partner in the morning!
If you are traveling, you can get breakfast in bed in a hotel but you will have to make arrangements with the manager beforehand.
How to have breakfast in bed?
You can just place the tray on the bed and enjoy OR you can place it on a side table to keep it more secure.
How to present breakfast in bed?
Present everything in a tray. Use a tray that's big enough to hold all the breakfast items and make sure all those items are spaced out and not cluttered on the tray.
How to decorate a breakfast in bed tray?
Decorate with fresh flowers, colorful napkins/utensils and use a pretty tray.
Why eat breakfast in bed?
That's because it's comfortable and so romantic!
What to make for breakfast in bed for Mother's day or Valentine's day?
Make her absolute favorite breakfast items. Some popular breakfast items such as pancakes,waffles and muffins are always a hit.
Where to buy breakfast in bed tray /table?
You can buy them online from Amazon or Ikea or even Target.
Well, I hope you were inspired to make something special for your loved one tomorrow.
Until next time, tata my lovelies.