Banana Raspberry Smoothie
The best, thick, quick and easy raspberry smoothie recipe, homemade with simple ingredients. Healthy breakfast on the go, packed with oatmeal, Greek yogurt, milk, fruits.
Start the morning right with a breakfast smoothie like today's recipe or this Green Kiwi Smoothie or even this Blueberry Smoothie. They fill you up and you feel energized to go on with your daily routine.
Today's smoothie is beautiful and naturally pink and packed with so much fruity flavor! That gorgeous color makes this perfect for serving on Valentine's Day or Mother's Day too.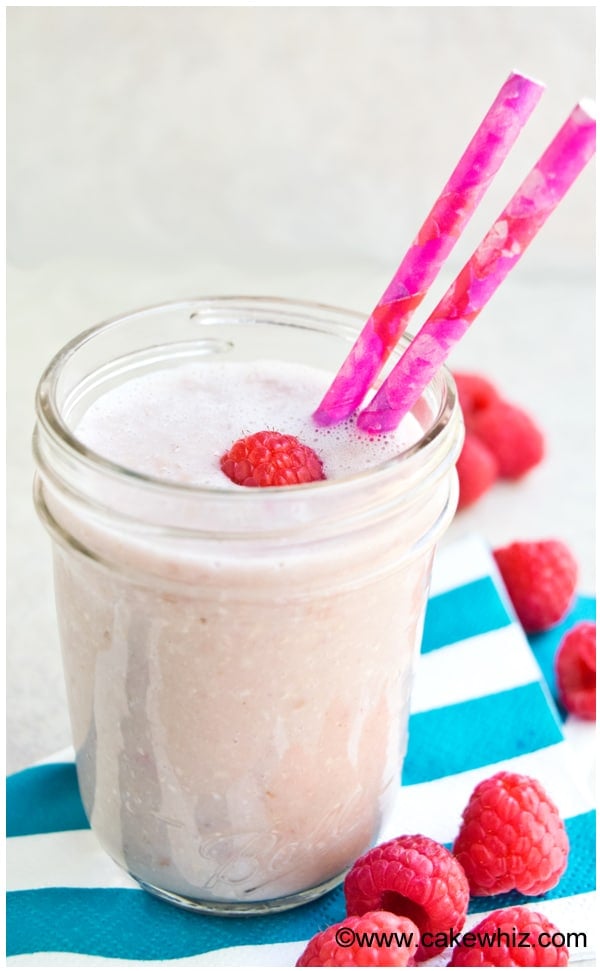 How to make raspberry smoothie recipe from scratch?
Add ingredients in blender- This includes raspberries, banana, oatmeal, yogurt, milk and honey.
Pulse- Until smooth.
Serve- Pour in glasses.
Variations for raspberry banana smoothie
Make smoothie bowl- Pour mixture in a bowl and decorate the top with frozen berries, chopped nuts and dried fruits. You can even top it with Homemade Granola.
Strawberry raspberry smoothie- Add 1/3 cup frozen strawberries.
Mango raspberry smoothie- Add 1/2 cup frozen or fresh mangoes.
Add blueberries– Mix in about 1/4 cup fresh or frozen blueberries.
Add healthy greens- Such as kale or spinach.
Add avocado- Use just half. It would make it very rich and creamy.
Use other sweeteners- Such as granulated sugar, brown sugar, artificial sweeteners or maple syrup.
Add other fruits– Such as apples, blackberries, peaches or whatever fruits you have on hand. They can be fresh or frozen.
Use vegan milk– Such as almond milk, soy milk, cashew milk, coconut milk, oat milk.
Add protein powder– 1 tbsp should be a good amount. Be sure to pick a flavor that compliments the other flavors in this drink. You can even add some unflavored collagen powder.
Add seeds– Such as chia seeds or flax seeds. This gives a nutritional boost.
Add nut butters– Such as almond butter, cashew butter or other mild-tasting butters. If you pick a strong nut butter, it will over-power the fruit flavors.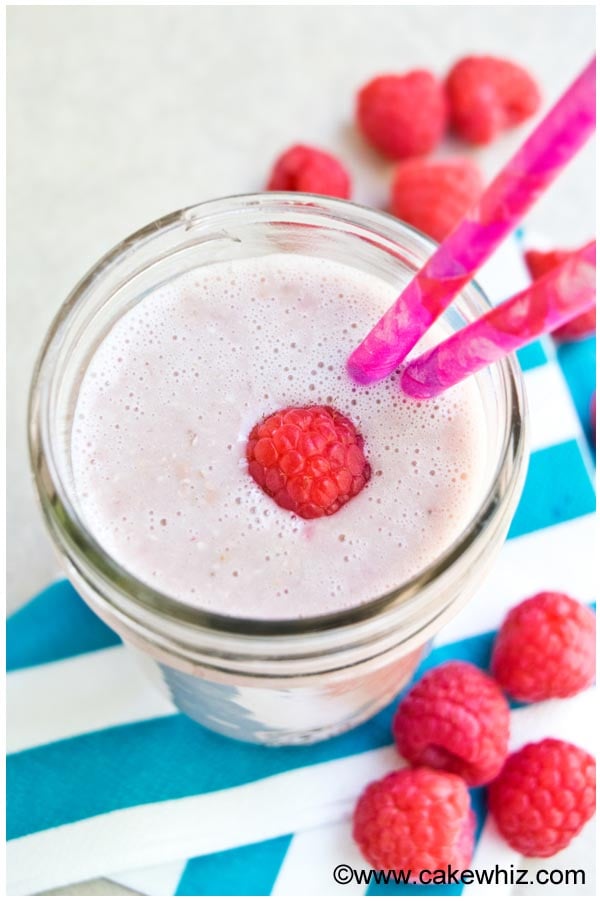 Tips and techniques
Frozen fruits vs. Fresh fruits– Either can be used. Frozen fruits typically make a thicker smoothie.
Use ripe fruits- Because they have the best flavor profile and are also the juiciest and sweetest.
Honey is optional- Using this is entirely up to you. It really helps to sweeten the drink if the raspberries were tart or bananas were not very ripe.
How to thicken smoothie? Add more fruits or another option is to use frozen fruits. You can also add less milk.
How to make smoothie thinner? Mix in more milk.
Adjust quantity of ingredients– This is the great thing about smoothies. It can easily be adjusted to your preference. Use more or less of whatever ingredient you like or dislike.
Use Greek yogurt- Because it's thicker than regular yogurt and makes the smoothies creamier.
Feed a crowd- Double all the ingredients to serve more people, especially when during holidays when there are so many people around.
Storage of homemade smoothie
Refrigerate– In a sealed jar for up to 2 days. Be sure to to stir it with a spoon before enjoying it because the pureed fruit and oats have a tendency to settle to the bottom.
Freeze– This is not recommended since there is dairy in this recipe and that does not thaw well.
Make ahead instructions– You can prepare smoothie bags with cut up fruits and freeze them. This would make your mornings easier and you can just quickly toss them in the blender.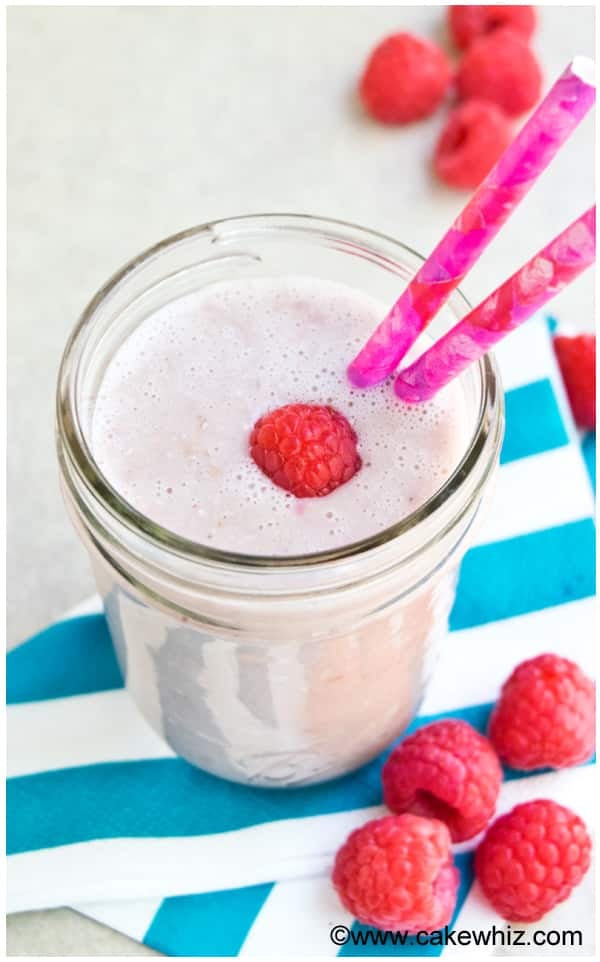 More smoothie recipes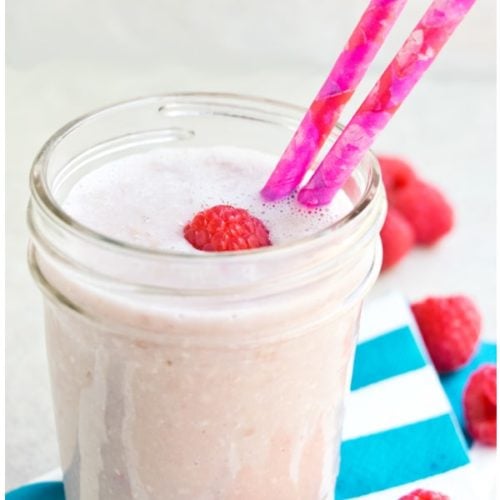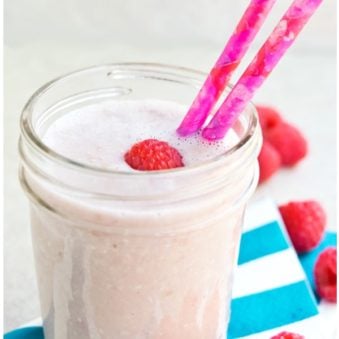 Banana Raspberry Smoothie
The best, thick, quick and easy raspberry smoothie recipe, homemade with simple ingredients. Healthy breakfast on the go, packed with oatmeal, Greek yogurt, milk, fruits.
Yield: Servings
Ingredients
1 cup Raspberries, Frozen or fresh
1 Banana, Ripe
1/4 cup Oatmeal, Quick cooking
1/4 cup Vanilla yogurt, Preferably Greek yogurt
1 cup Milk , 2%
1-2 tbsp Honey, Based on your preference
Instructions
Add all the ingredients in a blender.

Blend on high speed until you have a smooth consistency.

Pour into 2 glasses and enjoy!
Notes
Read all my tips above.
Leftovers can be stored in a sealed jar in the fridge for up to 2 days. 
Nutrition
Calories: 307kcal, Carbohydrates: 52g, Protein: 11g, Fat: 7g, Saturated Fat: 3g, Cholesterol: 19mg, Sodium: 128mg, Potassium: 724mg, Fiber: 5g, Sugar: 38g, Vitamin A: 325IU, Vitamin C: 21.6mg, Calcium: 344mg, Iron: 0.8mg