Mini Apple Strudel Recipe
Quick and easy apple strudel recipe, requiring simple ingredients like puff pastry and apple pie filling. Ready in 30 minutes. Great Thanksgiving dessert.
As soon as we got close to Fall, my family starts making this apple strudel quite often.
Honestly, the aroma that fills the kitchen is intoxicating!
Now, I would NOT call this a traditional apple strudel recipe because it is not a classic German apple strudel recipe, which is entirely different and has nuts and raisins and uses Phyllo dough.
This is just a LAZY version that I have been making for years…lol.
These MINI apple strudels are:
Easy to make with just 4 ingredients
Small and bite sized
Ready in just 30 minutes
Simple to make with kids
Great way to use up apples
Perfect for serving a crowd at Fall/Thanksgiving breakfast or brunch
Can you freeze apple strudel?
Uncooked apple strudel can be tightly wrapped in saran wrap and packed in freezer bags for baking later. I do not recommend freezing baked strudel since it can become very soggy, as it defrosts.
What pastry to use for apple strudel?
I have seen recipes of apple strudel with puff pastry and phyllo pastry/ filo pastry but prefer puff pastry since it has a better texture.
Are strudels German?
Based on my research, they have roots in both Germany and Australia and are are made on special events.
Can you reheat apple strudel?
Yes, you can reheat it in the microwave or a toaster oven.
Can apple strudel be made in advance?
Yes, it can easily be made a day in advance.
How to make apple strudel with puff pastry?
The process is very SIMPLE for mini apple strudels. Start off by cutting small rectangular strips of puff pastry. Fill them with apple pie filling and roll them. Place them on a cookie tray. Cut slits on top with a knife. Brush egg wash over them and sprinkle sanding sugar. Bake in the oven until golden brown and enjoy!
How to store apple strudel? Does apple strudel need to be refrigerated?
Store it in a covered container at room temperature for up to 2 days. It does not need to be refrigerated.
How to serve apple strudel?
Enjoy it as is or serve it with:
Vanilla ice cream
Vanilla sauce

Here are some TIPS for making mini apple pie strudels:
You must use a very SHARP knife to make slits on top of each strudel to allow steam to escape while baking.
Sanding sugar is OPTIONAL but highly recommended since it adds a nice sugary crunch.
DON'T skip the egg wash since it allows the sanding sugar to stick to the strudels and it gives them a shiny golden brown color.
Some of the filling might ooze out a little while baking and that's very normal. The strudels will still taste great.
Store bought OR homemade apple pie filling can be used.
Make sure the filling is very thick or else it will ooze out completely from the strudels while baking and make a huge mess.
To make THICK apple pie filling, cook store bought or homemade filling in a non-stick saucepan over medium heat to reduce it even further.
You can use homemade puff pastry if you like but store-bought puff pastry is so QUICK and EASY.
You can use the recipe below to make one big apple strudel, mini apple strudels and even an apple strudel pie.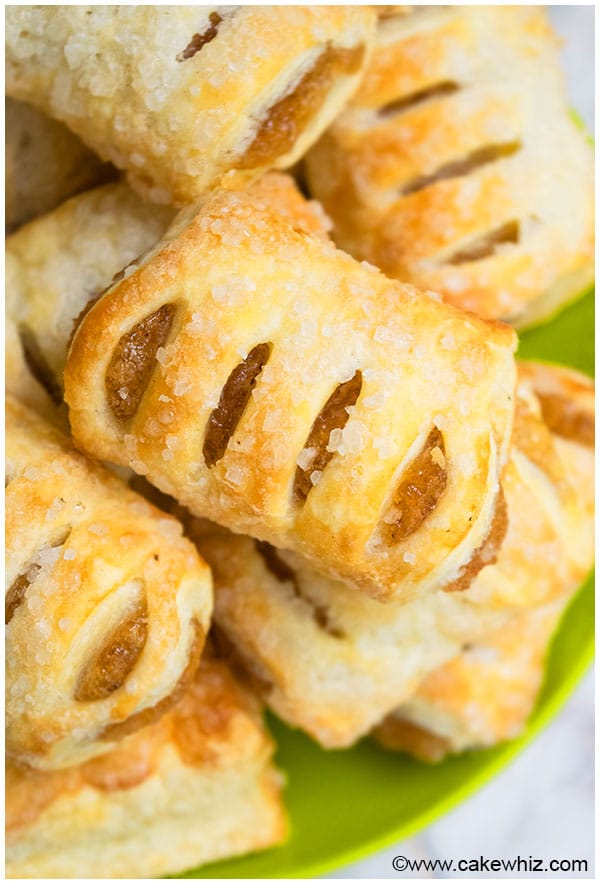 Well, that's all for today.
If you liked this recipe, you may like some of these other apple recipes too…
Homemade Apple Pie Filling (30 minutes)
Here are some other Fall and Thanksgiving recipes you might also like…
Pumpkin Pie Fudge With Gingersnap Crust
Pumpkin Cheesecake with Gingersnap Crust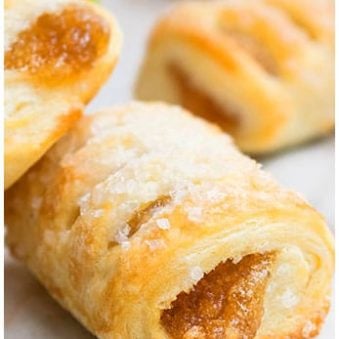 Easy Apple Strudel Recipe
Quick and easy apple strudel recipe,requiring simple ingredients like puff pastry and apple pie filling. Ready in 30 minutes. Great Thanksgiving dessert.
Yield: Strudels
Ingredients
1 package Puff pastry sheets
1 cup Apple pie filling, Homemade or store-bought
1 Egg, Large
1 tbsp Water
1/4 cup Sanding sugar, Optional but highly recommended
Instructions
Unroll pastry sheets and cut rectangular strips (mine were about 2-3 inches wide and 5-6 inches long. These are approximate since I didn't use a ruler to measure them...lol). 

Put 1 tbsp of apple pie filling in the center of the strip. Fold one side of the strip on top of the filling and then fold the other side of the strip. Press gently so that both ends stick together. Then, flip this strudel onto a cookie tray, lined with parchment paper.

Gently, use a sharp knife to make 3-4 cuts on top of each strudel so that steam can easily escape while baking.

In a small bowl, beat the egg and water to make the egg wash.

Brush the top of each strudel with egg wash and sprinkle some sanding sugar.

Bake at 400 degrees for about 20 minutes OR until the strudels are puffy and golden brown. Enjoy!
Notes
Read all my tips above.
Leftovers can be stored in a covered container at room temperature for up to 2 days. 
Nutrition
Calories: 158kcal, Carbohydrates: 19g, Protein: 1g, Fat: 8g, Saturated Fat: 2g, Sodium: 68mg, Potassium: 25mg, Sugar: 6g, Vitamin A: 5IU, Vitamin C: 0.5mg, Calcium: 3mg, Iron: 0.6mg
Until next time, tata my lovelies!