About Me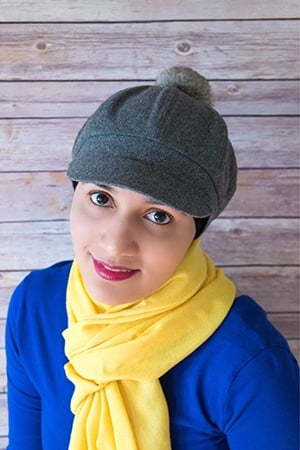 Hey guys!
Welcome to Cakewhiz! My name is Abeer.
If you are here, I bet you are obsessed with baking and entertaining  as much as me!
I grew up in Toronto but live in Chicago now with my dear husband and sweet little boy.
I grew up baking and cooking with my Mom and those are truly my fondest childhood memories.
A few years ago, I decided to leave the world of Science and research to start this baking blog.
Now, I spend my days dreaming up new recipes and baking up a storm.
CakeWhiz is a one-stop resource for anyone who has a sweet tooth and enjoys delicious desserts and entertaining family and friends through fun parties and decorated cakes.
Furthermore, it showcases beautiful food photography to tantalize your taste buds.
Through this blog, I hope to share my triumphs and failures in the kitchen with all of you.
Most importantly, I hope that what I do here inspires you to bake and entertain your loved ones!
RANDOM TIDBITS ABOUT ME
I proudly use "eh" in my conversations. After all, I am Canadian at heart
I like watching trashy reality shows.
I am obsessed with Harry Potter. I have read the books and watched the movies countless times! I also wish I could live at the Wizarding world of Harry Potter
I love traveling. It doesn't even have to be an exotic place. We are also very fond of taking little road trips to nearby cities and towns. You can always find something fun to do!
I am not very "girly." I don't care about make-up or clothes or hairstyles! My sister says I should have been a boy…haha.
I don't play sports or even watch sports and find it extremely boring! So, being a boy would have been very hard…hehehe.
I don't like shopping at stores. Thank goodness for online shopping!
I am a "chocoholic" and eat chocolate every day.
I don't know what I would do without Netflix… it's an addiction!
I don't like going out to movies. I like to watch them at home, while lying down comfortably on a couch with my cozy blanket.
My favorite color is blue.
I like exotic fruits like guavas, sapodilla, star fruit, lychee and get super excited if I see them at the grocery store or Farmer's market!
I have a Masters in Science (Cellular Biology/Botany).
My wedding anniversary is on Halloween.
My son was born on April Fool's day.
I LOVE everything at Ikea and if I had an unlimited budget, I would buy everything at the store!
KEEP IN TOUCH
If you have any questions about my recipes or tutorials, check out my FAQ section first. Here, I answer questions that people ask me through emails and other social medias. If you still need help, feel free to email me at [email protected]
You can stay in touch with me by:
Subscribing via email (This way, you will be the first to know when I publish a new post!)
Following me on Facebook.
Following me on Twitter.
Following me on Instagram.
Emailing me at [email protected]
Leaving blog comments (I love reading your comments and replying back!)
Sending you lots of love from my kitchen,
Abeer