About Abeer Rizvi and CakeWhiz
Meet Abeer Rizvi, the author and founder of CakeWhiz.com, a popular food website that focuses on baking, cake decorating and doctored cake mix recipes, and all things sweet. She is a talented food writer, baker, recipe developer and cake decorator.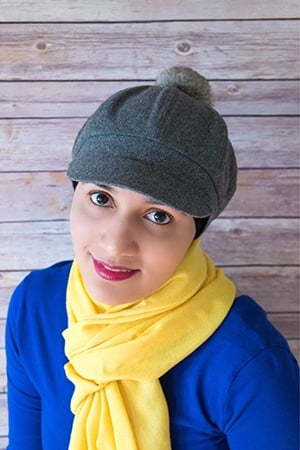 She was raised in Canada, where she earned her Bachelor's degree in Science and her Master's degree in Molecular and Cellular Biology. Despite her scientific background, Abeer discovered her true passion lies in the world of baking and that led her to start this website in 2011.
Here, her scientific knowledge is evident, as she applies her previous training in biology to the chemistry of baking, experimenting with flavors and textures, and creating innovative and exciting new recipes for cakes, cupcakes, cookies, pies and tarts, candies, brownies and bars.
She currently resides in Chicago, that she calls home and continues to create delicious baked goods that have captured the hearts and palates of her readers around the world.
Her passion for breathtaking desserts has led her to take numerous classes, including the Wilton cake decorating classes, where she learned greatly about buttercream and fondant techniques. She has also taken many workshops from around the world, studying under many pastry chefs and cake decorators, always seeking to learn and improve her skills. Over the years, she has honed her skills through a combination of self-study, formal training, and collaboration with other professionals
Abeer's dedication to baking and her local community is clear, as she has taught baking classes and cake decorating classes to kids and adults. She has also baked for many charity events and fundraisers and continues to be heavily involved in her local community.
Cake Decorating Tutorials
Abeer's beautifully decorated cakes, cupcakes, and other sweet treats range from simple yet elegant designs to intricate, multi-tiered cakes. Her creations are sure to impress and delight people of all skill levels.
She also provides helpful guides and tutorials for those looking to improve their skills. Her clear and concise instructions make it easy for even a beginner to create incredible cakes, especially for special events like birthday parties, as can be seen by these birthday cake ideas.
One of her strengths as a cake decorator is her ability to work with a wide variety of mediums, including buttercream, fondant, gum paste, candy clay, edible sprays and chocolate. She is skilled at creating fun flowers, figures, edible toppers and using other unique decorative elements like colorful candies and cereals to bring her cakes to life, as can be seen in her post on easy cake decorating ideas.
Her designs are characterized by their whimsical and playful nature, incorporating bright colors. She also loves making "naked cakes" and is known for her ability to seamlessly blend traditional and modern design elements, resulting in cakes that are as beautiful as they are delicious.
Doctored Cake Mix Recipes
Her focus on these desserts provides a convenient and time-saving option for those who may not have the time or skill to make cakes from scratch. But don't let the convenience fool you, Abeer's doctored cake mix recipes are anything but ordinary. Her creative use of ingredients and unique flavor combinations elevate these simple box mixes into impressive, show-stopping treats that will leave your guests asking for more.
Brand Collaborations and Press Mentions
Her hard work and talent have led her to collaborate with many reputable brands, including Pillsbury, Dunkin' Donuts, Starbucks, Baskin Robbins, Haagen-Dazs, and more. She has helped them develop new recipes and shared videos and pictures of the process.
She has also been fortunate enough to have her work featured in many many newspapers and magazines such as the Huffington Post, MSN, Reader's Digest, Buzzfeed Food, Seventeen magazine and more.
Full details of these relationships and features can be found on her Work With Me page.
Social Media
Through her social media platforms, Abeer has built a supportive community of fellow bakers and cake enthusiasts who share her love for all things sweet. They follow her delicious recipes, helpful tips, and stunning cakes. She actively engages with her followers, answering questions, and sharing her expertise to help them create their own masterpieces.
With over 300,000 Pinterest followers, over 20,000 followers on Twitter, over 168,000 followers on Facebook, over 27,000 followers on Instagram, and millions of page views per year on her website, Abeer has gained a large and loyal following.
Final Thoughts
She believes that baking is not only about creating something delicious but it's also about sharing it with others and creating memories with loved ones. Her mission is to make homemade tasty yet gorgeous desserts accessible to everyone, regardless of their skill level. Her determination to continue learning and sharing her expertise with others has made her a respected authority in the baking community.
Stay in Touch
You can also stay in touch by:
Subscribing via email (This way, you will be the first to know when she publishes a new post!)
Following on Facebook.
Following on Twitter.
Following on Instagram.
Emailing at abeer@cakewhiz.com
Leaving blog comments
Check out her FAQ section where she answers frequently asked questions from readers.