Learn how to make perfect homemade jelly doughnuts with detailed instructions. Make them more delicious by topping them with fudge frosting and strawberries
Confession time => I have been too much of a chicken to make homemade jelly doughnuts during all these years of baking and cooking.
Well, I have made those easy cake mix pumpkin donuts before but they are NOT the real deal.
In the words of my bestie, "those are not even doughnuts… they are doughnut shaped cakes" LOL!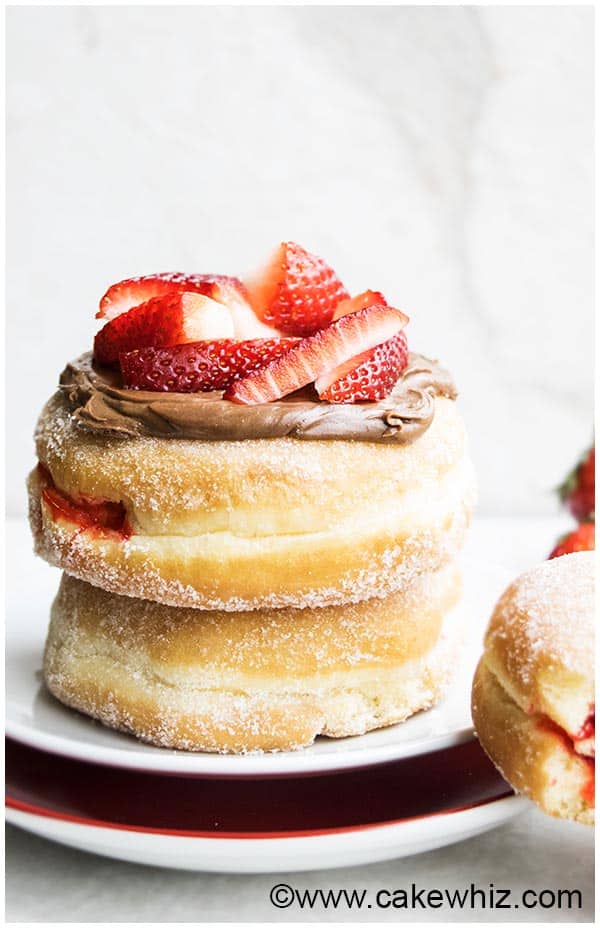 It was time to put on my big girl pants this weekend coz I finally made them… YAY!
They were not as hard as I thought but there were A LOT of steps.
All that work was totally worth it coz I finally made my very own homemade jelly doughnuts successfully and they tasted even BETTER than the doughnuts I get at bakeries and coffee shops.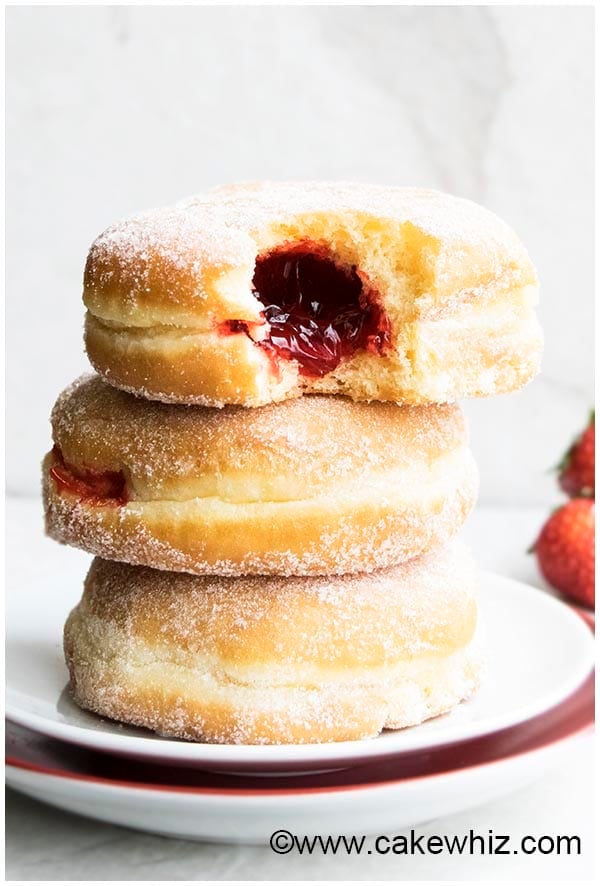 MY OTHER RECIPES
You can fill them with whatever flavor of jam you like.
I filled mine with HOMEMADE strawberry jam.
However, I must point out that some of these homemade jelly doughnuts are actually filled with store-bought jam coz halfway through, I ran out of homemade jam…lol.
Can you spot the DIFFERENCE?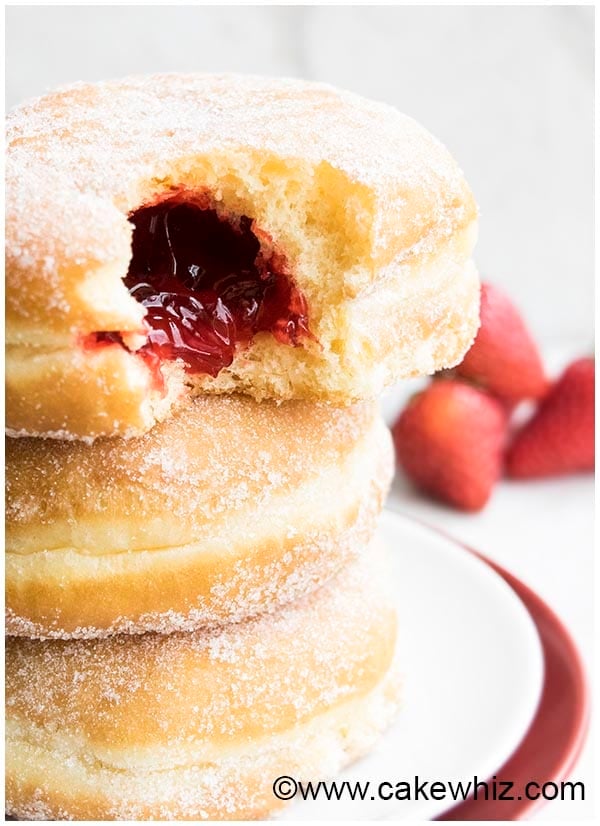 I went a step further and topped some of these doughnuts with FUDGY coconut cream chocolate frosting and fresh strawberries.
Omg guys…These were the most HEAVENLY jelly doughnuts I have ever had!
By the way, my recipe is only slightly adapted from Bakers Royal recipe (She had step by step directions which were very helpful).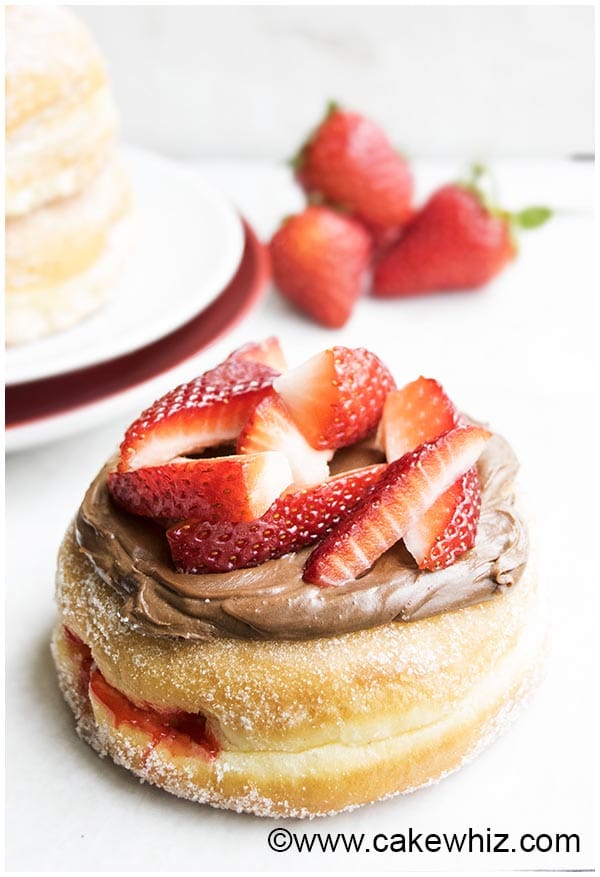 If you liked this post, you may like some of these other strawberry recipes too…
Homemade Jelly Doughnuts
Prep time:
Cook time:
Total time:
Learn how to make perfect homemade jelly doughnuts with detailed instructions. Make them even more delicious by topping them with chocolate fudge frosting and fresh strawberries.
Ingredients
Doughnuts:
2½ cups flour + additional flour for kneading
½ cup whole milk (100-110 degrees)
⅓ cup + 1 tsp sugar
3 large egg yolks
2½ tbsp active dry yeast
2 tbsp salted butter
1 tsp vanilla extract
3½ cups oil for frying
Filling:
Topping:
3 cups granulated sugar (for rolling the doughnuts)
2 cups sliced strawberries (blotted dry)
Instructions
In a small bowl, add 1 tsp sugar, yeast and milk. Keep this mixture aside for about 15 minutes until it becomes foamy.
In a deep mixing bowl, add flour, sugar, egg yolks, butter, vanilla extract and yeast mixture. Mix everything with a thick plastic spoon until you have a sticky mixture.
Dump this mixture onto your floured countertop and start kneading until you form a dough ball that's not sticky any more (takes about 10-15 minutes). I had to add some additional flour at this point to help with all that kneading. The dough should eventually bounce back when poked with a finger.
Oil a bowl and place this dough ball in it. Cover with saran wrap and keep it in a warm area and allow the dough to rise for 1½ hours. (I keep the bowl inside my oven- Don't turn it on though!)
Now, flour your countertop again and roll out the dough at a thickness of ¼ inches. Use a round cutter to cut out circular pieces.
Cover these circles with saran wrap and allow them to rise for about 15 minutes.
Heat oil in a saucepan until the temperature reaches 370 degrees.
Add 3-4 the circle pieces into the oil very carefully and fry them on both sides until they are golden (about 40 seconds on each side).
Use a slotted spoon to remove the doughnuts from the oil and place them on a tray lined with paper towels.
Then quickly roll the doughnuts in sugar while they are still warm.
Now, attach the round tip to a piping bag and fill it with strawberry jam.
On the side of the doughnut, make 2 holes with a wooden skewer about 1 inch apart. Push your piping bag into the holes and fill the inside of the doughnut with jam. Do this for all the doughnuts.
When the doughnuts have cooled down, spread fudgy coconut cream chocolate frosting on top of them and place a few sliced strawberries on top.
And you are done!
Well, that's all for today.
Until next time, tata my lovelies!