Strawberry Smoothie
This quick and easy strawberry smoothie recipe is homemade with simple and fresh ingredients. It's rich, creamy and healthy.
The arrival of summer is all about enjoying fresh fruit smoothies like this Pineapple Smoothie and Blackberry Smoothie. Today's recipe is just as delicious and filling with very distinct strawberry and and rose flavors. It's also pretty in pink and wonderfully fragrant!
I think this breakfast smoothie would be a great addition to your "breakfast in bed" tray on Valentine's day. It's also great as "breakfast on the go" or a post-workout snack.
My fussy kid approved of this smoothie and said that it smelled like flowers! Best of all, you can make it in less that 10 minutes.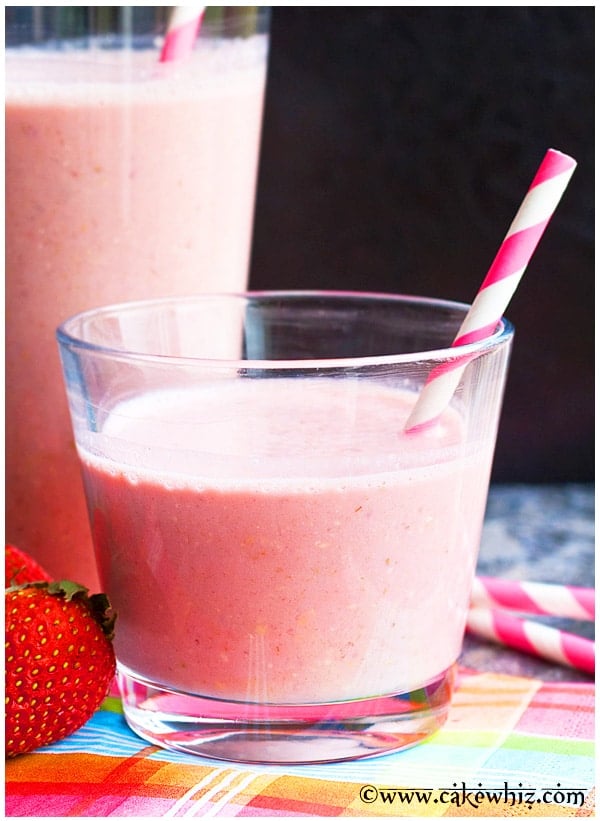 How to make strawberry smoothie?
Add strawberries, milk, yogurt, sugar, rose syrup/rose water in blender– Puree everything until super smooth.
Enjoy– Pour into 2 cups and dig in!
Variations for strawberry yogurt smoothie
Strawberry banana smoothie- Add half a banana in this recipe.
Add other fruits– Such as raspberries, pineapples, peaches, blueberries. 1/4 cup is usually enough to create a balanced flavor profile.
Strawberry mango smoothie– Make this Mango Smoothie and add some strawberries.
Add oatmeal– I didn't care for its chunky texture but it's a healthy addition and also helps to thicken smoothies.
Try flavored yogurts– I used strawberry yogurt to really get the strawberry flavor to shine through but you can get creative and use other flavors of yogurts or just plain Greek yogurt too.
Add chia seeds or flax seeds– 1-2 tsp is usually enough. This also helps to thicken smoothies.
Use other types of milk- I used 2% milk but you can use whatever milk you have on hand, including vegan dairy free milk. Try almond milk, cashew milk, soy milk or coconut milk.
Add nut butters– Such as almond butter, cashew butter or other mild-tasting butters.
Serve as smoothie bowl– Add less milk to make it super thick and then, serve in a bowl with toppings like nuts, granola, fruits.
Use strong high quality blender- Because it creates the smoothest consistency. I love my Blendtec!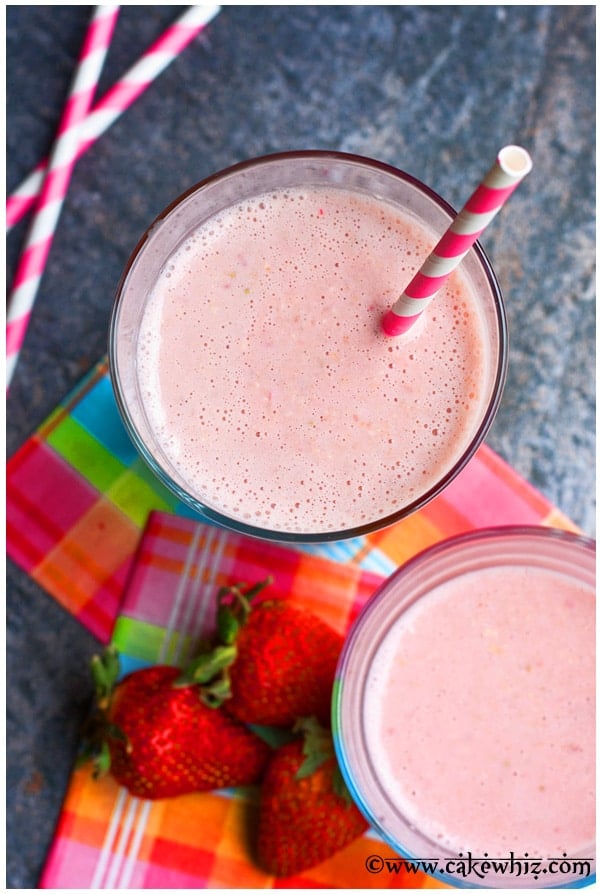 Tips and Techniques
Use ripe strawberries– Because they are the sweetest with the best flavor.
Fresh strawberries vs. Frozen strawberries- Either can be used.
How to add rose flavor? You can either use rose water or an Indian rose syrup called "Rooh Afza." I personally prefer using the rose syrup since it has a beautiful reddish color, that enhances the pink hue of the smoothie and it's also already sweetened. So, you don't have to add any additional sugar. This rose syrup and even rose water can easily be found at Indian grocery stores and they are both quite cheap. They come in decent sized bottles and should last a while!
Adjust sweetness- You can add more or less honey, based to your preference. You can even substitute honey with artificial sweeteners, granulated sugar, brown sugar or maple syrup. 
Don't omit the yogurt– That's what makes this smoothie so creamy and thick. Since it's strawberry flavored, it also enhances the berry flavor.
How to thicken smoothies? Add less milk or add more yogurt or add some chia seeds.
How to thin out smoothies? Mix in more milk or water.
Make a bigger batch- Double all the ingredients to serve more people.
More Smoothie Recipes: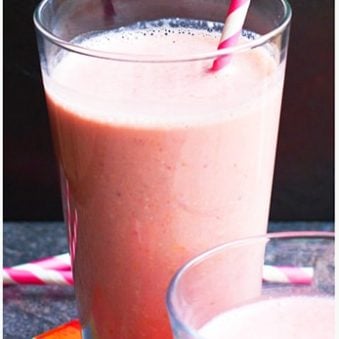 Strawberry Smoothie
Quick and easy strawberry smoothie recipe, homemade with simple ingredients. It's refreshing, healthy, rich and creamy. Perfect for breakfast or snack!
Yield: servings
Ingredients
1 cup Strawberries, Chilled
1 cup Milk, Cold
1 tsp Rose water, Or 1 tbsp rose syrup (Rooh Afza), Optional
¼ cup Strawberry yogurt
1-2 tsp Honey
Instructions
Wash strawberries and hull them (e.g. remove the green stem and leaves).

Place the strawberries, milk, yogurt, sugar, and rose syrup/rose water in a blender and blend everything into a smooth mixture.

Pour mixture into your glasses and enjoy!
Notes
Read my tips above.
Leftovers can be stored in the fridge for up to 1 day.
Nutrition
Calories: 136kcal, Carbohydrates: 19g, Protein: 5g, Fat: 4g, Saturated Fat: 2g, Cholesterol: 14mg, Sodium: 70mg, Potassium: 325mg, Fiber: 1g, Sugar: 17g, Vitamin A: 200IU, Vitamin C: 42.3mg, Calcium: 182mg, Iron: 0.3mg