How to Make Nougat
Learn how to make nougat with this easy recipe that is full-proof. Lots of tips are also included and great for gift-giving too!
Today's tip on "how to make nougat" comes from Cass who blogs at Food is my Friend. 
She is a MULTI-TALENTED lady who can bake, cook and even do cake and cookie decorating… WOW!
Today, she will be showing us how to make NOUGATS perfectly!
I don't know about you but I STRUGGLE with making nougats … I usually end up with a big sticky mess and frustrated like hell :S
So, her recipe and tips are sure to be very HELPFUL to all of us and we can even serve her nougats on Valentine's day.
How ROMANTIC would that be? 
Anyways, I am gonna shut up now.
So sit back, relax and enjoy her post on how to make nougat perfectly, every single time. 
Hi Everyone!
I'm Cass from Food My Friend.
My little space is all about my love of vegetarian food. 
When Abeer offered me a guest posting spot over on her amazing blog I was thrilled!
I look to Abeer's blog for inspiration and how to's all of the time.
If she doesn't have them, I even request them because I love how well she explains the steps and recipes.
She is a truly talented and creative woman and I can't wait to see what she has in stall for 2014!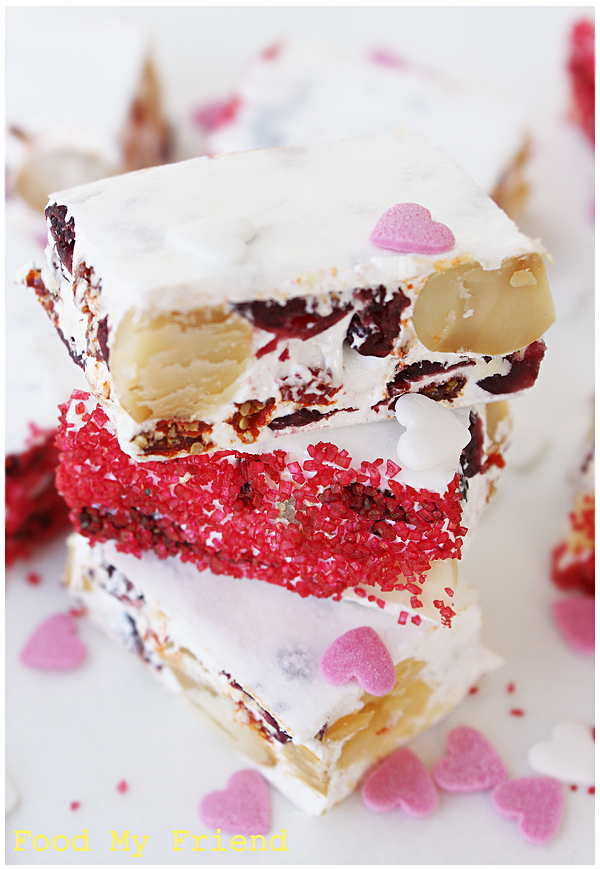 This time of year is very busy for Tyler and me.
We start with Christmas, my birthday on the 2nd Jan and then our Anniversary on the 26th January (5 years this year!!) and THEN Valentine's day… Poor guy.
He tells me it's the only time of year that he panics.
For Valentines Day this year, we will be having a Japanese degustation for the second year in a row.
The ladies get an amazing 8-course meal (make mine veg!), a long-stemmed rose, champagne and saki cocktail.
Romance guaranteed.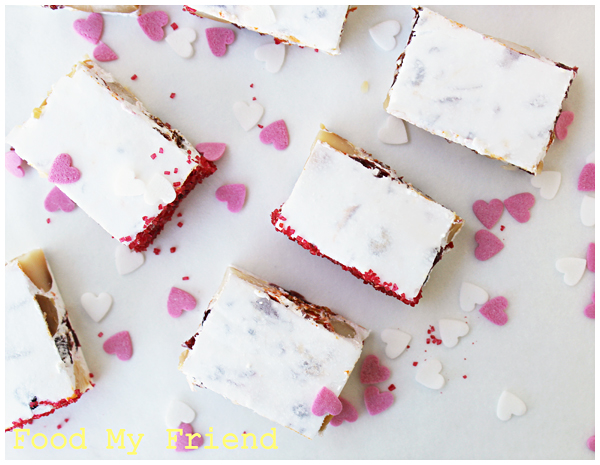 I love nougat.
Unfortunately, I can't just pick some up at the store like I used to.
I can't go back to store bought ever since my friend Naomi shared her amazing recipe with me.
She did make me an amazing slab of it for Christmas this year.
I have tweaked this recipe and played around with it so that it is my perfect idea of an Australian Valentines Day.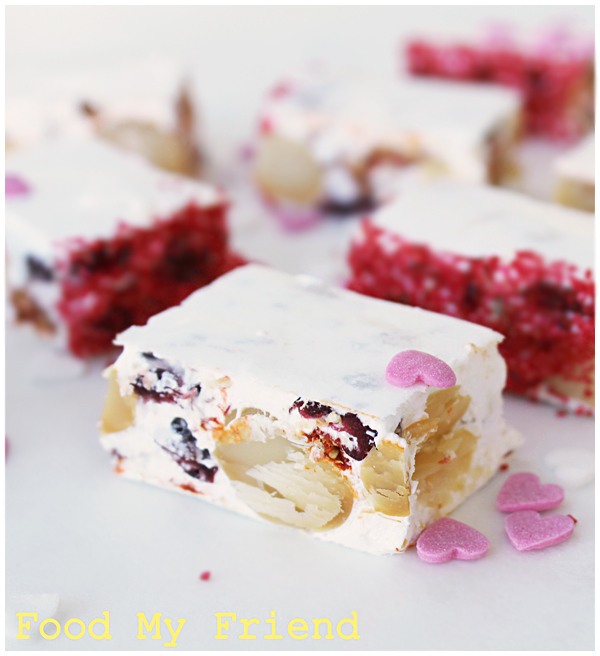 The biggest tip I can give you when working with nougat is, wet your hands before handling it.
Not only will it help the boiling hot nougat to not fuse to your skin, it helps it to evenly glide it into place and create an even and glossy surface.
The small amount of water helps the nougat to stick to the rice paper as well.
Not too much water though, just damp!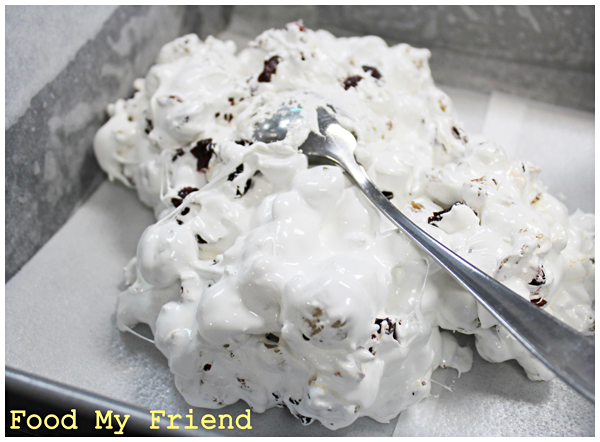 I use a baking tray that is roughly the same size to press down on the top layer of the rice paper sheet.
Gives me a nice even surface and ensures that no one gets a wonky piece of nougat!
If I do have any wonky bit left over, I usually just eat them.
It's not like I need another excuse to eat more nougat but it does the trick!
My recipe makes approximately 20 pieces…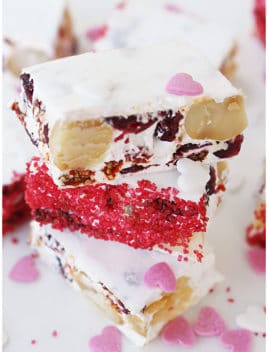 Nougat
Learn how to make nougat with this easy recipe that is full-proof. Lots of tips are also included and great for gift-giving too!
Servings: 8 pieces
Course: Dessert
Cuisine: American
Calories: 212 kcal
Ingredients
200 g Macadamia nuts
3 Sheets rice paper
1/2 cup Liquid glucose
1/4 cup Water
3/4 cup Caster sugar
2 tbsp Honey
1 Egg white Large
Pinch Cream of tartar
85 g Dried cranberries
75 g Goji berries
Instructions
Preheat oven to 140C. Place macadamia nuts on a baking tray lined with baking paper and roast in the oven for 20 minutes then reduce oven to 100C to keep almonds warm until ready to use.

Line base and long sides of a 20cmx20cm baking tray with baking paper. Cut two sheets of rice paper to line base. Place rice paper with rough side up.

Place glucose, water, sugar and honey in a saucepan and stir over a low heat until the sugar has dissolved. Brush down sides of pan using a pastry brush and water. Increase to a medium heat and using a candy thermometer cook to a temperature of 140C. Do not stir.

Once the mixture reaches 135C, assemble the mixer with the balloon whisk; beat egg whites and cream of tartar to soft peaks form. Once mixture has reached 140C remove from heat and allow bubble to subside. Continue to beat egg whites at low speed and slowly drizzle the hot mixture onto beaten egg whites. Once all mixture has been added continue to be on a low/medium speed for 3 minutes.

Using a metal spoon, stir in warm nuts and berries. Spoon nougat into prepared tin; flatten with a wet metal spoon. Cover with remaining sheets of rice paper; allow nougat to cool to room temperature.
Nutrition Facts
Nougat
Amount Per Serving
Calories 212 Calories from Fat 171
% Daily Value*
Total Fat 19g 29%
Saturated Fat 3g 15%
Sodium 1mg 0%
Potassium 92mg 3%
Total Carbohydrates 12g 4%
Dietary Fiber 2g 8%
Sugars 8g
Protein 1g 2%
Vitamin C 0.4%
Calcium 2.1%
Iron 5.4%
* Percent Daily Values are based on a 2000 calorie diet.
Well, there you have it…A great recipe and excellent tips on how to make nougat!
Until next time, tata my lovelies!