How to Make Nougat
Learn how to make the best old fashioned homemade nougat candy with this easy recipe that never fails. It's rich, sweet, airy, fluffy, chewy and packed with nuts.
Christmas is right around the corner and you must make today's recipe and share with your family and friends. It's just as delicious as my super popular White Chocolate Fudge and Microwave Peanut Brittle.
I will be honest that making this homemade candy is a labor of love. It requires a lot of time, a lot of mixing and whipping. You definitely need a stand mixer and a candy thermometer. However, it's absolutely worth it!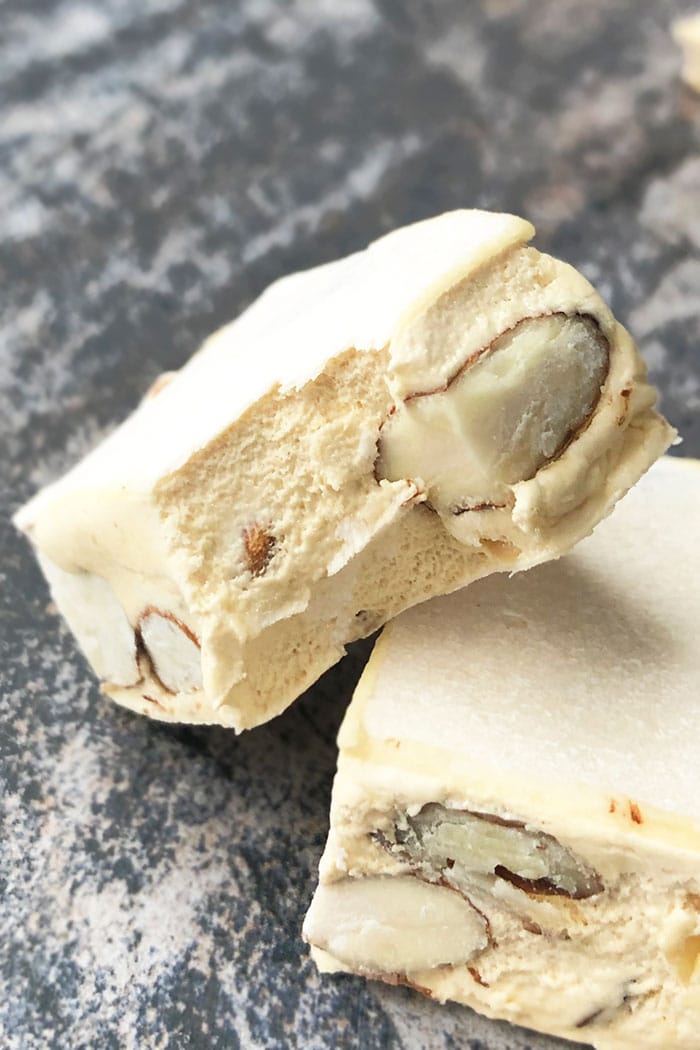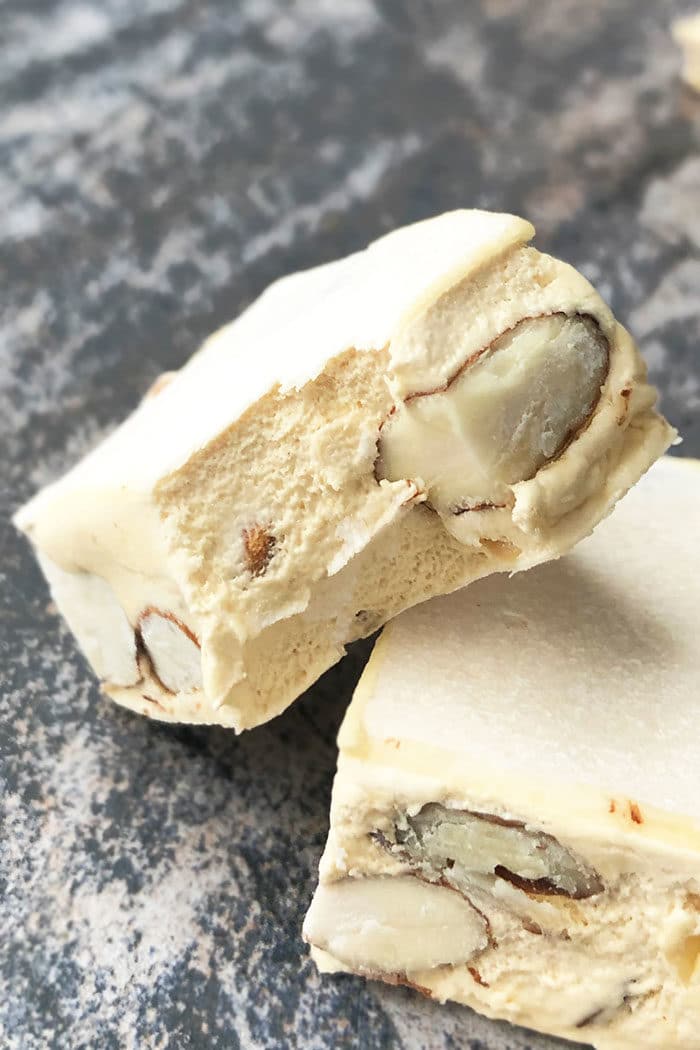 What is nougat?
It's a confection or very sweet candy that has a marshmallow texture. It's made by mixing together sugar honey mixture with egg whites and is loaded with nuts and dried fruits. It's very popular during the Christmas holidays and makes a wonderful homemade gift.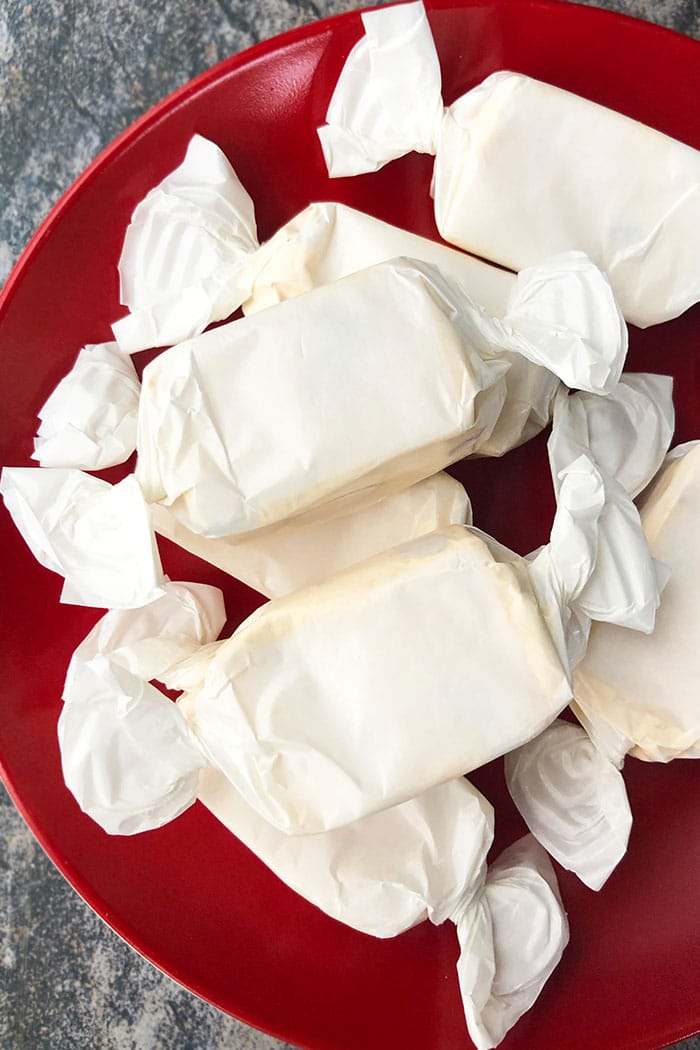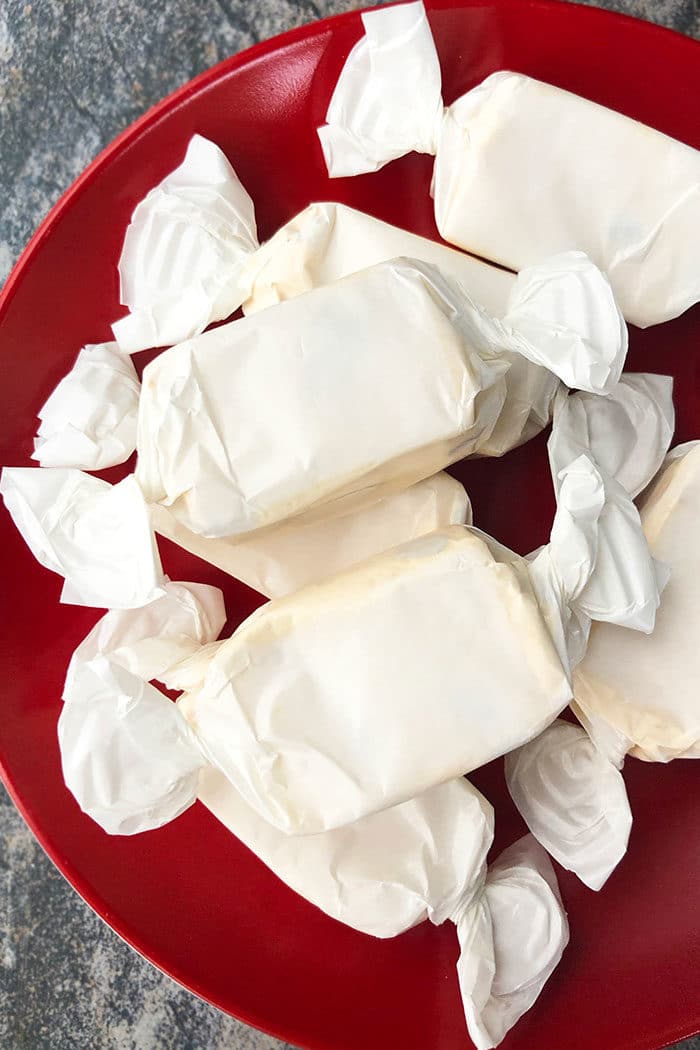 How to make nougat recipe?
Make sugar syrup– Mix together sugar, honey, water vanilla and cook until it reaches 300 degrees F.
Whip egg whites– Separately, whip egg whites until stiff peaks form.
Combine– Drizzle the sugar mixture into the egg mixture very slowly while constantly mixing for 15-20 minutes.
Add powdered sugar- Gradually, mix in powdered sugar.
Add nuts– Slowly, mix in nuts until combined.
Spread mixture- Use a pan that's been lined with wafer paper. Cover it with another sheet of wafer paper and press down and spread mixture as evenly as you can.
Cool- Let it sit at room temperature overnight.
Slice- Use a greased knife to cut small square slices and enjoy!
Variations
Use other nuts- I only used almonds but you can use a combination of pistachios, macadamia nuts, walnuts, pecans, cashews.
Add dried fruits– Such as dried apricots, cherries, cranberries, mangoes, raisins.
Use other extracts and flavors– I used a little vanilla extract but you can also add a fruity flavor or almond extract or even some zest.
Honey nougat chocolate– Dip each candy piece in melted chocolate. Toss some sprinkles on top, if you like. Let the chocolate set and enjoy. My family calls them "nougat candy bars."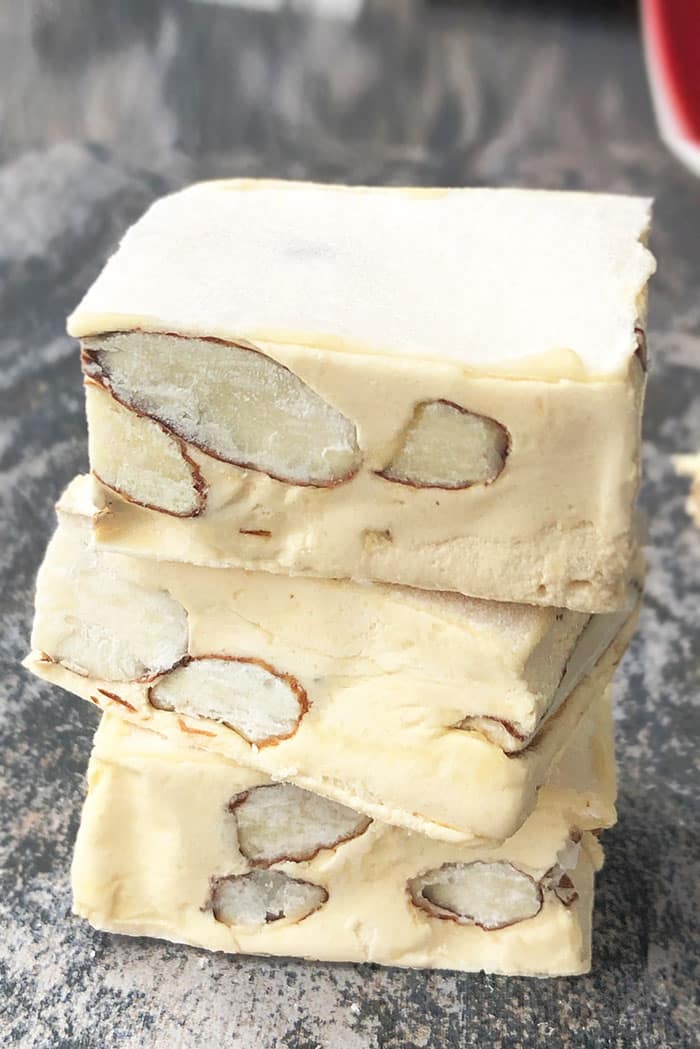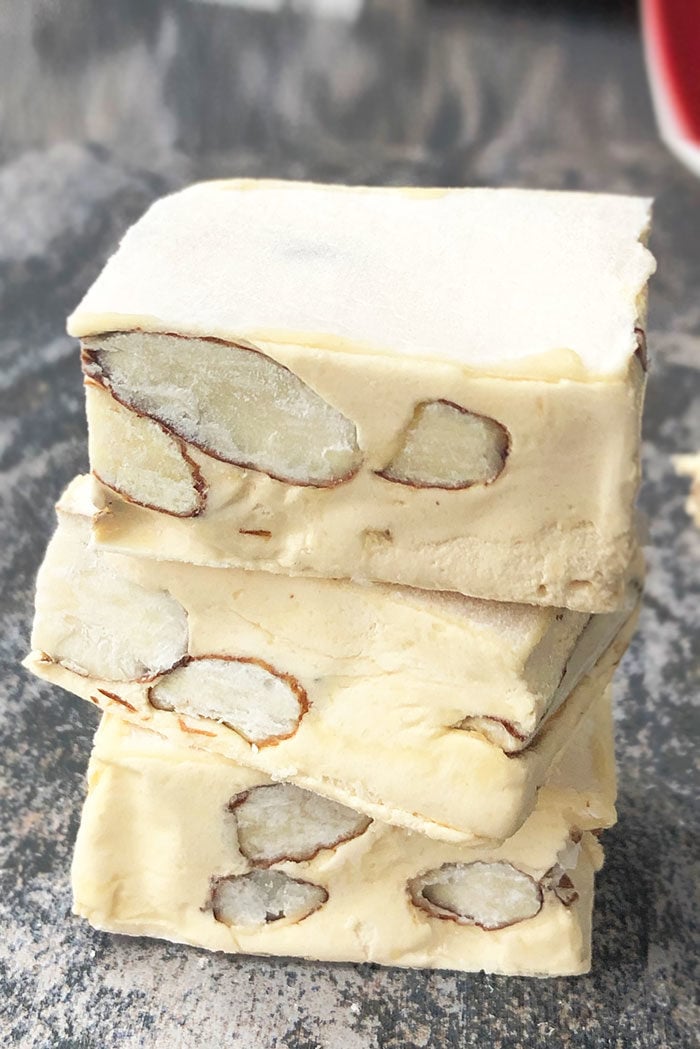 Tips and Techniques
Is nougat hard of soft? It's soft, airy and chewy and very similar to marshmallows in texture.
Make this candy on a dry day- The air needs to be as dry as possible with no humidity. Otherwise, it will not set that well.
What is wafer paper? It's also known as rice paper. It helps prevent the nougat from sticking to the pan and also makes it easier to slice and package. DON'T skip it! You can order them online or even find them at Asian stores. Please that this is edible paper and does not need to be removed from the candy. It's not the same paper you use for samosas and spring rolls.
Use a stand mixer– Since a lot of mixing and beating is involved, a hand-held mixer would become tiring.
You need to mix for a long time– That's because you are beating all the air into the mixture to create that perfect fluffy, chewy candy texture.
Prevent a sticky mess– By spraying oil on your hands when you are spreading the mixture in the pan. You can also spray oil on spatula and use that to spread the mixture. Definitely grease your knife before slicing too to make perfect slices.
Let it cool overnight– This long cooling time really allows it to set properly.
Use a candy thermometer– There is no way around it. You must use it for this recipe because it allows you to measure the temperature of the the sugar mixture. If it's above or below 300 degrees F, the texture of this candy will change. Candy- making, just like baking, is all about Science as well.
Add food coloring- Typically, it's served in its natural ivory state but you can add a little gel coloring to make them more fun.
Storage and package– Since this candy is slightly sticky, package it in wax paper or waxed candy paper, that can be bought online.
Roast nuts– Because it enhances the nutty flavor.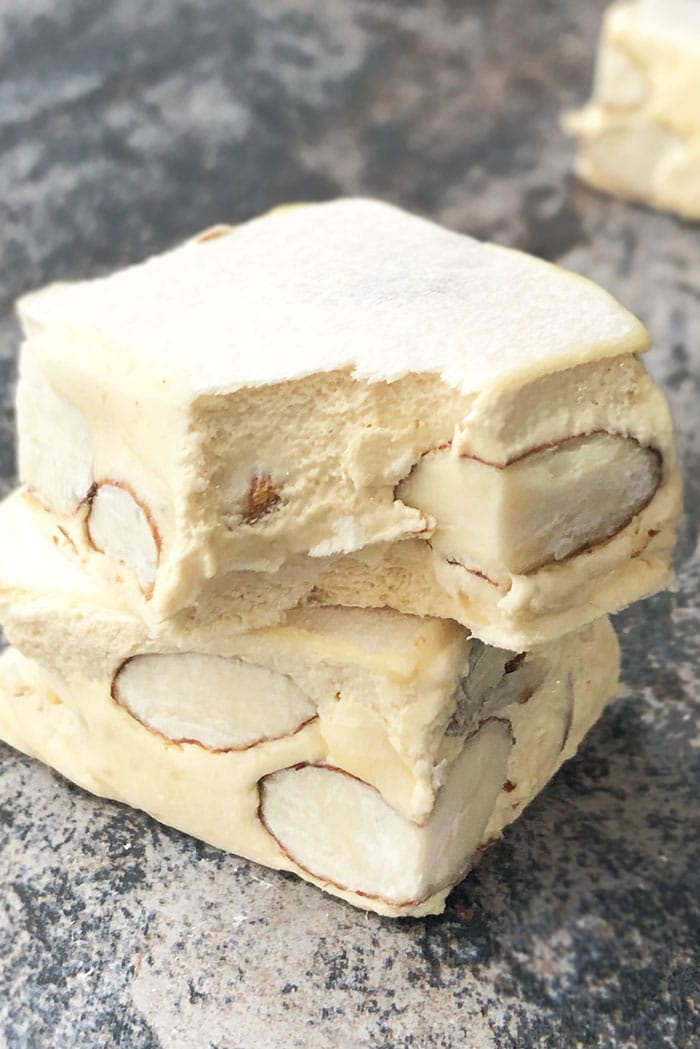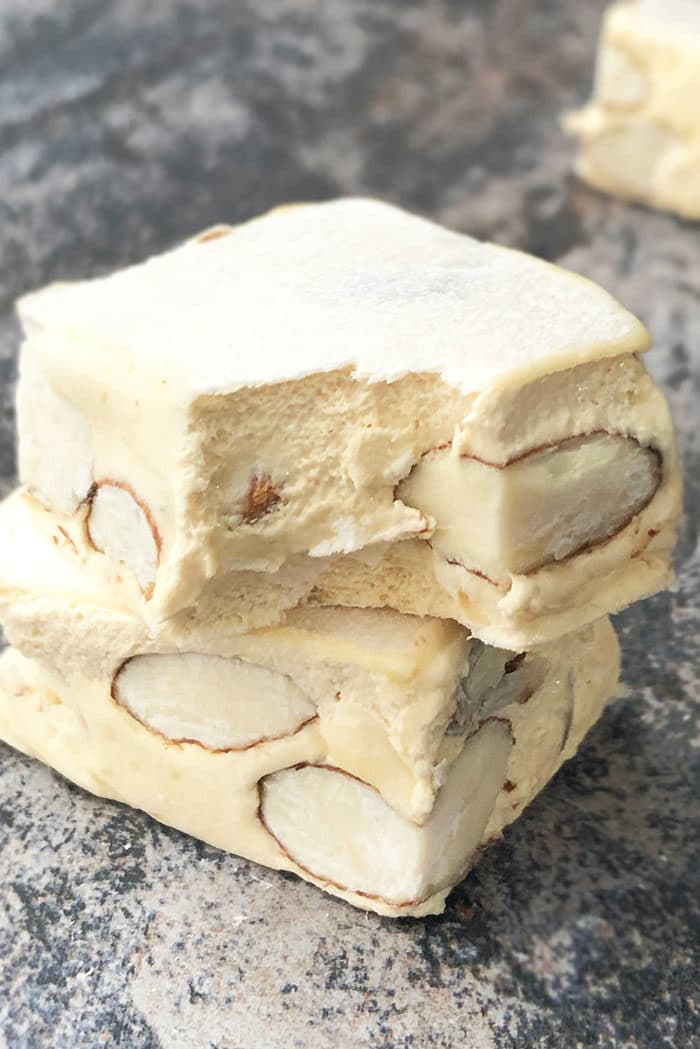 More Christmas Candy Recipes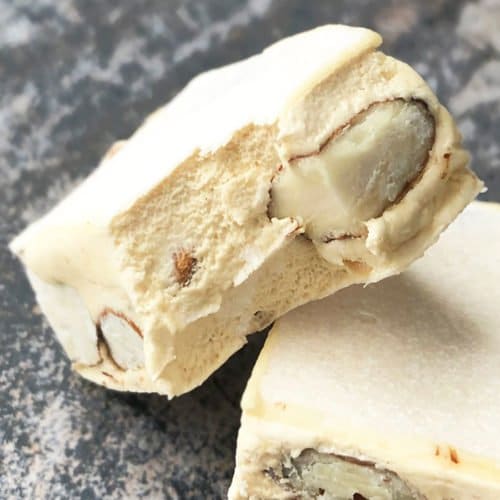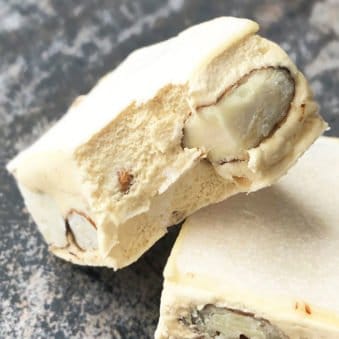 Nougat
Learn how to make the best old fashioned homemade nougat candy with this easy recipe that never fails. It's rich, sweet, airy, fluffy, chewy and packed with nuts.
Yield: pieces
Instructions
In a large nonstick pot, add granulated sugar, honey, water, vanilla extract and cook over medium heat.

Stir constantly until the sugar dissolves and the candy thermometer reaches 300 degrees F.

While the sugar syrup is cooking, beat the egg whites in a separate LARGE bowl until firm peaks form.

Then, slowly drizzle the sugar mixture in a thin but continuous stream, while beating at a medium-high speed. Add this super slowly over a span of 3-4 minutes.

Continue beating the mixture for 15-20 minutes until it has roughly doubled in volume. The color will change too from a golden shade to almost an ivory shade. Mine never turns a true white color that I have seen at some candy stores. 

Gradually, add powdered sugar, while still mixing.

When the powdered sugar is all incorporated, mix in almonds at low speed. The mixture will be very thick and sticky! 

Dump this mixture onto a rectangle pan (Dimensions: 9×13), that's been lined with wafer paper.

Spray the palms of your hand with some oil spread it out as evenly as you can.  

Cover with another layer of rice paper on top and press it down to smooth it out more. You can even roll with a rolling pin to spread the mixture evenly. 

Allow it to cool and set overnight.

Then, run a knife (that's been sprayed with oil) through the edges to loosen the candy.

Flip the nougat onto a cutting board.

Use a sharp knife (that's been sprayed with oil) to cut square pieces. You will need to grease your knife often to prevent it from sticking to the nougat.

Wrap each piece in waxed candy paper to prevent it from sticking to each other.
Notes
Read all my tips above.
Leftovers can be stored in an airtight container at room temperature for up to 1 week. 
Nutrition
Calories: 238kcal, Carbohydrates: 47g, Protein: 3g, Fat: 5g, Sodium: 11mg, Potassium: 98mg, Fiber: 1g, Sugar: 45g, Vitamin C: 0.2mg, Calcium: 30mg, Iron: 0.5mg
Until next time, tata my lovelies!