Healthy Chocolate Blueberry Truffles
These easy healthy chocolate blueberry truffles are raw and made with ingredients that are good for you. Great as a snack or guilt free dessert!
*Thank you Vital Proteins for sponsoring today's post so I could make these blueberry truffles. As always, all opinions are mine.*
Most of my Summer was spent PERFECTING this healthy chocolate blueberry truffles recipe and it was absolutely worth it.
People usually wonder: Are truffles healthy for you? Can you make healthy truffles without dates?
And the answer is a big YES!
These RAW healthy truffles are made by combining fresh blueberries, oats, coconut oil, honey and some collagen peptides.
Then, they are dipped in dark chocolate and made PRETTY by drizzling some blue chocolate…hehehe.
These fruity truffles are perfect for Summer time and bursting with fruity blueberry flavors.
Also, did you know that the chocolate and blueberry flavor combination totally ROCKS?!?!
If you have made my blueberry lime chocolate clusters before, you know what I mean!
I know that some of you are probably thinking these should be called energy balls or energy bites.
But honestly, they were round, dipped in chocolate and looked like MOCK truffles…heheh.
They are great as a snack, dessert or any time you want to INDULGE in something fudgy, fruity and choco-licious!
Absolutely GUILT FREE!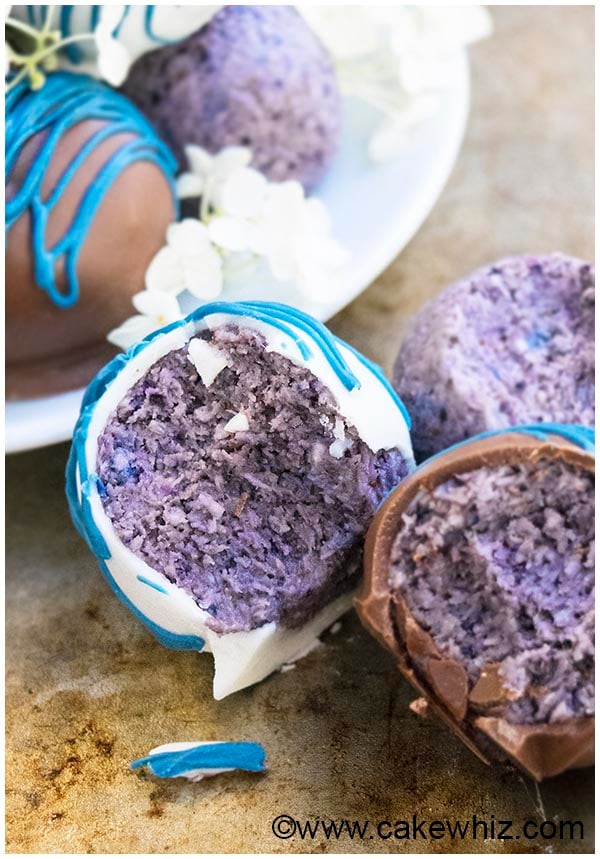 Here are some important TIPS to remember, when making raw healthy truffles:
Unlike traditional truffles, these truffles need to be chilled overnight or at least 6 hours. That makes the mixture firm and easier to handle and most importantly, it's easier to roll into balls.
Also, unlike regular truffles, these chocolate blueberry truffles have a bit of a texture but they still taste INCREDIBLE!
You must store leftover truffles  in the fridge or else they will start melting. That's because they have coconut oil, which becomes liquid at room temperature.
The great thing about this chocolate blueberry truffles recipe is that you can alter the quantity of ingredients to suit your preference. Don't like oats? Use more coconut instead. Don't like honey? Use molasses as a sweetener. Don't like dark chocolate? Use milk chocolate or semi-sweet chocolate or even white chocolate.
Wearing disposable plastic gloves makes it easier to roll the mixture into balls. It's not as sticky or messy!
I used a hand-held blender to mix all the ingredients together but you can easily use a food processor too.
I did a video tutorial for this recipe to help your follow along.
All the exact measurements can be printed below.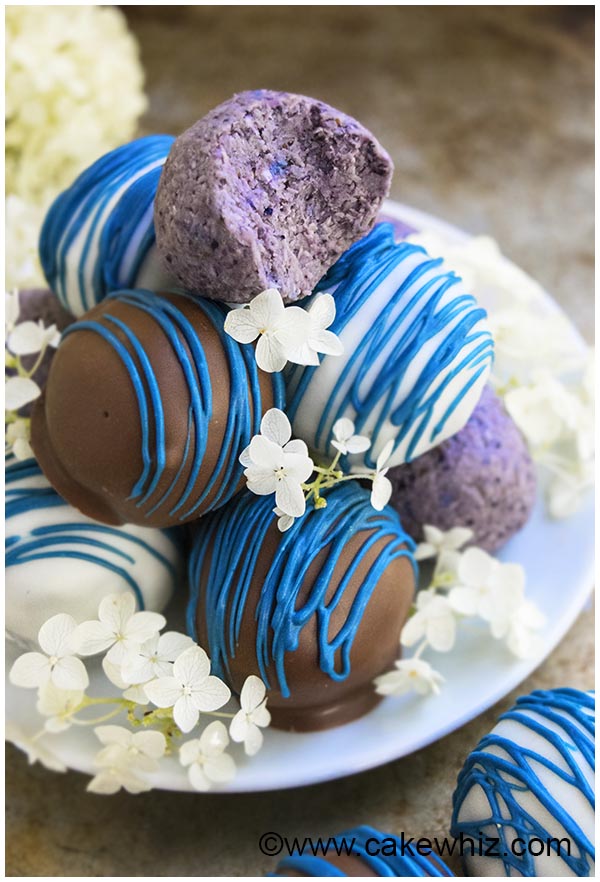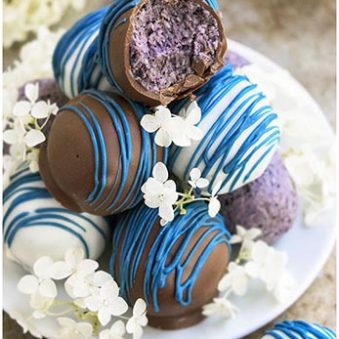 Healthy Chocolate Blueberry Truffles
These easy healthy chocolate blueberry truffles are raw and made with ingredients that are good for you. Great as a snack or guilt free dessert!
Yield: Servings
Ingredients
1 cup Blueberries, Fresh washed and patted dry
⅓ cup Coconut oil
⅔ cup Oats, Quick cooking
1 cup Coconut, Dessiccated
¼ cup Honey
¼ cup Vital Proteins collagen peptides, Or protein powder
1 cup Dark chocolate, Melted for dipping
½ cup Blue chocolate, Melted for drizzling
Purple gel coloring, Optional
Instructions
Dump the blueberries, desiccated coconut, oats, coconut oil, honey, collagen peptides in a

mixing bowl

. Add purple gel coloring, if you like.

Use a hand help

blender

to mix everything together. You can also do this, using a food processor.

Chill this mixture overnight or until everything becomes firm.

Scoop out small portions of this mixture and roll them into small balls and place them on a

cookie tray

lined with wax paper.

Dip each ball in melted dark chocolate and place them on a cookie tray lined with wax paper.

When the chocolate hardens, drizzle melted blue chocolate and let it set. Enjoy!
Nutrition
Calories: 180kcal, Carbohydrates: 14g, Protein: 2g, Fat: 13g, Saturated Fat: 9g, Sodium: 10mg, Potassium: 148mg, Fiber: 2g, Sugar: 8g, Vitamin A: 50IU, Vitamin C: 1.5mg, Calcium: 20mg, Iron: 1.8mg
Well, that's all for today.
If you liked this post, you may like some of these other truffle recipes too…
Harry Potter golden snitch truffles
Until next time, tata my lovelies!