Oreo and Peanut Butter Bites
These delicious Oreo and peanut butter bites are a quick and easy 4th of July dessert or snack. No baking! No mess! Even kids can make them.
Happy BELATED 4th of July everyone… Let's celebrate with these Oreo and peanut butter bites!
I hope all of you got to ENJOY great food and drinks, surrounded by LOVING family and friends. 
We had a pretty LOW-KEY 4th of July celebration… went over to Grandma's place, had a delicious meal and then went out to see the fireworks. 
Our little one got BORED of the fireworks in about 5 minutes and was more interested in seeing the nearby cars driving by and kept yelling" "Voom! Voom! Go! Go!" hahaha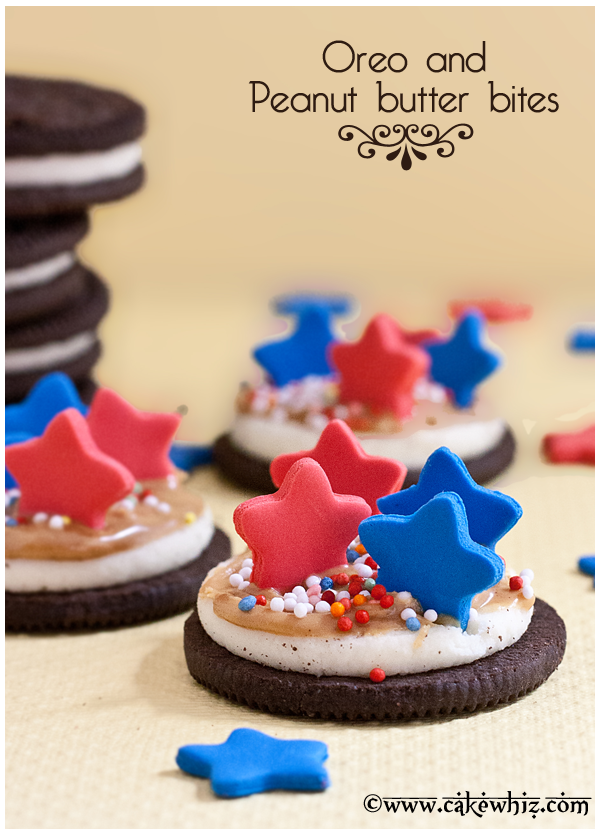 Anyways, I made these ADORABLE little Oreo and peanut butter bites to snack on, while watching the lights and they were a big HIT!
Everyone LOVED them!
So, I just knew I had to share these little cuties with y'all.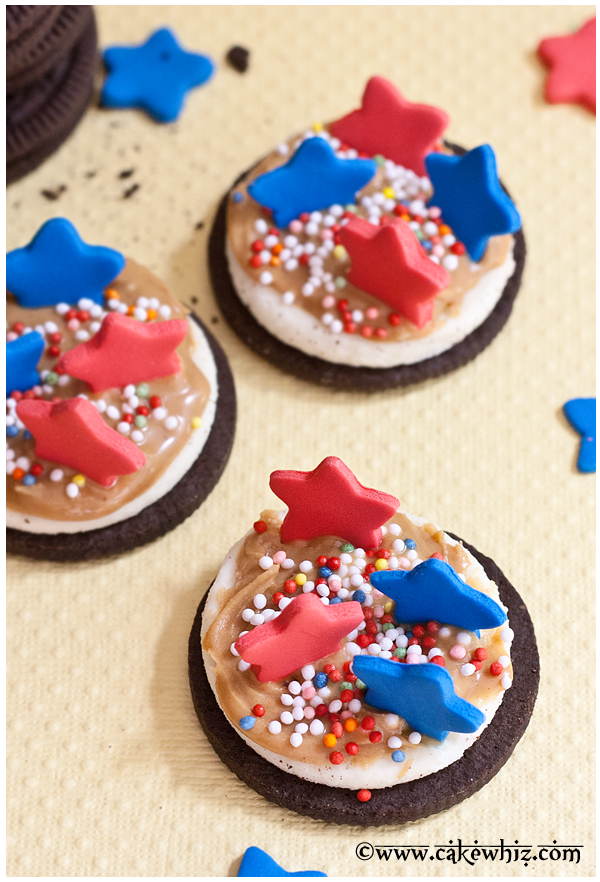 I think it's IMPOSSIBLE to ever go wrong with Oreos and peanut butter…
But, once you add some sprinkles and fondant stars, you have truly got a WINNING treat…lol! 
I was DEBATING between using peanut butter or Nutella but peanut butter appeared to be the best choice… hands down! heheheh
To make them, you will need the following ingredients:
Oreos
Peanut butter
Red and blue fondant stars or jumbo patriotic star sprinkles
Colorful sprinkles

And here are the steps:
Step 1:
Separate your Oreo cookies.
You will only be using the creamy side.
Keep the non-creamy sides in a ziploc bag and use them in cakes, frostings or smoothies later.  
Step 2:
Scoop a teaspoon of peanut butter on top of your creamy Oreo cookie.
Step 3:
Cut out some red and blue marshmallow fondant stars and stick them on top of the Oreo.
You can also use jumbo patriotic star sprinkles that are readily available around this time of the year.
Step 4:
Toss some sprinkles on top of your Oreo bites.
And that's it… You are done!
Make sure you have LOTS of these on hand coz once you start eating them, it's REALLY hard to stop…lol.
Well, that's all for today.
Until next time, tata my lovelies!