Mini OREO Bites {No Bake}
Quick, easy, no bake mini Oreo bites recipe, homemade with simple ingredients in 20 minutes. Loaded with creamy peanut butter and sprinkles. Perfect for 4th of July parties and picnics
Let's celebrate the 4th of July with today's easy no bake treats, along with these 4th of July Cupcakes (Red, White and Blue Cupcakes) and 4th of July Cake.
I think it's impossible to ever go wrong with Oreos and peanut butter but once you add some sprinkles and jumbo stars, you have truly got a winning treat.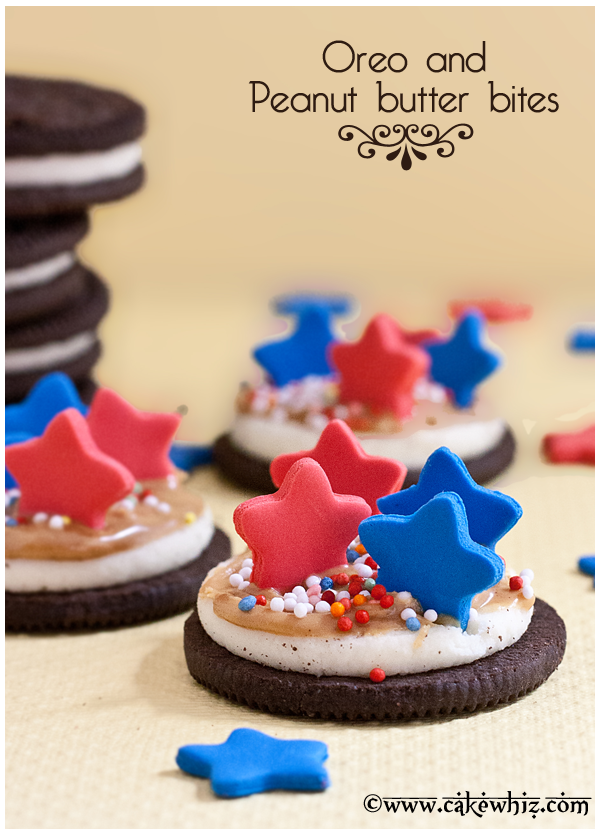 How to make mini Oreo bites from scratch?
Separate Oreo cookies– You will only be using the creamy side.
Spread peanut butter- On top of the cookie.
Add decorations– This includes jumbo patriotic stars and sprinkles.
Ingredients you will need
Oreos
Peanut butter
Red and blue fondant stars or jumbo patriotic star sprinkles
Colorful sprinkles
Variations
Use other nut butters- Instead of peanut butter, try Nutella or almond butter or sunflower butter or cashew butter.
Try other decorations- Use different colors of sprinkles to match the holiday or party theme.
Sprinkle nuts- Such as roughly chopped peanuts, cashews, pistachios, pecans, walnuts, almonds.
Add chocolate chips– Mini size would be best for these bite sized treats.
Toss candy bars– Roughly chop up up your favorite candies and sprinkle them on top of the peanut butter. Mars bars, Reese's peanut butter cups, Twix, Crunch, Butterfinger, Almond Joy would all be great choices.
Add dried fruits- Such as cranberries, cherries, raisins, dried mangoes, apricots, shredded coconut.
Use other cookies- Instead of Oreos, use other store-bought cookies or try any of these Homemade Cookies.
Add a drizzle- Try Homemade Caramel Sauce or Dulce de Leche or Chocolate Ganache or simply melted chocolate. Do this right before serving so that the cookie base does not become soft.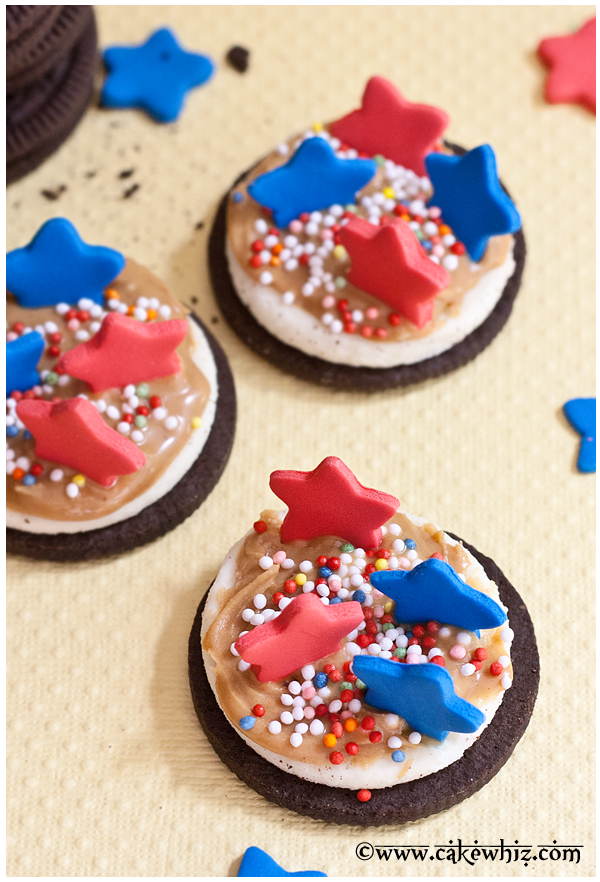 Tips and Techniques
Can't find jumbo star sprinkles? Make them with a tiny cookie cutter and Homemade Marshmallow Fondant.
What to do with plain Oreo cookies? Store them in a Ziploc bag and use them in these Oreo Cupcakes with Oreo Frosting or use them in this Oreo Pie Crust. They also taste great as an ice cream topping or in milkshakes.
Fill a piping bag or small Ziploc bag with peanut butter- Just snip the end of the bag. This makes it easier to spread peanut butter on top of each cookie.
Warm peanut butter in microwave- Because this makes it easier to spread. Don't overheat it!
Storage
Room temperature– Store leftovers in a cardboard box away from humidity for up to 3 days.
Refrigerate- This is not recommended since the Oreos can absorb the moisture in the fridge and become soft and soggy.
Freeze- This is not recommended since the sprinkles will bleed color upon thawing and the cookies tend to become soggy.
More Oreo Desserts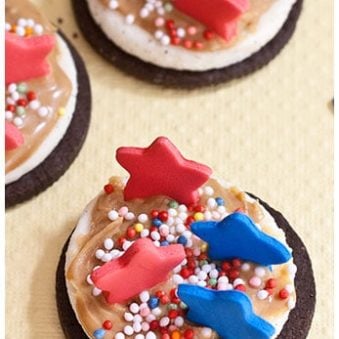 Easy Mini Oreo Bites
Quick, easy, no bake mini Oreo bites recipe, homemade with simple ingredients in 20 minutes. Loaded with creamy peanut butter and sprinkles.
Yield: Bites
Ingredients
20 Oreos
1/2 cup Peanut butter, Creamy
1/2 cup Jumbo star sprinkles, Red, white and blue
2 tbsp Rainbow sprinkles
Instructions
Separate your Oreo cookies. You will only be using the creamy side.Keep the non-creamy sides in a ziploc bag and use them in frostings or smoothies later.  

Scoop a teaspoon of peanut butter on top of your creamy Oreo cookie.

Stick jumbo patriotic star sprinkles on top.

Toss some sprinkles on top. Enjoy!
Notes
Read all my tips above.
Leftovers can be stored in a cardboard box at room temperature for up to 3 days. 
Nutrition
Calories: 98kcal, Carbohydrates: 11g, Protein: 2g, Fat: 6g, Saturated Fat: 1g, Trans Fat: 1g, Sodium: 85mg, Potassium: 68mg, Fiber: 1g, Sugar: 6g, Vitamin A: 1IU, Calcium: 5mg, Iron: 1mg