Caramel Pecan Sticky Buns
Homemade, easy caramel pecan sticky buns recipe, made with simple ingredients from scratch. These sweet rolls are the best and loaded with cinnamon, pecans.
My family makes these delicious caramel pecan sticky buns every Thanksgiving morning for breakfast. I love using pecans in baking, as you can tell from these  Chocolate Pecan Pie Bars or this Easy Pecan Pie Recipe.
Sticky buns are the  ultimate sticky sweet rolls that are primarily enjoyed as dessert, breakfast or brunch. They are a labor of love because they do require some effort but it's absolutely worth it at the end.
These homemade sticky buns require simple ingredients!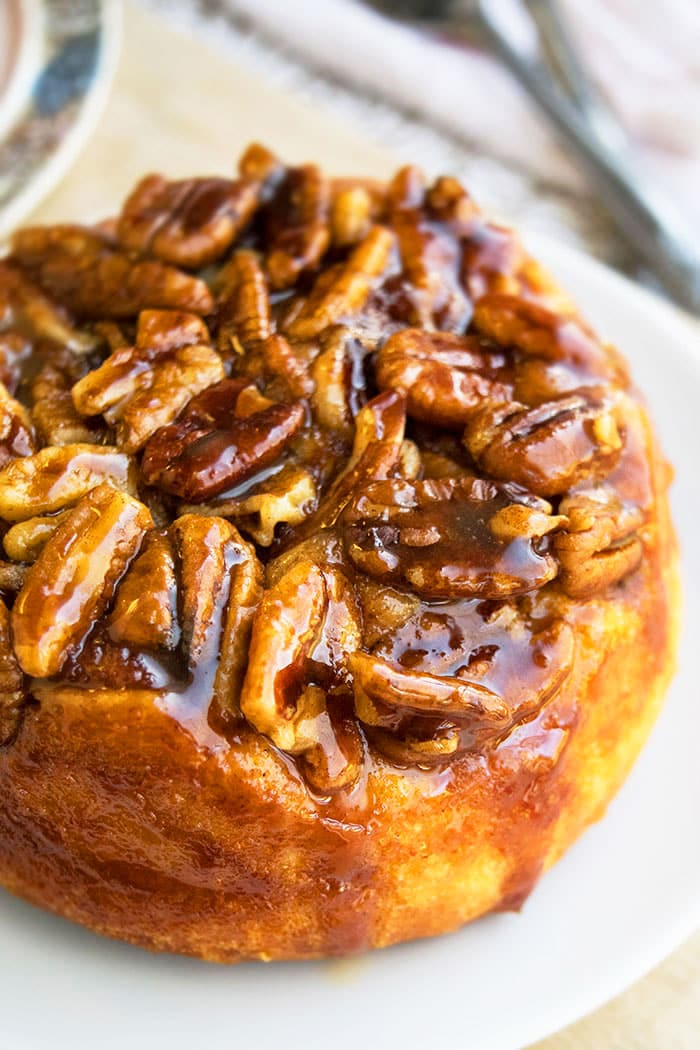 These are the best sticky buns!
I have tried a few other recipes over the years but this family version is always a winner.
How to make sticky buns? How do you make sticky buns?
Prepare the dough.
Let it rise.
Roll it out.
Spread butter.
Sprinkle cinnamon sugar.
Roll from one end to the other end into a long log shape.
Cut slices and keep aside.
Mix together heavy cream and brown sugar.
Pour this mixture in a rectangle pan.
Sprinkle pecans.
Place the rolls on top of this caramel pecan layer.
Bake and invert onto a serving dish and you are done.
What is the difference between a cinnamon roll and a sticky bun?
Cinnamon rolls have a cinnamon sugar filling and sugar glaze or frosting on top BUT sticky buns have a cinnamon sugar filling and a sticky caramel pecan topping.
What's in a sticky bun?
It's sweet yeast roll that's filled with cinnamon sugar and has a caramel pecan topping. The caramel pecan layer bakes at the

Sticky buns with biscuit dough
This is an easier version that uses store-bought biscuit dough.  However, it is not my favorite because homemade bun dough is softer and has a wonderful texture than compared to biscuit dough.  Basically, start off  by rolling out  out pre-made biscuit dough, spread butter and sprinkle the cinnamon sugar on top. Roll it from one end to the other end. Cut into round slices and place them on top of the baking tray, that's filled with caramel and pecans. Bake and enjoy.
Sticky buns with no nuts
Instead of pecans, any nuts of your choice can be used. You can also reduce the amount of nuts, based on your preference or omit them altogether. However, I think that the nuts really take these pecan rolls over the top and should not be completely omitted.

Overnight sticky buns
After the rolls are placed in the baking tray, just cover and refrigerate it overnight (6-8 hours) and bake in the morning. They will be super soft and fluffy.
Sticky buns in bundt pan
That's actually called monkey bread and wouldn't be classified as sticky buns. It's a different recipe altogether.
Cinnamon sticky buns
Cinnamon is primary flavor in these buns. However, you can get creative add add other extracts like vanilla and almond but cinnamon is the traditional flavor and that's what my family enjoys.
Caramel sticky buns
Do not use pre-made caramel in this recipe because it can burn during baking and does not yield the best flavor.

Tips for easy sticky buns recipe
Use unsalted butter because that would make these buns very salty.
Don't use whole wheat flour because that will not yield the same fluffy texture.
The milk and water has to be warm in order to activate the yeast. However, if either of those two ingredients are too hot, it can kill the yeast. The ideal temperature is 110-115 degrees.
I highly recommend using a mixer to mix the dough together because it's a time-saver and also not very messy.
The amount of cinnamon can be adjusted, based on your preference.
I like to use a combination of whole and chopped pecans but you can use only chopped pecans or only whole pecans.
Roast the pecans first on stovetop to enhance their nutty flavor.
Heavy cream cannot be replaced with milk because it does not have a high fat content to make the sticky caramel layer.
Use a cupcake pan to make mini buns.
To add a little chocolate flavor to these buns, drizzle melted semisweet chocolate on top of the rolls, after they come out of the oven. You can also stir in some mini chocolate chips in the filling.
Other Fall & Thanksgiving Breakfast Recipes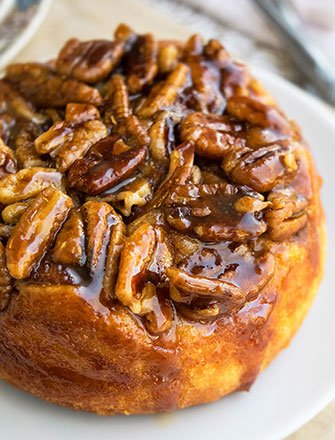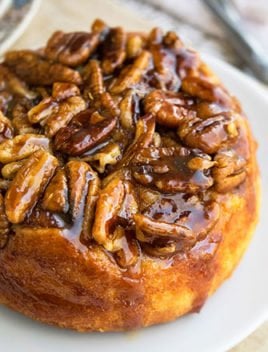 Caramel Pecan Sticky Buns
Homemade, easy caramel pecan sticky buns recipe, made with simple ingredients from scratch. These sweet rolls are the best and loaded with cinnamon, pecans.
Yield: Buns
Ingredients
Rolls/ Buns
1 packet Active dry yeast, E.g. 1/4 oz. OR 2 1/4 tsp
3/4 cup Water, Warm (Between 110 degrees - 115 degrees)
3/4 cup Whole milk, Warm (Between 110 degrees - 115 degrees)
1/4 cup Granulated sugar
3 tbsp Oil
4 cups All-purpose flour, May need an additional 1/4 cup flour
Filling
1/4 cup Butter, Unsalted, Room temperature
1/4 cup Granulated sugar
1 tbsp Cinnamon powder
Caramel Topping
3/4 cup Brown sugar
1/2 cup Heavy cream
3/4 cup Pecans, Whole
1/4 cup Pecans, Roughly chopped
Instructions
Rolls/Buns
In a large mixing bowl, add yeast and water and mix to dissolve it together.

Mix in milk, sugar and oil.

Gradually, add flour (1/2 cup at a time) and continue mixing until you have a soft dough. Use a mixer! 

Transfer this dough to a floured surface.

Knead until dough is smooth and elastic. It takes about 8 minutes.

Transfer this dough into a greased bowl. 

Cover and let it rise in a warm place until doubled. This usually takes about 1 hour.

Remove cover and transfer this dough to a floured surface again.

Roll it into an big rectangle (Dimensions: 18x12).
Filling
Spread butter on top.

In a separate bowl, whisk together granulated sugar and cinnamon sugar and sprinkle this all over the butter.

Roll the dough from one end to the other, similar to a jelly cake roll. Pinch seams to seal dough together. Cut into 12 slices.
Caramel Topping
In a mixing bowl, mix together brown sugar and heavy cream.

Sprinkle with pecans. 

Place sliced rolls on top of the pecans.

Cover with aluminum foil and let dough rise again until doubled. This usually takes about 1 hour.

Bake at 350 degrees for 30-35 minutes or until nice and brown.

Let it cool for 2-3 minutes and then, invert these buns onto a serving dish and enjoy!
Notes
IMPORTANT: Instead of a rectangle pan, you can use individual mini 4 inch round cake pans. Just, add the caramel filling in each pan and top it off with sliced rolls. Bake and then invert onto a dish. 
Read all my tips above.
Leftovers can be stored in a sealed container in the fridge for up to 2 days and can be reheated in the microwave for a few seconds to make them ooey gooey again. 
Nutrition
Calories: 566kcal, Carbohydrates: 90g, Protein: 10g, Fat: 18g, Saturated Fat: 5g, Cholesterol: 25mg, Sodium: 50mg, Potassium: 177mg, Fiber: 3g, Sugar: 23g, Vitamin A: 290IU, Calcium: 61mg, Iron: 4.4mg
Until next time, tata my lovelies!