Blueberry Smoothie
Quick and easy banana blueberry smoothie recipe, homemade with simple ingredients. Healthy, refreshing, rich, creamy, loaded with fruits, yogurt and milk.
This Raspberry Smoothie and Strawberry Smoothie is on constant rotation at our home, along with today's recipe. That's because these breakfast smoothies are bursting with Summer fruits and are so refreshing and perfect for cooling down.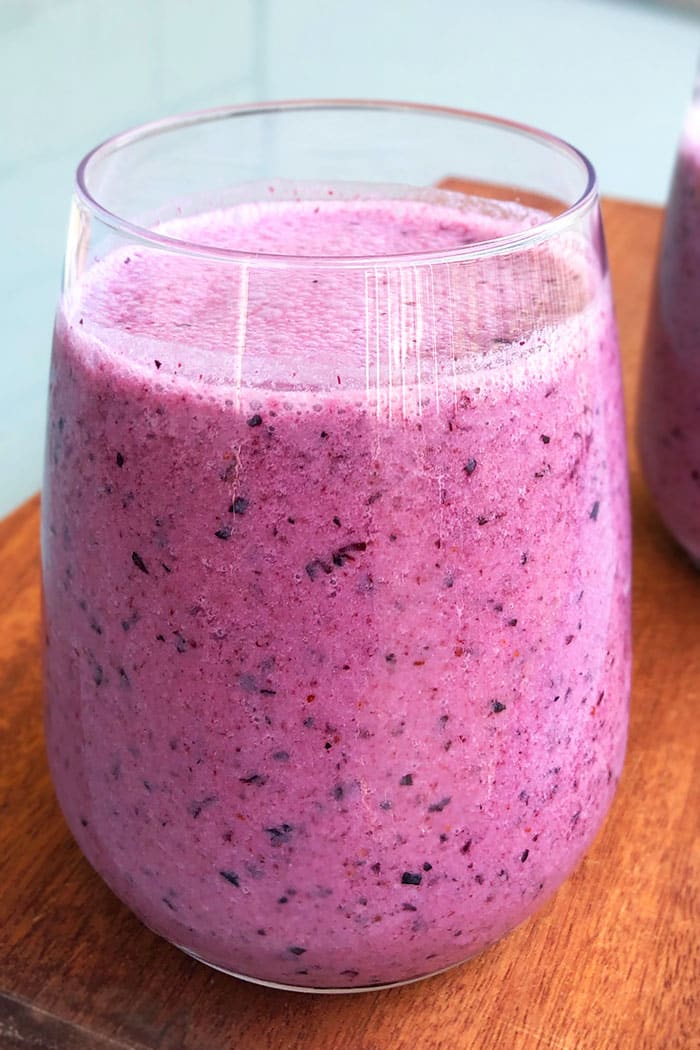 How to make blueberry smoothie recipe?
Add blueberries, banana, milk, yogurt, honey in blender– Puree everything until super smooth.
Enjoy– Pour into 2 cups and dig in!
Variations for blueberry banana smoothie
Strawberry blueberry smoothie– Add about 1/2 cup strawberries.
Add juice- Replace milk with apple juice or any other unsweetened fruit juice of your choice.
Serve as smoothie bowl– Instead of cups, serve in a bowl with toppings like nuts, granola, fruits.
Add vegetables- Such as spinach or avocados.
Add other fruits– Such as mangoes, pineapples, raspberries, peaches e.t.c.
Add oatmeal– I don't like it because of its chunky texture but it's a healthy addition.
Try other flavors of yogurts– I used vanilla yogurt but you can get creative and use other flavors.
Add nut butters– Such as almond butter, cashew butter or other mild-tasting butters.
Add chia seeds or flax seeds– 1-2 tsp is usually enough. 
Add protein powder– 1 tbsp should be a good amount in this recipe.
Use other types of milk- I used 2% milk but you can use whatever milk you have on hand, including vegan dairy free milk. Try almond milk, cashew milk, soy milk or coconut milk.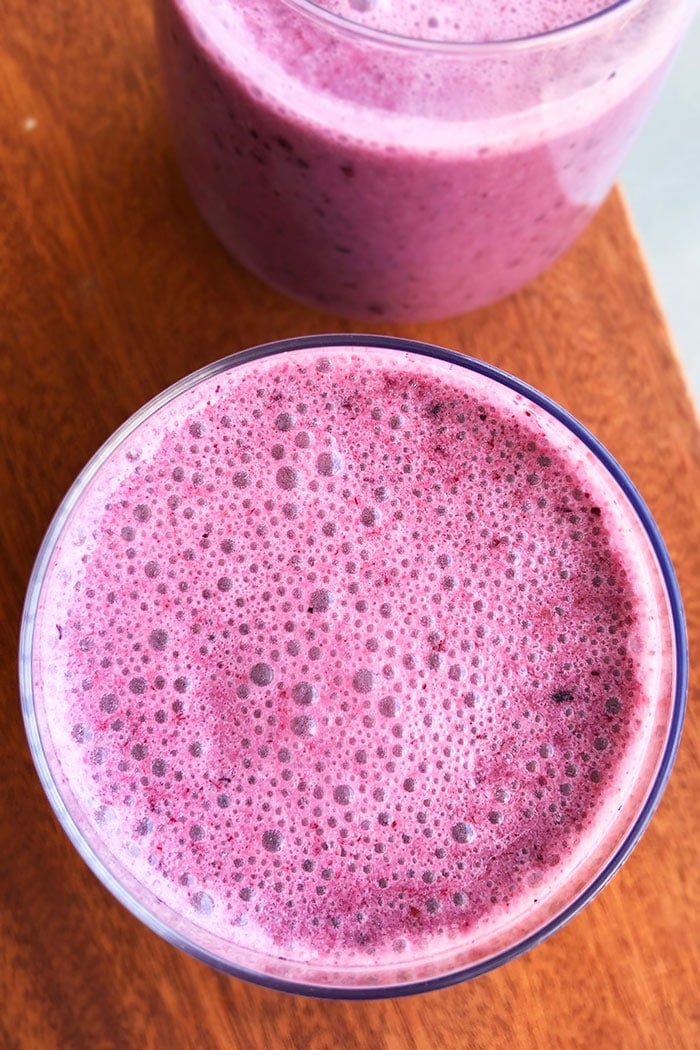 Tips and Techniques
Use ripe fruits– Because they are the sweetest with the best flavor. Since they are naturally very sweet, you would probably not need to add any other sweeteners.
How to make thick smoothie? Freeze all the fruits and use that in this recipe. That makes a very thick smoothie with a consistency that's similar to a shake or a frosty. Also, add less milk.
How to make smoothie thinner? Mix in more milk.
Fresh blueberries vs. Frozen blueberries– Either can be used but I highly recommend frozen ones because they make a thicker drink. I would even recommend using frozen bananas, if possible.
Adjust sweetness- You can add more or less honey, based to your preference. You can even substitute honey with artificial sweeteners, granulated sugar or maple syrup. 
Use Greek yogurt- Because it's thick and creamy and creates the best consistency and texture for this drink.
Make a bigger batch- Double all the ingredients to serve more people.
More Smoothie Recipes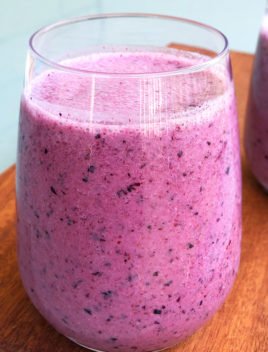 Banana Blueberry Smoothie
Quick and easy banana blueberry smoothie recipe, homemade with simple ingredients. Healthy, refreshing, rich, creamy, loaded with fruits, yogurt and milk.
Servings: 2 Cups
Course: Beverages, Breakfast
Cuisine: American
Keyword: homemade smoothie
Calories: 273 kcal
Ingredients
1.5 cups Milk Whole, 2%, coconut milk, soy milk or almond milk
1/2-3/4 cup Vanilla Greek yogurt Adjust to your taste
1.5 cup Blueberries Preferably frozen
1 Banana Ripe
1 tbsp Honey Optional
Instructions
Add all the ingredients in a blender.

Pour into individual cups. Enjoy!
Recipe Notes
Read all my tips above.
Leftovers can be stored in the fridge for up to 2 days. 
Nutrition Facts
Banana Blueberry Smoothie
Amount per Serving
% Daily Value*
* Percent Daily Values are based on a 2000 calorie diet.