How To Make Candied Nuts
Learn how to make candied nuts with simple ingredients. Use this easy recipe to make 3 different flavor variations. Great as snack or homemade gift!
Today, I am sharing the BEST candied nuts recipe ever!
I love making them during the holidays because the house smells HEAVENLY…It's intoxicating and gets us all in the holiday spirit.
This EASY candied nuts recipe comes from my Mom but I have tweaked it a bit and developed FOUR more flavors:
Coconut
Cinnamon Spice
Coffee
Orange
Pack these nuts in a masothn jar with a cute printable and you have a wonderful HOMEMADE GIFT to give to your family and friends during Christmas and Thanksgiving.
I have tried making slightly healthy candied pecans/ sugar free candied nuts for diabetics with Stevia, Splenda but they were just not the same and there was a subtle after-taste that my family didn't like.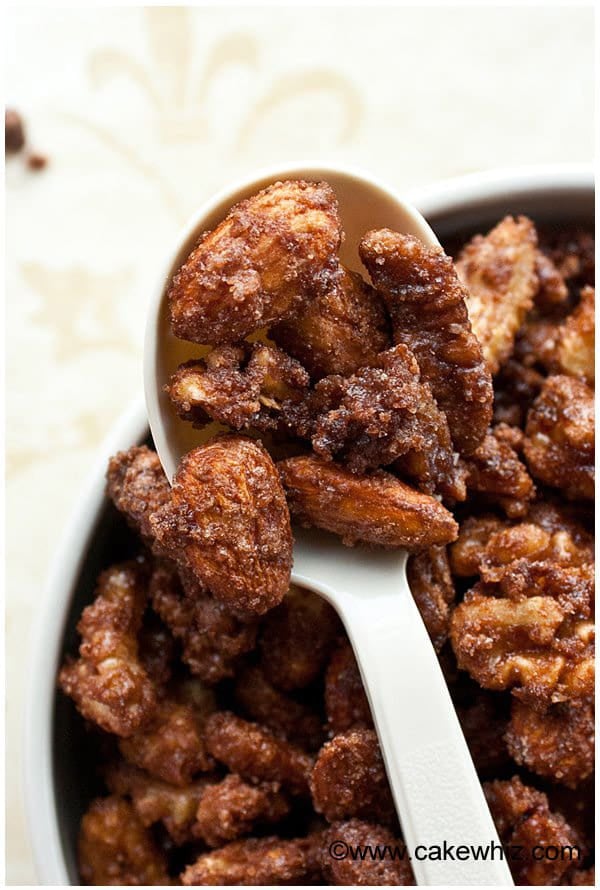 I like to make candied mixed nuts, using a VARIETY of nuts (usually pecans, almonds and walnuts) but you can use this recipe to make ONLY candied almonds or candied walnuts or candied pecans or candied cashews…whatever you like!
These nuts have so many uses beyond just gifting during the holidays or enjoying as is…
You can use candied nuts in:
Salad toppings (Candied pecans for salads are amazing!)
Ice cream toppings
Potato casseroles topping
Pumpkin pie topping
Cheese plates
Cake toppings or fillings (Check out my Cranberry coconut cake)
Various ways to make these nuts:
Slow Cooker/Crockpot candied nuts
Stovetop candied nuts
Instant pot candied nuts
Oven candied nuts (My favorite method)
Microwave candied nuts

Here are answers to a few questions that are probably going through your mind.
What are candied nuts?
They are sweetened, crispy nuts that are mostly made during the holiday season.
How to make candied nuts? How do you make candied almonds? How to make glazed nuts?
I have seen various methods of making these nuts. Some people like to make them in a slow cooker/crockpot. Others prefer the oven and some are fond of making them on the stovetop.  My recipe involves mixing together the egg whites, sugar and spices together in a mixing bowl and then spreading them out on a cookie tray and baking in the oven.
How to sweeten candied nuts?
I like to sweeten my nuts with a combination of granulated sugar and brown sugar. But, people have different preferences.
Sweeten nuts with:
Coconut sugar
Maple syrup
Honey
Splenda, Truvia, Stevia (Artificial sweeteners)
Agave
Corn syrup
How to keep candied nuts crisp?
My tip is to use egg whites! Making candied nuts with egg white will ALWAYS result in crispy crunchy nuts and they won't become soggy and soft after a few days either.
Why are my candied nuts sticky? How to keep candied nuts from sticking?
They were not baked long enough or your oven is not calibrated properly and they were not baked at the correct heat temperature. Perhaps, they were not spread out properly in the tray to allow even baking.
How to reheat candied nuts?
I have NEVER had to reheat my nuts but, if you did not use egg whites in your recipe, your nuts might get soft after a few days  and you will have to reheat them to bring back the crispy texture. Just spread them on a cookie tray and bake at 350 degrees for about 10 minutes. Honestly, just use my recipe and you WON'T have to worry about reheating nuts!
How long do candied nuts keep? How long do they stay fresh?
I like to use them within 1 month. After that, they taste a little stale (YUCK!).
How to store homemade candied nuts?
Once the nuts have cooled down to room temperature, store them in a air tight container at room temperature for 1 month.
How to package candied nuts?
Pack them in a box,  jars or plastic treat bags. Check out my 9 easy ways to package edible gifts. 

Can you freeze candied nuts?
Yes, but you must freeze them in SEALED freezer bags. No moisture should get into the bag because that will make them soggy when you take them out of the freezer.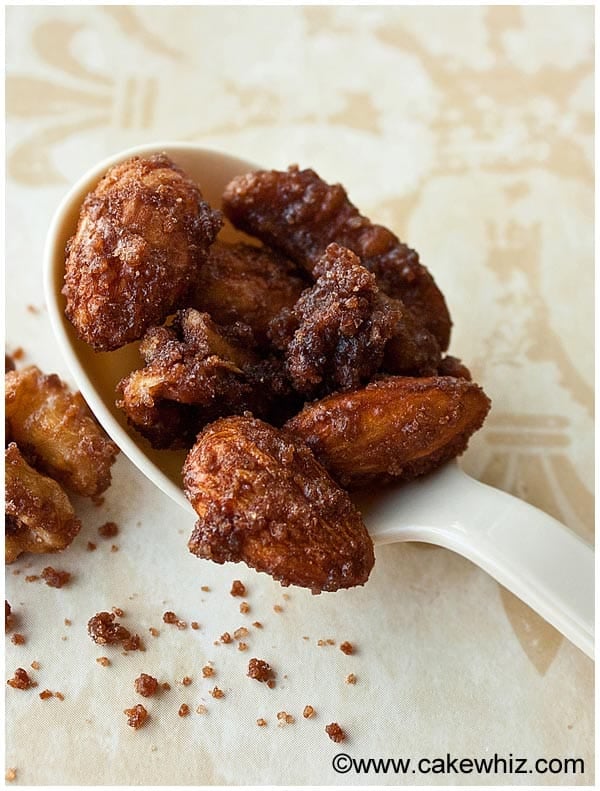 Other Nut Recipes: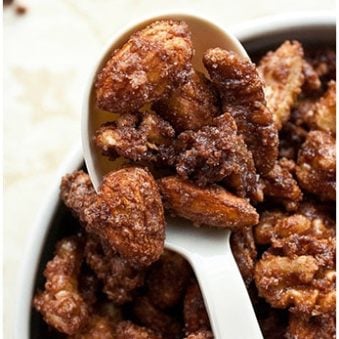 Classic Candied Nuts Recipe
Learn how to make candied nuts recipe with simple ingredients. Use this quick and easy recipe to make 3 different flavors. Great as snack or homemade gift during Christmas holiday season!
Yield: Cups
Ingredients
2 cups Pecans
1 cup Almonds
1 cup Walnuts
½ cup Sugar, Granulated
½ cup Brown sugar
1 Egg white, From large egg
1 tbsp Cinnamon powder
½ tsp Salt
½ tsp Vanilla extract
1 tsp Water
Instructions
Add brown sugar, granulated sugar, cinnamon, salt and mix everything together until just combined,

Add all the nuts and mix everything with a spatula until they are properly coated.

Spread the nuts on a

cookie tray

lined with parchment paper. Make sure they are properly spread out and not sticking together.

Bake at 300 degrees for 40-45 minutes. Make sure to stir everything with a spoon every 15 minutes.

Once the nuts have cooled down to room temperature, pack them in a sealed airtight container and use within 1 month.
Notes
For coffee nuts, omit cinnamon powder and use 1½ tbsp espresso powder and ½ tbsp cocoa powder.
For coconut nuts, omit vanilla extract and cinnamon powder and use 1 tbsp coconut extract and 2-3 tbsp unsweetened desiccated coconut.
For spicy candied nuts or spicy candied pecans, keep everything as is and also add 1 tbsp paprika and 1 tbsp chili powder (add more or less depending on your preference).
For orange candied nuts, omit cinnamon powder, vanilla extract and add 1 tbsp orange zest and use 1 tsp orange extract. 
Nutrition
Calories: 950kcal, Carbohydrates: 72g, Protein: 17g, Fat: 72g, Saturated Fat: 6g, Sodium: 312mg, Potassium: 632mg, Fiber: 12g, Sugar: 55g, Vitamin A: 30IU, Vitamin C: 0.9mg, Calcium: 200mg, Iron: 3.8mg
Until next time, tata my lovelies!