Learn how to make candied nuts with simple ingredients. Use this easy recipe to make 3 different flavor variations. Great as snack or homemade gift!
Today, I am going to explain how to make candied nuts … the BEST nuts ever!
I love making them during the holidays because the house smells HEAVENLY…It's intoxicating and gets us all in the holiday spirit 🙂
This is an EASY recipe that comes from my Mom but I have tweaked it a bit and developed THREE more flavor variations: Coconut, Spiced and Coffee.
Pack these nuts in a mason jar with a cute printable and you have a wonderful HOMEMADE GIFT to give to your family and friends during Christmas and Thanksgiving.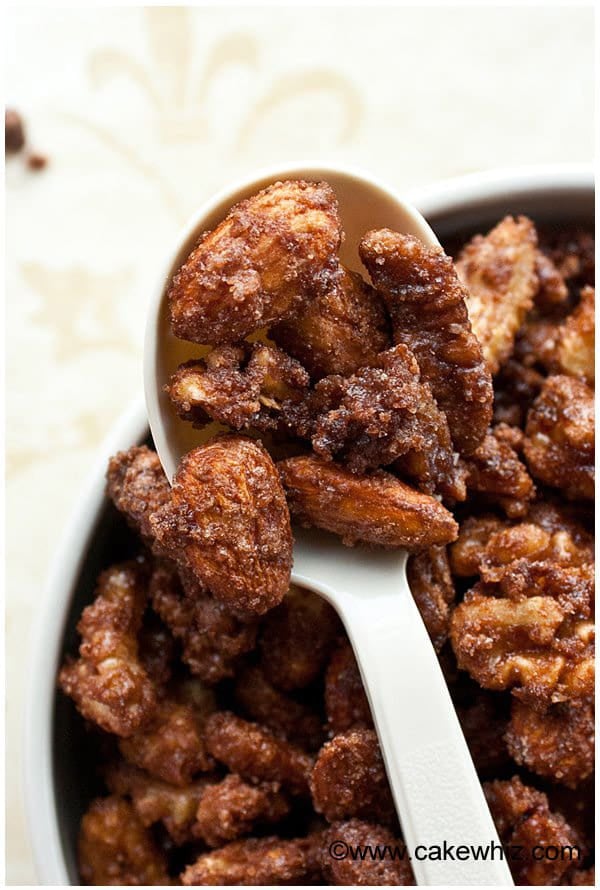 I like to make candied mixed nuts, using a VARIETY of nuts (usually pecans, almonds and walnuts).
But you can use this recipe to make ONLY candied almonds or candied walnuts or candied pecans or candied cashews…whatever you like!

MY OTHER RECIPES
These nuts have so many uses beyond just gifting during the holidays or enjoying as is…
You can use candied nuts in:
Salad toppings
Ice cream toppings
Potato casseroles topping
Pumpkin pie topping
Cheese plates
Cake toppings or fillings (Check out my Cranberry coconut cake)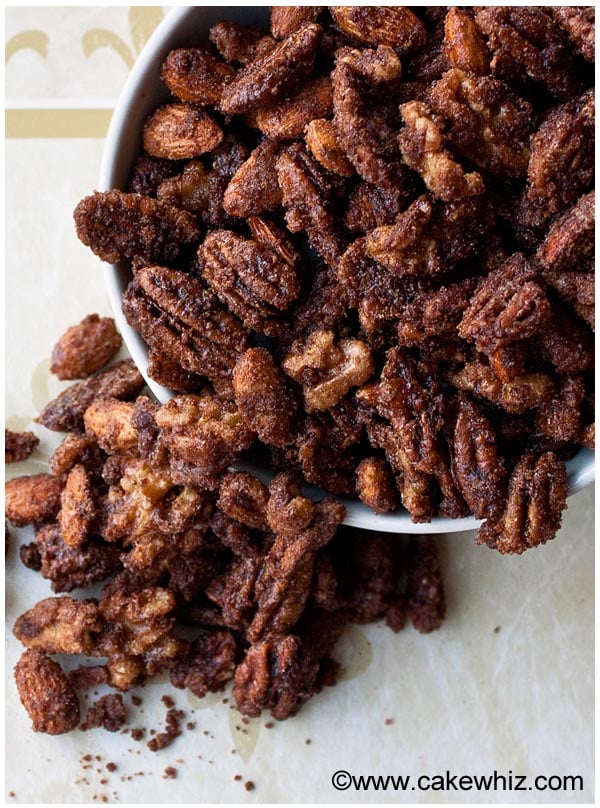 Here are answers to a few questions that are probably going through your mind 😉
What are candied nuts?
They are sweetened, crispy nuts that are mostly made during the holiday season.
How to make candied nuts?
I have seen various methods of making these nuts. Some people like to make them in a slow cooker/crock pot. Others prefer the oven and some are fond of making them on the stovetop. My recipe is for traditional and old fashioned candied nuts. They are made by mixing together the egg whites, sugar and spices together in a mixing bowl and then they are spread on a cookie tray and baked in the oven.
How to sweeten candied nuts?
I like to sweeten my nuts with a combination of granulated sugar and brown sugar. But, people have different preferences. I have seen these nuts with coconut sugar, maple syrup, honey, Splenda, Truvia, Stevia, Agave and even corn syrup.
How to keep candied nuts crisp?
My tip is to use egg whites! Making candied nuts with egg white will ALWAYS result in crispy crunchy nuts and they won't become soggy and soft after a few days either.
Why are my candied nuts sticky?
They were not baked long enough or your oven is not calibrated properly and they were not baked at the correct heat temperature.
How to reheat candied nuts?
I have NEVER had to reheat my nuts but, if you did not use egg whites in your recipe, your nuts might get soft after a few days  and you will have to reheat them to bring back the crispy texture. Just spread them on a cookie tray and bake at 350 degrees for about 10 minutes. Honestly, just use my recipe and you WON'T have to worry about reheating nuts!
How long do candied nuts last? How long do they stay fresh?
I like to use them within 1 month. After that, they taste a little stale (YUCK!).
How to store candied nuts?
Once the nuts have cooled down to room temperature, store them in a air tight container at room temperature for 1 month.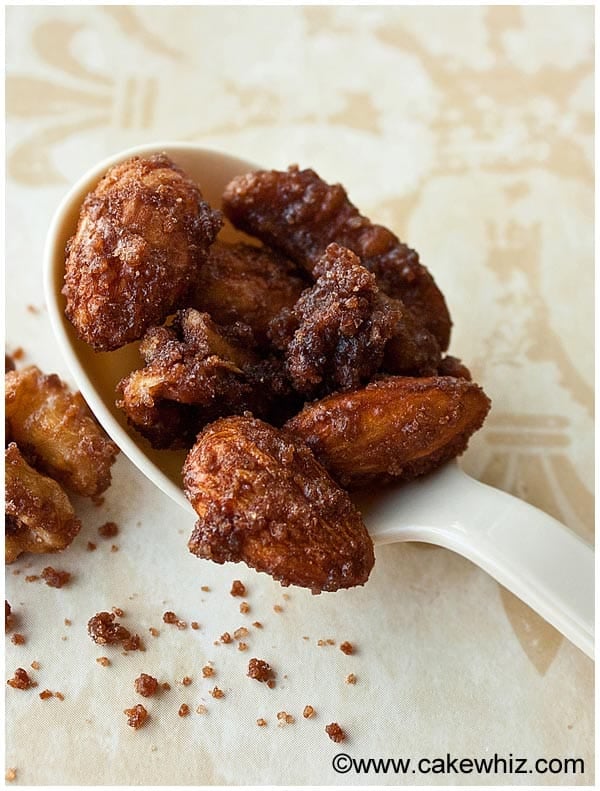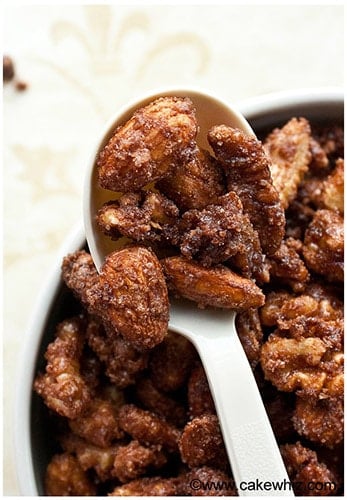 Print
How To Make Candied Nuts
Learn how to make candied nuts with simple ingredients. Use this easy recipe to make 3 different flavor variations. Great as snack or homemade gift!
Ingredients
2

cups

Pecans

1

cup

Almonds

1

cup

Walnuts

½

cup

Sugar

Granulated

½

cup

Brown sugar

1

Egg white

From large egg

1

tbsp

Cinnamon powder

½

tsp

Salt

½

tsp

Vanilla extract

1

tsp

Water
Instructions
In a mixing bowl, mix together the egg white, water and vanilla extract until the mixture becomes frothy.

Add brown sugar, granulated sugar, cinnamon, salt and mix everything together until just combined,

Add all the nuts and mix everything with a spatula until they are properly coated.

Spread the nuts on a cookie tray lined with parchment paper. Make sure they are properly spread out and not sticking together.

Bake at 300 degrees for 40-45 minutes. Make sure to stir everything with a spoon every 15 minutes.

Once the nuts have cooled down to room temperature, pack them in a sealed airtight container and use within 1 month.
Recipe Notes
- For coffee nuts, omit cinnamon powder and use 1½ tbsp espresso powder and ½ tbsp cocoa powder.
-For coconut nuts, omit vanilla extract and cinnamon powder and use 1 tbsp coconut extract and 2-3 tbsp unsweetened desiccated coconut.
- For spiced nuts, keep everything as is and also add 1 tbsp paprika and 1 tbsp chili powder (add more or less depending on your preference).
Nutrition Facts
How To Make Candied Nuts
Amount Per Serving
Calories 950
Calories from Fat 648
% Daily Value*
Total Fat 72g 111%
Cholesterol 0mg 0%
Sodium 312mg 13%
Potassium 632mg 18%
Total Carbohydrates 72g 24%
Protein 17g 34%
* Percent Daily Values are based on a 2000 calorie diet.
If you liked this post, you may also like some of these other recipes with nuts…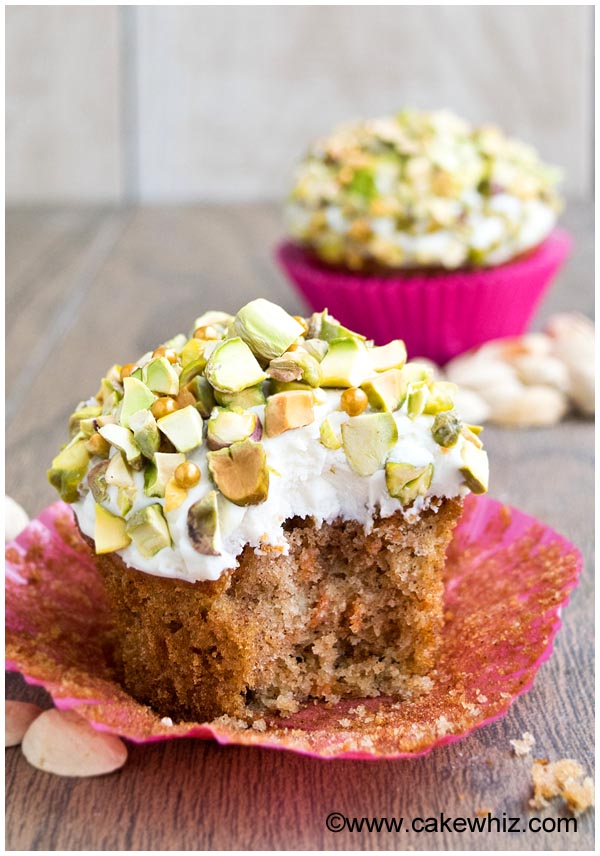 Banana cashew chocolate chip cookies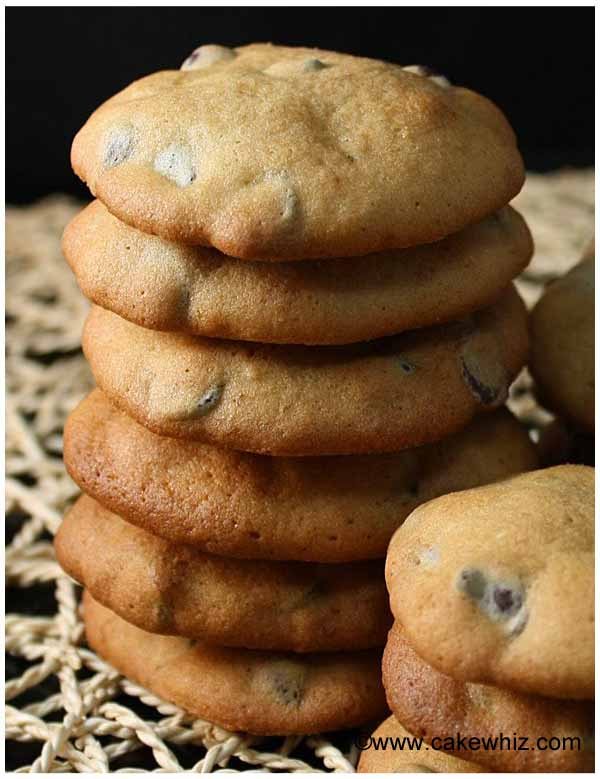 Until next time, tata my lovelies!