Easy Cinnamon French Toast
The best, classic, quick and easy cinnamon French toast recipe, homemade with simple ingredients in 20 minutes. Sweet, soft and fluffy! Also known as "churro french toast."
If you guys enjoyed my Cinnamon French Toast Sticks and Eggnog French Toast, you are going to love today's recipe too. With its fluffy texture and sweet flavor and spiced aroma, it's great for breakfast or brunch.
Just a quite note that this is different than "eggy bread" which is typically savory.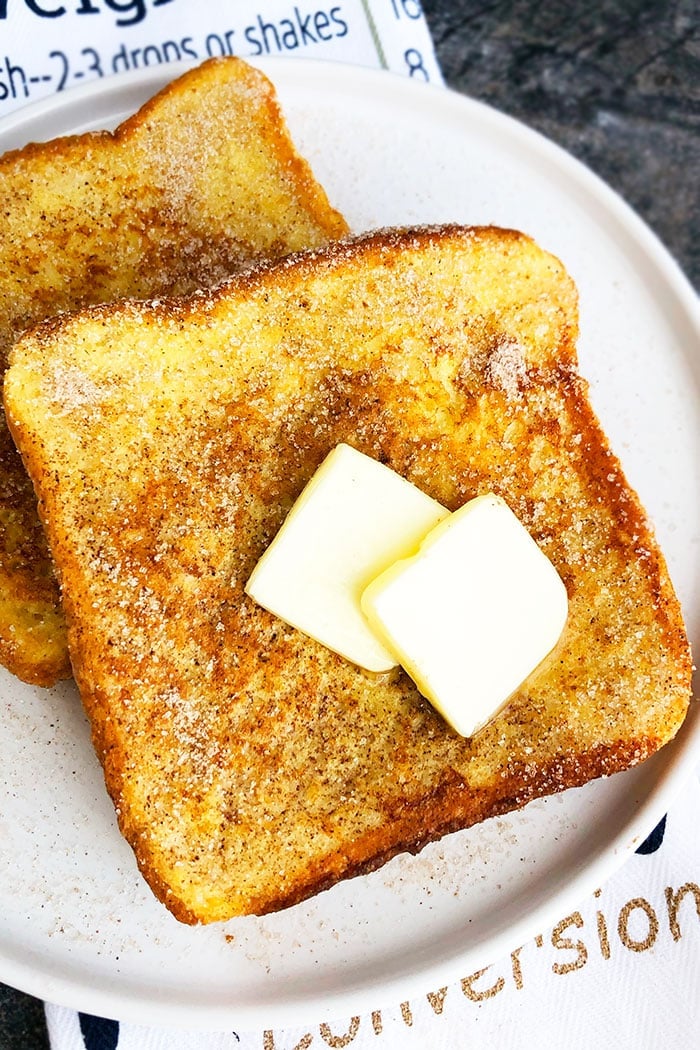 How to make french toast from scratch?
Make batter– Mix together eggs, milk, brown sugar, and vanilla extract.
Dip bread slices– But do not soak them.
Pan fry them– Shake off the excess liquid and place them onto a hot butted pan. Cook each side until golden brown.
Add cinnamon sugar coating (optional)- Mix sugar and cinnamon and coat the warm bread in this mixture until fully coated.
Enjoy! Add toppings of your choice and dig in!
What to serve with homemade French toast recipe? (Toppings)
There are many toppings and stuffing other than syrup and butter that you can try. Here are some ideas:
Powdered Sugar
Melted chocolate drizzle
Ice Cream
Warm peanut butter
Variety of fresh fruits- Such as apples, bananas, strawberries, blueberries, peaches e.t.c.
Chopped nuts
Flavored yogurt
Chocolate chips
Chopped up candy bars
Jams and jellies- Such as raspberry, grape, blueberry, apricot or even orange marmalade.
Pie fillings- Try Blueberry pie filling, Cherry pie filling, Raspberry pie filling, or Peach pie filling.
Maple syrup
Honey
Agave syrup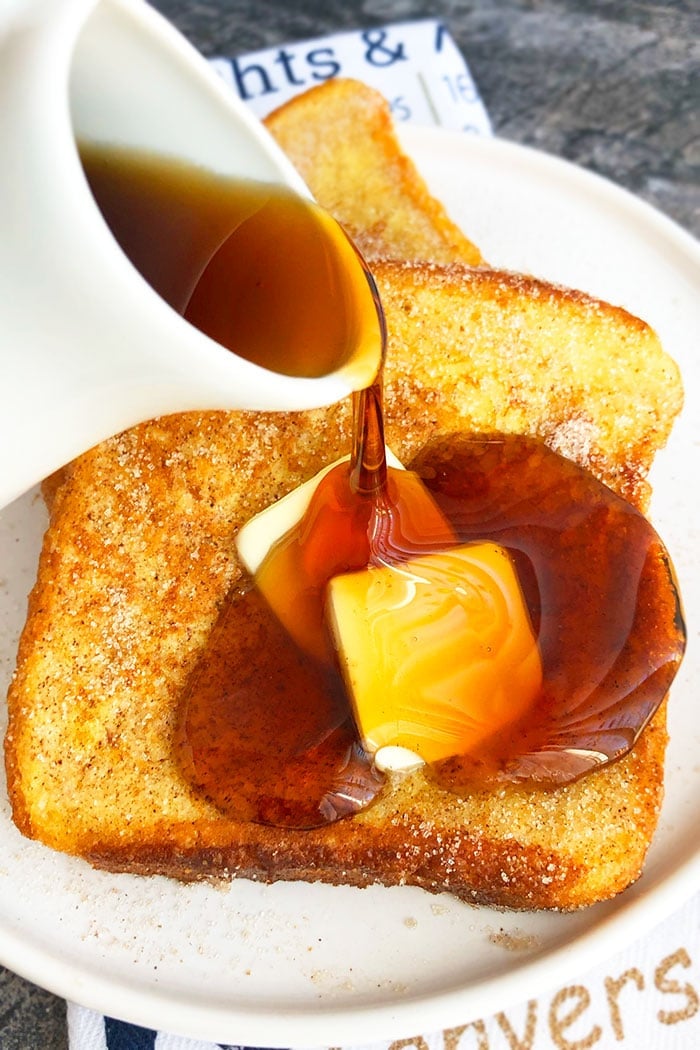 What is the best bread for French toast?
It can be made with the lightest, thick and soft bread loaves. Texas toast, challah, and brioche are the best but you can use whatever loaf of white bread you have on hand.
Breads like whole wheat, hardy grain, pumpernickel, sour dough, or rye will work as well. However, they have additional ingredients that could alter the flavoring of the final product. The texture of bread is also a factor because certain breads have a harder crust. If you cook them with a harder crust, you'll get a crunchy end result.
French Toast Ingredients/ Batter
Typically, it's made by mixing together the following:
Eggs
Milk
Vanilla Extract
Sugar
Bread
Butter
People can add other ingredients like cinnamon or additional extracts or replace milk with heavy cream.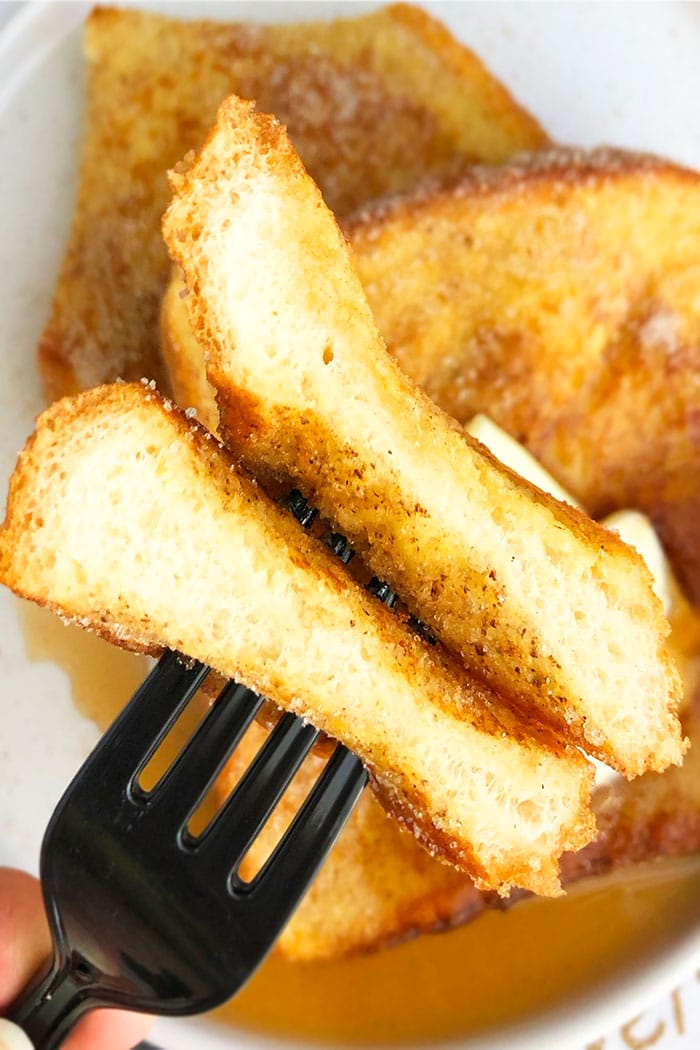 Variations
Roll Ups– cut the crust off of each bread slice, roll them flat with a rolling pin. Then, add your favorite filling to them such like jams, fruit preserves, Nutella, fresh fruits, chocolate. Dip in egg batter and pan-fry until golden brown.
Stuff it– My favorite version is s'mores. Add chocolate chips and marshmallow in between two slices and cook them until it's ooey gooey and and melted.
Use other types of bread– I used thick white bread (Texas Toast) but you can use brioche, challah e.t.c.
Add other flavors– Such as variety of extracts of even zests.
Storage
Refrigerate– Leftovers can be refrigerated in a sealed container for 1-2 days but they won't taste as good as freshly made ones.
Freeze- I personally don't recommend freezing because they don't taste as good when they thaw.However, people freeze them all the time in sealed freezer bags for up to 1 month and don't seem to mind them. Don't add the sugar topping if you are planning to freeze.
Reheat- Warm it in the microwave or stovetop or even toaster oven.
Tips and Techniques
Why is my french toast soggy? You may have soaked the bread in the egg and milk mixture for too long and it absorbed a lot of it. Another reason could be the addition off too much milk in the egg mixture. Measure properly with measuring cups.
Use stale bread– Because fresh bread soaks up too much egg custard mixture and the end result can be soggy or limp toast.
Do you have to remove the crust? You don't have to. You can keep it or remove it. It's a personal preference.
Make ahead instructions– You can make the egg mixture and cinnamon sugar a day in advance plus you can have the bread sliced and ready the day before too. This way, all the prep work is done and you can get started immediately.
Coat in cinnamon sugar quickly– If they cool down, the sugar won't stick to the toast.
Use unsalted butter– Because this prevents them from becoming too salty.
Don't overheat the pan– If it's too hot, you will burn the tops of the toast, while leaving the inside soggy. It won't cook evenly.
More Easy Breakfast Recipes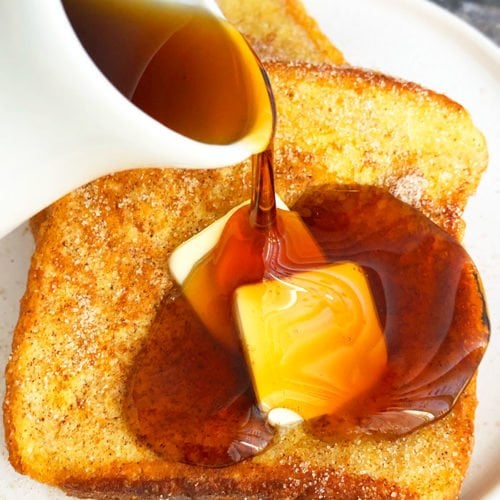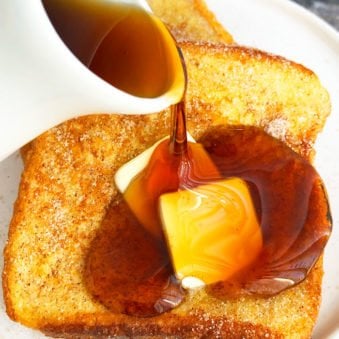 Easy French Toast
The best, classic, quick and easy cinnamon French toast recipe, homemade with simple ingredients in 20 minutes. Sweet, soft and fluffy!
Yield: French toast slices
Ingredients
4 Eggs, Large
4 tbsp Whole milk, Or heavy cream
1 tsp Vanilla extract
1.5 tbsp Brown sugar
8 slices Thick bread, Such as thick Texas toast or Brioche or Challah, Preferably stale
Butter, Unsalted, For pan-frying
Cinnamon sugar (Optional)
1 cup Granulated sugar
1.5 tbsp Cinnamon powder
Instructions
In a wide mixing bowl, add eggs, milk, vanilla, brown sugar and whisk until combined.

Dip bread slices in the egg mixture and quickly remove from bowl. Do not soak them!

Shake off excess liquid and place them on a hot buttered nonstick pan.

Cook one side until golden brown. Then, flip it and cook the other side until golden brown.

Optional: Mix together sugar and cinnamon and coat the warm cooked french toast in the sugar mixture until fully coated.

Top it all off with thin slices of butter and maple syrup or pancake syrup. Enjoy!
Notes
Read all my tips above.
Tastes best when served immediately but leftovers can be stored in a sealed container in the fridge for 24 hours and reheated on stovetop or microwave. They won't be crisp any more though. 
Nutrition
Calories: 298kcal, Carbohydrates: 54g, Protein: 8g, Fat: 5g, Saturated Fat: 1g, Cholesterol: 109mg, Sodium: 236mg, Potassium: 107mg, Fiber: 1g, Sugar: 28g, Vitamin A: 245IU, Calcium: 87mg, Iron: 2.1mg
Until next time, tata my lovelies!