Chocolate Cake Mix Cookies
Easy chocolate cake mix cookies recipe, homemade with simple ingredients. Full of chocolate and sprinkles.
These devil's food cake mix cookies taste as if they are made from scratch. They are FIRM and CRISPY on the outside but slightly SOFT on the inside. They make a fast an easy snack or dessert, just like these Chocolate Crinkle Cookies (With Cake Mix) and Rolo Chocolate Cookies.
How to Make Chocolate Cookies Recipe with Cake Mix
Mix together- All ingredients, except sprinkles and chocolate chips.
Chill mixture- In the refrigerator.
Scoop out– Dough and form little balls.
Place them– On a cookie tray.
Bake– Until the edges are firm, then let cool.
Dip Half- Of each cookie in melted chocolate.
Toss sprinkles- On top and enjoy!
Variations for Chocolate Cake Mix Cookies
Top with powdered sugar- Roll the cookie dough balls in powdered sugar prior to baking and you will end up with easy chocolate cake mix crinkle cookies.
Use peanut butter- Add 3/4 cup peanut butter chips in the batter.
Candy Add ins:
Reese's Pieces- Add 3/4 cup Reese's Pieces into the batter before baking.
M&Ms- Toss in some mini or regular M&Ms instead of chocolate chips.
Rolos- Scoop out a small portion of the cookie dough and place a Rolo in the center and wrap the dough around the candy into a ball shape.
Andes Mints– Chop mints and add them in the batter
Candy Canes- Bake the cookies as per my instructions. When they cool down, dip each cookie in melted white chocolate and sprinkle crushed candy canes on top.
Substitute chocolate chips- With butterscotch chips, white chocolate chips, mint chips, or another favorite.
Add marshmallows- Push a few marshmallows into each cookie as soon as you take them out of the oven and before they have a chance to cool down.
Filled cookies- Bake the cookies as per my instructions. When, they cool down, fill them with my best cream cheese frosting.
Pumpkin chocolate cookies- Mix together the cake mix powder with 1 can pumpkin puree (15 oz) and omit everything else from my recipe below.
Peppermint cookies- Omit the vanilla extract and replace that with 1 tsp peppermint extract.
Add oatmeal- Into the batter and mix. I like to use about 1/3 cup quick oats.
Substitute Oil– With melted unsalted butter, omit baking powder, and add instant chocolate pudding mix powder (3.4 oz. box).
Tips and Techniques for Chocolate Cake Mix Cookies
Chill dough- For 20-30 minutes in the fridge, because this makes it easier to handle and prevents the cookies from spreading while baking. Don't skip this step!
Don't replace- Baking powder with baking soda, because the results will be different and not quite as tasty.
Don't replace oil with butter– Because butter will make a very dense cookie and you want these lighter. Leftover cookies can be stored in a sealed container or cookie jar at room temperature for up to 3 days.
Don't omit eggs- Because they are a key ingredient to this recipe and cannot be left out.
Line tray- With parchment paper so that you have an easy clean up and cookies don't stick to the tray.
Allow cookies to cool completely- Because they will hold together better for dipping and the chocolate will stick.
Storage
Room Temperature-Cookies will stay fresh on the counter in a box or cookie jar as well as inside a sealed container for up to 3 days.
Fridge- Put in a sealed container for up to 3 months.
Freezer- Place dough in a sealed freezer bag for up to 1 month. Thaw in the fridge, then bake according to instructions.
More Cake Mix Cookie Recipes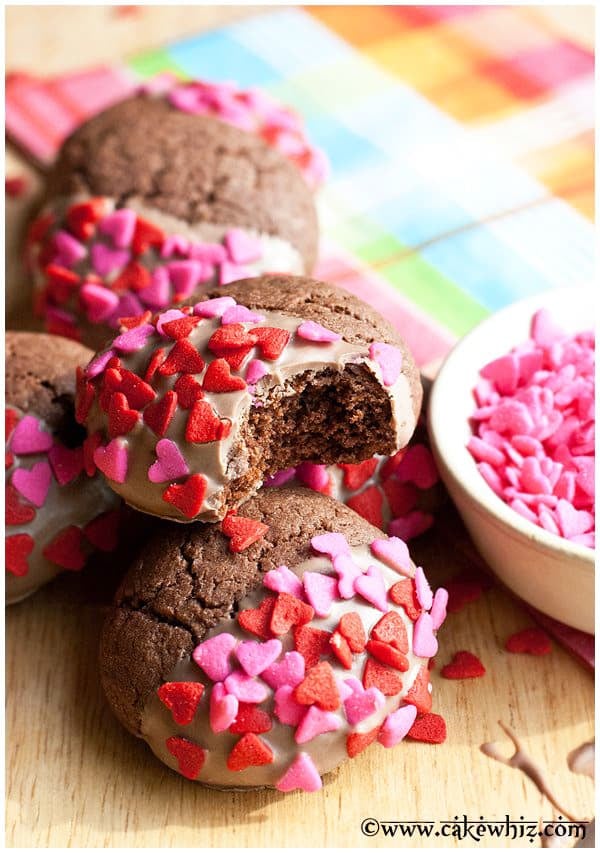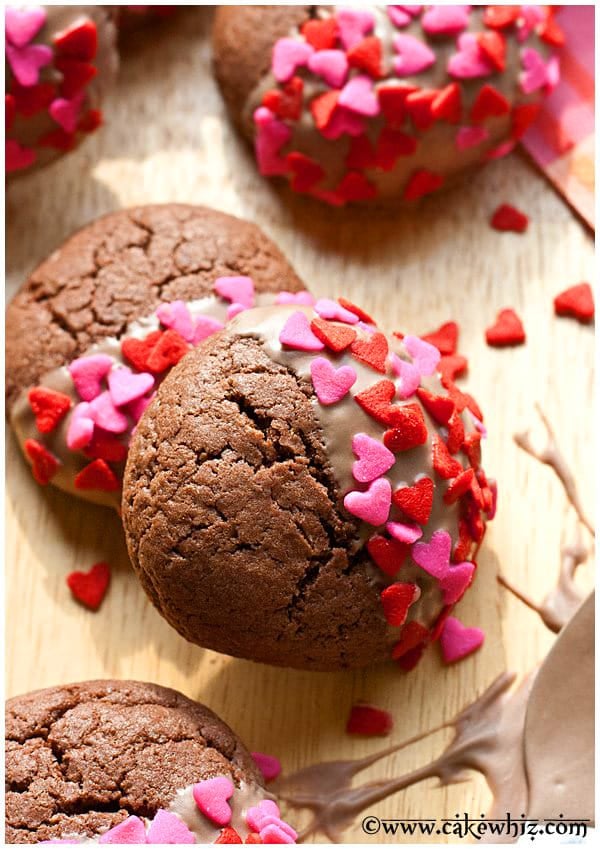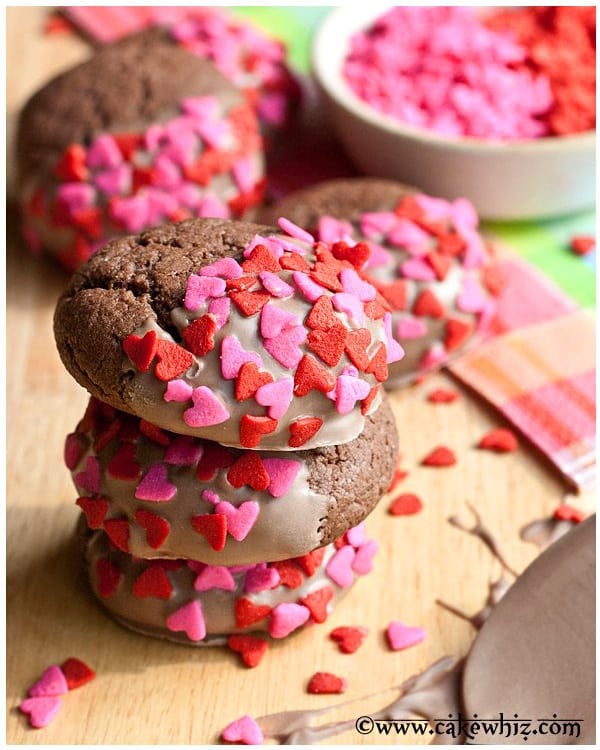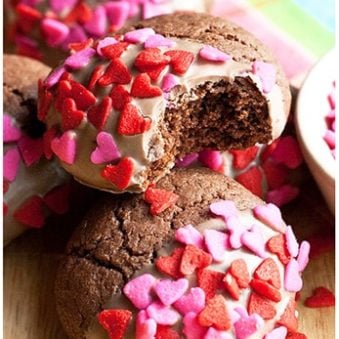 Chocolate Cake Mix Cookies
This easy chocolate cake mix cookies recipe require simple ingredients. These soft cookies are great as a snack, dessert or cookie exchange too.
Yield: Cookies
Ingredients
1 box Chocolate cake mix, I used Pillsbury devil's food cake mix
2 Eggs, Large
1/3 cup Olive oil, Light
1 tsp Baking powder
1 tbsp Vanilla extract
1/3 cups Sprinkles
1 cup Chocolate chips, Semisweet, Melted
Instructions
Chill this mixture in the refrigerator for 20 minutes.

Scoop out small portions of the dough and form little balls.

Place them on a cookie tray, lined with parchment paper.

Bake at 350 degrees for 10-12 minutes or until the edges are firm but center is slightly soft.

When the cookies cool down completely, dip half of each cookie in a bowl of melted chocolate and place them on a tray, lined with wax paper.

Toss some sprinkles before the chocolate has a chance to harden. Enjoy!
Notes
Read all my tips above.
Store cookies in a sealed container or cookie jar at room temperature for up to 3 days.
Nutrition
Calories: 110kcal, Carbohydrates: 16g, Protein: 1g, Fat: 4g, Saturated Fat: 1g, Cholesterol: 13mg, Sodium: 176mg, Potassium: 92mg, Sugar: 10g, Vitamin A: 25IU, Calcium: 38mg, Iron: 1mg