Matcha Latte (Green Tea Latte)
Quick and easy matcha latte recipe. Some people know know it as green tea latte. Others refer to it as a matcha drink. It's homemade with simple ingredients in 10 minutes. Rich, creamy, healthy. Loaded with matcha powder, honey, milk.
Lattes do not necessarily always have coffee in them, just like today's recipe and this delicious Turmeric Latte (Golden Milk Latte).One thing that people don't realize is is that tea can often be used instead of coffee.
What is matcha latte? What does it taste like?
It is basically steamed milk, mixed with matcha powder. This powder is made up of finely ground, specially grown green tea leaves and originates from China. It is also used in spiritual ceremonies, where they put the matcha in a bowl with hot water and mix it with a bamboo whisk. Its flavor is been best described as being "earthy." Some people say it tastes like grass with a slight bitterness. I believe it's an acquired taste that takes some getting used to, especially if you have never tried it before.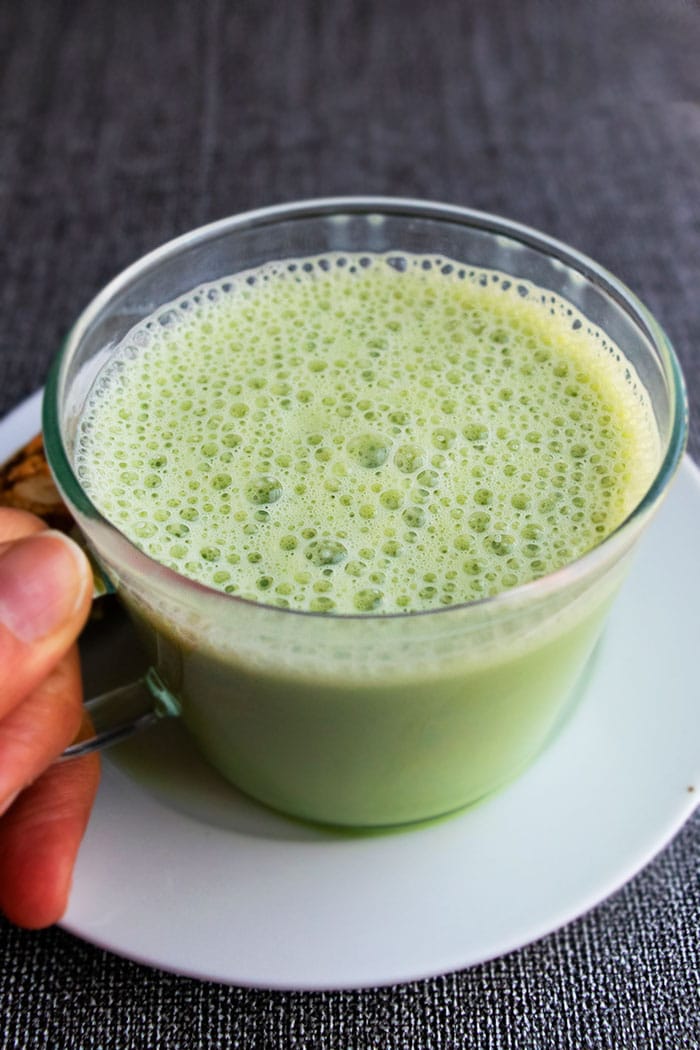 How to make matcha latte recipe (matcha green tea latte)?
Prepare matcha mixture- Mix together matcha powder and hot water until there are no clumps.
Add sweetener– Such as honey.
Pour milk– It should be hot.
Enjoy– Top it off with steamed milk foam, if you like.
Variations
Homemade iced matcha green tea latte– Allow the drink to chill in the refrigerator and then serve it over ice.
Add Strawberry– Add a layer of strawberry puree to bottom of the glass to make it more fruity. This version is is typically served cold.
Try a touch of lavender– Steep dried lavender with water and add that into this drink for a beautiful fragrance and subtle flavor.
Add chai- Mix in come chai concentrate.
Use other sweeteners– Such as raw sugar, brown sugar, Stevia, agave or even maple syrup. The overall flavor will change, based on your sweetener choice.
Add boba pearls- This can only be done with the cold/ iced version and turn it into a fantastic homemade bubble tea.
Use non dairy milks– Such as almond milk, coconut milk, soy milk, or oat milk.
Add other flavors and spices– Such as cinnamon, nutmeg or extracts like vanilla, caramel, almond e.t.c.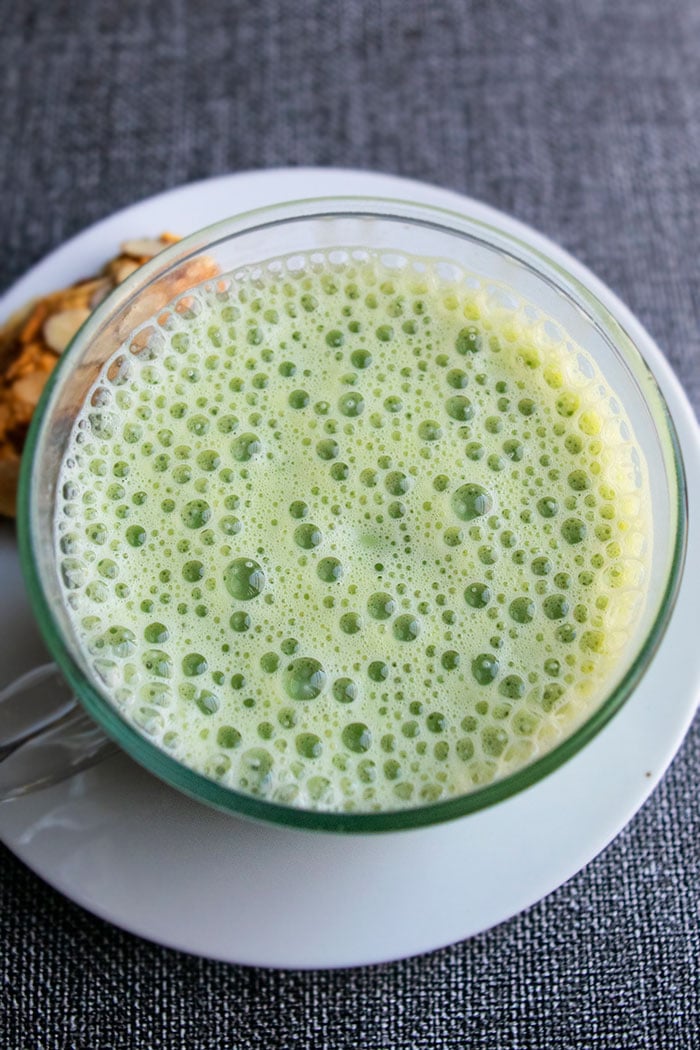 Storage
Refrigerate– Leftovers can be stored in the fridge fo up to 2 days.
Freeze- I don't recommend freezing since milk does not thaw well and can separate.
Reheat- It can be reheated in the microwave or stovetop.
Tips and Techniques
What milk is best for latte? Any milk will work, but I recommend using whole milk for the best, rich and creamy results.
Watch the heat– Be careful so that the mixture does not boil over the saucepan and make a mess.
Best matcha powder– This is a personal preference. Grace Matcha, Soar Organics, Pure Matcha, Mizuba Matcha are all really good brands.
Can I use match powder that is already sweetened? Yes, but read the ingredient list and make sure there is no dried milk.
Where to buy matcha powder? Most grocery stores will have them. You can also order online. If you want good quality powder, I would highly recommend checking out Trader Joe's or Whole Foods.
Use hot water to dissolve powder– If you use cold water or room temperature water, it won't dissolve fully and leave behind clumps. Use a small whisk, if necessary, to really smooth it out.
Serve a crowd- Double all the ingredients to make a bigger batch.
Adjust quantity of ingredients– Add more or less whatever ingredients you like or dislike. Adjust it to your liking.
Do you serve it hot or cold? It's served both ways and can be enjoyed in Summer and Winter.
Make ahead instructions– This can be 1-2 days in advance and stored in the fridge until you are ready to enjoy it.
Color may vary- The color of your beverage may vary, depending on the brand of powder that's used. It can be darker or lighter than what you see in these pictures.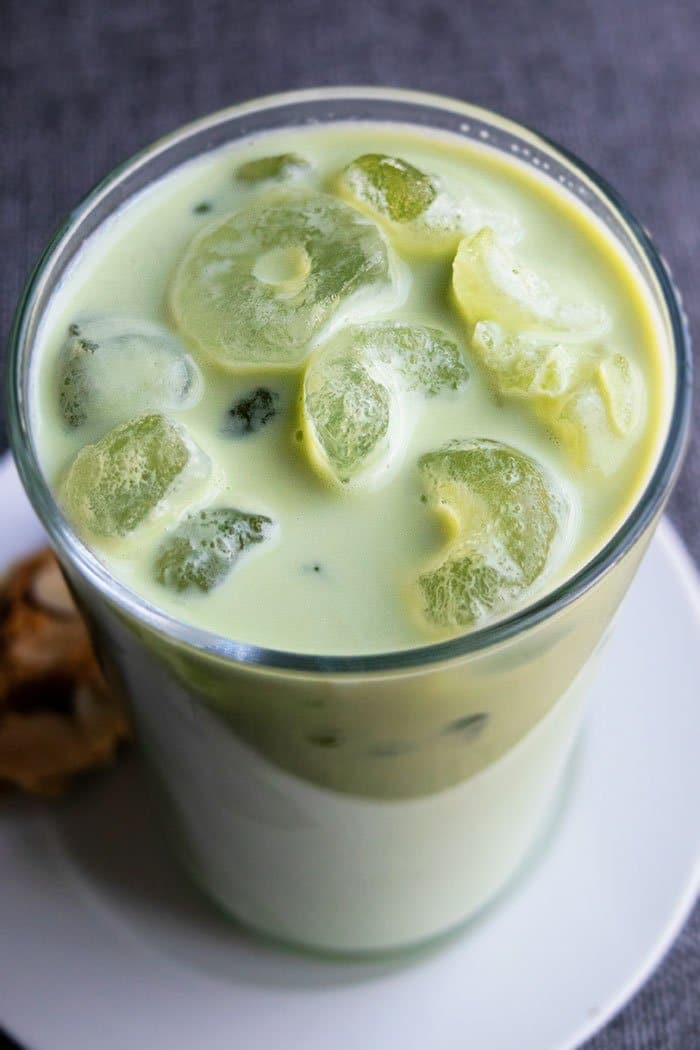 More Hot Beverages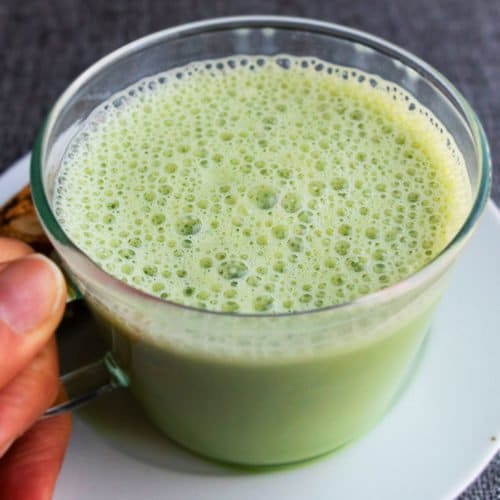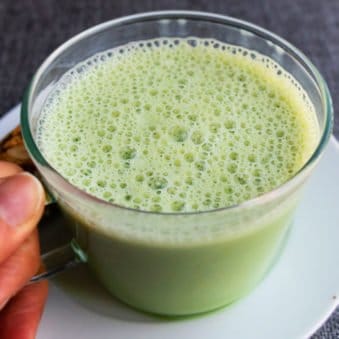 Easy Matcha Green Tea Latte
Quick and easy matcha latte recipe (also known as green tea latte), homemade with simple ingredients in 10 minutes. Rich, creamy, healthy.
Yield: Cups
Instructions
Add matcha powder and hot water in a saucepan or mixing bowl and and stir until smooth and no lumps remain.

Mix in honey.

Mix in hot milk.

Serve in individual cups and enjoy!

Optional: Top it off with some milk foam.
Notes
Read all my tips above.
Leftovers can be stored in a sealed container in the fridge for up to 2 days and reheated in the microwave or stovetop. 
Nutrition
Calories: 180kcal, Carbohydrates: 19g, Protein: 10g, Fat: 7g, Saturated Fat: 4g, Cholesterol: 21mg, Sodium: 93mg, Potassium: 282mg, Sugar: 19g, Vitamin A: 646IU, Calcium: 241mg, Iron: 1mg