Easy White Hot Chocolate
Quick and easy white hot chocolate recipe, homemade with 3 simple ingredients. Sweet, rich, creamy, packed with white chocolate chips. Great for Christmas! Also known as "white chocolate hot cocoa."
It is always so nice to cuddle up under a blanket by the fire on a cold winter day and drink a nice cup of hot cocoa. Unlike the other holiday drinks like Eggnog Latte or Peppermint White Chocolate Mocha, this will bring warmth and comfort to both, adults and kids, just like my Crockpot Hot Chocolate.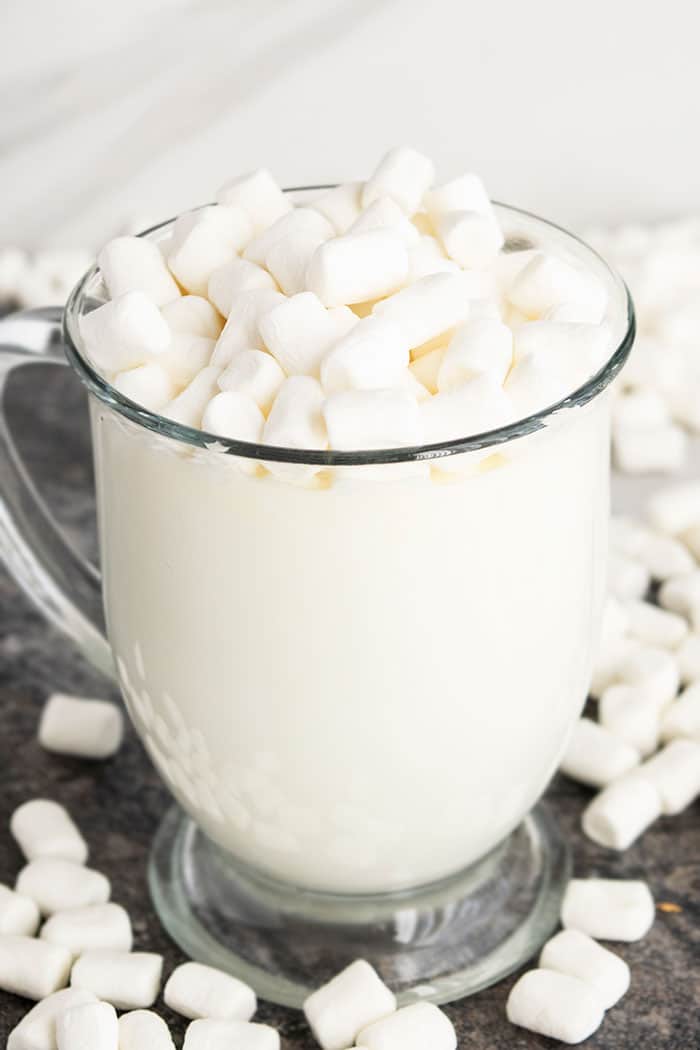 What is white hot chocolate made of?
Unlike most cocoas which are made with semisweet chocolate, dark chocolate or milk chocolate and milk, this version is made of white chocolate and milk. Therefore, it is much sweeter and white in color rather than the classic brown version.
White chocolate, in general, is different than regular chocolate and is made from cocoa butter, vanilla, sugar, and milk solids giving it that sweet and smooth taste with a lovely snowy white color. It's technically not even a chocolate because it doesn't contain any chocolate solids
How to make white hot chocolate?
Stovetop Instructions
Add ingredients in large pot– This includes milk, white chocolate chips and vanilla extract.
Mix together– Make sure you are constantly whisking until chocolate is fully melted.
Enjoy– Serve in mugs and top it with marshmallows and dig in!
Slow Cooker Instructions
Add ingredients in a crockpot– This includes milk, white chocolate chips and vanilla extract.
Cover and cook– Do this for for 2 hours on low heat.
Mix– Once the timer goes off, turn off heat and mix everything together. All of the chocolate should be fully melted.
Enjoy– Serve in large mugs and add top off with marshmallows.
Hot chocolate toppings
Whipped cream– This is a classic choice. My Homemade Whipped Cream or store-bought Cool Whip will both work well.
Drizzles– Try a chocolate drizzle, Homemade Caramel Sauce drizzle or even Nutella Syrup.
Candies– Such as crushed peppermints, mini marshmallows, sprinkles, white chocolate curls, mini white chocolate chips,
Milk foam– Froth some whole milk and spoon that foam on top of your drink for a beautiful appearance.
Spices– Such as a dash of cinnamon or nutmeg.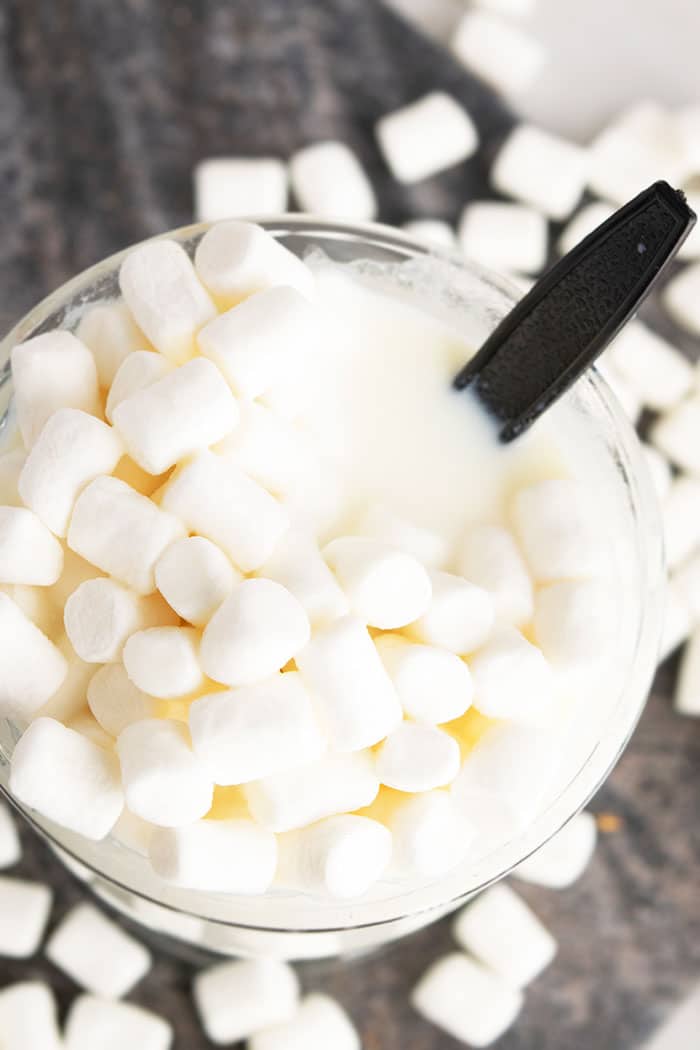 Variations
Hot white chocolate mocha- Mix in some strongly brewed coffee and cocoa powder.
Peppermint white hot cocoa– Mix in some peppermint extract instead of vanilla for a refreshing mint taste. Remember a little amount goes a long way. Adding too much will over-power the white chocolate flavor. For a spiked version, add a few shots or peppermint schnapps.
Set up a hot cocoa bar– This is great for a Winter party or Christmas gathering. Set up a table with various topping options such as cookie straws, peppermint sticks, other flavors of chocolate chips, sprinkles, crushed peppermint, whipped cream, marshmallows, chocolate curls, add more. Everyone can make their own customized drinks.
Add alcohol– Such as rum, white creme de cocoa or Bailey's Irish Cream.
Add spices- Such as cinnamon powder, nutmeg powder or pumpkin pie spice for a snickerdoodle inspired taste. Great for Fall and Thanksgiving parties.
Use non-dairy/vegan milks– I prefer whole milk but if you have allergies, try full fat almond milk, coconut milk, or soy milk. Oat milk has become popular too. These would all be good non-dairy alternatives.
Try other extracts– Such as orange, mint, almond, caramel, peppermint extracts e.t.c.
Frozen white hot chocolate– This would be a refreshing spin for the summertime. Cool this drink in the fridge add then, blend it with some ice and serve immediately.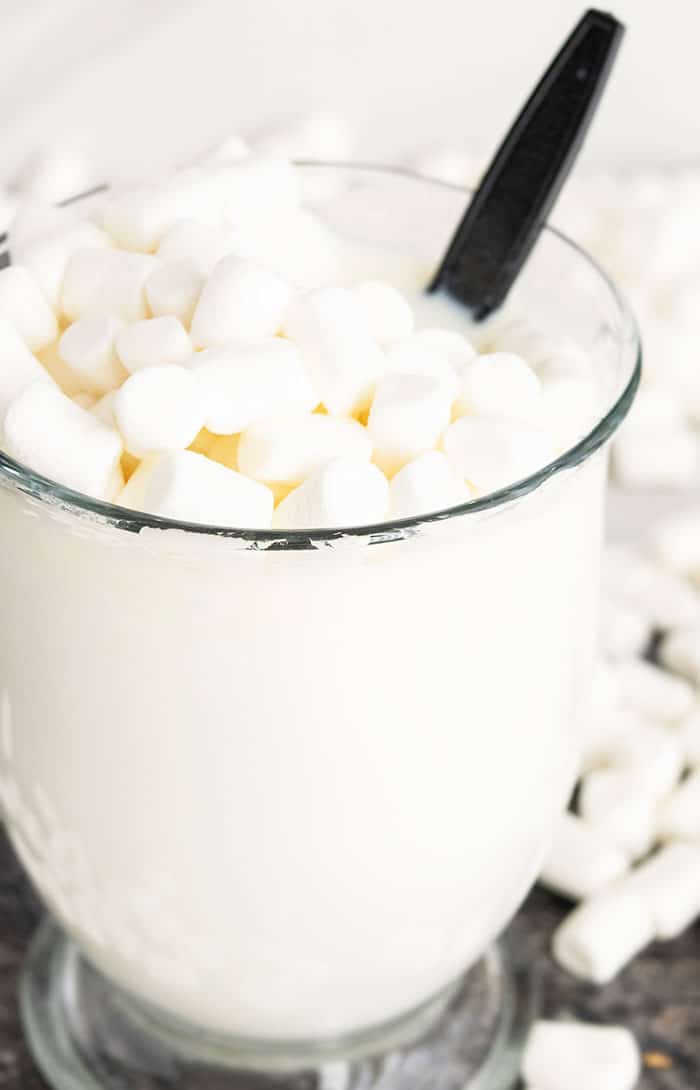 Tips and Techniques
What kind of white chocolate to use? Nestle Tollhouse, Ghirardelli, and Godiva chocolate will all work well. The rule of thumb is to use a brand whose flavor you like best. Also, the higher the quality, the better the overall flavor of the drink.
Use whole milk– Because it has a higher fat content, which gives the this drink that perfect creamy and rich flavor.
Make ahead instructions- Definitely, it can be made a day in advance. Store it in a sealed container in the fridge and then reheat it in the microwave or stovetop.
Can you any store leftovers? Yes, they can be stored in a sealed container in the fridge of up to 2 days. Reheat them either in the microwave of stovetop.
Add toppings prior to serving- Don't add marshmallows or even whipped cream until you are ready to serve because marshmallows will end up becoming soggy and whipped cream will deflate and look awful.
Serve a crowd- Double all the ingredients to make a bigger batch.
More Beverages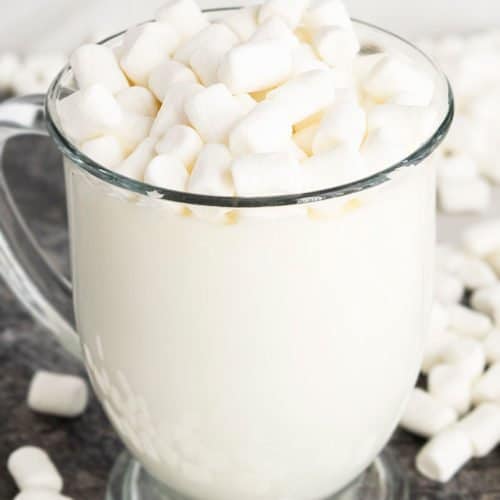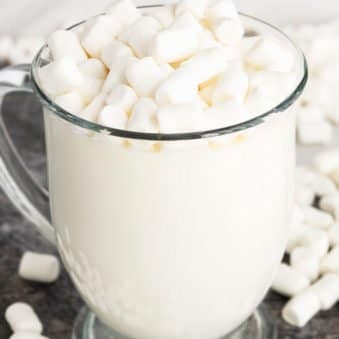 White Hot Chocolate
Quick and easy white hot chocolate recipe, homemade with 3 simple ingredients. Sweet, rich, creamy, packed with white chocolate chips. Great for Christmas!
Yield: Cups
Ingredients
4 cups Milk, Whole
1 cup White chocolate chips
1 tsp Vanilla extract, Clear extract
Instructions
In a large nonstick saucepan, add all the ingredients.

Heat on medium heat, while constantly whisking until chocolate is fully melted and mixture is silky smooth.

Serve in mugs with mini marshmallows, whipped cream topping or milk foam. Enjoy!
Notes
Read all my tips above.
Leftovers can be stored in a sealed container in the fridge for up to 2 days and reheated in the microwave or stovetop. 
Nutrition
Calories: 394kcal, Carbohydrates: 38g, Protein: 10g, Fat: 22g, Saturated Fat: 13g, Cholesterol: 33mg, Sodium: 145mg, Potassium: 450mg, Sugar: 39g, Vitamin A: 410IU, Vitamin C: 0.2mg, Calcium: 365mg, Iron: 0.2mg