Chocolate Chip Muffins
Quick and easy chocolate chip muffins recipe, homemade with simple ingredients. Soft and fluffy and loaded with mini chocolate chips. Also known as choc chip muffins.
These muffins are great for breakfast or you can enjoy them as a snack on the go or even as a dessert. My family loves them just as much as my Healthy Double Chocolate Muffins and these No Bake Breakfast Muffins.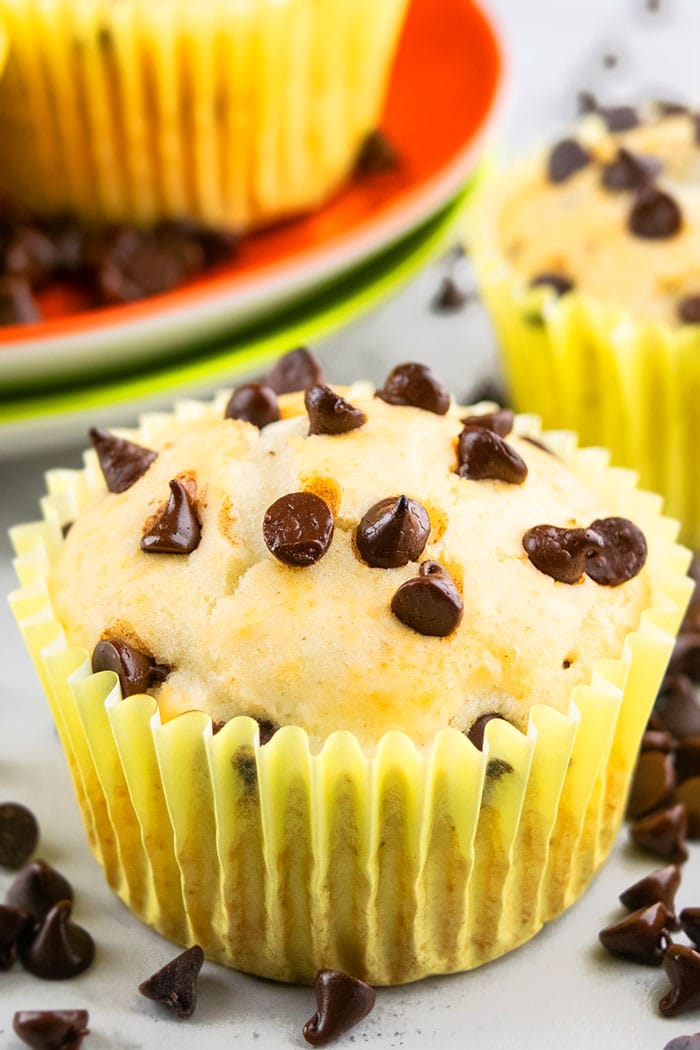 How to make chocolate chip muffins?
Mix wet ingredients until smooth- This includes butter, egg, milk, and vanilla extract.
Add dry ingredients– This includes flour, sugar and baking powder.
Add chocolate chips– Fold them into the batter.
Pour batter in liners– Until they are halfway full.
Add toppings– Such as sanding sugar and chocolate chips.
Bake– Until an inserted toothpick in the center comes out clean.
Enjoy– Let them cool down and then, dig in!
How to prevent chocolate chips from sinking?
The main issue that people come across when baking with chocolate chips is that they fall to the bottom of the pastry. There is a cool technique to help with that. Before adding the chocolate chips, coat them in flour. This will keep the chocolate chips from sinking when mixed into the batter. To find out more, check out this post: How to Stop Chocolate Chips from Sinking.
Also, use mini chocolate chips. They are lighter in weight than regular sized chocolate chips and generally don't sink to the bottom.
You are supposed to gently fold the chocolate chips in the batter and not heavily mix them in.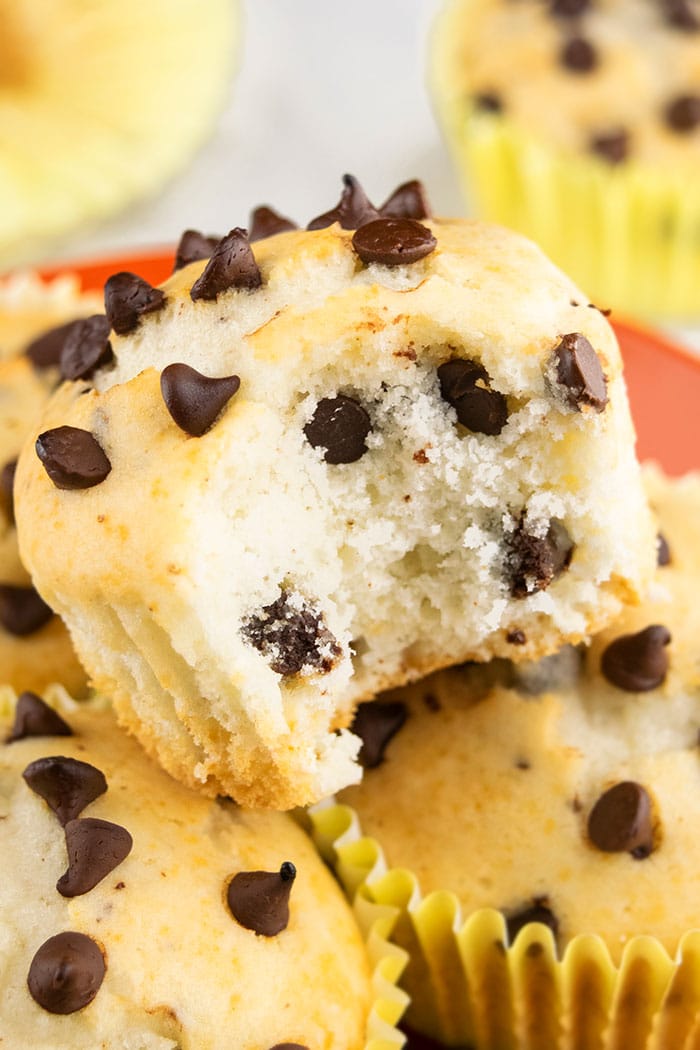 Variations
Banana chocolate chip muffins– Add half a ripe mashed banana in the batter.
Chocolate zucchini muffins– Mix in 1/4 cup grated zucchini in the batter to make them healthy and moist.
Mini chocolate chip muffins– Add the batter to mini cupcake liners. The baking time will be different since mini muffins bake quicker.
Add peanut butter– Reduce the quantity of butter by half and replace it with smooth peanut butter.
Use vegan non-dairy milks– Make sure they are full-fat non-dairy milks. Try almond milk, coconut milk, oat milk, or soy milk.
Using cupcake liners vs. Using cupcake pan only- I prefer using liners because it's mess-free and clean up is easy. If you decide to use just a cupcake pan, grease the pan evenly with oil. This will ensure that the muffins don't stick to the pan and can be easily removed.
Add nuts and dried fruits– Mix in 1/4 cup roughly chopped pecans, walnuts, almonds or dried cranberries, apricots or mangoes.
Add a drizzle– Just prior to serving, drizzle some Homemade Caramel Sauce or Homemade Dulce de Leche or Nutella Syrup or even chocolate ganache.
Use other types of chocolate chips- I used semisweet but you can use milk, dark or even white chocolate chips.
Storage
Fresh muffins are best the same day they are made, but you can store them in various ways:
Room temperature– In a sealed container for up to 3 days.
Refrigerate– In a sealed container for up to 5 days.
Freeze– In an airtight sealed container for up to 1 month. When you are ready to enjoy them, let them thaw over the counter at room temperature or in the fridge overnight.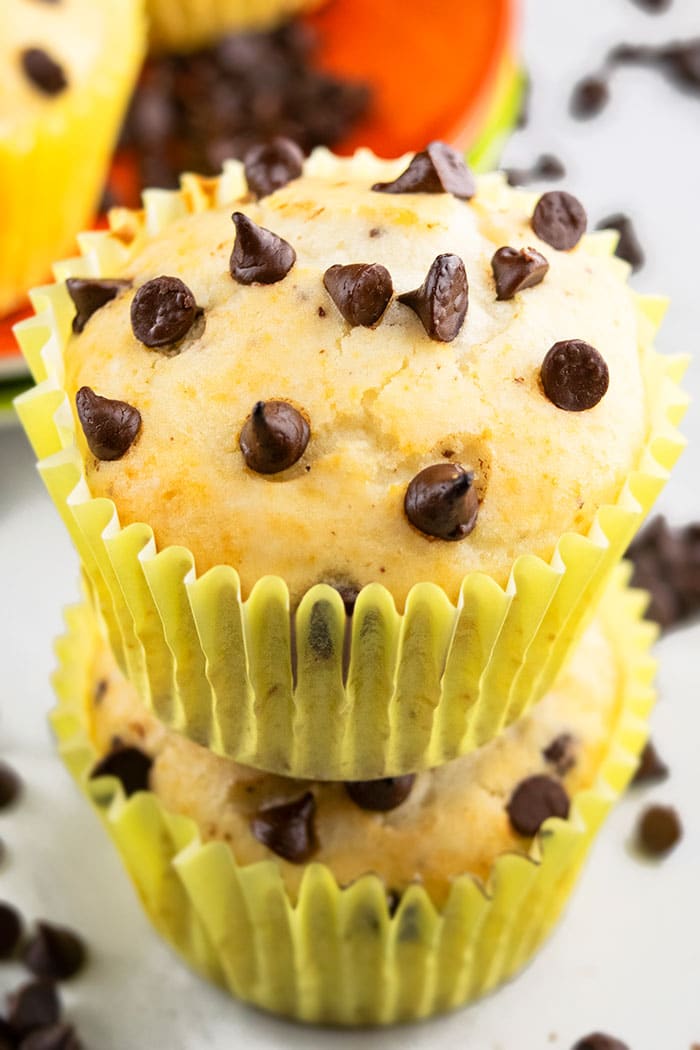 Tips and Techniques
Do not over-mix batter– That's because this can result the muffins to turn out very dry and dense once done baking. It makes them very glutenous.
Use unsalted butter– Because that prevents these treats from becoming too salty.
Fill liners halfway- The muffins will rise as they bake and this will prevent them from overflowing.
Use an ice cream scooper– This ensures that you fill each liner evenly with the same amount of batter.
Don't thin out the batter- The batter is supposed to be thick. Don't make it thinner by adding milk or water because that will change the texture.
Use all-purpose flour– I have tried other flours and none of them worked as well as all-purpose. Don't replace it with whole wheat flour or oat flour because the muffin texture will be drastically different.
More Muffin Recipes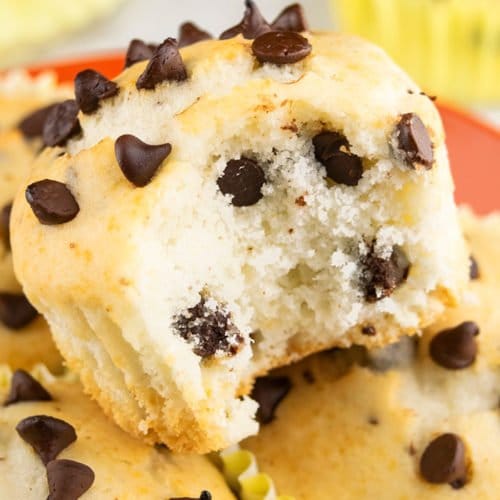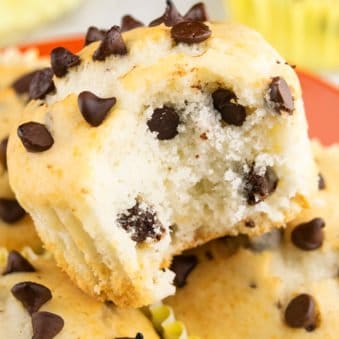 Best Chocolate Chip Muffins
Quick and easy chocolate chip muffins recipe, homemade with simple ingredients. Soft and fluffy and loaded with mini chocolate chips.
Yield: Muffins
Instructions
In a large mixing bowl, add butter, egg, milk, vanilla extract and mix until smooth.

Add flour, sugar, baking powder, and mix until just combined. Don't over-mix!

Fold in the chocolate chips.

Pour batter in cupcake liners.

Sprinkle some sugar and chocolate chips on top.

Bake at 375 degrees F for 15-20 minutes or until an inserted toothpick in the center comes out clean. Enjoy!
Notes
Read all my tips above.
Leftovers can be stored in a sealed container at room temperature for up to 3 days or in the fridge for 5 days. 
Nutrition
Calories: 269kcal, Carbohydrates: 36g, Protein: 4g, Fat: 12g, Saturated Fat: 7g, Cholesterol: 38mg, Sodium: 92mg, Potassium: 155mg, Fiber: 1g, Sugar: 19g, Vitamin A: 320IU, Calcium: 90mg, Iron: 1mg