4th of July Cake
Use this step by step tutorial to make a beautiful 4th of July cake. All decorations are done with fondant and inspired by red, white and blue colors.
I made this 4th of July cake to celebrate usually this patriotic day.
As you know, I ADORE designing cakes around a specific theme or special days like Halloween or Christmas…
But, when it comes to 4th of July….have you noticed how almost ALL the cakes look the same????
They are either covered in red, white and blue stars OR they have some type of bunting or banner that says USA. 
There is nothing about them that "POPS" out to me or makes me say: "OH WOW!"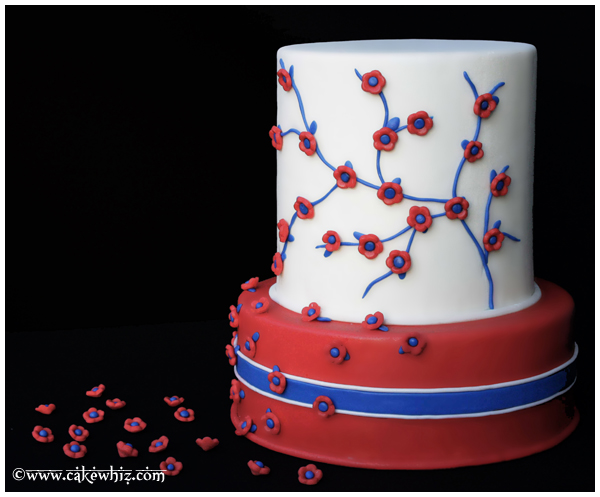 For this year's 4th of July celebrations, I wanted to make a patriotic cake BUT with an edge…
I used the red, white and blue colors of the American flag to INSPIRE the overall floral design of this cake.
I think it's different but still reflects the 4th of July theme WITHOUT being so boring!
This 4th of July cake has two tiers (with varying heights).
The bottom tier is 8×3 and the top tier is 6×6 (composed of two 6×3 cakes stacked on top of each other).
All the decorations are done in homemade marshmallow fondant.
BTW, see those little red flowers?
I think they are the easiest fondant flowers I have EVER made.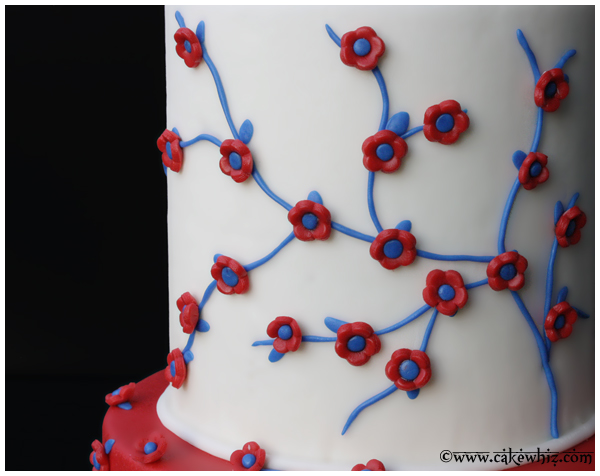 To make easy fondant flowers for this 4th of July cake, you will need the following ingredients/ supplies:
Red marshmallow fondant
Blue marshmallow fondant
Rolling pin
Small flower cutter
Leaf veining tool
Sponge
And here are the steps:
Step 1:
Roll out red fondant.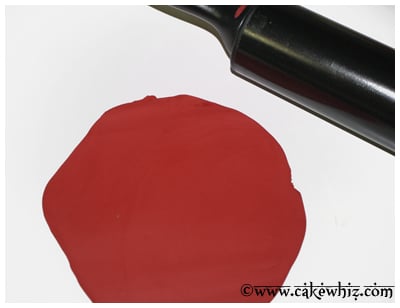 Step 2:
Use a small 5 petal flower cutter to cut out many little flowers.
My cutter was very small… only 1 inch wide and I got it from Wilton.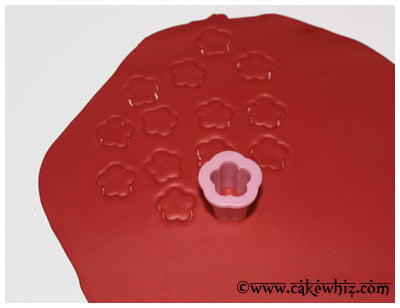 Step 3:
Place your flowers on a clean sponge.
Use the veining tool to press the center of each flower…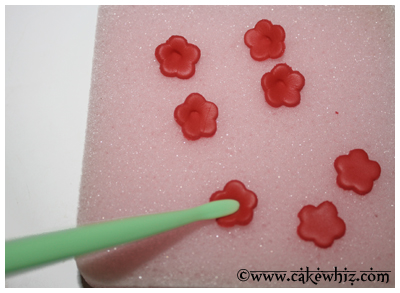 Step 4:
…until it leaves  a tiny dent in the middle.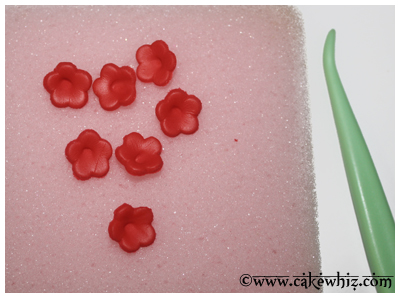 Step 5:
Take small pieces of blue fondant and roll them into tiny balls. 
Brush some water in the little dents and stick a ball in the center of each flower.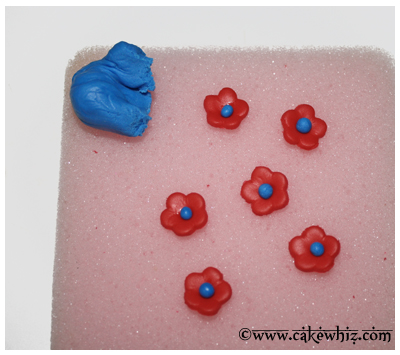 Step 6:
You can use these immediately on your 4th of July cake. Just brush some water to stick the flowers wherever you want.
If you won't use these flowers immediately, place them on a sheet of wax paper. Let them dry at room temperature for 24 hours or until they become hard.
Keep them away from sunlight so the color doesn't fade. Store them in a plastic container at room temperature.
And you are done!
Well, that's all for today.
If you liked this post, you may like some of these other 4th of July desserts…
4th of July chocolate fudgsicles
Until next time, tata my lovelies!