Pancake Muffins
Quick and easy pancake muffins recipe from scratch, made with simple ingredients. Soft, moist, fluffy. Perfect snack or breakfast on the go. Can also be frozen to be enjoyed later!
Even fussy kids approve of these and they can even help make them with you. This is a very versatile recipe with numerous add-ins and topping options. Get as creative as you like!
Other breakfast muffins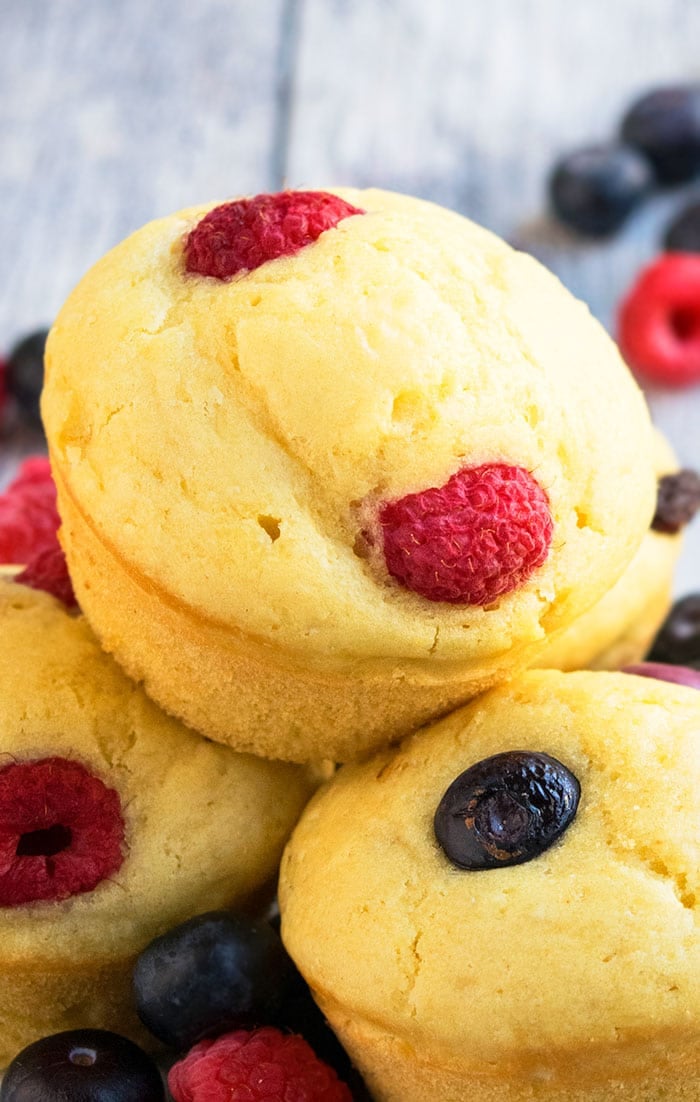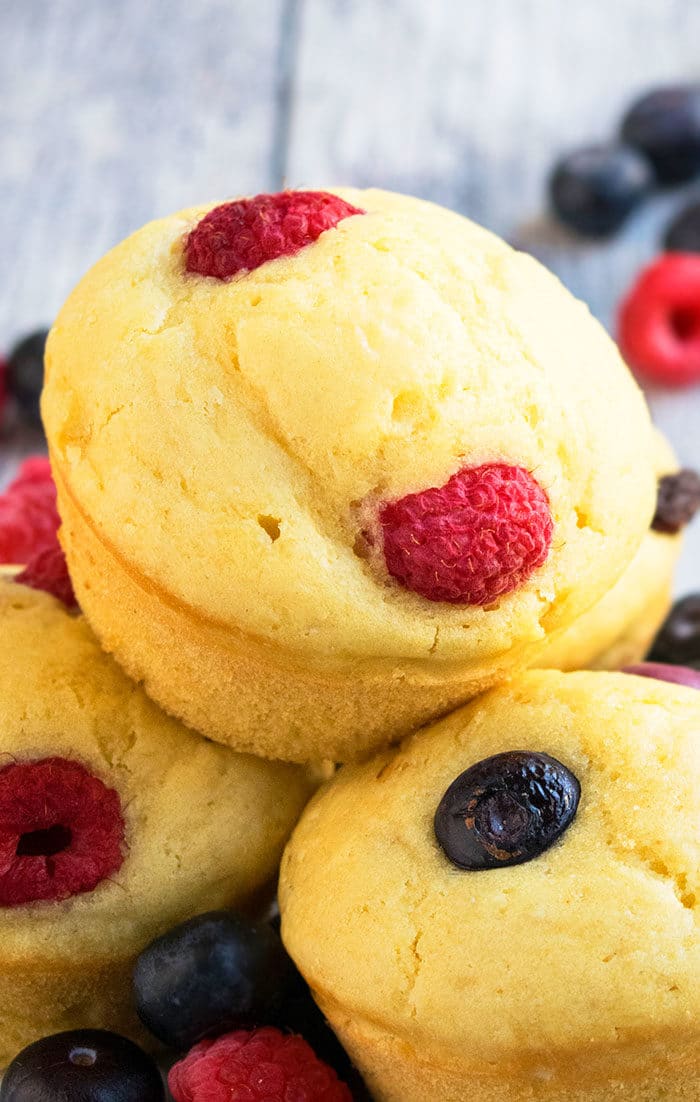 How to make homemade pancake muffins from scratch?
Whisk together flour, sugar, baking powder, baking soda and keep aside.
Whisk together butter, egg, buttermilk, vanilla.
Mix this milk mixture with the flour mixture.
Let batter rest.
Pour batter in a greased muffin pan.
Add toppings of your choice.
Bake, let it cool and enjoy.
What is the main difference between a pancake recipe and a muffin recipe?
Pancake batter is thicker than muffin batter and it's made on a griddle or stovetop and has a flat tortilla-like shape. Muffin batter is baked in the oven and looks like cupcakes.
How do you make cupcakes with a pancake mix? How to make muffins with pancake mix (pancake mix muffins)?
Prepare pancake batter, according to box instructions. Add an extra egg to make muffins even fluffier. Pour batter in cupcake pan. Add toppings and bake.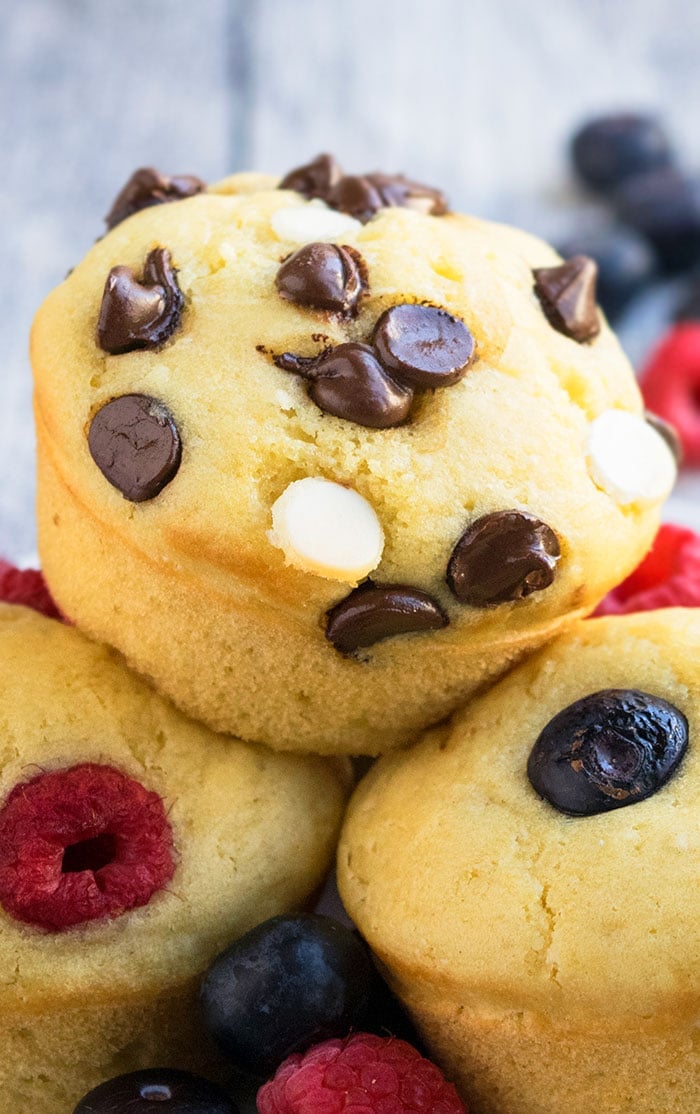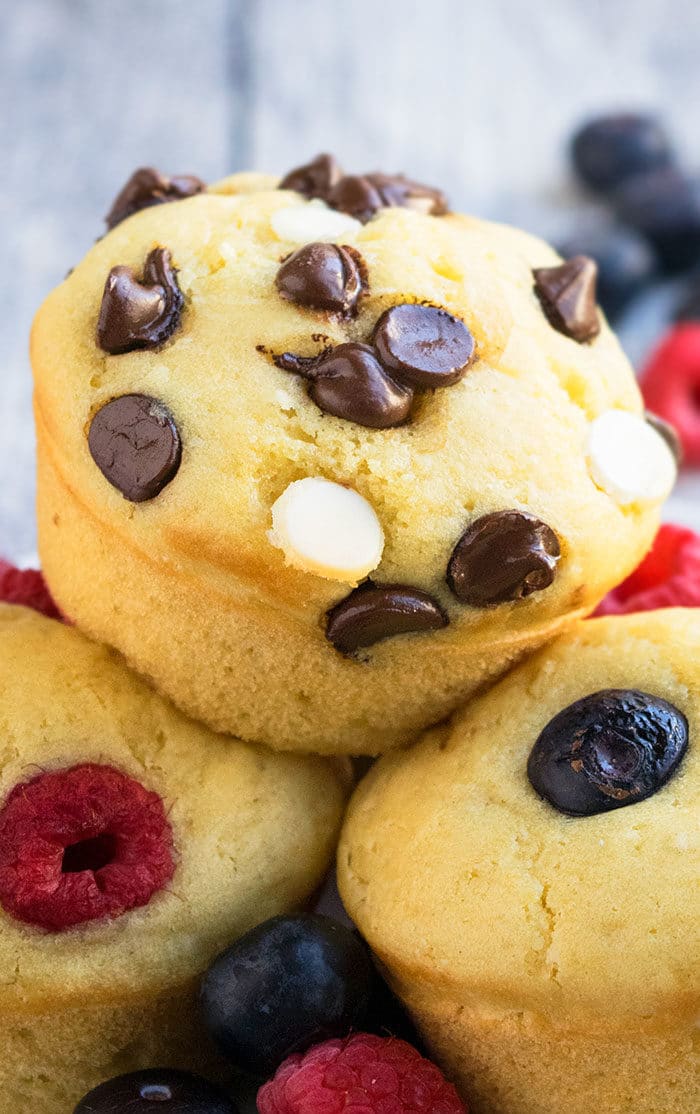 Tips and techniques
Cupcake liners are not necessary but be sure to grease the cavities in the pan very well with oil to prevent sticking.
Don't over-mix the batter because that will ruin the texture and make very tough muffins.
Do not use frozen fruits! They release too much liquid while thawing and make the muffins soggy.
Use unsalted butter to prevent muffins from becoming too salty.
Don't replace all-purpose flour with any other flour because they change the texture dramatically. The worst results were from using whole wheat flour.
Don't replace buttermilk with any other milk because buttermilk adds a lot of moisture and makes these muffins very soft.
Both, baking powder and baking soda, are required to create the perfect fluffy texture.
Homemade buttermilk substitute- If you don't have buttermilk, mix together 1 tsp lemon juice or white vinegar with 1/4 cup. Whisk and let it sit for 5 minutes and then, use in this recipe.
Don't forget to "rest" the pancake batter because this allows the muffins to bake very fluffy.
Once baked and fully cooled, these muffins can be frozen in sealed freezer bags for up to 1 month. Let them thaw at room temperature or heat in the microwave.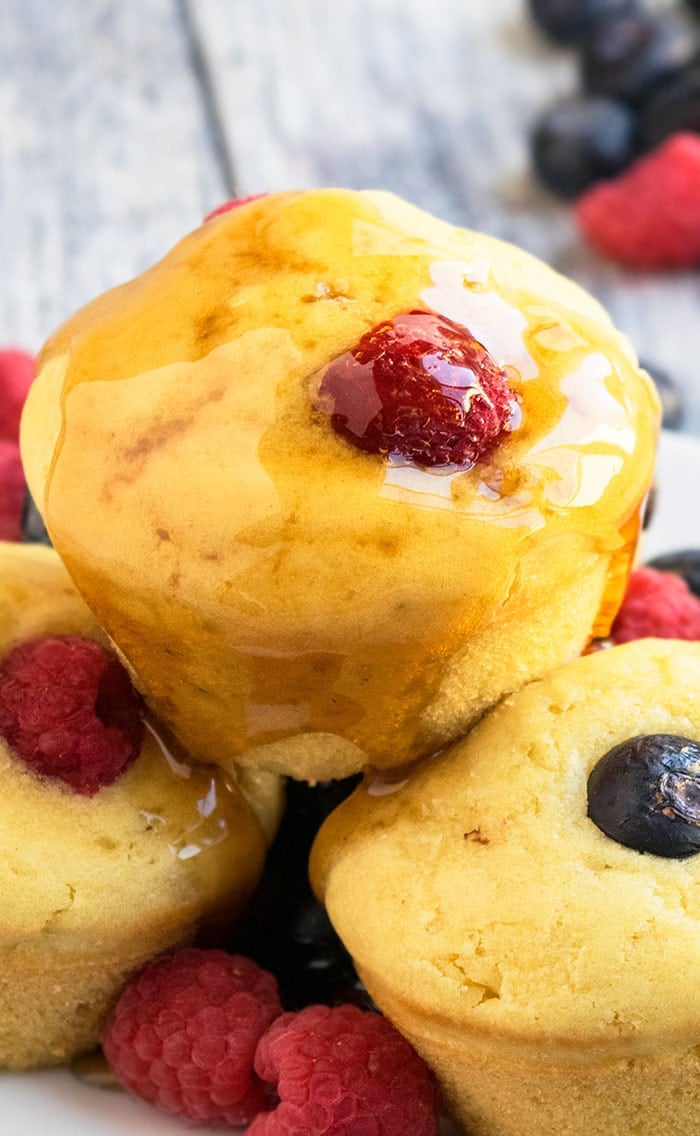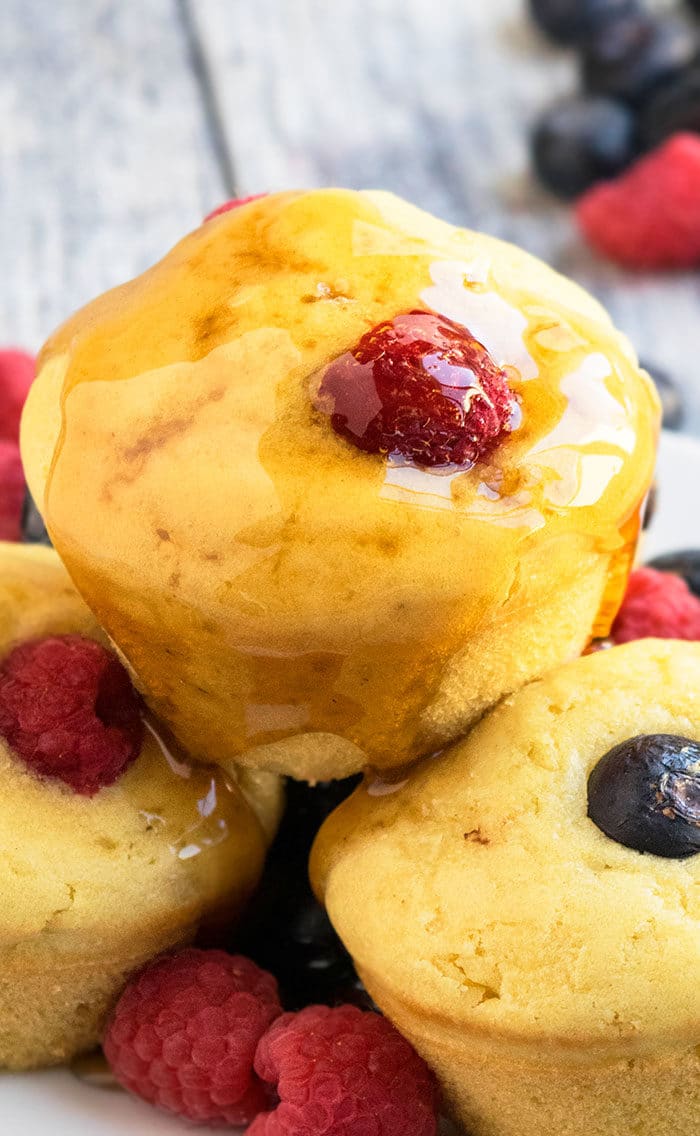 Variations
Use a mini muffin pan to make mini pancake muffins. Since they are smaller, they will bake faster and be done in about 10-12 minutes.
Use any add-ins of your choice: Chocolate chips, fresh strawberries, raspberries, blueberries, blackberries, various nuts.
Instead of vanilla extract, use any other extracts of your choice for a different flavor profile.
Instead of maple syrup, use any of these toppings: Nutella Syrup or chocolate syrup or honey or melted peanut butter or even jams and other spreads.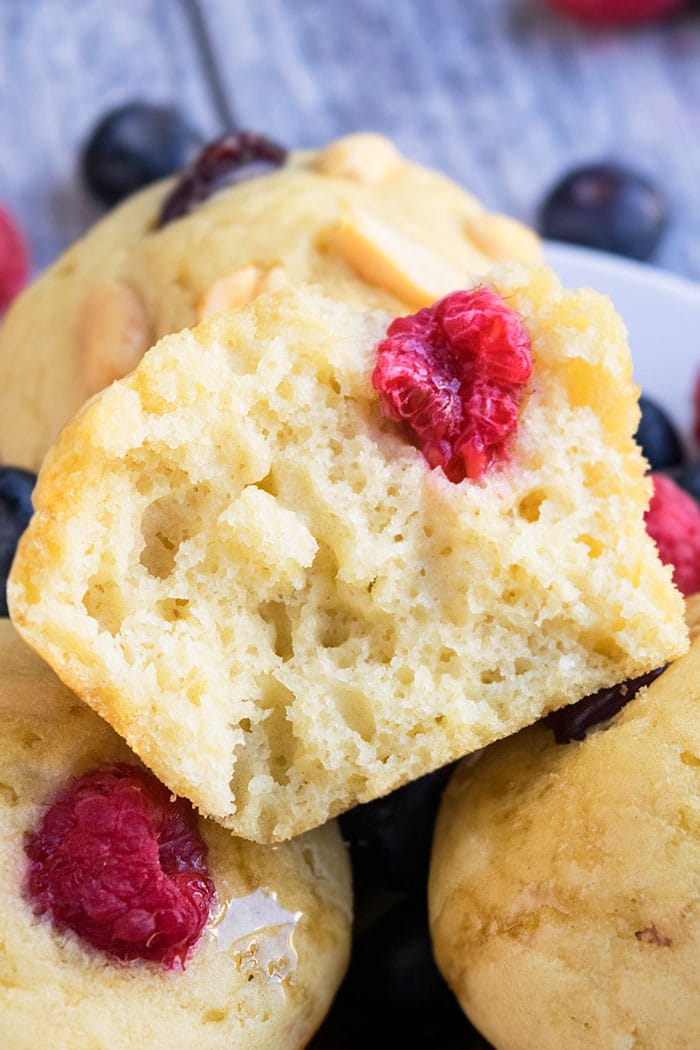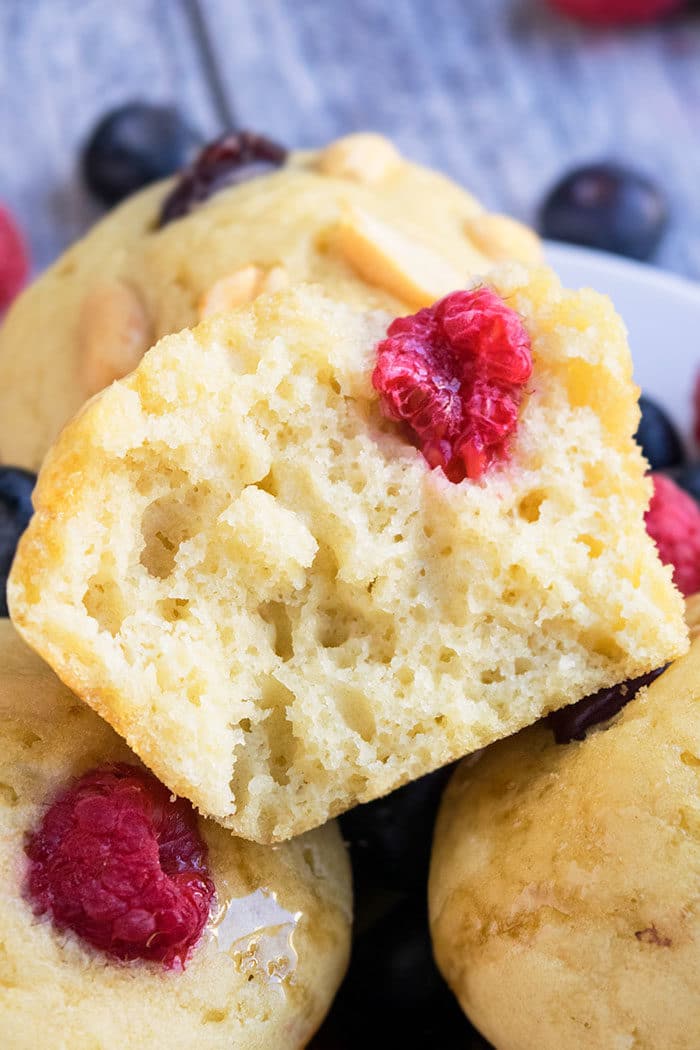 Other breakfast recipes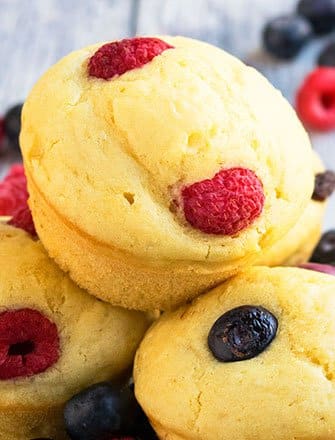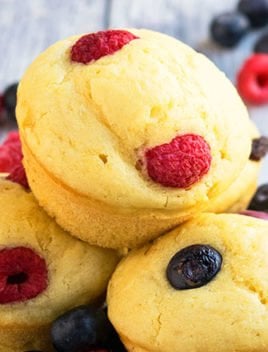 Easy Pancake Muffins Recipe
Quick and easy pancake muffins recipe from scratch, made with simple ingredients. Soft, moist, fluffy. Perfect snack or breakfast on the go. Can be frozen!
Yield: Muffins
Instructions
In a mixing bowl, whisk together flour, sugar, baking powder, baking soda. Keep aside.

In another mixing bowl, whisk together buttermilk, egg, melted butter, vanilla extract.

Dump this wet mixture into the dry mixture and mix until just combined. Let this batter rest at room temperature for 3 minutes.

Pour pancake batter into a greased muffin pan/ cupcake pan and fill halfway.

Top off with fresh raspberries, blueberries, chocolate chips or nuts.

Bake at 350 degrees for 20-25 minutes or until an inserted toothpick in the center comes out clean.

Let them cool and remove from pan.

Serve with maple syrup and enjoy!
Notes
Read all my tips above.
Leftovers can be stored in a sealed container in the fridge for up to 3 days. 
Nutrition
Calories: 214kcal, Carbohydrates: 34g, Protein: 3g, Fat: 6g, Saturated Fat: 3g, Cholesterol: 28mg, Sodium: 186mg, Potassium: 144mg, Sugar: 18g, Vitamin A: 205IU, Calcium: 79mg, Iron: 1.1mg
Until next time, tata my lovelies!