Chocolate Banana Smoothie
The best, healthy, quick and easy chocolate banana smoothie recipe, homemade with simple ingredients. Rich, smooth, creamy. Loaded with chocolate flavor from cocoa powder, fruity flavor from bananas and nutty flavor from peanut butter.
Also known as a breakfast smoothie or breakfast shake or even chocolate peanut butter smoothie. Regardless of what it's called, it is very delicious and filling and makes a great breakfast on the go.
It's almost like you are eating these Banana Chocolate Chip Cookies or this Chocolate Banana Bread but in liquid form. Kids and adults both love it!
How to make chocolate smoothie (chocolate peanut butter banana smoothie)?
Prepare bananas– Peel, slice and freeze them.
Blend everything– Add bananas, ice, cocoa powder, peanut butter, milk, honey and blend until smooth.
Pour in two glasses- Top off with some mini chocolate chips or thin banana slices as garnish.
Enjoy! Should be served immediately for the best thick texture. The consistency will get a little thinner, as the ice melts.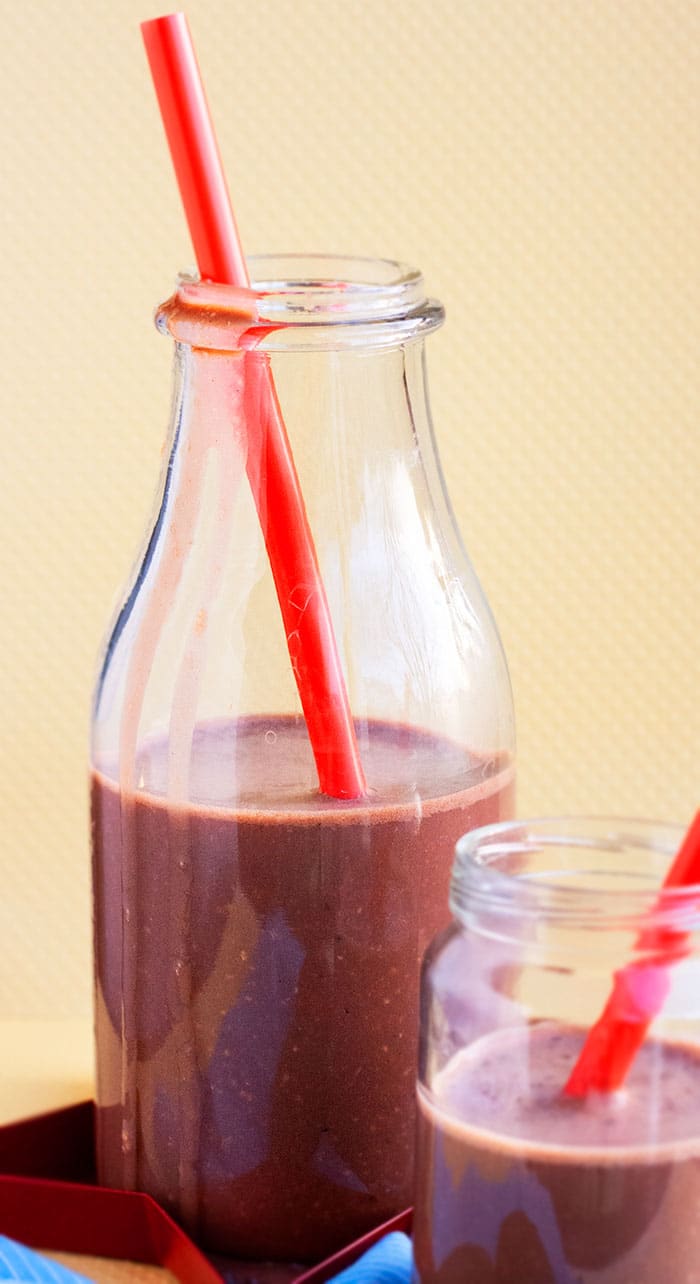 Variations
Use other nut butters– I used peanut butter because the banana peanut butter flavor combination is the best. However, you can also use cashew butter or almond butter instead to make this smoothie rich and creamy.
Add coffee- Instead of regular ice, use frozen brewed coffee ice cubes.
Add dark cocoa powder- Just replace regular cocoa powder with dark cocoa powder. Great for dark chocolate lovers but please note that the chocolate flavor is intense!
Chocolate avocado smoothie– Replace 1 banana with 1 small avocado.
Chocolate protein smoothie– Add 1 tbsp protein powder.
Chocolate strawberry smoothie- Replace bananas with frozen strawberries. Honestly, I didn't like this flavor combination but some people are fond of it.
Tips and Techniques
Use ripe bananas- Those ugly bananas with lots of black spots are best because they are very ripe and sweet and sweeten this smoothie naturally.
Use frozen bananas- It helps to keep this smoothie super cold and also yields a thick texture.
Use smooth nut butters– Instead of chunky ones because that yields the smoothest texture.
How to sweeten smoothies? If ripe bananas were used, additional sweeteners should not be necessary. If you still want to sweeten it further, the honey and agave are healthy choices but you can also use granulated sugar or brown sugar.
How to thin smoothies? I prefer thick smoothies but you can easily thin it out by mixing in more milk.
What kind of milk to use? This recipe is so versatile that you can use any milk you like: whole, 2%, coconut, almond, soy, cashew. You can even use chocolate milk and reduce the quantity of cocoa powder or omit it altogether.
Serve as smoothie bowl– This smoothie is super thick and can be served in a bowl with toppings like nuts, granola, fruits.
Use strong high quality blender- Since ice and frozen bananas will be crushed and blended, the blades need to be sharp to create the smoothest consistency. I love my Blendtec!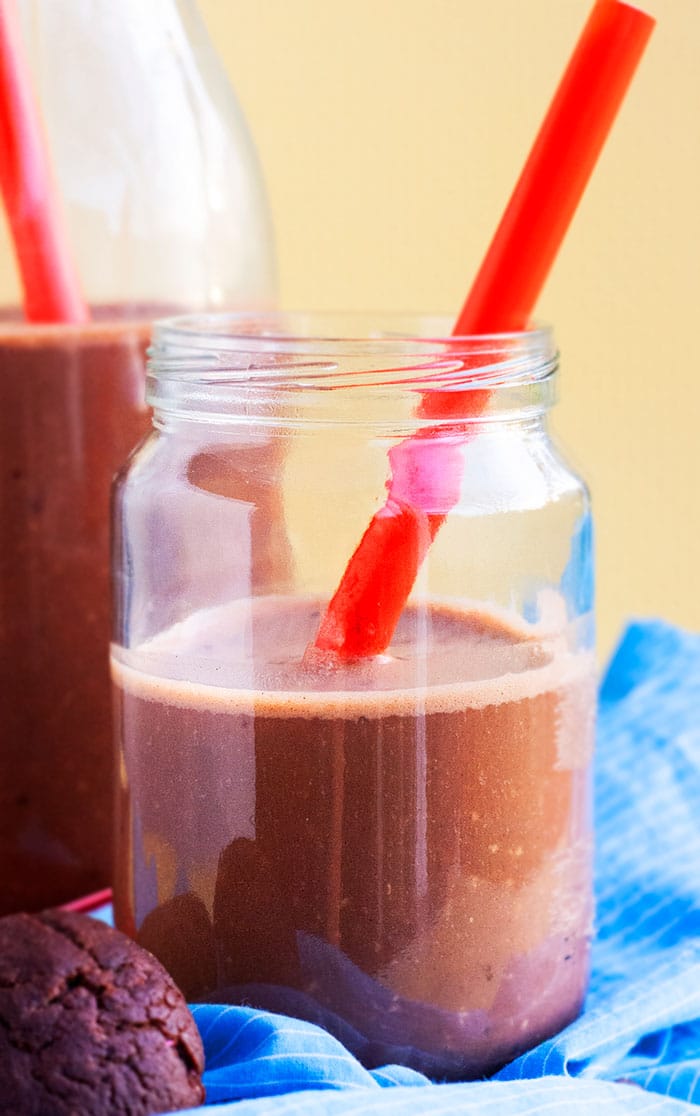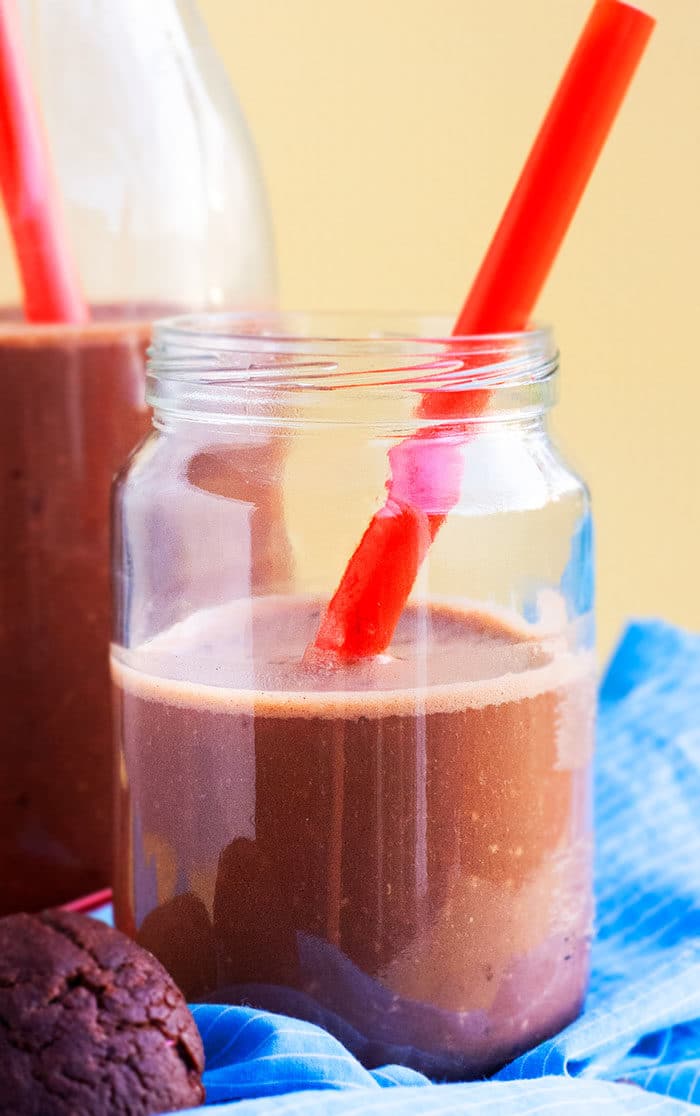 More Smoothie Recipes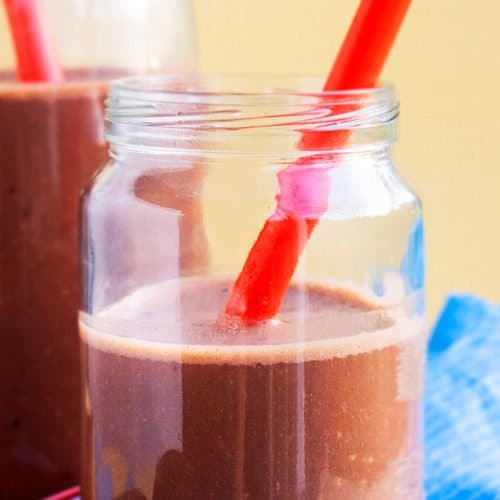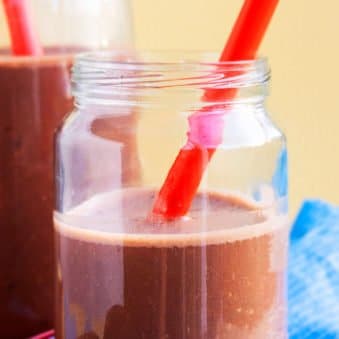 Chocolate Banana Smoothie
Healthy, quick and easy chocolate banana smoothie recipe, homemade with simple ingredients. Rich, smooth, creamy with a hint of peanut butter flavor.
Yield: People
Ingredients
2 Bananas, Ripe, Peeled, Sliced, Frozen
2 tbsp Peanut butter, Creamy
3/4 cup Ice
2 tbsp Cocoa powder
1 cup Milk, Whole, 2%, skim, almond, soy, coconut all work well
1-2 tbsp Honey , Or agave syrup or granulated sugar
Instructions
Add bananas, peanut butter, ice, cocoa powder, milk, honey in a blender and blend until smooth and creamy.

Mix in more milk, if you prefer a thinner consistency.

Pour in two glasses. Enjoy!
Notes
Read all my tips above.
Leftovers can be stored in the fridge for up to 2 days but won't be as thick since the ice would have melted. 
Nutrition
Calories: 635kcal, Carbohydrates: 95g, Protein: 20g, Fat: 26g, Saturated Fat: 9g, Cholesterol: 24mg, Sodium: 257mg, Potassium: 1539mg, Fiber: 11g, Sugar: 61g, Vitamin A: 545IU, Vitamin C: 20.5mg, Calcium: 315mg, Iron: 2.7mg
Until next time, tata my lovelies!