Best Crockpot Hot Chocolate
The best, rich, creamy, easy crockpot hot chocolate recipe, homemade with simple ingredients from scratch. Packed with cocoa powder and chocolate chips. No need for store-bought mixes any more!
One of the best things during the cold Holiday season is to stay at home, get all snuggled up near a fireplace and enjoy a delicious cup of hot cocoa. Like most holiday drinks such as Eggnog and Gingerbread Latte and even this Peppermint White Chocolate Mocha, this hot cocoa recipe (also known as drinking chocolate) will definitely put you into the warm Holiday spirits.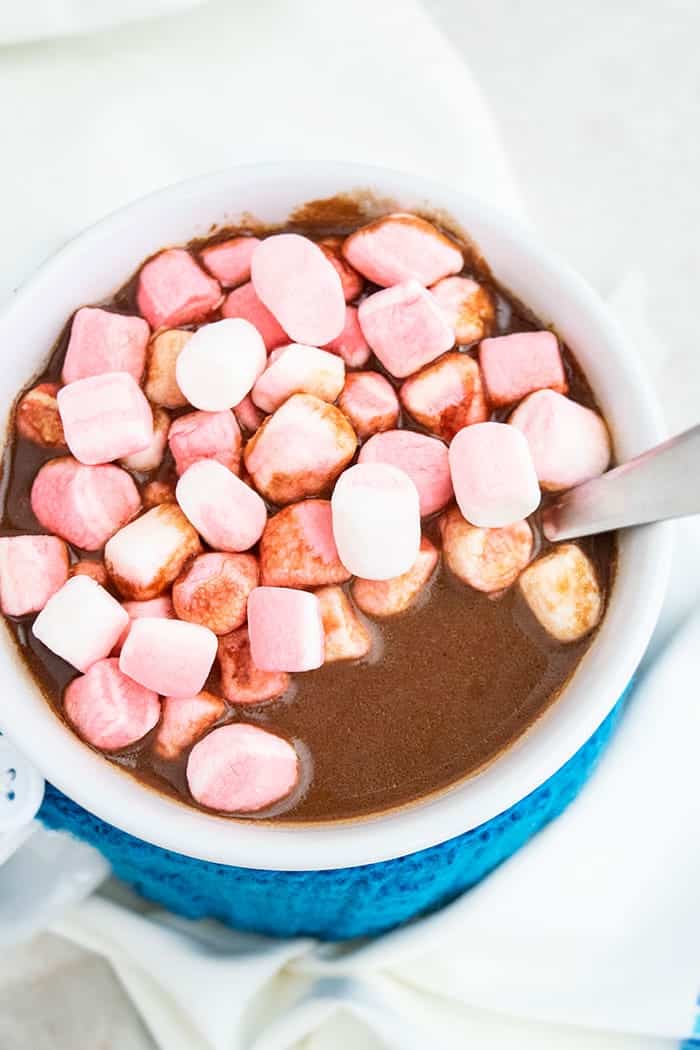 How to make homemade hot chocolate recipe in Crockpot? On stovetop?
Slow Cooker Instructions
Add ingredients to crockpot – Add milk, half and half, sugar, chocolate chips, cocoa powder, vanilla extract and mix until combined.
Set the time and temperature– Cover and cook for 2 hours on Low heat.
Mix– When the timer goes off, turn off the heat and mix everything together. The chocolate should be fully melted.
Cover and rest– Sprinkle mini marshmallows on top. Cover and let it rest for another 5 minutes until the marshmallows are softened.
Enjoy! Serve in individual cups or mugs and top off with more marshmallows and cheers!
Stovetop Instructions
Add ingredients in a nonstick saucepan – Add milk, half and half, sugar, chocolate chips, cocoa powder, vanilla extract and mix.
Cook– Use medium heat. Stir often and let it simmer until all the chocolate chips are dissolved and mixture is smooth and creamy.
Add mini marshmallows– Turn off the heat and add mini marshmallows. Let them soften for 5 minutes.
Enjoy! Serve in small cups or mugs. Top off with some more marshmallows. Drink up!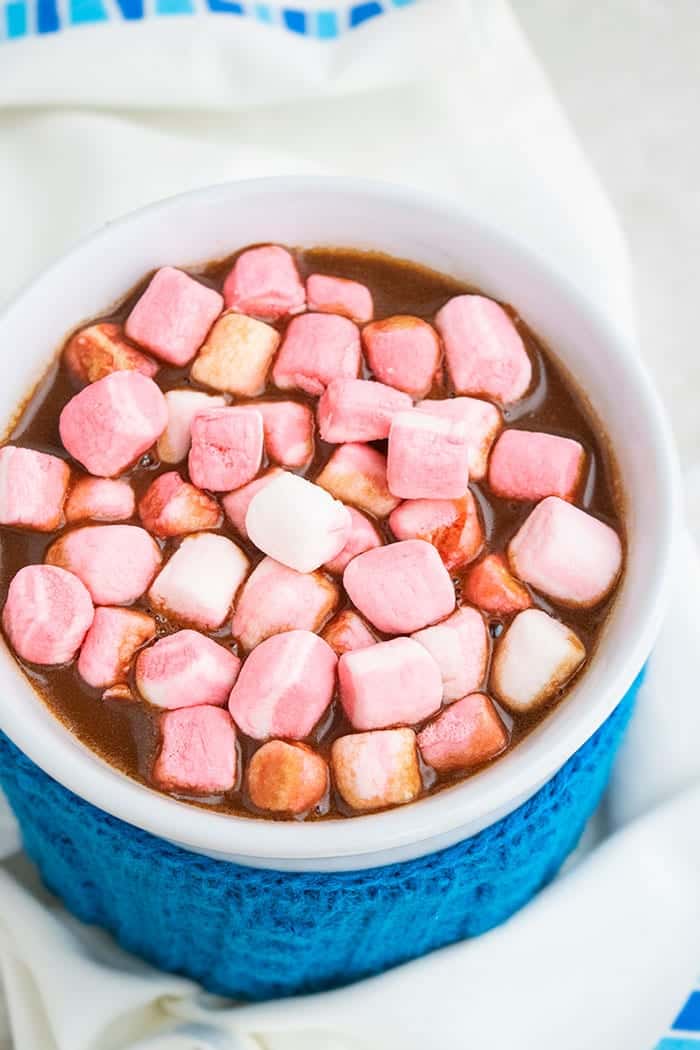 Variations
Mexican hot chocolate– This is basically spiced hot chocolate and more flavorful, earthy, aromatic and packed with spices. Add some ground cinnamon, nutmeg and a pinch of cayenne pepper to the recipe below.
Make a hot chocolate bar– This would be great for Christmas holiday parties or gatherings. Set up a bar or table with peppermint sticks, sprinkles, crushed peppermint, marshmallows, whipped cream, various flavors of chocolate chips, fresh mint, chocolate shavings, caramel sauce, fudge balls. This way, people can customize their own drinks and enjoy it with cookies and pretzels.
Frozen hot chocolate– This would be a refreshing spin for the summertime. Cool the hot chocolate to room temperature, add a little more whole milk and any amount of ice to your liking into the blender. Blend it and enjoy.
White hot chocolate– This is much sweeter. Omit the cocoa powder, sugar, semisweet chocolate chips. Replace all that with 2 cups white chocolate chips. This drink will be much sweeter.
Alcoholic/ Spiked hot chocolate– Add a little alcohol to this recipe such as Bailey's Irish Cream, rum, cream de cocoa, Godiva Dark Chocolate Liqueur or any other booze you like.
Peppermint hot chocolate– Add a teaspoon of peppermint extract to the mixture for a nice refreshing taste. If you want an alcoholic approach, try a few shots of peppermint schnapps.
Nutella hot chocolate– If you like Nutella's rich hazelnut taste, then add 1/4 cup Nutella.
Use dairy-free/ vegan milk– Such as almond, soy, oat, or even coconut milk. These would all be good non-dairy alternatives.
Use other flavors of marshmallows– I used peppermint marshmallows but you can use classic vanilla or chocolate or even gingerbread flavored ones.
Try other flavorings and extracts– Such as almond extract or orange extract or even mint extract. The sky is the limit!
Topping options– Try Homemade Whipped Cream (Classic!), a drizzle of Homemade Caramel Sauce, sprinkles, cocoa curls, mini chocolate chips, marshmallows, crushed peppermint, dash of ground nutmeg or cinnamon. Milk foam is another option. Just froth some milk and spoon the foam on top of your drink.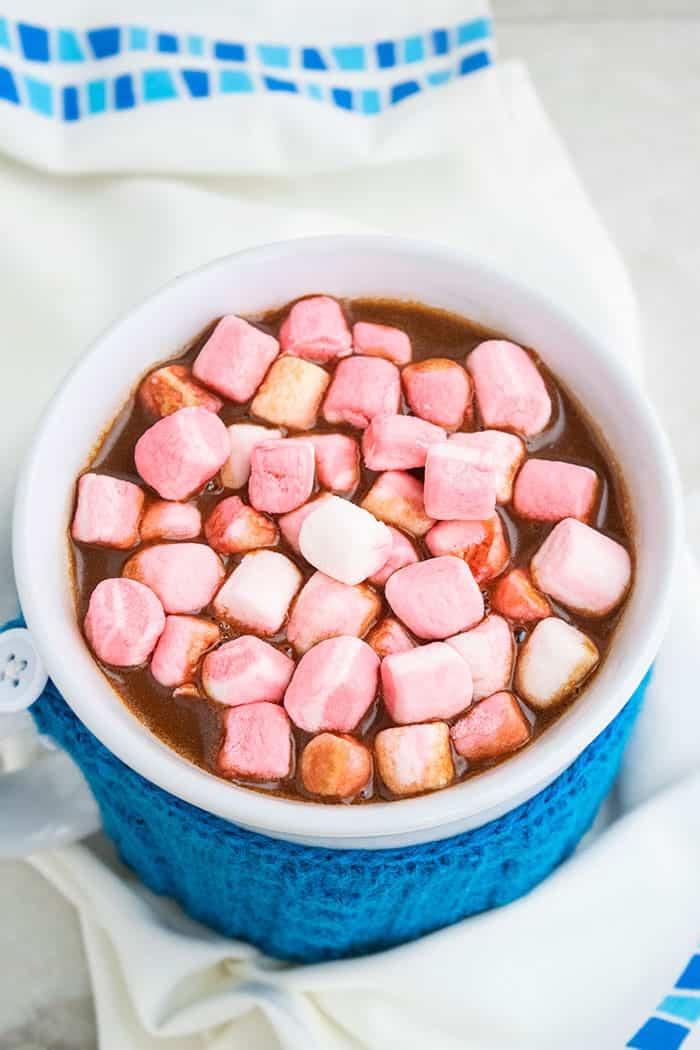 Tips and Techniques
Use whole milk– Because it has a higher fat content and makes gives a this recipe a rich and creamy flavor.
Half and half substitute– Instead of half and half, use evaporated milk. You can also make homemade half and half by mixing together take 1/2 cup whole milk with 1/2 of heavy cream. This is much easier than running out to buy a carton.
Don't use hot chocolate mix– You must use cocoa powder. They are not the same thing. Cocoa powder is unsweetened dried, roasted cacao beans. It also does not have the extra ingredients that are typically found in store-bought mixes.
Make ahead instructions– You can make this a day in advance. Just don't add marshmallows. Cover and chill in fridge. About 1 hour before serving, set the heat on Low to warm it up again. Add marshmallows in the final 5 minutes.
More Drinks and Beverages Recipes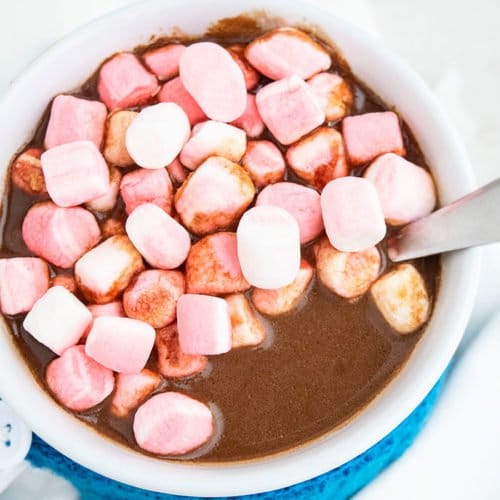 Crockpot Hot Chocolate
The best, rich, creamy, easy crockpot hot chocolate recipe, homemade with simple ingredients from scratch. Packed with cocoa powder and chocolate chips.
Yield: Cups
Ingredients
5 cups Whole milk
1 cup Half and half
3/4 cup Granulated sugar
1/2 cup Chocolate chips, Semisweet
1/2 cup Cocoa powder
1 tsp Vanilla extract
3/4 cup Peppermint marshmallows, Mini size
Instructions
Stir to combine everything together.

Cover and cook on Low heat for 2 hours, making sure to mix at least once halfway through.

When the cook time is over, the chocolate should be fully melted and milk should be warm. Turn off the heat and mix everything together.

Top off with mini marshmallows.

Cover and let it sit for 5 minutes to allow the marshmallows to soften.

Serve hot chocolate in individual cups and garnish with more marshmallows. Enjoy!
Notes
Read all my tips above.
Leftovers can be stored in the fridge for up to 3 days and reheated in the microwave or stovetop. 
Nutrition
Calories: 275kcal, Carbohydrates: 38g, Protein: 7g, Fat: 11g, Saturated Fat: 7g, Cholesterol: 28mg, Sodium: 86mg, Potassium: 322mg, Fiber: 2g, Sugar: 33g, Vitamin A: 380IU, Vitamin C: 0.2mg, Calcium: 224mg, Iron: 0.9mg
Until next time, tata my lovelies!