Iced Vanilla Latte
Quick and easy iced vanilla latte recipe, homemade with simple ingredients in 10 minutes. Rich, creamy, with perfectly balanced coffee and vanilla flavors.
Vanilla is one of those ingredients that people can't get enough of! It takes all recipes over the top and makes everything taste better and adds a wonderful aroma. Today's latte is a delicious way to start your day just like my Caramel Latte and Homemade Mocha Latte.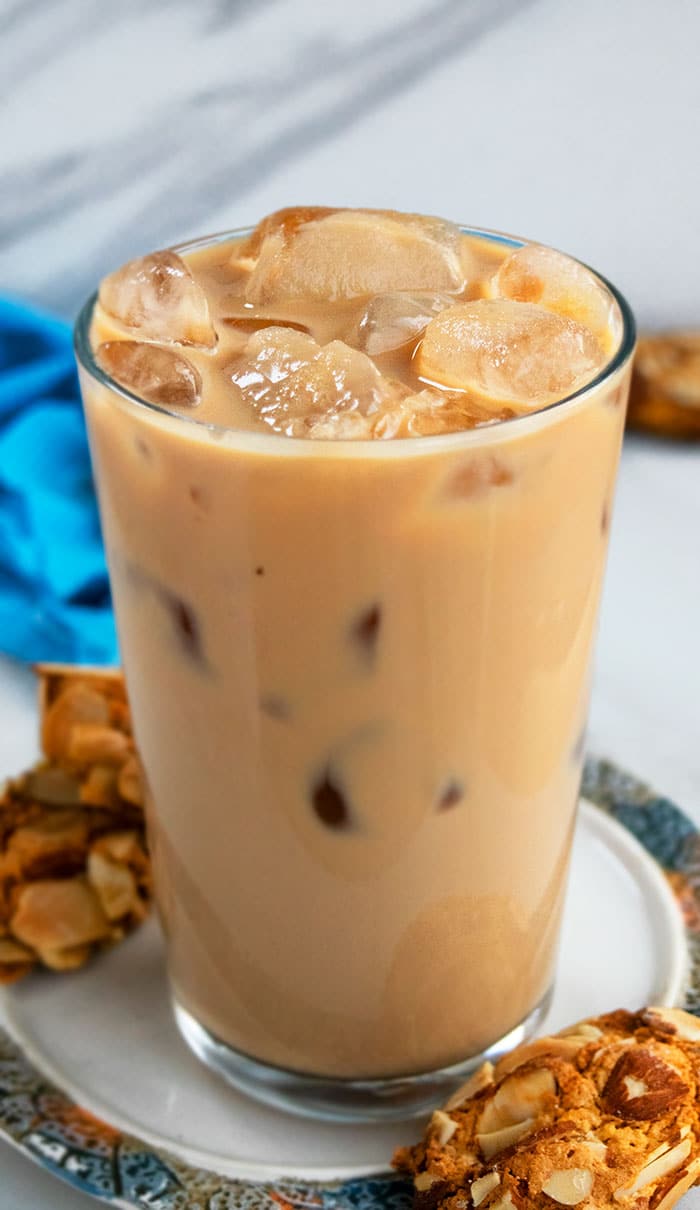 How to make iced vanilla latte?
Add ice– Fill two mugs halfway with ice.
Add ingredients– Add sugar, milk, and vanilla syrup.
Drink up– Stir it and enjoy!
What is the difference between a latte and iced coffee?
A latte is a drink/beverage that consists of strong coffee with steamed milk. An iced coffee is similar but has a smaller quantity of milk with a stronger coffee flavor.
How to make homemade vanilla syrup?
If you don't have any store bought vanilla syrup, you can make your own. Follow these steps:
In a non-stick sauce pan, add 1 cup granulated sugar and 1 cup water and bring it to a boil.
Then, lower heat and let the mixture cook until it's reduced and thick.
Remove from heat and stir in 1 tbsp vanilla extract.
Let it cool. Store in a sealed jar in fridge for up to 1 month and then use, it in your iced latte or other recipes.
Variations
Vanilla chai latte– Mix in vanilla syrup to my Chai Tea recipe.
Vanilla bean latte– Throw in some real vanilla beans for a much stronger flavor.
Add cinnamon– Mix in some cinnamon powder for a spicy kick.
Add caramel– Mix in some Homemade Caramel Sauce. You can also use salted caramel for a sweet and salty flavor profile.
Add peppermint– Mix in some peppermint extract and/or peppermint candies or crushed candy canes. This would be great for Christmas holidays.
Add chocolate- Mix in some chocolate syrup. Great for chocoholics!
Add toppings– Such as Homemade Whipped Cream, chocolate shavings or milk foam.
Add drizzles– Such as chocolate syrup, caramel sauce, Nutella Syrup, or Dulce de Leche or
Use non-dairy milks– Such as almond, coconut, soy, or oat milk. Make sure they are full fat for the same rich and creamy results.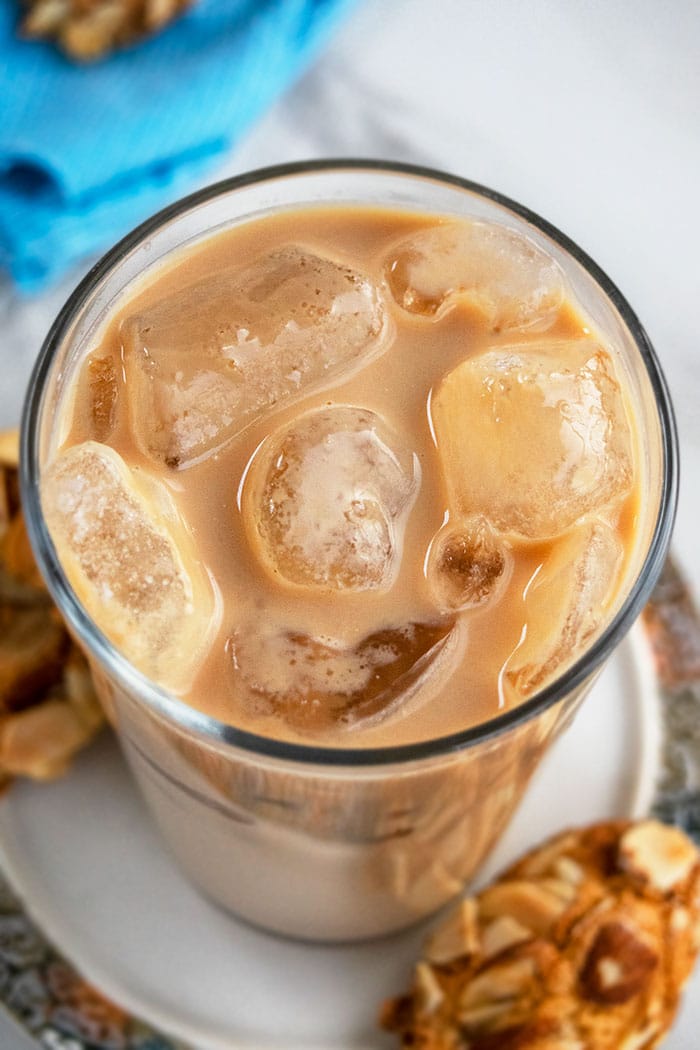 Storage
Refrigerate– For up to 2 days but don't add ice since that would dilute the drink. Add ice, just prior to serving.
Freeze– This drink cannot be frozen for later as it doesn't thaw well.
Tips and Techniques
Brew strong coffee– Because this will allow the strong coffee flavor to come through the vanilla. You don't want to brew it light or else it will only give a hint of coffee flavor.
What type of coffee should I use? Dark roast coffee has a more concentrated flavor. Espresso powder is also perfect for a latte.
Vanilla beans vs. Extract vs. Syrup– For this recipe, I recommend using vanilla syrup because it has a strong vanilla flavor and is already sweetened too.
Can you serve this latte hot? Yes, lattes were originally meant to be served hot hot but they can be served cold over ice as well. It's entirely up to you!
Use whole milk– Because it results in the richest and creamiest drink.
Adjust the amount of ice– Not everyone likes a lot of ice. Also, too much ice can water down the whole beverage quickly.
Adjust amount of vanilla syrup- Add more or less, based on your preference.
Can this drink be saved for later? It should be served immediately because if it is stored for later, the ice will water down the drink and not taste very good.
Serve more people– Double or even triple all the ingredients and make a bigger batch.
More Latte Recipes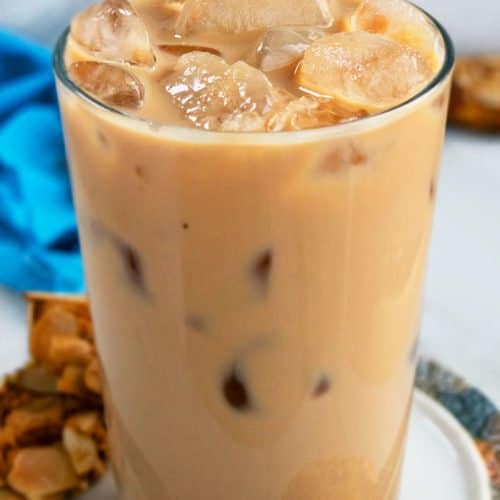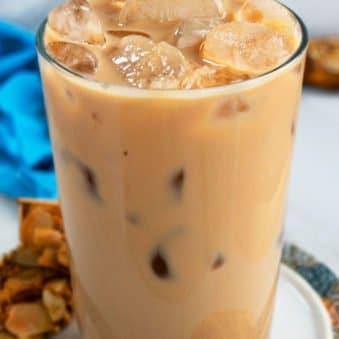 Iced Vanilla Latte
Quick and easy iced vanilla latte recipe, homemade with simple ingredients in 10 minutes. Rich, creamy, with perfectly balanced coffee and vanilla flavors.
Yield: People
Ingredients
1 cup Ice
2 cups Brewed coffee, Strong, Cold
1/2 cup Whole milk, Cold
2-3 tbsp Vanilla syrup, Adjust according to your taste
Instructions
Fill two mugs halfway with ice.

Pour coffee, milk, and vanilla syrup over ice.

Stir and enjoy!
Notes
Read all my tips above.
Tastes best when served immediately because the ice will melt and water down the flavors. I don't recommend storing leftovers for later. 
Nutrition
Calories: 40kcal, Carbohydrates: 3g, Protein: 2g, Fat: 2g, Saturated Fat: 1g, Cholesterol: 6mg, Sodium: 37mg, Potassium: 197mg, Sugar: 3g, Vitamin A: 99IU, Calcium: 69mg