Homemade Mocha Latte
Quick and easy mocha latte recipe, homemade with simple ingredients. Rich, creamy, with perfectly balanced coffee and chocolate flavors. Serve hot or cold/ iced.
Both coffee and chocolate bring out the flavors of each other in today's recipe. I love making this latte during the Winter time and the holiday season, along with my Eggnog Latte and Caramel Latte. With the weather so chilly, it's nice not to have to drive to the nearest Starbucks or coffee shop and still get a caffeine fix.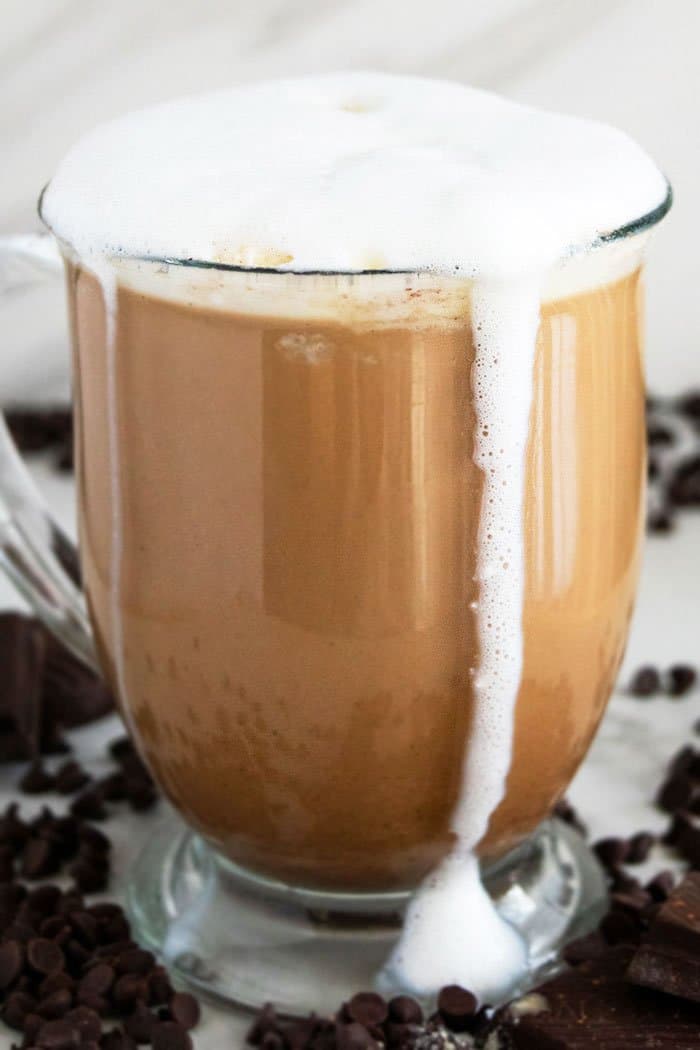 How to make mocha latte recipe?
Make chocolate milk– Cook milk, sugar, half and half and cocoa powder until everything is dissolved. Keep aside.
Make coffee– Brew it strong. Keep aside.
Assemble– Pour hot coffee into a mug. Then, slowly pour chocolate milk.
Add topping- Such as steamed milk foam or whipped cream.
What is the difference between latte and mocha latte?
A mocha is a latte with added chocolate for flavoring. A latte is coffee with steamed milk and a thin layer of milk foam.
Variations
Iced mocha latte– Once the latte is prepared, chill it in the fridge and then, serve over ice.
Caramel mocha latte– Mix in some caramel extract and caramel sauce. You can also use salted caramel for a sweet and salty flavor profile.
Peppermint mocha latte– Mix in some peppermint extract and/or peppermint candies or crushed candy canes. It's refreshing, especially during Christmas holidays. Remember it's a strong flavor and less is more.
Make it spicy– By adding a bit of cayenne pepper, cinnamon and nutmeg.
Use dark chocolate- Use Hershey's Special Dark cocoa powder for a richer flavor. The color of the drink would be darker too.
Give it a fruity twist- Add a little cherry syrup for a fresh fruity taste.
Sugar-free mocha latte– Omit the sugar and use Splenda or other sugar-free alternatives.
Add a nutty hazelnut flavor- Mix in some Nutella.
Add toppings– Such as Homemade Whipped Cream, marshmallows, chocolate shavings, milk foam, dusting of cinnamon powder, espresso powder or cocoa powder.
Add drizzles– Such as chocolate drizzle, Nutella Syrup, Homemade Caramel Sauce or Dulce de Leche.
Add alcohol- Make a spiked latte by adding some Vodka or a few shots of Kahlua or rum.
Use non-dairy milks– Such as almond, coconut, soy, or oat milk. Make sure they are full fat for the same rich and creamy results.
Use flavored half and halfs– Such as French vanilla, peppermint mocha, hazelnut, coconut cream, Italian Sweet cream and more.
Use other sweeteners– Either brown sugar or granulated sugar can be used in this recipe. However, you can also use honey or even maple syrup but the flavor may change slightly.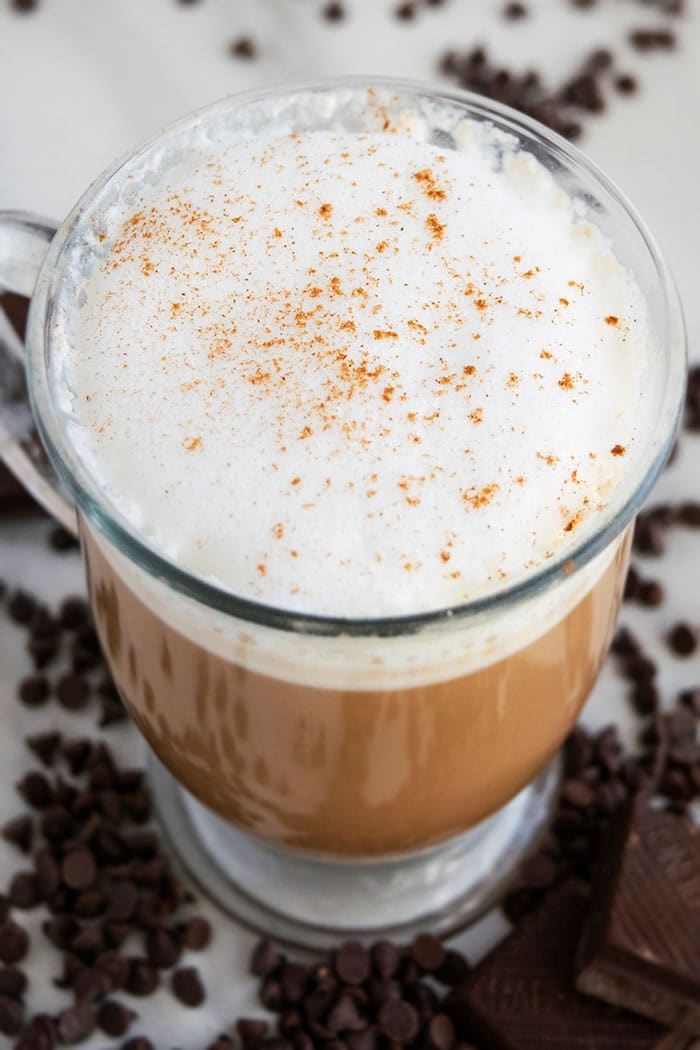 Storage
Refrigerate– In the fridge for up to 2 days.
Freeze– It's not recommended to store this beverage as it doesn't thaw well.
Reheat– In microwave or stovetop.
Tips and Techniques
Watch the heat– Keep the heat at medium and watch the chocolate milk mixture closely so it doesn't boil over and make a mess.
Can you use chocolate chips in latte? Absolutely, you can use them instead of cocoa powder or in addition to cocoa powder. Make sure they are melted completely in the chocolate milk mixture.
Brew strong coffee– Because this will allow the strong coffee flavor to come through the chocolate. You don't want to brew it light or else it will only give a hint of coffee flavor.
Use full fat ingredients– Because this will give the creamiest results.
What are some ways to brew coffee? You can use a Keurig, regular coffee maker or a French press.
Use unsweetened cocoa powder– You can adjust the sweetness later, based on your preference.
What type of coffee should I use? Dark roast coffee has a more concentrated and much stronger flavors. Espresso powder is the darkest roast there is and is perfect for a latte.
Use a small whisk to stir in the cocoa powder. This will help prevent any clumps that form in the milk.
Adjust the amount of sugar– Add more or less, based on how sweet you like your drink.
Serve more people– Double or even triple all the ingredients and make a bigger batch.
More Latte Recipes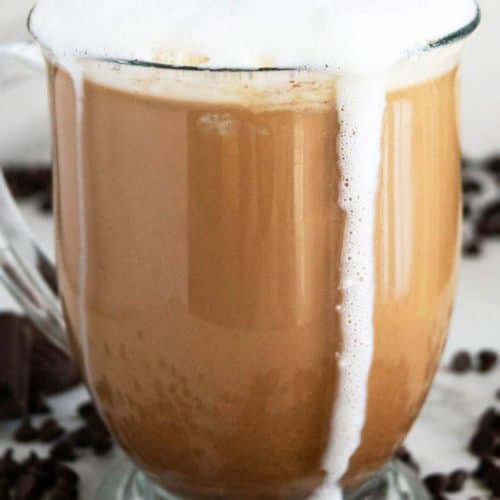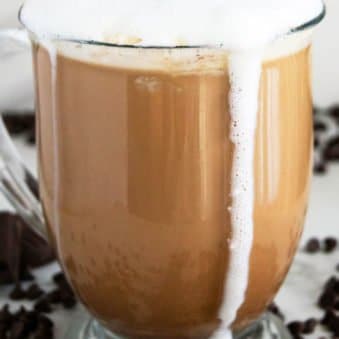 Mocha Latte
Quick and easy mocha latte recipe, homemade with simple ingredients. Rich, creamy, with perfectly balanced coffee and chocolate flavors. Serve hot or cold.
Yield: Serving
Instructions
Add milk, half and half, cocoa powder, sugar in a nonstick saucepan.

Heat over medium heat, stirring often until cocoa powder is completely dissolved. Be careful and don't let the milk boil over the saucepan.

Remove from heat and keep aside.

Pour hot brewed coffee in a large mug.

Slowly, pour chocolate milk mixture on top. 

Use a frother to froth some warm milk and spoon the milk foam on top of each mug or top off with whipped cream. Enjoy!
Notes
Read all my tips above.
Tastes best when served immediately but leftovers can be stored in the fridge for 2 days and reheated in the microwave. 

 
Nutrition
Calories: 382kcal, Carbohydrates: 36g, Protein: 14g, Fat: 24g, Saturated Fat: 14g, Cholesterol: 69mg, Sodium: 160mg, Potassium: 728mg, Fiber: 4g, Sugar: 25g, Vitamin A: 824IU, Vitamin C: 1mg, Calcium: 419mg, Iron: 2mg