Cream Cheese Pound Cake Recipe
Best, old fashioned, soft, moist, tender, firm, quick and easy Southern cream cheese pound cake recipe, homemade with simple ingredients from scratch. Packed with vanilla and a hint of almond flavor. A classic cake that's topped off with whipped cream and fresh fruits.
This vintage cake is just as delicious as my Sour Cream Pound Cake and Marble Cake (Pound Cake). It's one of the first few cakes I learnt how to bake with my Mom when I was little.
How to make cream cheese pound cake?
Mix together butter and cream cheese.
Mix in sugar and cream everything together.
Mix in eggs and vanilla.
Add flour and salt.
Pour batter in greased pans.
Bake.
Allow them to cool completely.
Top off with frosting or glaze and fresh fruits.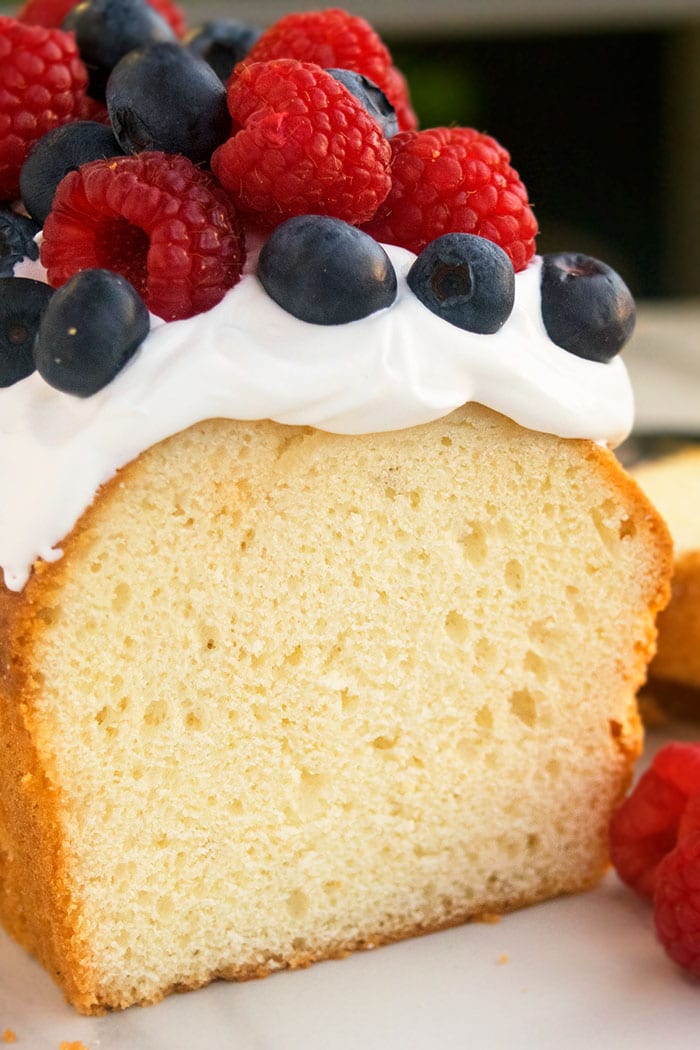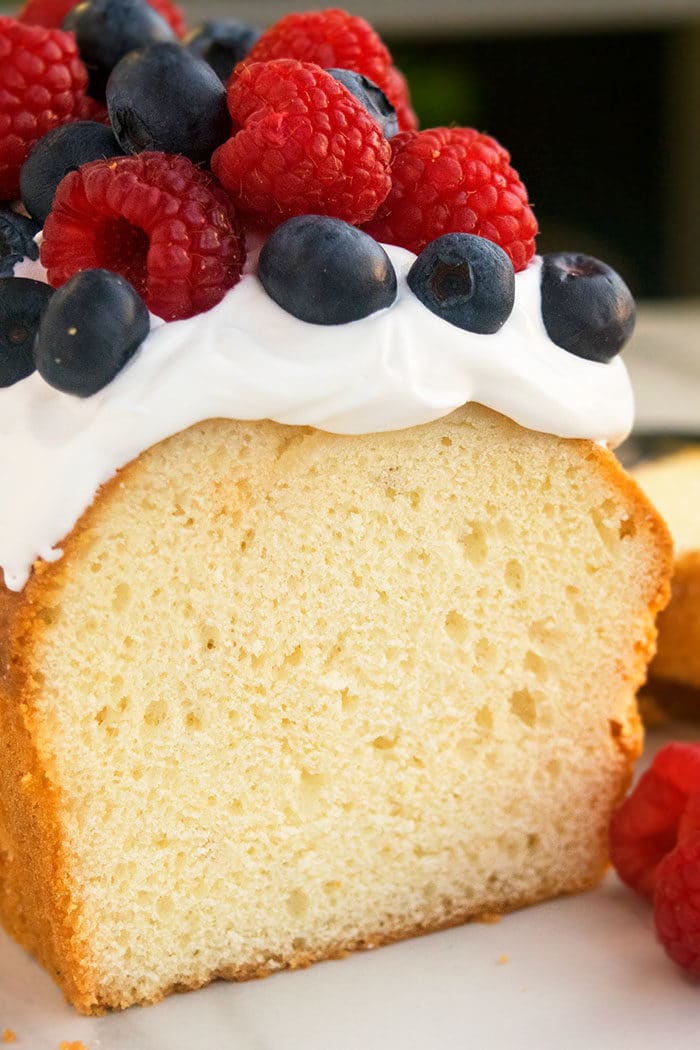 Variations
I love the versatility of this cake because you can play around with extracts and frostings and drizzles/ glazes and really change up the flavor without altering the recipe too much.
Lemon cream cheese pound cake– Replace vanilla extract with lemon extract and add 1-2 teaspoons lemon zest. The rest of the ingredients and instructions remain the same. Both, the cream cheese and lemon, give this cake a wonderful sweet and tangy flavor. You can take the flavor even further by topping it off with lemon frosting or lemon glaze.
Strawberry cream cheese pound cake– Don't add strawberries in the cake batter since they will release juices during baking and make the cake soggy. I suggest topping the cake with Strawberry Buttercream Frosting and fresh strawberries. Consider cutting the cake in half and filling it with strawberry jam too.
Chocolate cream cheese pound cake– You can add some cocoa powder in the cake batter but I prefer topping the cake with Chocolate Buttercream Frosting or Coconut Cream Chocolate Frosting and sprinkling lots of chocolate chips.
Try other icing/ frosting options– Use fruity frostings like Maraschino Cherry Frosting or Easy Orange Frosting or Blackberry Buttercream Frosting or Mango Frosting.
Add glaze– I skipped the glaze and used whipped cream. However, it's a very easy recipe that's made by mixing together the following ingredients until smooth and creamy: 2 cups Powdered sugar, 2 tbsp Whole milk, 1 tbsp Butter (Unsalted, Melted) 1 tsp Vanilla extract. You can replace vanilla with other extracts and zests to change up the flavor. Orange and lemon are very popular choices.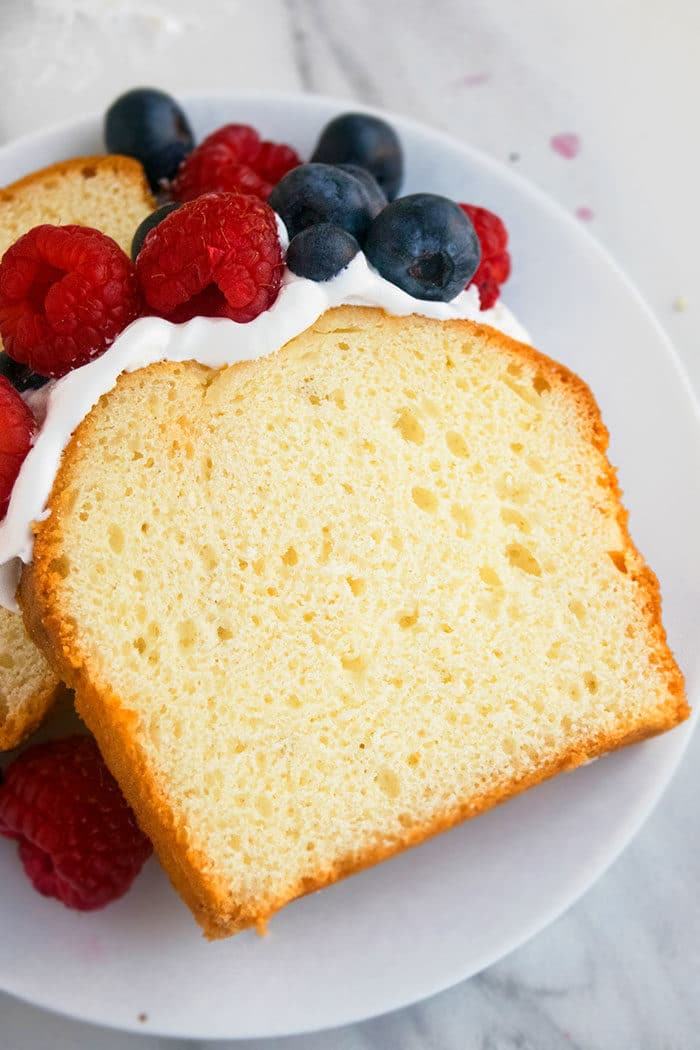 Tips and Techniques
Use full fat ingredients- Such as full fat cream cheese and real butter because that makes this cake rich and moist. No fat free or low fat ingredients!
Don't add leavening agents! This cake rises because of all the eggs, not because of baking powder and baking soda. Do not add those ingredients because that will alter the cake texture entirely!
Use a bundt pan or loaf pan- I like to use 2 loaf pans but you can use a 4 quart bundt pan top. The baking time will be about the same.
Don't reduce the bake time! This cake takes about 1 hour to 1.5 hours to fully bake because it is a dense cake and has a thick batter.
Can you freeze pound cake? Yes. Once it fully cools down, wrap it in saran wrap and put into a sealed freezer bag and freeze for up to 1 month. Let it thaw in the fridge overnight. I think it tastes even better this way because the flavors deepen.
Do I need to chill the cake overnight? I highly recommend it because it allows the cake to firm up even more and allows you to make smooth and even slices without any crumbs.
All ingredients must be at room temperature– That's because they blend together smoothly and evenly.
Don't over-mix cake batter- Because this will yield a tough and it can also cause the cake to collapse/sink during baking.
Use unsalted butter- This prevents the cake from becoming too salty.
Temperature is key– Do not spread whipped cream on top of the cake before it has fully cooled down or else it will melt and make a mess.
Bake at 325 degrees F– Since the bake time is so long, baking at a higher temperature of 350 degrees F can cause the cake to over-brown and burn. This lower temperature yields better results.
Preparing the pan– Generously, grease the pan with softened butter, using a pastry brush. Sprinkle pan with flour and toss it around until the entire pan is covered in a thin layer of grease and flour. Invert the pan over a sink and dump the excess flour. This prevents the cake from sticking to the pan and it allows it to be removed easily.
Decorate it! I kept the decoration very classy and simple with whipped cream and fresh berries but you can drizzle glaze or Homemade Caramel Sauce or even Nutella Syrup and decorate with sprinkles, candies, chocolate chips and even fresh flowers.

Other Classic Cake Recipes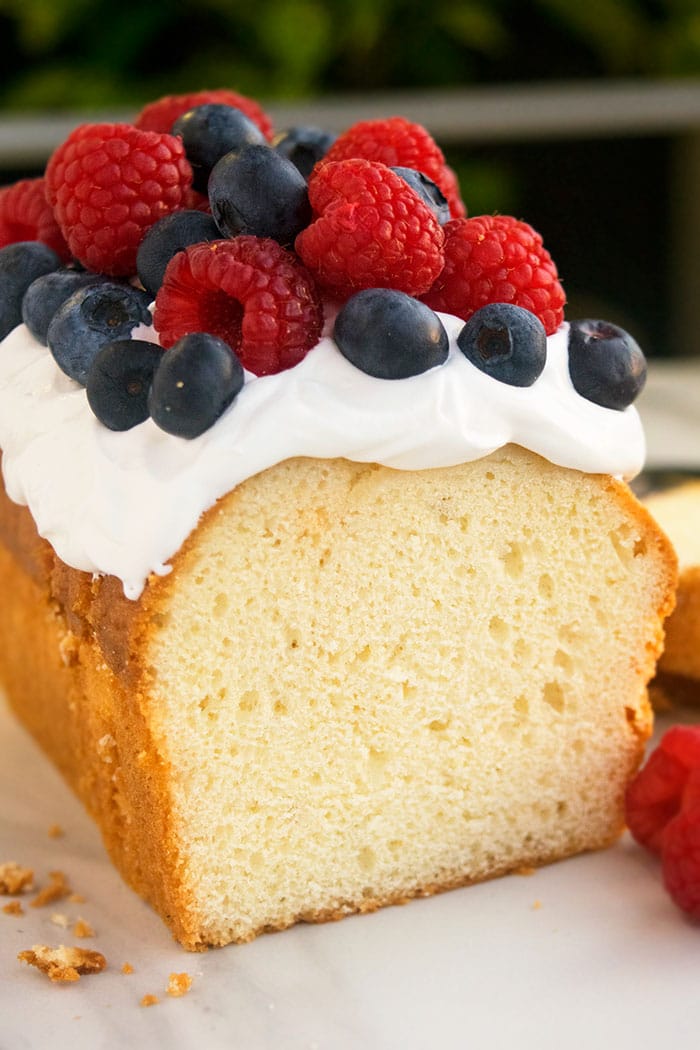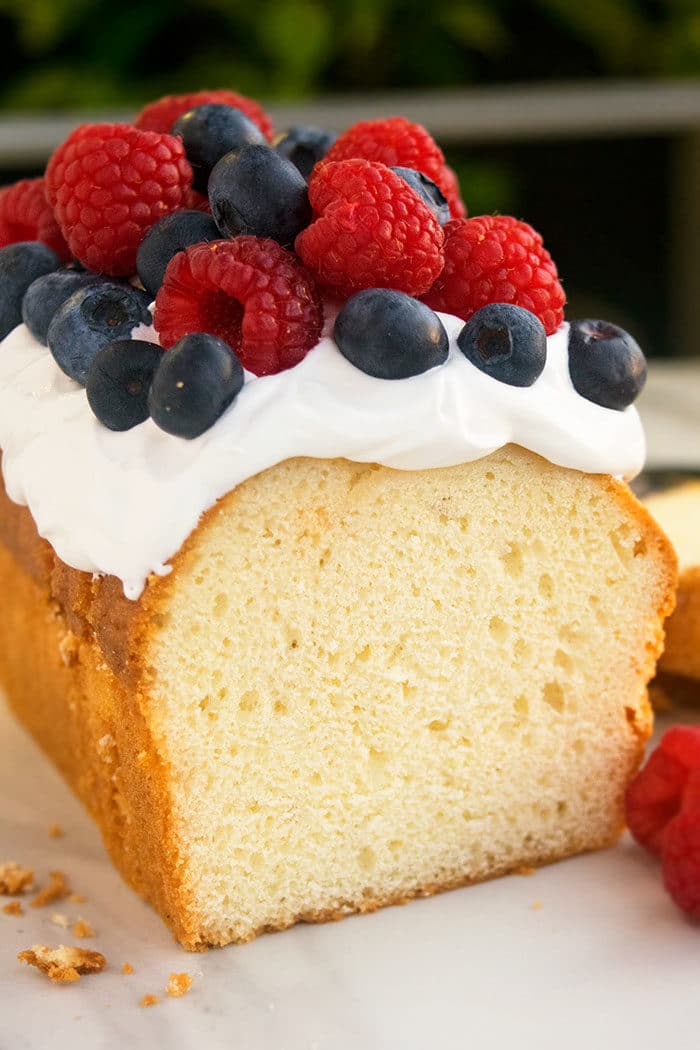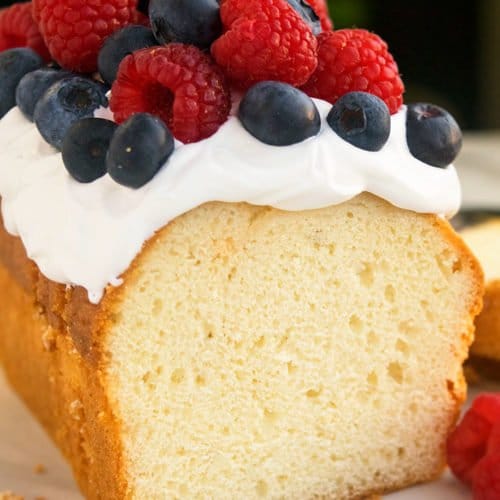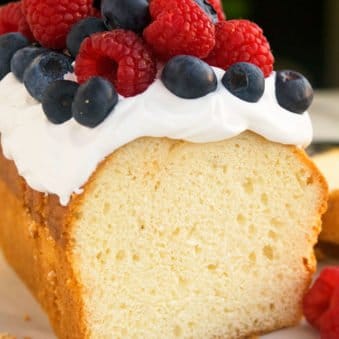 Easy Cream Cheese Pound Cake Recipe
Best, classic, old fashioned, soft, moist, tender, firm, quick, easy cream cheese pound cake recipe, homemade with simple ingredients from scratch.
Yield: Slices
Instructions
In a large mixing bowl, mix together butter and cream cheese until smooth.

Add sugar until and mix until light and fluffy (Takes about 5 minutes).

Add eggs, one at a time. Beat just long enough to combine the eggs with the mixture.

In a separate bowl, whisk together flour and salt.

Dump this dry mixture into the wet mixture and mix until just combined. DO NOT OVER-MIX!

Pour batter in 2 greased and floured loaf pans (Dimensions: 8 x4). Spread it out evenly with a spatula.

Bake at 325 degrees for 60-75 minutes or until an inserted toothpick in the center comes out clean. Don't forget to rotate your pan halfway through baking. This ensures the cakes bake and brown evenly.Note: If the tops starts to become very dark and brown, cover the top with a foil paper tent.

Allow the cake to cool down for 10 minutes. Then, remove it from the pan and let it cool completely on a cooling rack.

Cover it in saran wrap and chill in fridge overnight. This way, you will be able to slice perfectly smooth slices the next day without any crumbs.

Prior to serving, spread whipped cream on top of the cake and decorate with fresh berries. Enjoy!
Notes
Read all my tips above.
Leftovers can be stored in a sealed container in the fridge for up to 3 days. 
I know the baking time sounds insane but trust me, it is worth it. I have felt that any time I bake for a shorter amount of time, my cake is softer. I think baking longer firms it up.
Nutrition
Calories: 471kcal, Carbohydrates: 57g, Protein: 5g, Fat: 24g, Saturated Fat: 14g, Cholesterol: 125mg, Sodium: 367mg, Potassium: 83mg, Sugar: 39g, Vitamin A: 840IU, Vitamin C: 0.2mg, Calcium: 36mg, Iron: 1.5mg
Until next time, tata my lovelies!