Easy Cream Horns
Quick and easy cream horns filled with a cream cheese filling. This puff pastry cream horn recipe is ready in under 30 minutes and is an easy dessert.
*Thank you Pepperidge Farm Puff Pastry for sponsoring today's post so that I can share this easy cream horns recipe with all of you. As always, all opinions are mine.*
My mom and I used to make these cream horns all the time, while growing up.
This is our LAZY version that you can make on busy days when you want to satisfy your sweet tooth but don't want to spend hours in the kitchen.
If you are looking for a cream horns from scratch recipe, then keep looking because this is NOT the one for you…hehe.
I have served these at tea parties, bridal showers, brunches and even birthday.
They are always a HIT with my guests.
My FAVORITE part is the cream horn filling recipe, which is really easy to make.
It's made by mixing together cream cheese, whipped cream and some chocolate chips… pure bliss!
I really DON'T think my Italian cream horn filling recipe is authentic but it tastes incredibly CREAMY!
A friend of mine likes to make cream horn filling recipe with marshmallow cream but I find that way too sweet!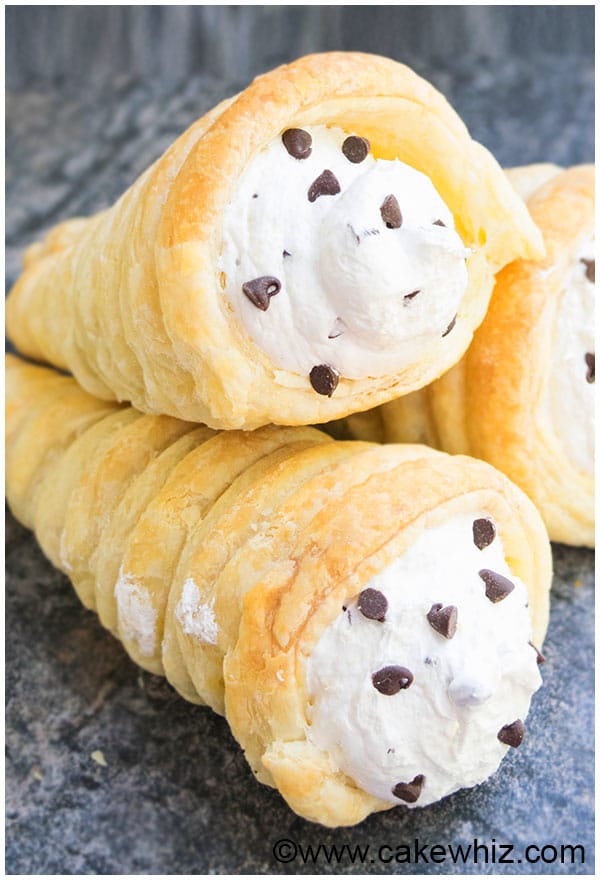 How are cream horns made?
They are made by wrapping strips of puff pastry around a conical mold and then baking them until crisp. Once they cool down, they can be filled with a creamy filling.
How to make cream horns with puff pastry?
I like to use store bought puff pastry since it's just faster or you can use homemade puff pastry.
How to make cream horns recipe without molds?
Wrap ice cream cones with foil paper (inside and outside)
How to store cream horns? How long do cream horns last?
You can store them in the fridge for 1 day.
How to fill cream horns?
Fill a piping bag with the filling and cut the pointy end to make a big hole through which the filling can come out easily.
Can I freeze cream horns?
No, I do not suggest freezing them since the puff pastry corns will become soggy and the filling will curdle and separate. Yuck!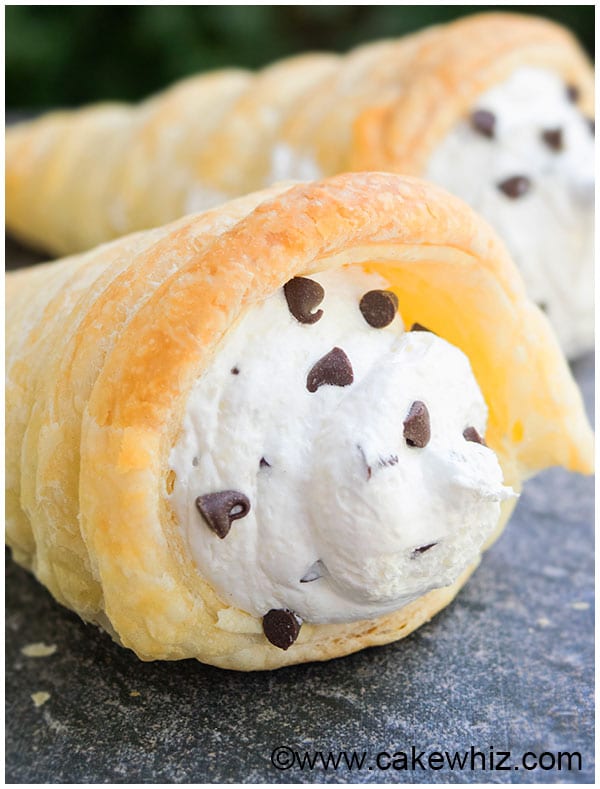 You can FILL these puff pastry cream horns with:
Chocolate mousse
Nutella
Homemade custard filling
Meringue filling
Strawberries and other fruits
Marshmallow cream
Cannoli filling
Whipped cream
Jam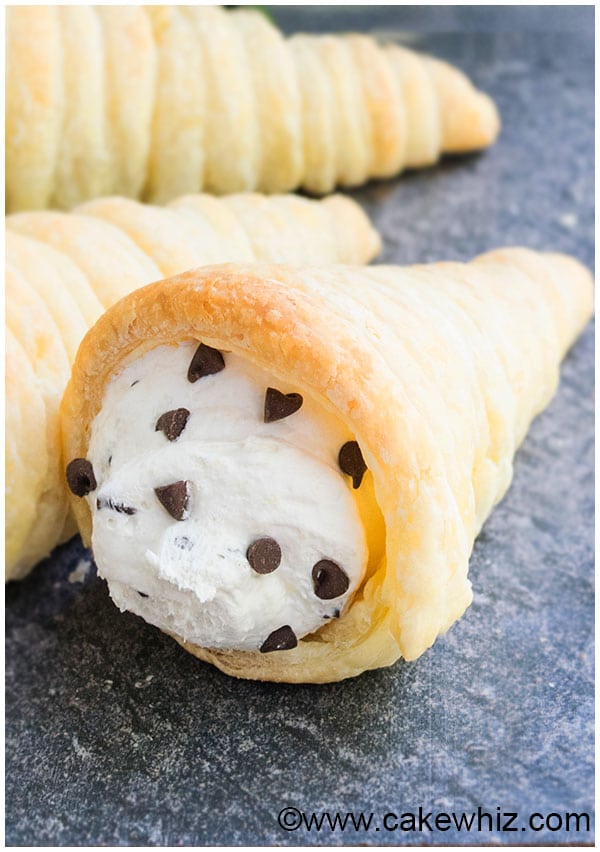 Here are some TIPS for this perfect cream horn recipe:
Use full fat cream cheese. It just makes the filling so much creamier.
Don't use regular sized chocolate chips. You must use mini chocolate chips since they
Adjust the amount of chocolate chips based on your preference. You can add more or less or omit altogether.
To make these puff pastry horns more golden brown and shiny, brush some egg wash on each horn, prior to baking.
I have used homemade puff pastry before but seriously, my favorite way to make these horns is to use these Pepperidge Farm Puff Pastry sheets because they are easy to use that and always yield perfect results- light, flaky, airy deliciousness!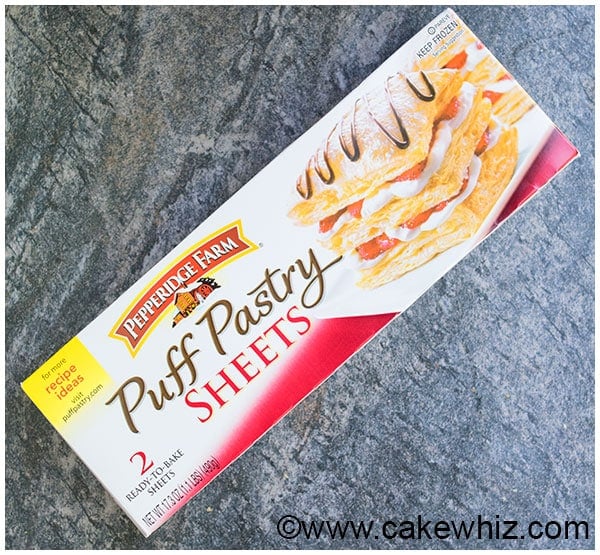 If you liked this homemade cream horn recipe, you may like some of these other puff pastry recipes: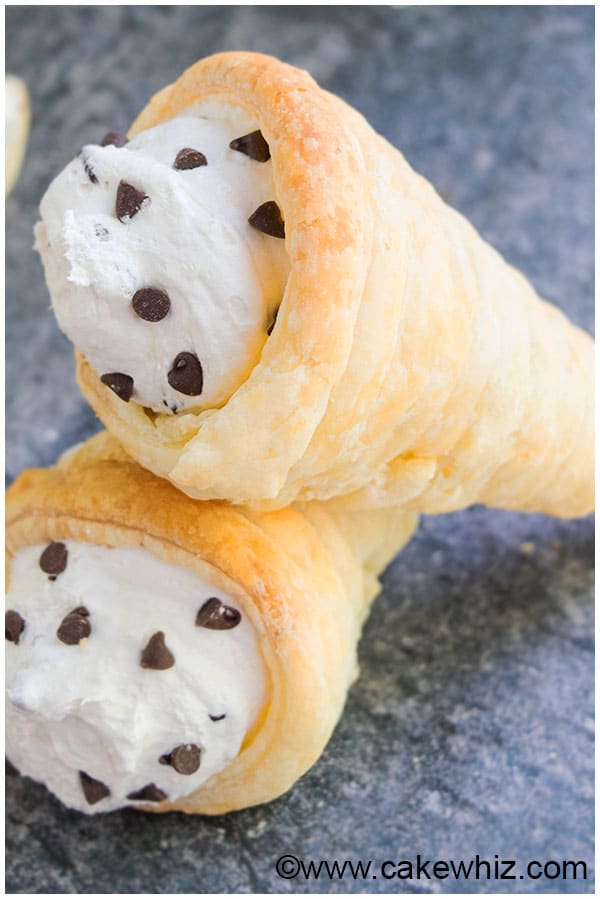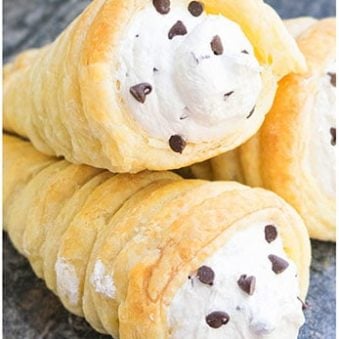 Easy Cream Horns
Quick and easy cream horns filled with a cream cheese filling. This puff pastry cream horn recipe is ready in under 30 minutes and is an easy dessert.
Yield: people
Ingredients
1 package Pepperidge Farm Puff Pastry
8 oz Cream cheese
8 oz Whipped cream
1/2 cup Powdered sugar
1 tsp Vanilla extract
1/3 cup Chocolate chips, mini
Instructions
Cut strips of puff pastry and wrap them around a conical mold in an overlapping manner. Use water to stick the pieces into place.

Place them on a cookie tray and bake at 400 degrees for 15 minutes.

While the horns are cooling, prepare the filling. In a mixing bowl, whip the cream cheese until fluffy.

Fold the whipped cream into the mixture until smooth and creamy.

Stir in the chocolate chips.

Fill a piping bag with this mixture and fill each horn with it. Enjoy!
Notes
Leftovers can be stored in the fridge for up to 1 day but taste best when served fresh.
Read all my notes and tips above. 
Nutrition
Calories: 190kcal, Carbohydrates: 13g, Protein: 2g, Fat: 14g, Saturated Fat: 8g, Cholesterol: 43mg, Sodium: 78mg, Potassium: 64mg, Sugar: 12g, Vitamin A: 475IU, Calcium: 52mg, Iron: 0.2mg
Well, that's all for today.
Until next time, tata my lovelies.