BEST Christmas Cookies
This is a collection of the best Christmas cookies recipes that are perfect for gifting. They are homemade plus quick and easy to make with simple ingredients. They are also easy to package plus there are so many different flavors to choose from.
Christmas is right around the corner and for most families, it's cookie season. So, I thought I would make things easier for you and gathered the best and the most popular cookie recipes from my blog archives that would be perfect as a homemade gift or just to enjoy at parties!
These easy Christmas cookies are typically broken down into the following categories (at least, in my family):
Cut out cookies
Drop cookies
Slice and bake cookies
Decorated cookies
Pressed cookies
I have also shared some some frosting recipes at the end of this post that pair very well with these Christmas cookies.
Also, I went ahead and shared cool ideas on packaging them and other homemade treats at the end of this post. Don't miss out on that!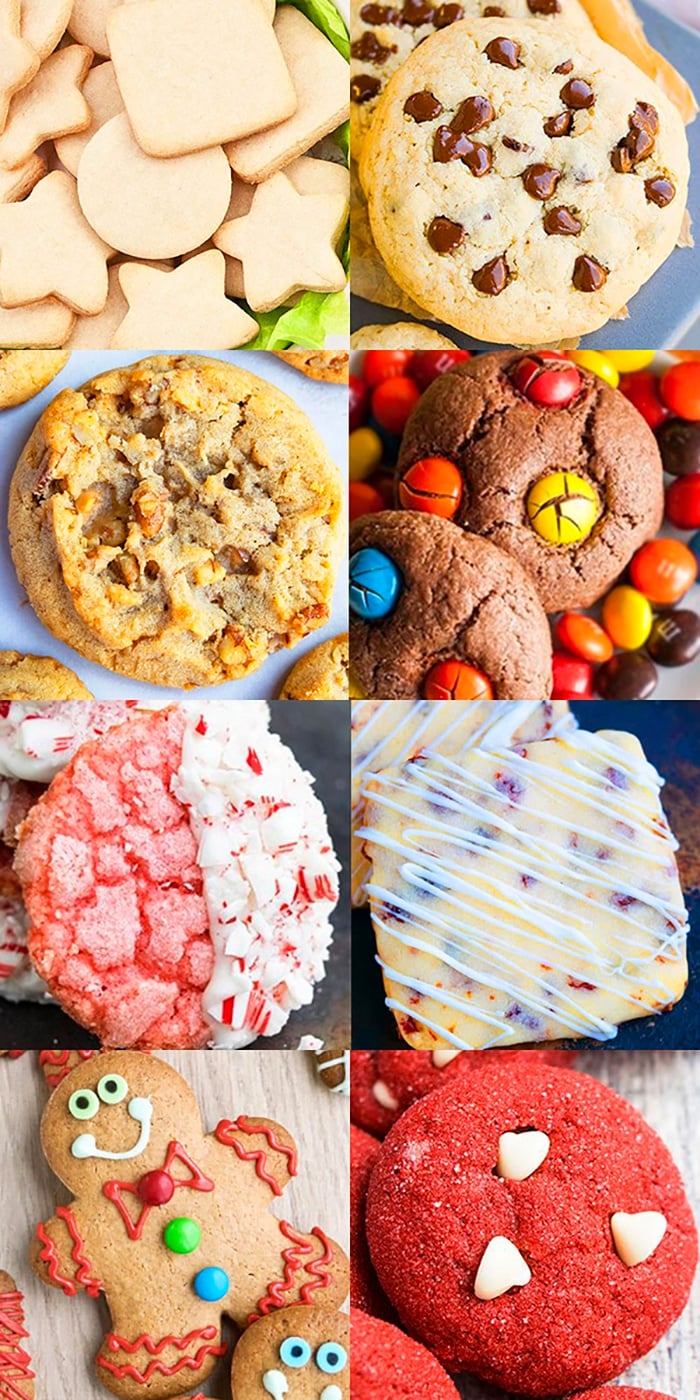 Classic Traditional Christmas Cookies
These are some of the most common and popular cookies ever. You are sure to see them at bakeries and I bet these are some of the cookies your mom and grandma made during the holiday season. Among these, the most popular are cut out sugar cookies and gingerbread cookies, in my opinion.
Chocolate Christmas Cookies
White Chocolate Cookies
Peanut Butter cookies
Fruit Cookies
Caramel Cookies
Special cookies
Cookie Frostings
My favorite Christmas Cookies
For my family, nothing beats these triple chocolate cookies with peppermint chocolate chips. There are 3 sources of chocolate in them: cocoa powder in cake mix, chocolate chips in the dough and melted chocolate that's drizzled on top. Totally choco-licious!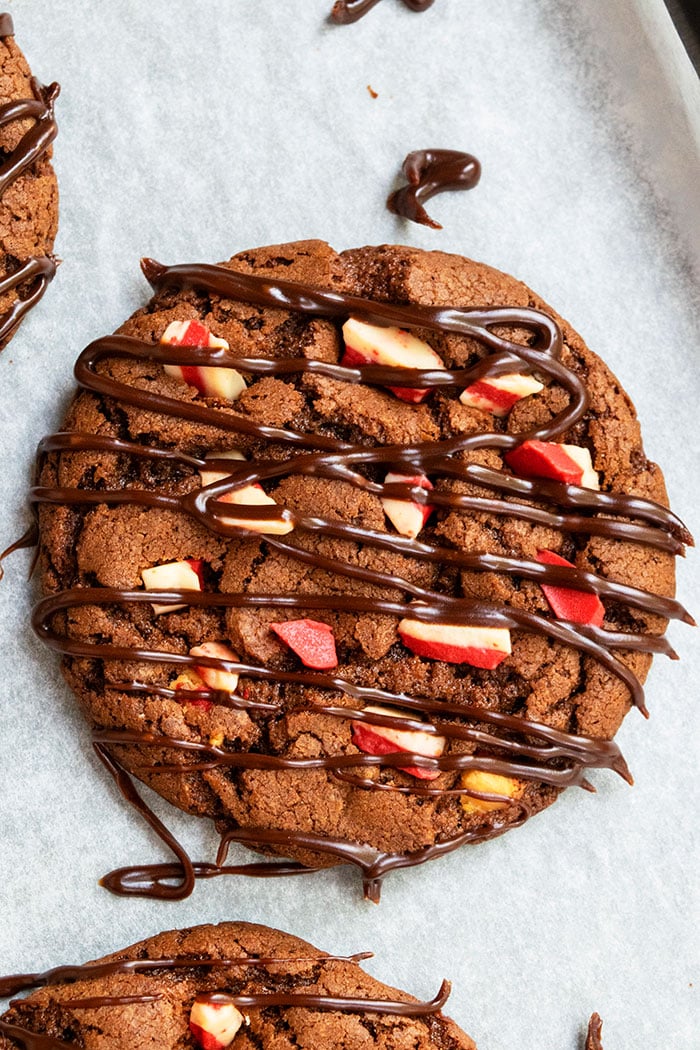 They are also ridiculously easy to make because they start off with a cake mix and require simple ingredients that you already have in your pantry. That heavenly chocolate and peppermint flavor combination makes them the perfect holiday cookie, in my opinion.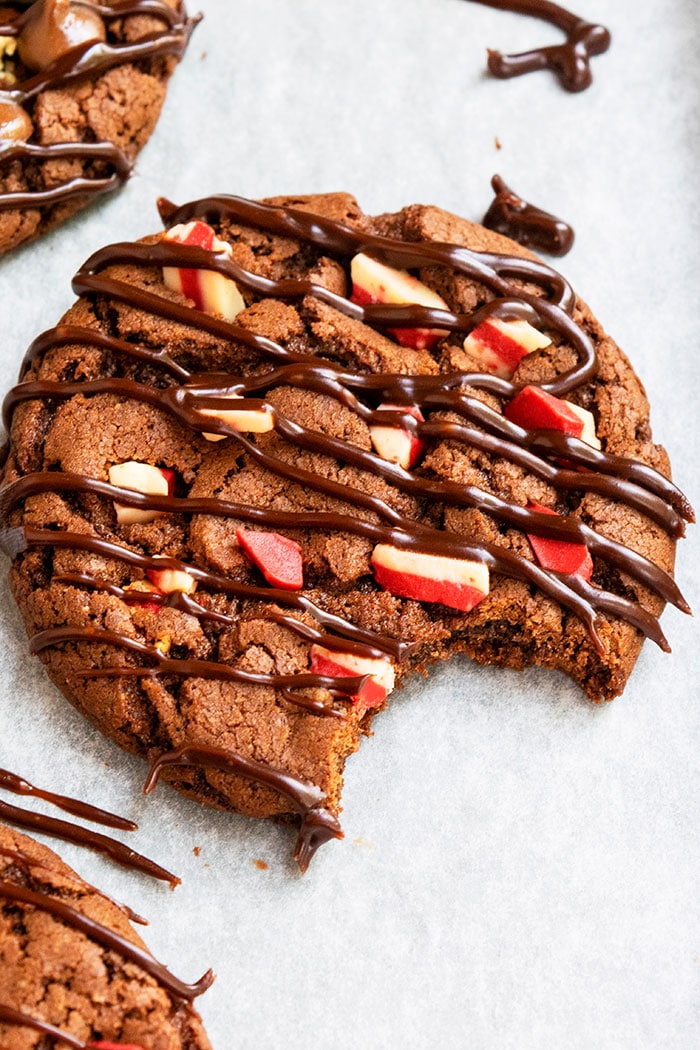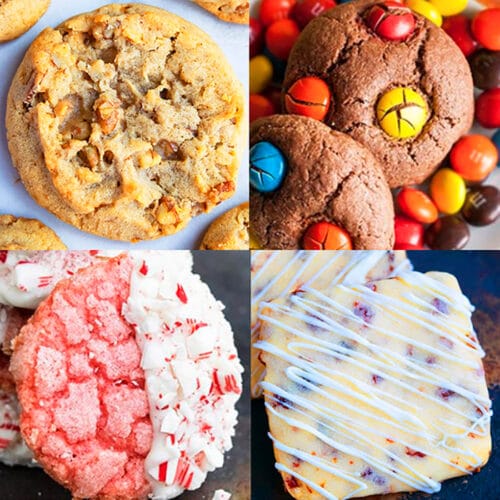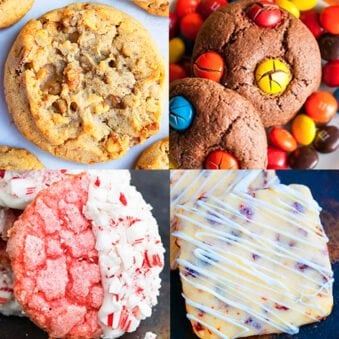 Christmas Cookies (With Cake Mix)
Quick and easy Christmas cookies recipe, starts off with cake mix. These triple chocolate cookies are loaded with peppermint chocolate chips and topped off with melted chocolate.
Yield: Cookies
Ingredients
1 box Chocolate cake mix, 15 oz. box
1/3 cup Butter , Unsalted, Melted
2 Eggs, Large
1 tsp Peppermint extract, Optional
3/4 cup Chocolate chips, Semisweet
1/2 cup Peppermint chocolate baking chips, I use Andes brand, Can also replace with Andes mint chocolate baking chips
1/2 cup Melted chocolate, Semisweet
Instructions
In a large mixing bowl, add chocolate cake mix, butter, eggs, peppermint extract and mix until combined.

Stir in chocolate chips.

Chill dough in the fridge for 30-40 minutes to make it easier to handle.

Scoop out small portions of the dough and roll into balls. Oil your hands to make this step easier and to prevent stickiness, if necessary.

Place them on a cookie tray, lined with parchment paper.

Bake at 350 degrees F for 8-10 minutes or until edges are firm and centers are slightly soft.

Remove from oven and stick peppermint chocolate baking chips on top of each cookie. You will need to work quickly before cookies cool down.

Let the cookies cool now.

Drizzle melted chocolate over the cookies.

Let it set and harden. Enjoy!
Notes
Read all my tips above.
Leftovers can be stored in a cookie jar at room temperature for up to 3 days. They can also be refrigerated in a sealed container in the fridge for up to 5 days. 
Nutrition
Calories: 143kcal, Carbohydrates: 18g, Protein: 2g, Fat: 8g, Saturated Fat: 4g, Cholesterol: 21mg, Sodium: 180mg, Potassium: 70mg, Fiber: 1g, Sugar: 11g, Vitamin A: 111IU, Calcium: 37mg, Iron: 1mg
Packaging
There are so many quick and easy ways to package edible gifts such as cookies. Be sure to check out my post on 9 easy ways to package edible gifts and feel free to share any other ideas you have in the comments below.
All these ideas are affordable, creative and beautiful!