Chocolate Peanut Butter Cookies
Quick and easy chocolate peanut butter cookies recipe, homemade with simple ingredients. Soft, thick, and full of brown sugar, cocoa powder, chocolate chips.
Chocolate and peanut butter are truly a match made in heaven. Two delicious flavors wrapped up in one simple treat. You should also check out some of these other family favorite peanut butter treats: Peanut Butter Chocolate Chip Cookies (Soft and Chewy) and Peanut Butter Blossoms and Easy Peanut Butter Cookies and even these Peanut Butter and Jelly Cookies (Thumbprints).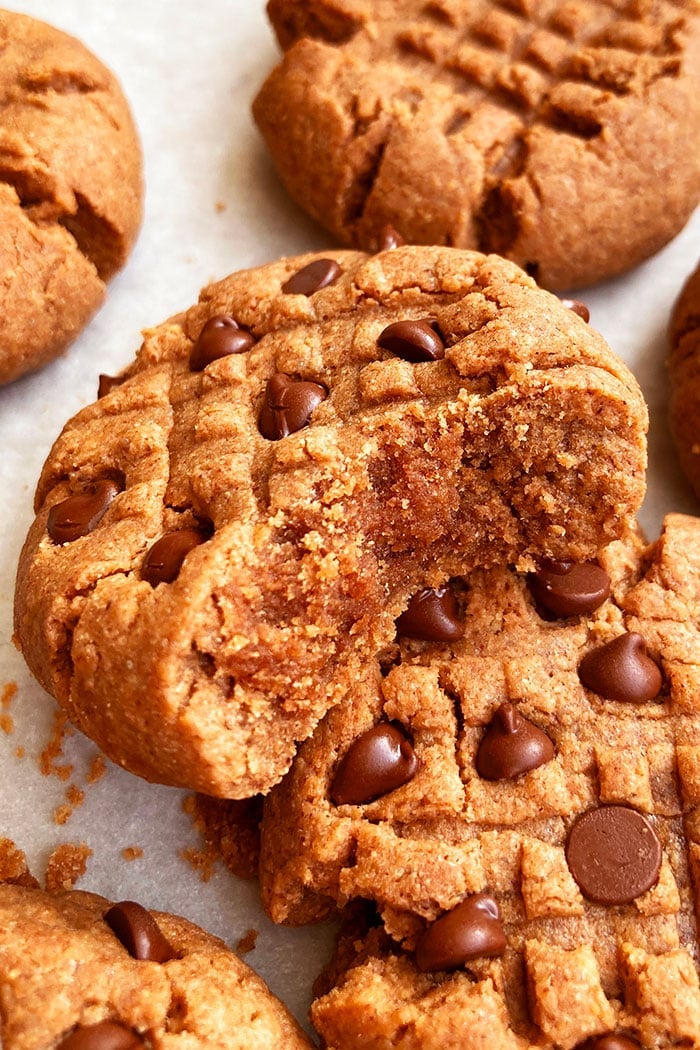 How to make chocolate peanut butter cookies recipe from scratch?
Mix some ingredients– This includes shortening, peanut butter, brown sugar, egg, milk, and vanilla extract.
Mix in remaining ingredients– This includes flour, cocoa powder, and baking soda.
Add chocolate chips– Gently stir them in.
Make small balls– And place them on a cookie tray.
Flatten balls- With a "criss-cross" pattern using a fork.
Bake– Until edges are firm.
Cookie add-ins
Nuts– The perfect combination for this recipe would be adding chopped peanuts, but you can also add pecans, walnuts, or a mix of all three! It all depends on how "nutty you feel."
Chocolate drizzle– Over the top of the cookies after they have cooled. You can also drizzle this Easy Chocolate Ganache (2 Ingredient).
Dried fruits– Such as dried cranberries, chopped banana chips, or raisins for a sweet, chewy texture.
Switch it up- By adding oatmeal into the batter. This is the perfect combination for the peanut butter lovers who love that classic oatmeal chocolate chip cookie.
Why is my cookie dough crumbly? How to fix it?
They may be dry because of the addition of too much flour, but it can be easily remedied by adding a little more milk until the right consistency is reached.
Why is my cookie dough wet? How to fix it?
You may have added a bit too much milk or maybe not enough flour. But don't worry! You can add small amounts of flour until the dough firms up a little. You can also put the dough into the fridge for 30-40 minutes so that it is easier to handle and not so sticky.
Why did my cookies spread?
Using regular butter instead of shortening can cause a little bit of spreading during baking, so I don't recommend it. Spreading can also happen if you try to make cookies with dough that is too wet. So, chill dough and then, bake. The cookies hold their shape really well this way.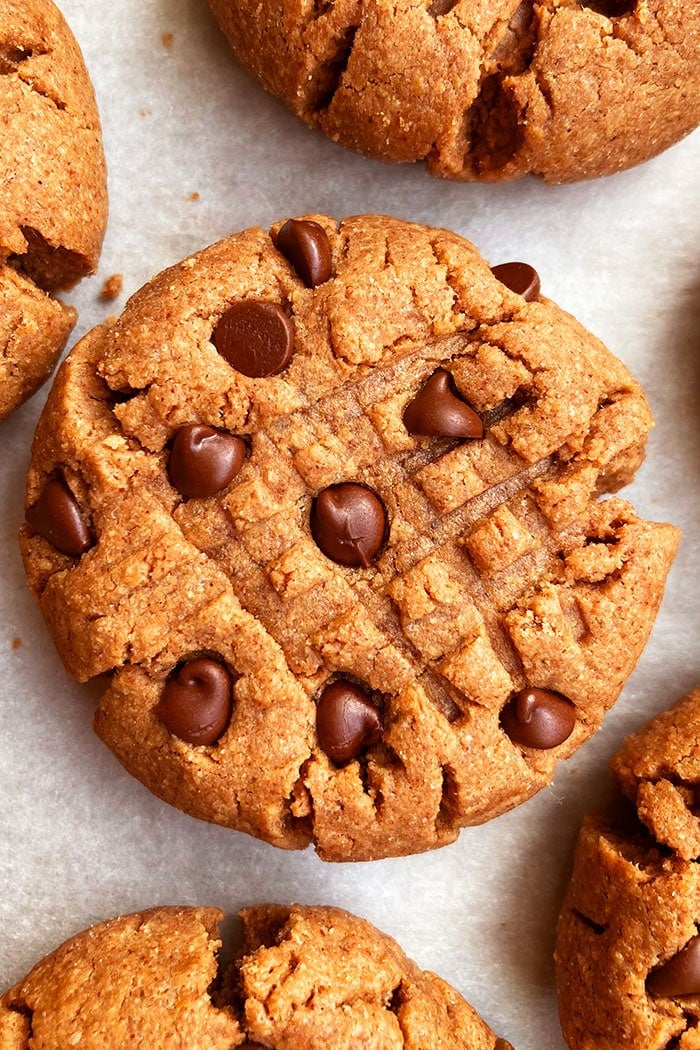 Variations for peanut butter chocolate chip cookies
Make cookie sandwiches– By stacking your favorite filling between two cookies. Fill with ice cream or frosting or even jam or nut butters.
Pair with frosting– Either frost the top of cooled cookies or fill them to make sandwiches. Try this Peanut Butter Frosting (4 Ingredients) or make it a dynamic duo with Chocolate Cream Cheese Frosting.
Pair with jam– It's like peanut butter and jelly sandwich! Use your favorite jam flavor and enjoy this new twist. My personal favorite is this Easy Homemade Strawberry Jam.
Brown sugar substitute– If you don't have it in your pantry, make your own using this recipe: Homemade Brown Sugar Recipe.
Roll cookie dough balls– In powdered sugar, sprinkles, cocoa powder, or granulated sugar for added texture and flavor.
Stuffed cookies– Scoop out cookie dough and stuff your favorite treat inside, like a Rolo candies, Reese's cups, Hershey's Kisses. Be sure to check out these other stuffed cookies for more fun: Peppermint Stuffed Chocolate Sugar Cookies, Triple Chocolate Cookies (Fudgy and Chewy), or Chocolate Caramel Cookies.
Tips and techniques
Shortening vs. Butter– I recommend following the recipe as is and using butter flavored shortening, because using butter causes some spreading during baking, which does not look very nice.
Use mini chocolate chips– And not the regular size, because otherwise they are too gooey and messy. The chocolate runs everywhere and the cookies look more like a blob.
Creamy vs. chunky peanut butter- Either type of peanut butter can be used in the recipe, depending on your personal preference. I recommend creamy peanut butter for a smoother, more consistent texture.
Use buttered flavored shortening– To get the best of both worlds in this recipe. Using plain butter will cause the cookies to spread when baking, but if you use plain shortening you will lose out on that nice buttery flavor.
Can I use granulated sugar? No, you must use brown sugar, because otherwise they won't be as chewy and the overall texture isn't as good.
Cool cookies on tray- Because the residual heat continues to cook them and firms them up. If you omit this step, the cookies will be under-cooked.
Line tray with parchment paper– Because this ensured that cookies won't stick to the pan and you will also have less mess to clean up.
Which type of cocoa to use? You must use natural cocoa powder as opposed to the Dutch processed cocoa powder, because the latter is too strong and bitter.
Storage
Room Temperature– Leftovers can be stored in a cookie jar at room temperature for up to 3 days.
Refrigerate– In a sealed container for up to 5 days.
Make ahead instructions– You can store cookie dough in a sealed container in the freezer for up to 1 month. When you are ready to enjoy these cookies, thaw in fridge overnight and make cookie balls, flatten them and bake as per instructions below.
More Peanut Butter Desserts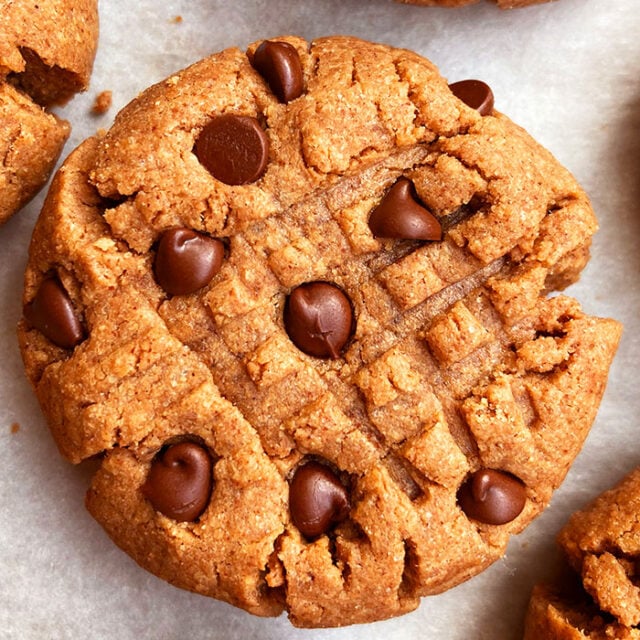 Chocolate Peanut Butter Cookies
Quick and easy chocolate peanut butter cookies recipe, homemade with simple ingredients. Soft, thick, and full of brown sugar, cocoa powder, chocolate chips.
Yield: Cookies
Ingredients
1/2 cup Shortening, Butter flavor
3/4 cup Peanut butter, Creamy
1 1/4 cups Brown sugar
1 Egg, Large
2 tbsp Milk, Whole or 2%
1 tsp Vanilla extract
1 1/4 cups All-purpose flour
1/3 cup Cocoa powder, Can add up to 1/2 cup if you want a very strong chocolate flavor
1 tsp Baking soda
1/2 cup Mini chocolate chips, Semisweet
Instructions
In a large mixing bowl, add shortening, peanut butter, brown sugar, egg, milk, vanilla extract and mix until combined and smooth.

Add flour, cocoa powder, baking soda and mix until just combined.

Stir in chocolate chips until evenly distributed.

Scoop out small portions of the dough and roll them into balls.

Note: If dough is too sticky, chill in fridge for 30-40 minutes to make it easier to handle. If dough is to dry, mix in a little more milk.

Place them on a cookie tray, lined with parchment paper.

Flatten them with a "criss-cross" pattern, using a fork.

Bake at 375 degrees F for 8-9 minutes or until edges are firm and center is slightly soft.

Remove from oven and allow them to cool completely in the pan and then, enjoy!
Notes
Read all my tips above.
Leftovers can be stored in a cookie jar at room temperature for up to 3 days. 
Nutrition
Calories: 119kcal, Carbohydrates: 14g, Protein: 2g, Fat: 6g, Saturated Fat: 2g, Polyunsaturated Fat: 2g, Monounsaturated Fat: 3g, Trans Fat: 1g, Cholesterol: 5mg, Sodium: 61mg, Potassium: 65mg, Fiber: 1g, Sugar: 10g, Vitamin A: 14IU, Vitamin C: 1mg, Calcium: 15mg, Iron: 1mg