Italian Rainbow Cookies {Venetians}
Classic Italian rainbow cookies recipe, homemade with simple ingredients. Colorful layers of almond cookies with raspberry jam and topped with chocolate. Also known as "Italian rainbow cookie cake."
Italy is best known for delicious classic, old fashioned desserts. One of those happens to be today's cookies. Unlike typical cookies, there are many steps involved in this recipe but it's totally worth it at the end. With colors to represent the Italian flag and many layers of flavor, this dessert will be a great addition to Christmas holiday platters. They would also make a great addition to my collection of Easy Rainbow Desserts.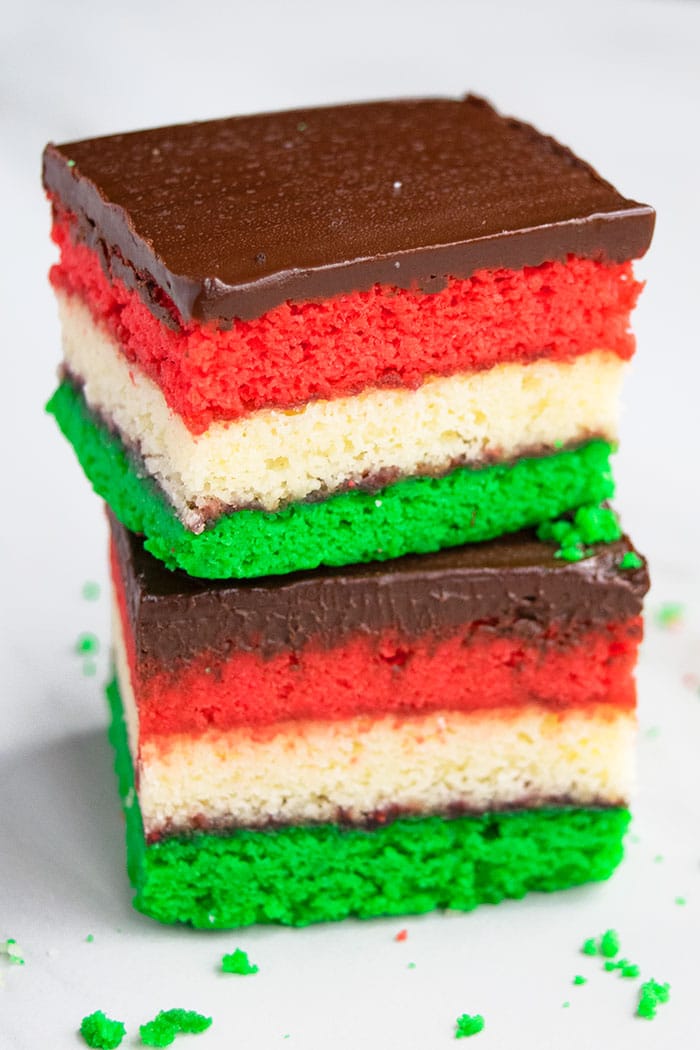 What are Italian rainbow cookies?
They are also known as Neapolitans or Venetians. They are are cake-like and made with different layers of cookies along with jam and almond paste topped with melted chocolate. The cookie layers are colored red, white, and green to represent the colors on the Italian flag. Based on my research, this recipe, surprisingly, did not originate from Italy. It actually came from an Italian immigrant in the United States where the dessert became popular in the Italian communities.
How to make Italian rainbow cookies recipe from scratch?
Mix sugar, almond paste, butter- Until smooth and creamy.
Add egg yolks– And mix until combined.
Add milk and almond extract– And mix until smooth.
Add flour– And mix until just combined.
Whip egg whites separately– And gently fold them into the cookie mixture.
Divide batter– Into 3 bowls and color
Color batter- With liquid food coloring or gel colors.
Spread batter in separate pans– And bake.
Cool– Until room temperature.
Assemble- Place green cookie on a large tray, spread jam on top, place the non-colored cookie on top, spread jam on top again, place red/pink cookie on top, weigh it down and chill. Finally, spread melted chocolate on top, cut slices and enjoy.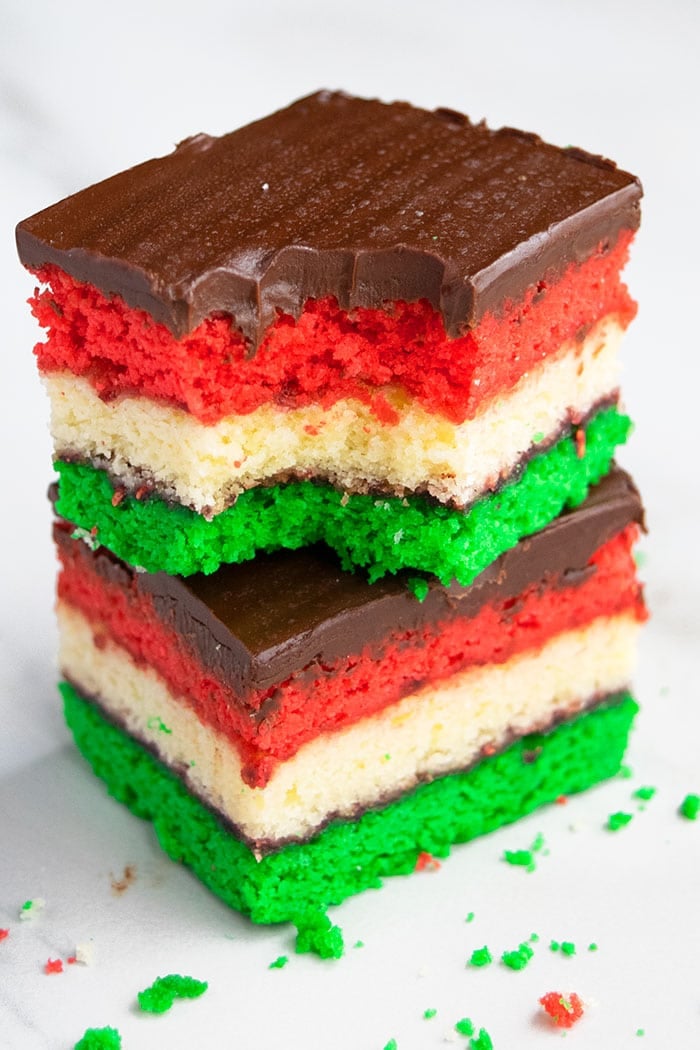 Variations for Neapolitans or Neapolitan cookies or Venetians
Use other jams- Such as orange marmalade, Homemade Strawberry Jam, mixed berry jam. You can also use thick pie fillings such as Raspberry Pie Filling, Blueberry Pie Filling.
Top with roughly chopped nuts– Such as almonds, pecans, walnuts, pistachios. Sprinkle them on top of the melted chocolate before it sets.
Add sprinkles– Before the chocolate sets, toss some sprinkles on top. This would be great for birthdays.
Consider using other colors– The classic colors are supposed to be red, white and green but you can use any colors you like.
Try another chocolate flavor– I used semisweet but you can try, milk, dark or even white.
Add yellow food coloring– There are some recipes where the the non-colored cookie layer is dyed yellow. This is totally up to you.
Try other extracts- Traditionally, almond extract is used but it is strong. You can replace some of it with vanilla extract or any other extract of your choice.
Top with ganache– Instead of melted chocolate, spread this Easy Chocolate Ganache on top. It's super smooth, creamy and decadent.
Tips and Techniques for Italian flag cookies
Gel food coloring vs. Liquid food coloring– Using gel food coloring is your best bet because it is more concentrated and gives a more vibrant color. Also, you do not have to use too much. Liquid food coloring will require a lot in order to get the layers that right shade you need.
Use a heavy flat materials to weight down the cookie layers– This helps to compress the layers together.
What happens if the cookie layers are browned on the edges? They can be easily trimmed off with a sharp serrated knife before assembling.
Whipping egg whites is important- Please make sure your bowl and mixer attachment are squeaky clean or else they will not whip up properly to form stiff peaks.
Be gentle when folding egg whites into the cookie batter– Because they will deflate causing the batter to not have the right consistency.
How can I separate the yolks from the whites? They are many different techniques to separate egg white. The most effective I've seen is using suction from an empty water bottle.
Where can I find almond paste? It's easily found in the baking aisle of most grocery stored or you can order online too.
Use unsalted butter- Because it prevents this treat from becoming too salty.
Almond paste vs. Marzipan- They are not interchangeable. You must use almond paste in this recipe. Even though they are both made of almonds, they are different. Marzipan is smooth, sweet, and can be dyed and molded into shapes, similar to fondant. Almond paste, however, is coarser, not as sweet, and typically used as an ingredient in baking.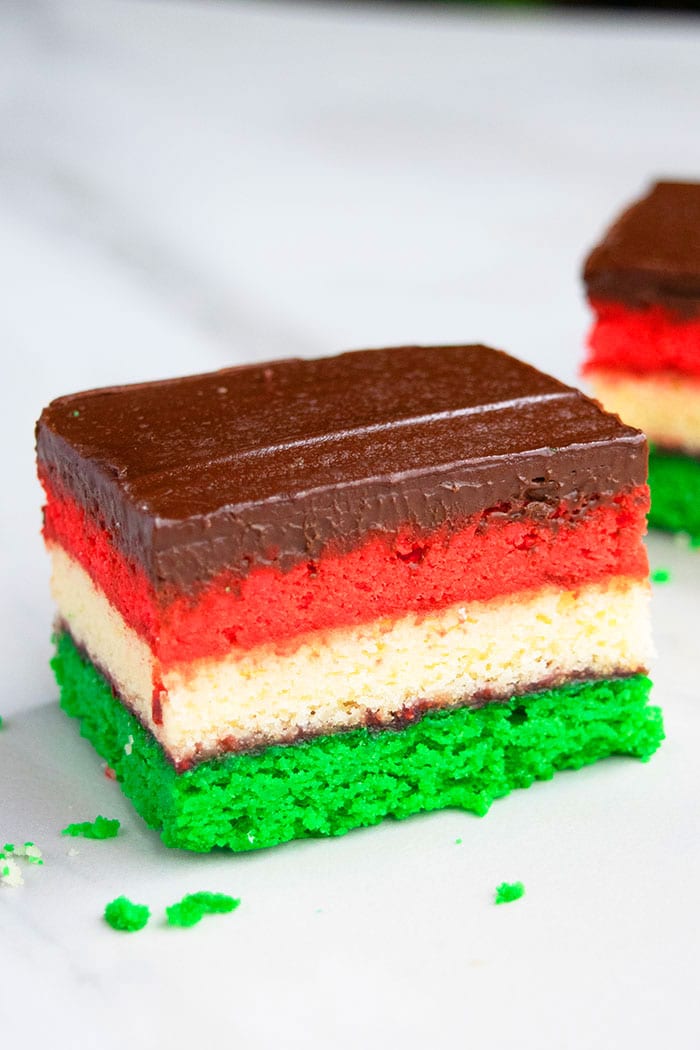 Storage
Refrigerate– In a sealed container for 3 days.
Freeze– In a sealed container for up to 1 month.
More Rainbow Desserts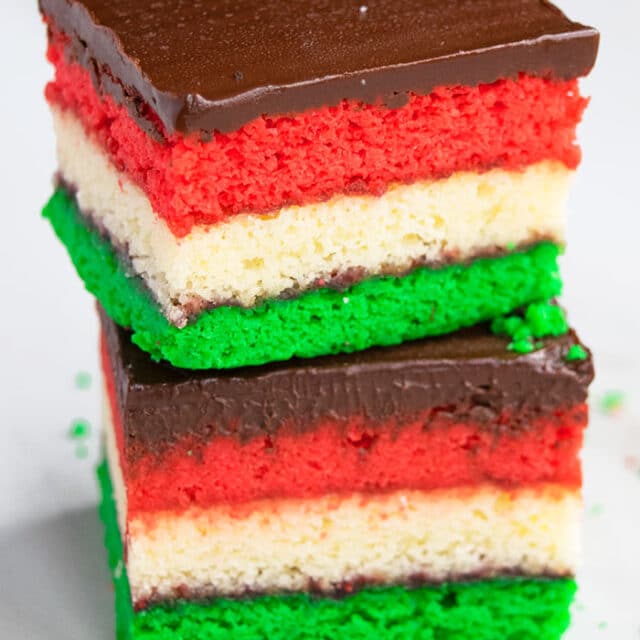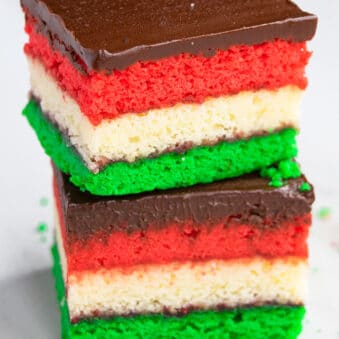 Italian Rainbow Cookies (Italian flag cookies, Venetians, Neapolitans)
Classic Italian rainbow cookies recipe, homemade with simple ingredients. Colorful layers of almond cookies with raspberry jam and topped with chocolate.
Yield: Cookies
Instructions
In a large mixing bowl, add sugar, almond paste, butter and mix until smooth and creamy with no lumps. Be sure to scrape down the sides of the bowl.

Add egg yolks and mix until smooth.

Mix in milk and almond extract until combined.

Add flour gradually and mix until just combined. Keep aside.

In a separate mixing bowl, add egg whites and whip until they form stiff peaks.

Add these whipped egg whites into the flour mixture and mix until just combined.

Divide batter into 3 bowls.

Mix red food coloring into the first bowl of batter until evenly colored.

Then, mix in green food coloring to the second bowl of batter until evenly colored.

Leave the third bowl as is and don't add any food coloring.

Spread each color of batter into 3 separate pans (Dimensions: 9 x 13), lined with parchment paper.

Bake at 325 degrees F for 10 to 12 minutes. Be sure to rotate the pans halfway trhough baking.

Allow the cookies to cool completely.

Remove parchment papers.

Spread jam on top of the green layer.

Place the undyed layer on top.

Then, spread jam on top again.

Finally, place the pink layer on top.

Gently press the layers together.

Cover this cake sandwich with plastic wrap (saran wrap).

Weigh down the layers with heavy plates and chill in the fridge overnight.

Remove the plastic wrap and spread melted chocolate on top of the cake.

Use a decorating comb to create a pattern, if you like.

Chill in fridge for about 30 minutes until chocolate sets.

Use a sharp knife to cut small square slices (2 inch x 2 inch). Enjoy!
Notes
Read all my tips above.
Leftovers can be stored in a sealed container in the fridge for up to 3 days. 
Nutrition
Calories: 223kcal, Carbohydrates: 24g, Protein: 2g, Fat: 13g, Saturated Fat: 8g, Cholesterol: 57mg, Sodium: 114mg, Potassium: 32mg, Fiber: 1g, Sugar: 15g, Vitamin A: 394IU, Vitamin C: 1mg, Calcium: 19mg, Iron: 1mg