This old fashioned and classic no bake cookies recipe is quick and easy to make with simple ingredients. Packed with chocolate, peanut butter and oats.
This classic no bake cookies recipe is one of those recipes that has been passed along COUNTLESS generations.
I am sure your Moms, Grandmas and Great-Grandma's all made this simple chocolate no bake cookies recipe with you, while growing up.
Now, keep in mind they are not too pretty to look at…lol.
But trust me, what they lack in appearance, they make up for it in flavor!
These simple cookies from scratch are LOADED with flavors of chocolate and peanut butter and the addition of oats gives them a CHEWY texture that's unbelievable!
These rich and FUDGY cookies are always a HIT at Christmas time…It's almost like you are eating candy!
I have put together a list of all the questions and answers that should be very HELPFUL in making these classic cookies…

MY OTHER RECIPES
What are no bake cookies? How to make no bake cookies?
These are cookies are very quick and easy to make. They require no baking and there's no need to turn on the oven. You simply cook all the ingredients on a stove top and then scoop portions of the mixture onto parchment paper and let it harden.
What do no bake cookies taste like? 
They are slightly hard and crispy on the outside and fudgy and chewy on the inside. They are sweet and have a wonderful rich chocolate flavor with hints of peanut butter.
What oats to use for no bake cookies?
Only use quick cooking oats. Other oats don't give the same results!
Are no bake cookies gluten free?
Yes, they are gluten free if you are using certified gluten free oats.
How long do you cook no bake cookies?
Once the mixture comes to a boil, you cook for 1 minute, while constantly stirring.
How long does it take for no bake cookies to set up?  How long for no bake cookies to harden?
They usually set up in 15-20 minutes but I don't remove them from wax paper until at least 30 minutes have gone by.
Do no bake cookies need to be refrigerated?
I don't refrigerate them. I just keep them at room temperature but there is nothing wrong with keeping them in the fridge.
Reasons why no bake cookies won't harden? Why no bake cookies don't get hard? Why no bake cookies don't set up? Why no bake cookies stay soft and sticky?
They were not cooked long enough. You MUST mix all the ingredients in a saucepan and bring it to a rolling boil and then  let everything cook, while stirring for 1 minute! If you don't cook long enough, you will end up with a gooey mess.
My friend likes to use a candy thermometer and let the mixture reach 226-228 degrees F and says it works perfectly every time.
Why are my no bake cookies gooey? Are they supposed to be gooey?
They should be fudgy on the inside but NOT gooey that they are falling apart and unable to hold their shape.
What causes no bake cookies to be dry? Why are my no bake cookies crumbly?
The mixture was over-cooked OR the measurements of ingredients was not accurate.
Are no bake cookies healthy?
I am not really sure I would classify these as healthy cookies. They do have oats and peanut butter which are good for your health but they also have a lot of sugar and butter. Some people have made healthier versions of these cookies with coconut oil and honey or molasses. Honestly, I tried one recipe and didn't like it since it tasted NOTHING like this classic recipe.
How long are these cookies good for?
They are good for 5 days but honestly, they never last more than 2 days at our house…hehe.
How to store no bake cookies?
Just store them in a cookie jar or an air tight container at room temperature and use within 5 days. You can store them in the fridge too and some people even like to freeze them in freezer bags to enjoy later.
How to fix no bake cookies that don't set and harden?
Honestly, there is nothing you can do. There is no way to fix this recipe once it goes wrong. All I can recommend is perhaps baking these cookies until become crunchy and roughly crushing them. Then, you can use them as a granola topping on ice cream, yogurt, cereal or parfaits.
My no bake cookies stuck to wax paper. Why?
There could be two reasons: 1) The mixture was not cooked long enough and was still very wet 2)Or you need to use a good quality of wax paper.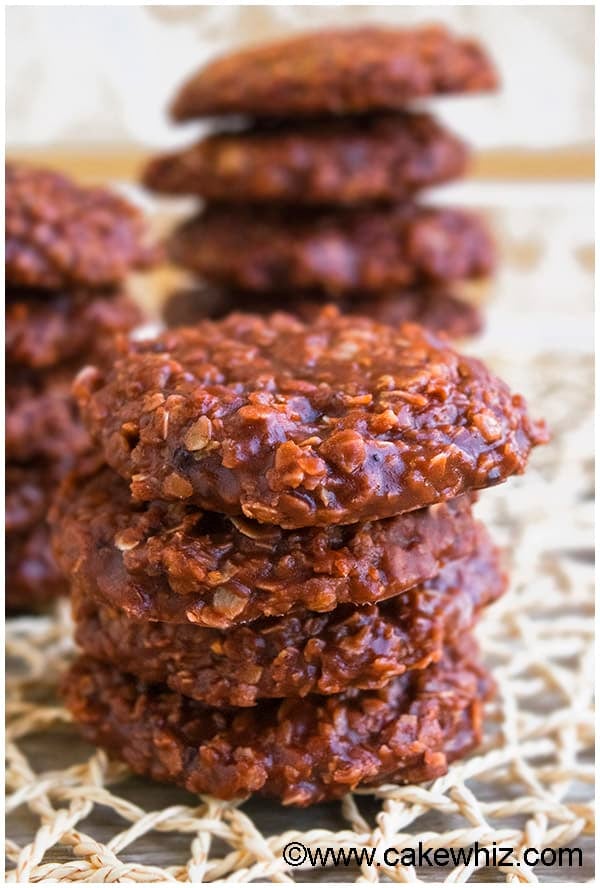 Classic No Bake Cookies Recipe
Prep time:
Cook time:
Total time:
This old fashioned and classic no bake cookies recipe is quick and easy to make with simple ingredients. Packed with chocolate, peanut butter and oats.
Ingredients
3 cups quick cooking oats
1¾ cups granulated sugar
½ cup whole milk
½ cup unsalted butter
4 tbsp cocoa powder
½ cup smooth peanut butter
1 tsp vanilla extract
¼ tsp salt
Instructions
In a saucepan, add milk, sugar, butter and cocoa powder and cook at medium-high heat until the mixture comes to a rolling boil.
Then, cook for for exactly 1 minute, while constantly mixing.
Remove from heat and stir in peanut butter, salt, oats and vanilla extract.
Drop tablespoonfuls on a sheet of wax paper and let the cookies set for 30 minutes or until they harden.
And you are done!
Notes
- Read all the questions and answers above.
- Do not substitute any other type of oats. You must use quick cooking oats!
- Remember that if you cook the mixture for too long, the cookies will become dry and crumbly. If you don't cook long enough, the cookies won't hold their shape properly.
- You can use crunchy or creamy coconut butter. It all depends on your preference.
- You can add ¼ cup desiccated or shredded coconut to enhance the chewy texture of these cookies.
- You an add ¼ tsp espresso powder to enhance the chocolate flavor of these cookies even further.
Well, that's all for today.
If you liked this recipe, you may like some of these other chocolate cookies too…
Cake Mix Chocolate m&m Cookies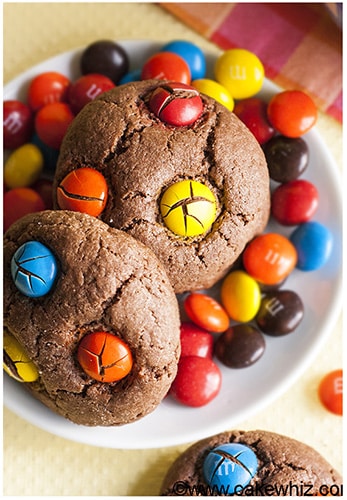 Peppermint Stuffed Chocolate Sugar Cookies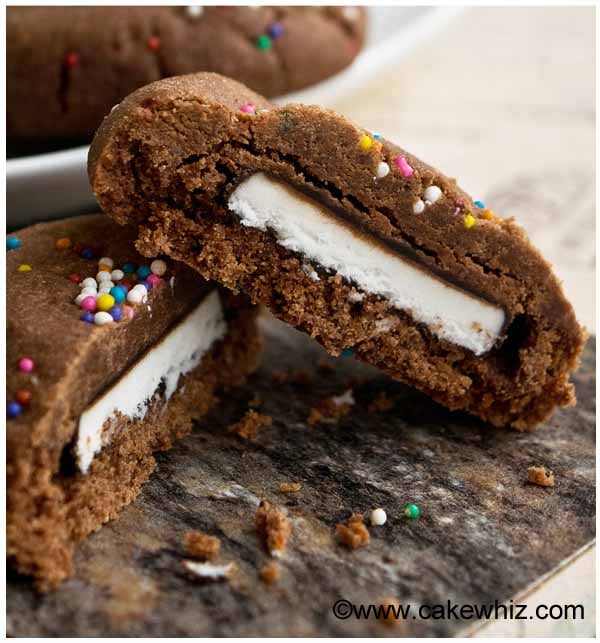 Until next time, tata my lovelies!