This is the best chocolate buttercream frosting recipe for cakes and cupcakes! It's easy to make and includes flour, which makes it rich, creamy and fluffy.
Up until now, I hadn't shared my favorite chocolate buttercream frosting recipe with all of you.
Well, that's going to change today.
This frosting is different than the classic American chocolate buttercream, which I don't really like.
This chocolate icing takes a little longer to make and has one very unusual ingredient: FLOUR!
That's what makes it so soft and fluffy and gives it a VELVETTY texture.
Some people also refer to this recipe as "Cooked buttercream frosting."
You really need it try it out!
This chocolate buttercream frosting goes great with my  chocolate cake and cupcakes or even my favorite vanilla cupcakes.

MY OTHER RECIPES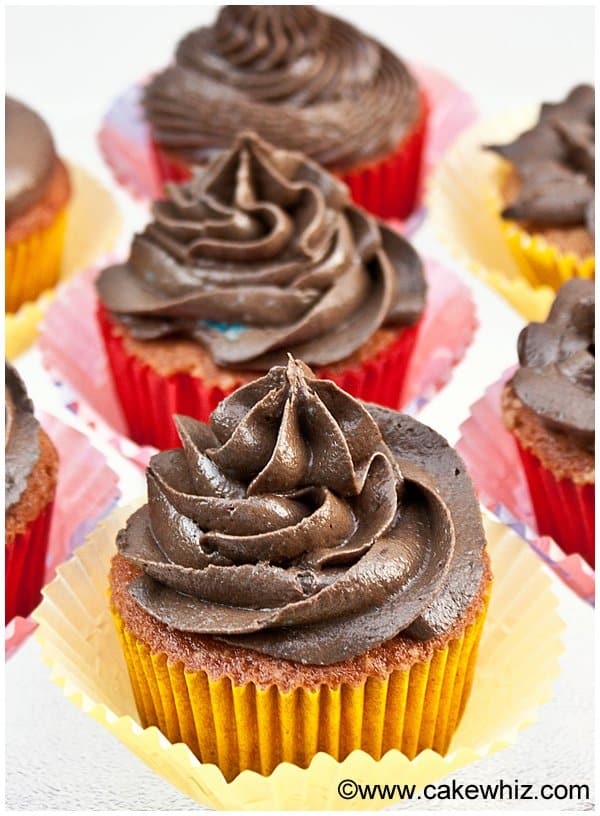 If you liked this frosting, your should also check out these other DELICIOUS frosting recipes…
Best cream cheese frosting recipe
Flour buttercream (Ermine frosting)
Healthy coconut cream chocolate frosting
Chocolate buttercream icing
Prep time:
Cook time:
Total time:
This is the best chocolate buttercream frosting recipe for cakes and cupcakes! It's easy to make and includes flour, which makes it rich, creamy and fluffy.
Ingredients
1 cup granulated sugar
8 tbsp unsweetened cocoa powder
1 tbsp meringue powder (optional)
1 cup semi sweet chocolate chips
⅓ cup all-purpose flour
¾ cup whole milk or heavy cream
½ cup cup butter
½ cup shortening
1 tsp good quality vanilla extract or vanilla emulsion oil
½ cup powdered sugar
Instructions
Add flour, sugar, cocoa powder, milk and vanilla extract in a small saucepan. Heat this mixture on medium heat while constantly whisking or you can end up with lumps. When you have a smooth and thick mixture, remove this saucepan from the heat and let this mixture cool down completely in the fridge.
Now, in a microwavable bowl, add chocolate chips and heat them at 15 second increments until they have completely melted. Don't let the chocolate burn. Let the chocolate cool down on your countertop. You want it to be soft and not very hot or else your frosting will melt.
When the chocolate and the flour mixture have cooled down, we can put everything together. In a deep bowl, add shortening and butter and mix until they are properly blended.
Add the flour mixture and melted chocolate and mix again.
Finally, add powdered sugar and meringue powder. Mix again until everything is properly blended and fluffy.
Refrigerate this frosting for about 45 minutes until the frosting firms up a little. It should still be soft and pipe-able and not rock solid.
And you are done!
Notes
- Refrigerate this icing for 40-45 minutes prior to frosting your cakes and cupcakes. The frosting should still be soft and "pipe-able" and not be be firm/ hard.
- If you find the frosting to be too thin after taking it out of the fridge you can always add some powdered sugar to thicken it. I have only ever had to add additional powdered sugar on insanely hot days! If your frosting is too thick after removing it from the fridge, let it sit on the countertop for 20 minutes and then whip it again and it will become soft.
- I usually add a little bit of brown gel coloring to darken the color. Keep in mind that the color of your frosting will darken the longer it sits.
- Use this frosting within 1 week.
- This frosting is enough to ice one 8x3 round cake or ice 24 cupcakes.
Well, that's all for today.
Until next time, tata my lovelies!