This easy classic red velvet crinkle cookies recipe from scratch is made with simple ingredients. They are crispy on the outside but soft on the inside.
I think the BEST red velvet crinkle cookies I have ever had were at Panera.
Weirdly enough, I don't see them there any more. Did they stop selling them???
Anyways, I have tried to replicate those cookies at home, as best as I can.
Their cookies were HUGE (about the size of my palm!) but quite honestly, I like my cookies smaller, which is why I made regular sized red velvet cookies.
These CLASSIC red velvet crinkle cookies are great for Christmas holiday cookie exchanges.
Their vibrant red color also makes them PERFECT for Valentine's day, romantic anniversaries or even wedding party favors.
GET 40 OF MY BEST COOKIE RECIPES TODAY!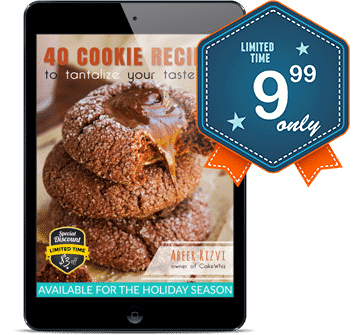 BUY NOW FOR $9.99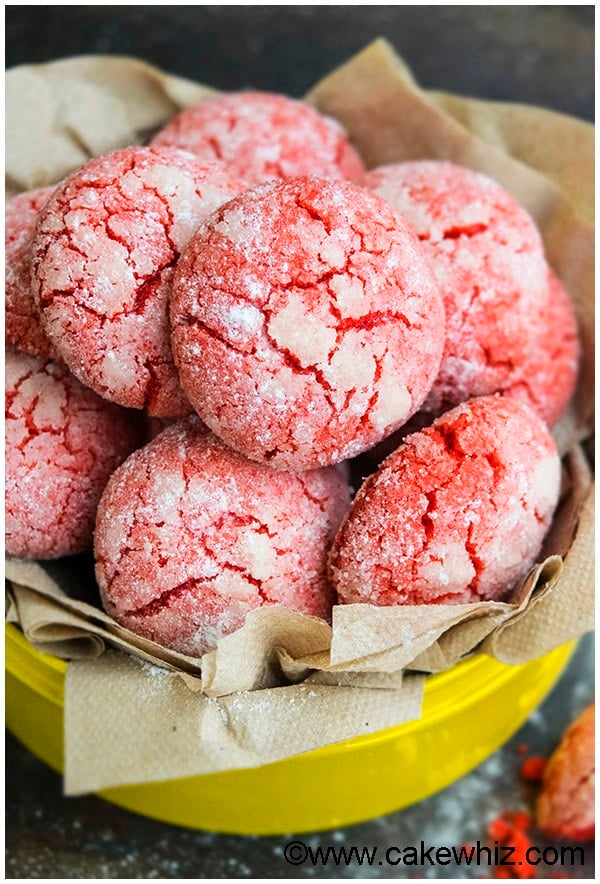 MY OTHER RECIPES
I have tried a VARIETY of red velvet cookies recipes => Red velvet crinkle cookies with oil, Red velvet crinkle cookies with cool whip, Red velvet crinkle cookies with cake mix (Duncan Hines, Pillsbury, Betty Crocker).
However, my FAVORITE are these SIMPLE red velvet crinkle cookies from scratch without a cake mix.
The recipe in today's post  is adapted from Cooking Classy.
These cookies are EASY to make with ingredients that I always have in my kitchen pantry.
They have a wonderful texture: Sugary and crispy on the outside but soft and slightly chewy on the inside.
They are RICH with a subtle chocolate/cocoa flavor that's not over-whelming.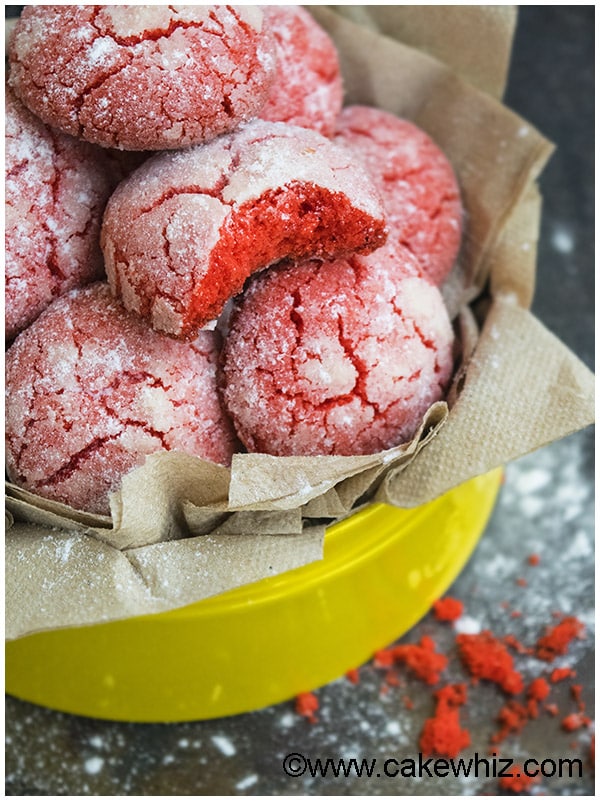 Here are some TIPS for making PERFECT red velvet crinkle cookies:
The powdered sugar on crinkle cookie have a tendency to get absorbed in the cookies after a few hours. One way to PREVENT this is by rolling the cookie dough balls in granulated sugar and then rolling them in powdered sugar and then baking them.
You must use buttermilk in this recipe. Do not use regular milk! Buttermilk adds moisture and richness in these cookies.
You will need to add A LOT of red food coloring to give these cookies their bright color. I like to use gel coloring since they are more concentrated but you can use liquid food coloring too. You will have to add 4-5 tsp of liquid food coloring though! If you don't use enough food coloring, your cookies will  have a weird brown color.
You must CHILL this cookie dough! That makes the dough firm and easier to handle. It also prevents cookies from spreading while baking and the cookies will hold their round puffy shape.
DO NOT replace butter with oil! The consistency of the dough will change and so will the flavor.
You can add some white chocolate chips into the batter and make red velvet crinkle cookies with white chocolate chips. They are unbelievably delicious!
You can also make red velvet crinkle cookies with cream cheese filling, using the best cream cheese frosting ever.
Store leftovers in an airtight container for up to 3 days.
I also have a sugar free red velvet cookie recipe in the blog archives, which would be more suitable for diabetics.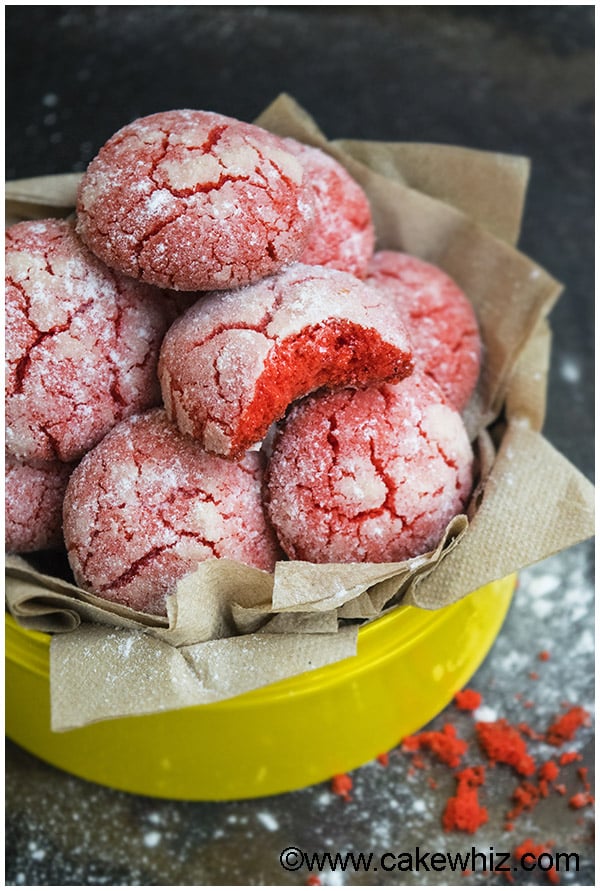 If you liked these cookies, you should also check out some of these other cookie recipes…
Funfetti sugar cookies (Cut out recipe)
Cake mix chocolate m&m cookies

Red Velvet Crinkle Cookies
Prep time:
Cook time:
Total time:
This easy classic red velvet crinkle cookies recipe from scratch is made with simple ingredients. They are crispy on the outside but soft on the inside.
Ingredients
¾ cup unsalted butter (room temperature)
1⅓ cups granulated sugar
3 large eggs
1 tbsp buttermilk
2 tsp lemon juice or vinegar
2 tsp vanilla extract
Red gel coloring
3 cups all-purpose flour
¼ cup unsweetened cocoa powder
2 tsp baking powder
¼ tsp baking soda
1 cup granulated sugar (for rolling cookie dough balls)
1 cup powdered sugar (for rolling cookie dough balls)
Instructions
In a mixing bowl, cream together butter and granulated sugar until mixture is light and fluffy.
Add eggs, buttermilk, lemon juice or vinegar, vanilla extract and red gel coloring and mix until smooth.
In a separate mixing bowl, whisk together the flour, cocoa powder, baking powder and baking soda.
Dump the dry mixture into the wet mixture and mix until just combined. Do not over-mix!
Chill the dough for 2 hours or overnight.
Scoop out small portions of the dough and make small balls. Roll them in granulated sugar first and then roll them in powdered sugar. Place them on a cookie tray, lined with parchment paper.
Bake at 350 degrees for 12-14 minutes or until the cookies are firm around the edges.
And you are done! Enjoy!
Notes
- Read my tips above.
- When the cookies cool down completely, store in an airtight cookie jar for up to 3 days.
- To make white chocolate red velvet crinkle cookies, stir in ¾ cup to 1 cup white chocolate chips in the batter.
Well, that's all for today.
Until next time, tata my lovelies!