9 Easy Ways to Package Edible Gifts
Check out these 9 super easy ways to package edible gifts. You can find most items at home or at local stores. Adds a nice personal touch to homemade gifts!
I am sharing some easy ways to package edible gifts because this year, my family and friends will be receiving BOTH, homemade and store-bought gifts from me.
And CONTRARY to what most people think, homemade gifts are NOT that simple or cheap to make.
Depending on what you are making, you will be PAYING for ingredients and supplies, boxes, fancy tissue paper, ribbons, tags and cards.
Not to mention, the TIME and ENERGY you will spend on baking and packaging…
Try doing that with a very active toddler running around and it's enough to make you go INSANE! haha.
But, it's all WORTH it at the end when someone APPRECIATES the gifts that you made for them out of LOVE.
Today, I am sharing 9 SUPER EASY ways to package edible gifts, which WON'T break your budget.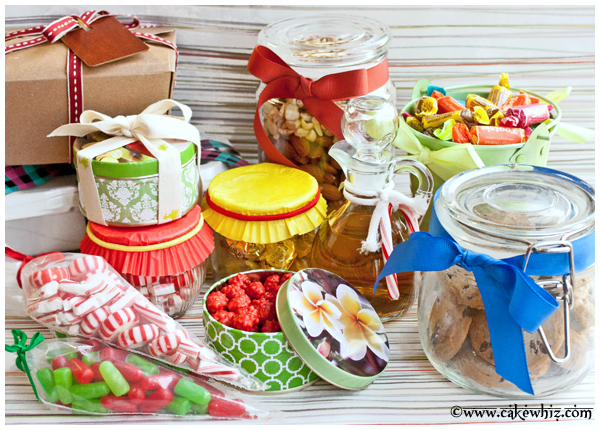 1. BUCKETS
These little buckets ONLY cost a $1 and can be found at dollar stores, Target, Jewel-Osco and most grocery stores.
They comes in various colors, patterns and sizes.
Some of them even have their own pretty ribbons attached to them. 
I think these are GREAT for packaging cookies, chocolate barks and other homemade candies.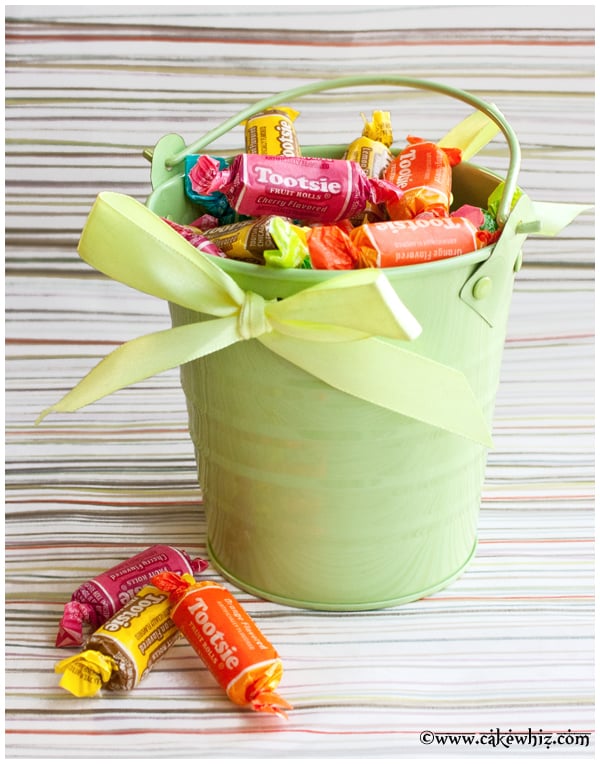 If you CAN'T find buckets with ribbons, you can always tie a ribbon around the bucket yourself. 
And REMEMBER if you are packing anything that may be greasy, pack it in a plastic sheet or a Ziploc bag first.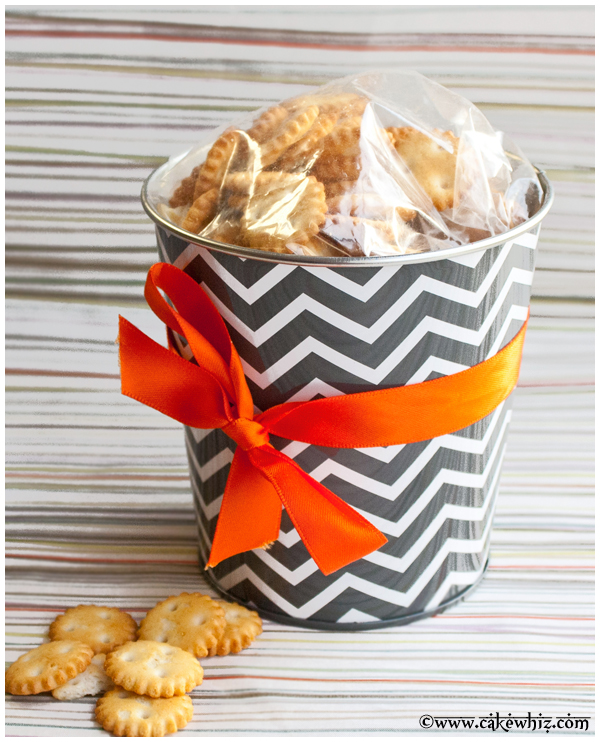 Another easy way to package edible gifts is in JARS! 
I think jars are my ABSOLUTE favorite way of packaging nuts, candies and cookies. 
And there is a huge range of sizes and shapes available out there.
You can buy them at stores like Wal Mart, Michaels and Hobby Lobby. 
Depending on the size of jars, the prices can vary dramatically. 
But, I have a CHEAPER alternative for you…Use OLD CANDLE JARS.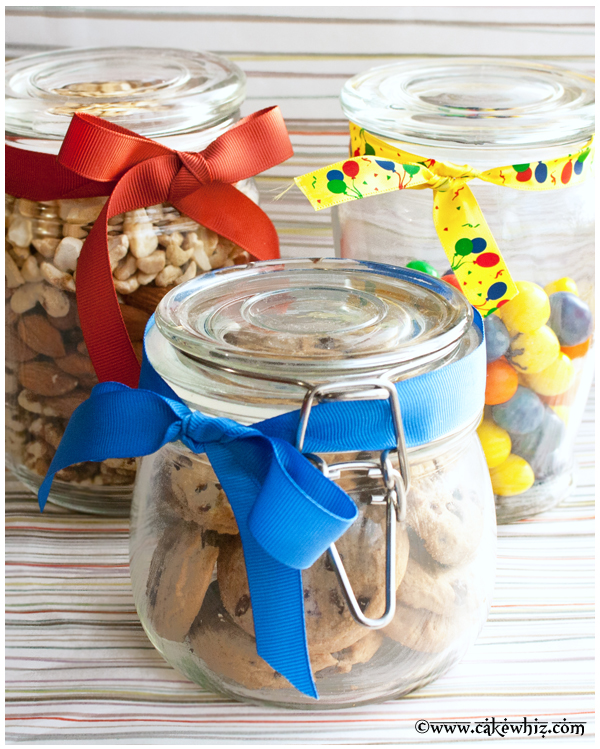 2. CANDLE JARS
This was an old candle jar.
It's about 7 inches high and 4 inches wide.
I remember buying that candle for $5. 
The candle served its purpose, making my house fragrant.
But after the candle was done, I washed the jar THOROUGHLY with soap and water, REMOVED the labels and let it air dry.
Then, I filled it with nuts, wrapped a pretty ribbon around it and had a beautiful packaged gift.
You can ALSO attach name tags and small cards if you like.
Here's another old candle jar, about the same size as above.
But, this one has a DIFFERENT shape…it's a little tapered at the bottom and I find it more elegant. 
I filled it with colorful round candies, wrapped a colorful ribbon around it and had another packaged gift.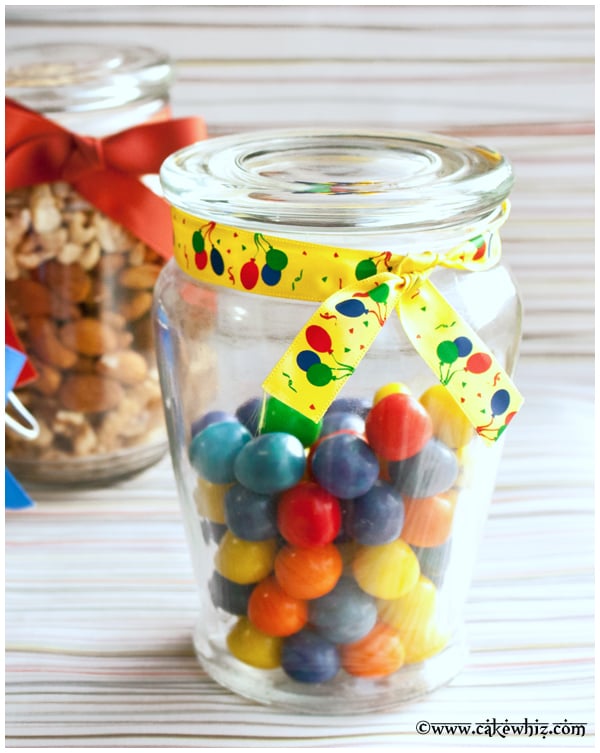 Here's a smaller candle jar that I bought for $1.
One issue with these jars is that they are pretty SMALL (about 3 inches high).
So, I have been using them to package homemade seasonings, flavored salts and sugars. 
Another issue with these jars is that they DON'T come with a lid. 
So, I have been using a cupcake liner to cover the top and SECURING it in place with a colorful hair tie or a ribbon.
Seems to be working very WELL.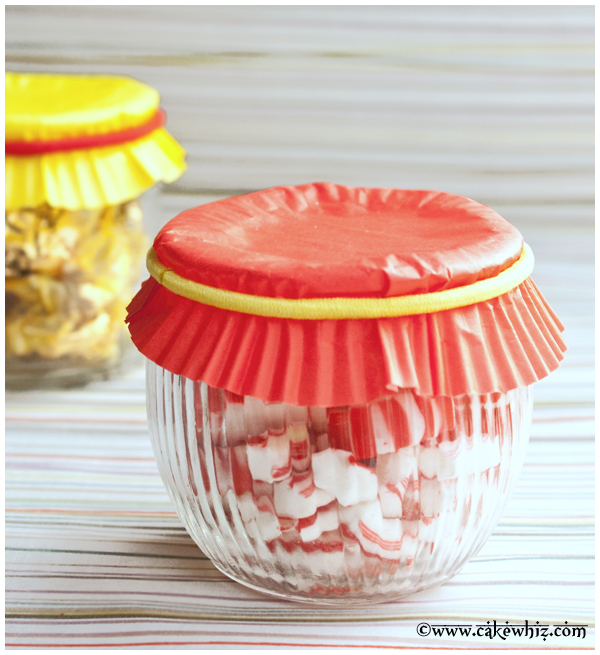 3. SEALED JARS
If you don't have old candle jars, here's a cheap jar I bought from Ikea for $2.50.
It's about 4 inches high and about 5 inches wide. 
The good thing about these jars is that they have an AIRTIGHT SEAL.
So, they are great for packaging homemade jams, preserves and jellies.
The seal ENSURES that your edible gifts stays fresh for longer.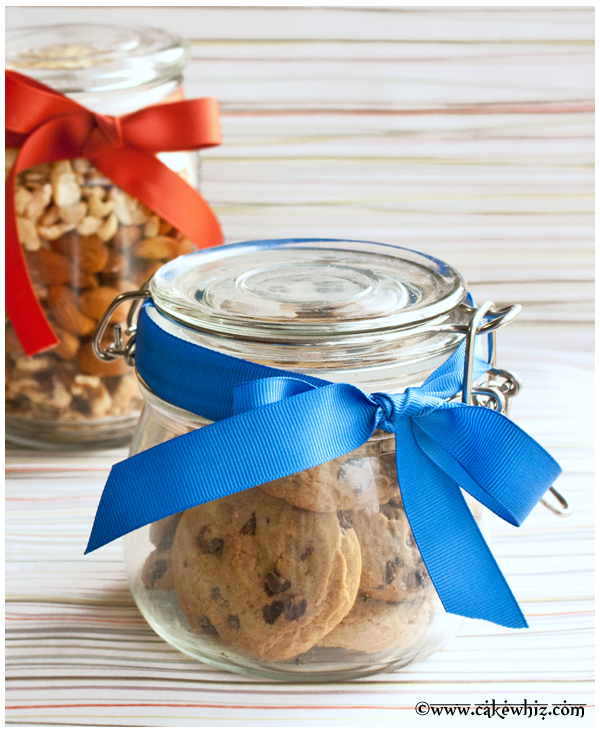 4. BABY FOOD JARS
Believe it or not but this is a baby food jar.
My little one eats baby food and after he is done eating, I wash the jars thoroughly and let them air dry.
Then, I fill them up with whatever I like, place a cupcake liner on top and secure it in place with a colorful hair tie. 
Instead of a cupcake liner, you can just stick a label on the top to cover and tie a ribbon around it. 
Since these jars are fairly small, I RECOMMEND using them for flavored sugars and flavored salts. 
This is one of those super cheap and super easy ways to package edible gifts!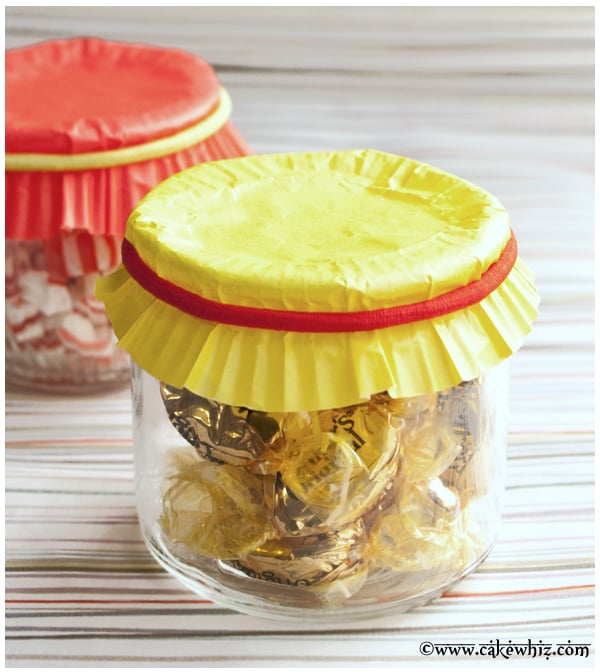 5. GLASS BOTTLES AND VIALS
If you are giving your loved ones flavored oils, syrups and homemade extracts, you need to use bottles and vials. 
I bought this one from Meijer for about $2.
I filled it with vanilla extract with a slight hint of candy cane flavor.
Then, I wrapped a simple white ribbon and a mini candy cane around it.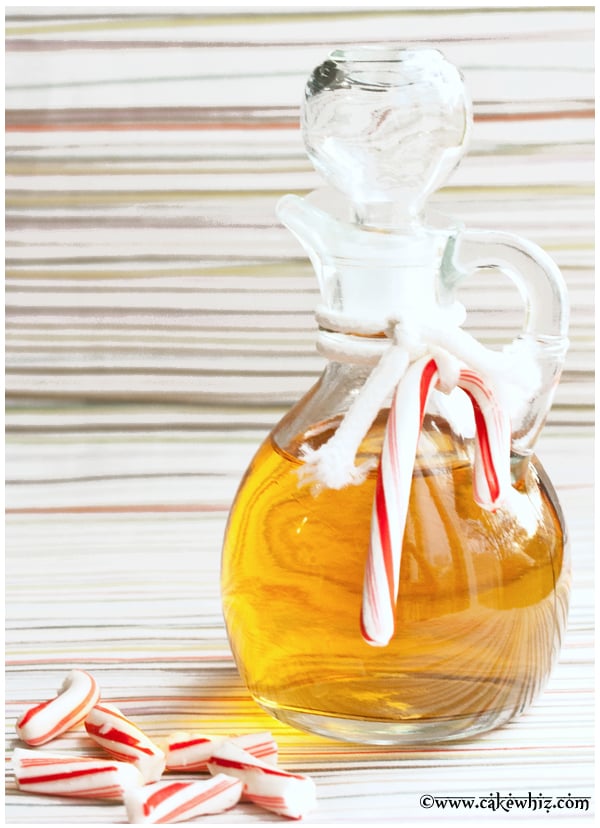 6. TINS
If you are packaging candied nuts or popcorns, I think using tins is a great choice.
These tins were actually candle tins (YES! I am obsessed with candles…lol).
I remember they were on sale 6 months ago at Target (I think?) and I bought 10 coz they were only a $2 each and I loved how each of them a pretty floral design.
Once the candles were done, I washed them properly and packed them with my homemade gift items. 
If you don't have old candle tins, you can also use old MINT CANDY TINS.
Those work GREAT too!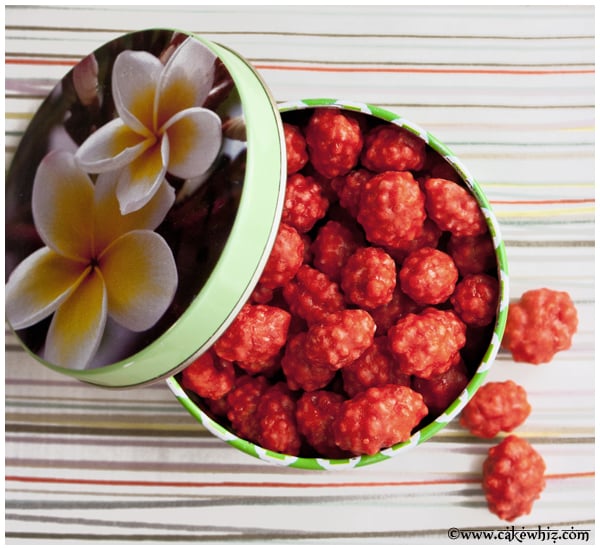 I think these tins are pretty on their own.
But, if you like… you can even wrap a nice ribbon around them.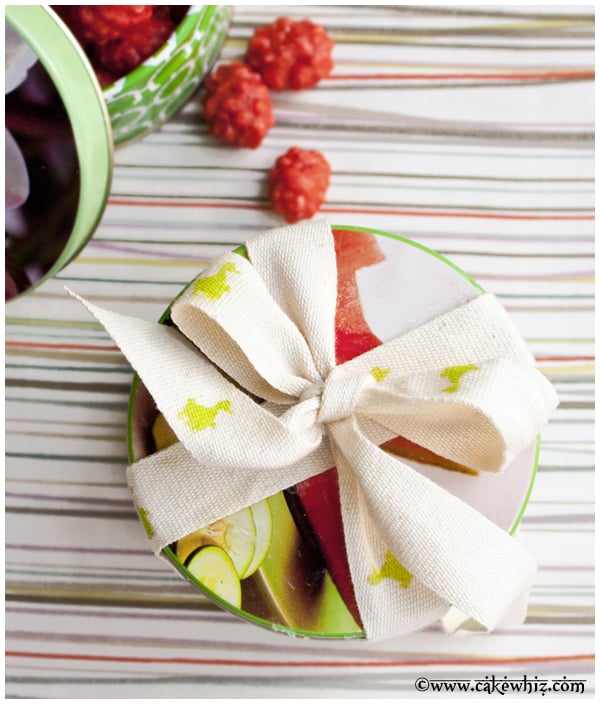 7. TREAT BAGS
There is a huge variety of treats bags available online and even at Michaels and Hobby Lobby.
They also come in various sizes and the prices are pretty reasonable.
However, I have been using piping bags or decorating bags. 
And it's working WONDERFULLY and is quite CHEAP too. 
Just fill the bags with whatever you like and tie up the end with a pretty ribbon.
I call them Christmas candy cones.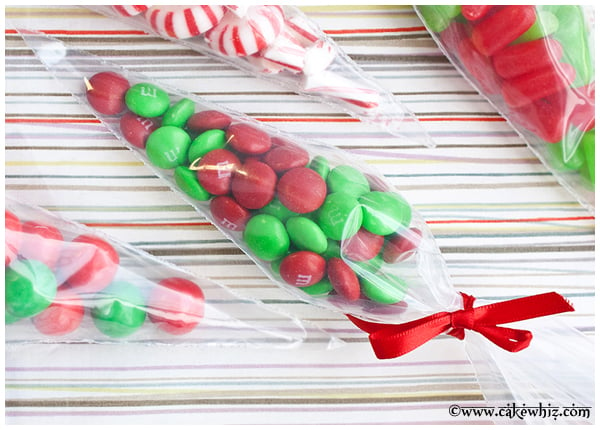 8. GIFT BOXES
Boxes are available online and also at Michaels, Hobby Lobby and even Walmart.
You can even find some at dollar stores for $1 BUT they are not going to be too big. 
They also come in different sizes, shapes and colors.
And some of the pricier ones even have a grease-proof lining inside.
So, you can just place your baked goods inside without worrying about grease marks.
If you can't find grease-proof boxes, make sure to wrap your baked goods in wax paper or plastic sheets and then arrange them inside the boxes.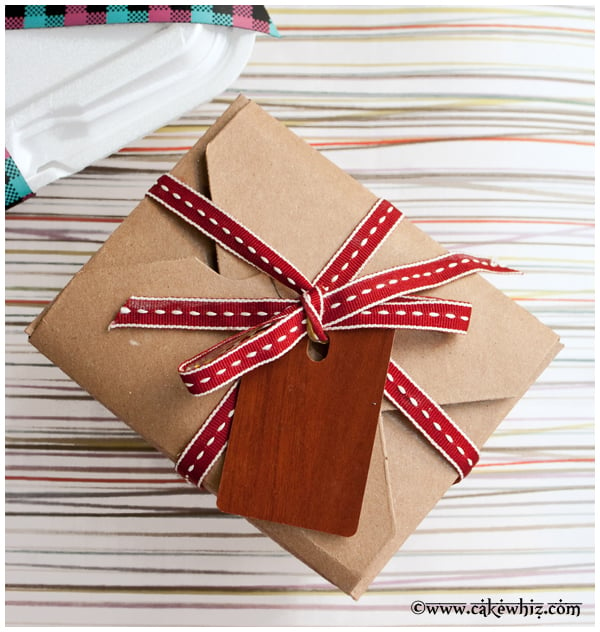 9.TAKE OUT BOXES
This idea came to me quite RANDOMLY. 
I was looking for rectangular boxes to package chocolate barks coz I didn't want to break the bark into really small pieces.
I couldn't find any that I liked and those that I liked were quite pricey.
But anyways, I was picking up lunch from my favorite bistro and the lady packed everything in this box.
This box was perfect for what I was looking for!
I asked her where she got her boxes and she just gave me 10 boxes to take home with me coz I eat there so often…lol.
What a sweetheart.
I came home and quickly packed them with my homemade chocolate bark, wrapped a pretty ribbon around it and had one more pretty gift package.
So, if you have a favorite restaurant or bistro, they may be willing to give you some free take out boxes.
And there you have it… 9 EASY WAYS to package edible gifts.
I also made a list of my FAVORITE homemade edible gift items.
These should give YOU some ideas for your own homemade gifts this year…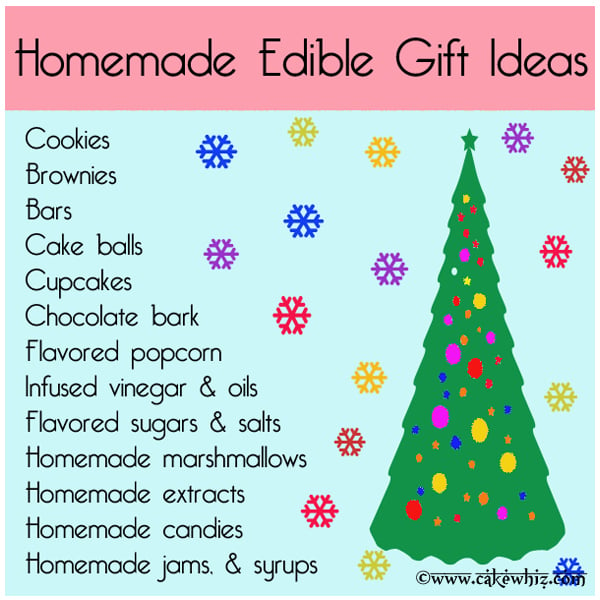 And before I end today's post, I just wanted to share some TIPS when giving edible gifts to your loved ones…
– ALWAYS take into account what that person likes. For instance, I DON'T like mint (Yuck!) and it would really bum me out to receive a gift package of homemade mint candies, especially when the person who gave it to me knows I DETEST mint…lol.
*HINT HINT* for anyone giving me edible gifts this year…LOL! .
– Like I said earlier, make sure to wrap your greasy food items like brownies and bars in wax/parchment paper or plastic sheets so that your packages don't get greasy.
– ALWAYS attach a note/card with a personal message to your edible gifts. I mean you have gone through the effort of making a personal gift for this special person. So naturally, the message should come from your heart and be personal as well. In my opinion, a good note or card really COMPLETES the gift. So, don't write something very simple and generic like "Merry Christmas" or "Happy Holidays." EEKS!
– Don't leave your baking and packaging till the last minute. It just gets very stressful! 
– If you are going to be mailing out your edible gifts to different cities and countries, be sure to look over the shipping policies and regulations online or ask someone at the post office for details.
Well, I hope you found these tips for easy ways to package edible gifts USEFUL.
If you have some more TIPS… be sure to let me know in the comments.
Anyways, here's a handy collage of all the easy ways to package edible gifts.

Well, that's all for today.
I hope you found this post on easy ways to package edible gifts useful. 
Until next time, tata my lovelies!