Best Oatmeal Raisin Cookies- Soft and Chewy
The best, classic, old fashioned, quick, easy, soft and chewy oatmeal raisin cookies recipe, homemade with simple ingredients. Loaded with raisins, oats, butter.
These cookies give Chocolate Chip Cookies a run for their money. Although they are not the prettiest cookies, they make up for that with their flavor. These will be a hit at any party, along with my Iced Oatmeal Cookies and Oatmeal Lace Cookies.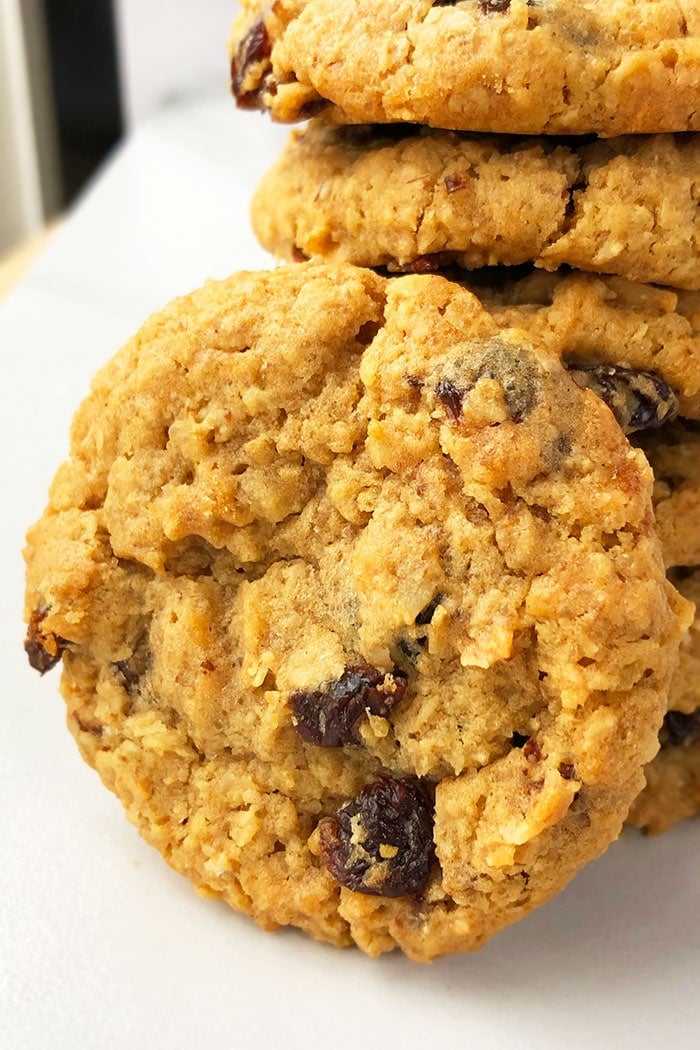 How to make oatmeal raisin cookies from scratch?
Cream butter and sugar- Until light and fluffy.
Mix in remaining wet ingredients– Such as egg, molasses and vanilla extract.
Mix in dry ingredients– This includes flour, cinnamon, oatmeal, nutmeg, baking soda.
Stir in raisins– Until evenly distributed.
Chill dough– This makes it easier to handle.
Make cookie balls– And place them on a cookie tray.
Bake- Until cookies are golden brown and edges are firm.
Enjoy! Let them cool and dig in!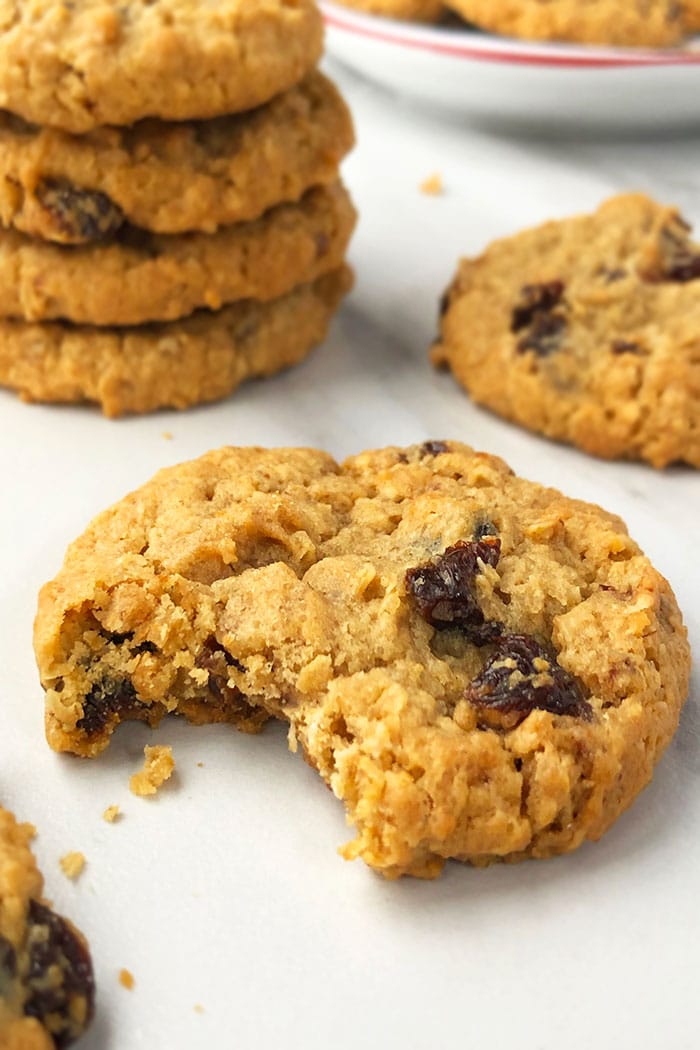 Why are my oatmeal cookies dry?
Over-mixing is one reason for dry cookies. What happens is the gluten in the flour activates which will cause the cookies to become dry and crumbly. Always remember to mix until just combined. It's okay it there are a few clumps.
Another reason is over-baking. If you bake the cookies for too long, they will loose their moisture and become dry and hard. Always remember to bake until cookies are golden brown, edges are firm and center is slightly soft.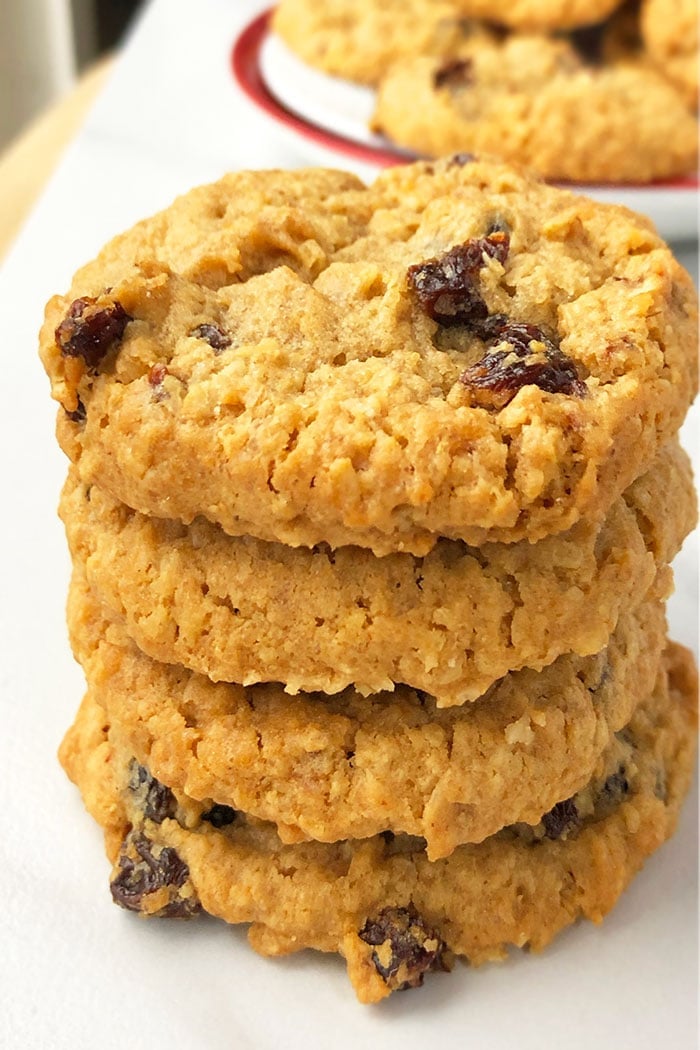 Can you use quick oats in oatmeal cookies?
I would not recommend it for this recipe because old-fashioned oats give these cookies a much chewier texture than quick oats or even instant oats. Sometimes, those other choices also make the cookies a bit gritty, which is very unpleasant.
Variations for easy oatmeal raisin cookie recipe
Make it healthy or "healthier"– Use a combination of whole wheat and all-purpose flour. Reduce the quantity of sugar a little bit. These changes will affect the overall flavor and texture though.
Oatmeal raisin chocolate chip cookies– Mix in some mini chocolate chips.
Add nuts– Such as roughly chopped walnuts, pecans, almonds.
Add dried fruits– Such was dried apricots, cranberries, dried mangoes.
Add bananas– Mash half a banana and add that into the mixture.
Make it gluten-free– Use gluten-free flour instead of all purpose. The texture might be different however. Bob's Red Mill 1:1 flour is amazing.
Add zests- Try some lemon zest or orange zest or even lime zest for a citrus boost.
Add coconut– Add shredded coconut, coconut flakes, or toasted coconut flakes for a tropical spin.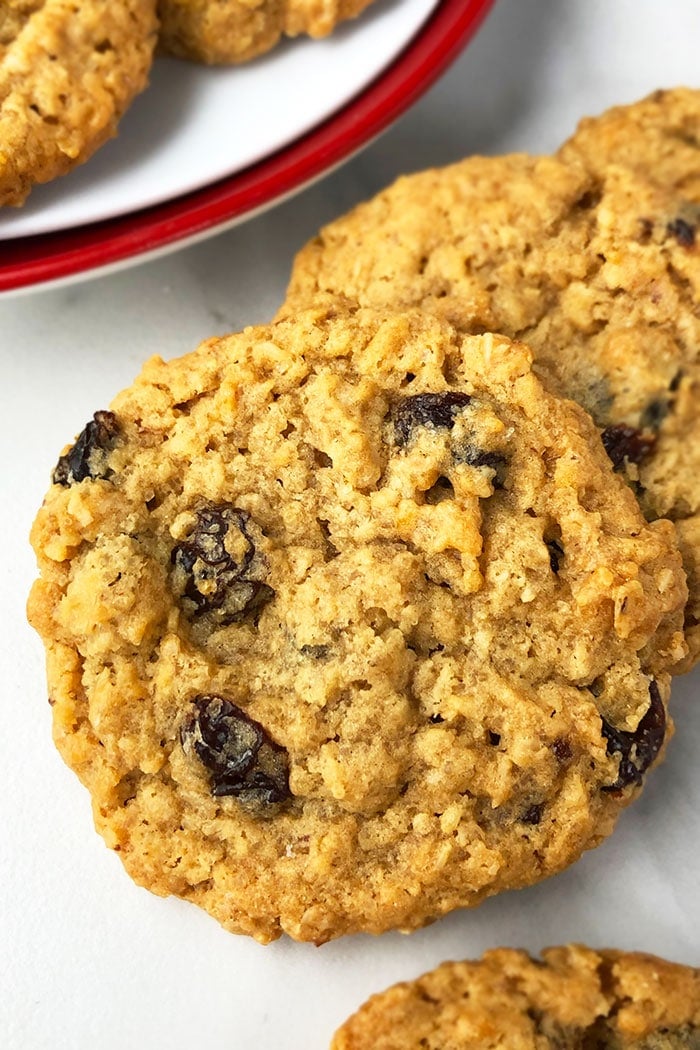 Storage
Room temperature– In a cookie jar for up to 3 days.
Refrigerate– In a sealed container for up to 1 week.
Freeze– Unbaked cookie balls can be stored in a sealed container in the freezer for up to 1 month. When you are ready to enjoy them, add 3-4 extra minutes to the baking time.
Tips and Techniques
Do not over-mix dough– The gluten in the flour will activate and cause the cookies to become very dry and tough.
Sift all the dry ingredients- This ensures avoid any clumps.
How will I know the cookies are done? Use a spatula to gently touch the sides of the cookies. If they are golden brown and firm, they are ready. The centers should be slightly soft.
Can you make these cookies with steel cut oats? No, the best soft and chewy texture comes from old fashioned oats.
Use butter- Don't replace it with oil or margarine because it affects the flavor and texture dramatically.
Adjust spices and extracts- I used cinnamon, nutmeg and vanilla extract but you can use other spices like ground cloves, ginger powder e.t.c. You can also add more or less of the spices, per your preference.
Black raisins vs. Golden raisins- Either can be used. Traditionally, black raisins are used.
Use granulated and brown sugar– Both are required to create the best sweetness in these cookies.
Chill dough- This is very important because it allows the cookies to hold their round shape and not flatten during baking. It also make it less sticky, which makes it easier to shape into small balls.
There is no baking powder in this recipe- Please note that only a small quantity of baking soda is being used. If a lot of leavening agents are used, these cookies rise too much and that affects the classic chewy texture.
More Classic Cookie Recipes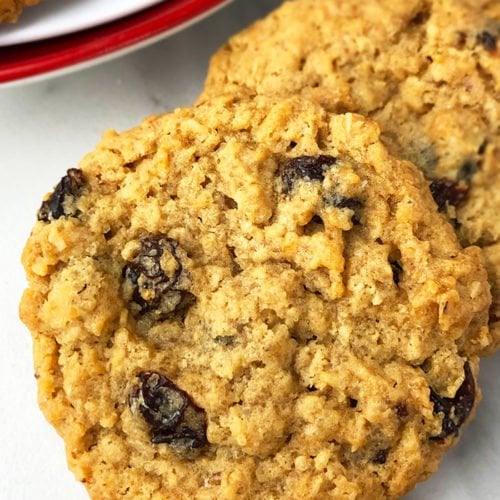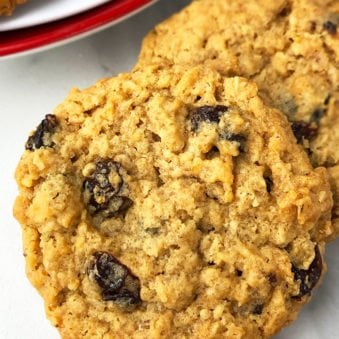 Soft and Chewy Oatmeal Raisin Cookies
The best, classic, quick and easy, soft and chewy oatmeal raisin cookies recipe, homemade with simple ingredients. Loaded with raisins, oats, butter.
Yield: Cookies
Instructions
In a large mixing bowl, cream together butter, brown sugar, granulated sugar until light and fluffy.

Add egg, molasses, vanilla extract and mix until combined.

Add flour, oatmeal cinnamon powder, nutmeg powder, baking soda and mix until just combined.

Stir in the raisins. The dough will be quite sticky.

Chill cookie dough in fridge for 30-40 minutes so that it's easier to handle.

Scoop out small portions of the dough and roll into balls.

Place cookie dough balls on a baking tray, lined with parchment paper.

Bake at 350 degrees F for 10-12 minutes or until edges are firm and golden brown but centers are still slightly soft.

Remove from oven and let them cool completely in the tray and then, enjoy!
Notes
Read all my tips above.
Leftovers can be stored in a cookie jar at room temperature for up to 3 days. 
Nutrition
Calories: 118kcal, Carbohydrates: 18g, Protein: 1g, Fat: 5g, Saturated Fat: 3g, Cholesterol: 19mg, Sodium: 72mg, Potassium: 81mg, Fiber: 1g, Sugar: 8g, Vitamin A: 140IU, Vitamin C: 1mg, Calcium: 13mg, Iron: 1mg