Best Sugar Cookie Frosting
Quick and easy sugar cookie frosting recipe, homemade with simple ingredients. Soft, creamy, fluffy, perfect for cookie decorating and holds its shape. Packed with vanilla and almond flavors.
It's time to add another recipe to this Frosting and Fillings category. Today's simple frosting can be used for any occasion you can think of.
It tastes delicious and can be colored and can also be used for piping fun designs.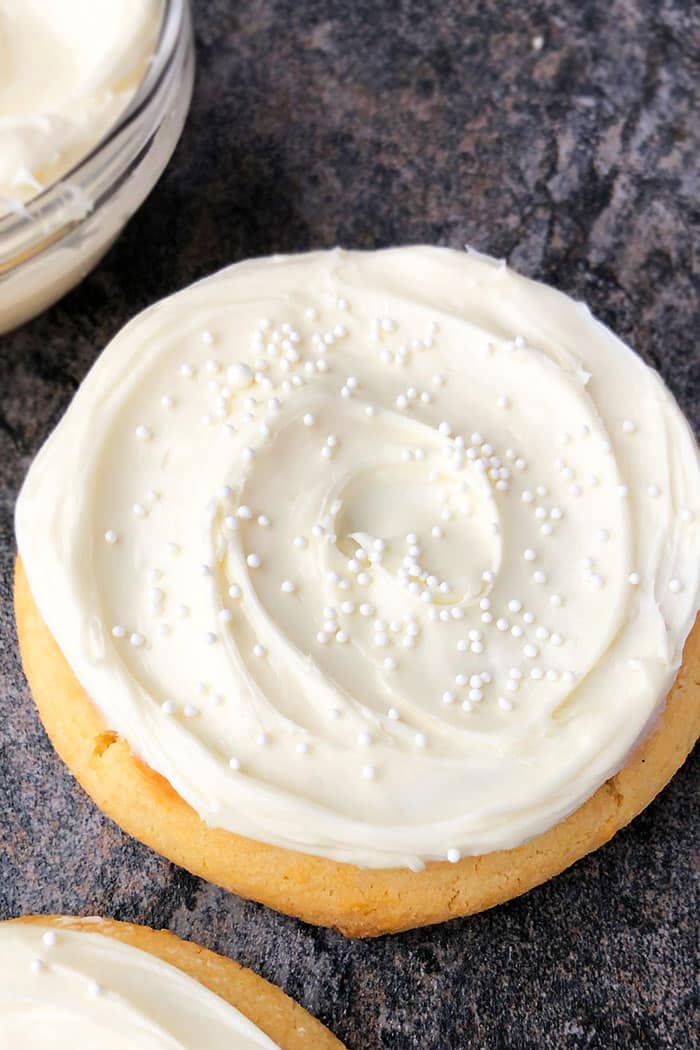 How to make sugar cookie frosting recipe?
Cream butter and shortening– Until mixture is smooth.
Add powdered sugar, extract and heavy cream- Mix until icing is smooth and creamy.
Spread on cookies– Use a spatula to spread it on top of sugar cookies in a circular pattern. Add some sprinkles and enjoy!!
Optional step: Chill icing in the fridge overnight to allow the flavors to deepen. Enjoy!
How to get frosting to harden on cookies?
That's dependent on the ingredients that are used. The two most popular ones are Royal Icing and Glace Icing. They are made without butter but instead require powdered sugar, milk, corn syrup and sometimes egg whites/meringue powder. Those ingredients are mixed together to create a thick syrup that's used for outlining and flooding cookies. They air dry and become hard and can also be easily stacked plus they are perfect for shipping cookies. They are also ideal for intricate cookie decorating and piping work.
Icing that hardens is also known as cut out cookie frosting. It's also typically the frosting for Gingerbread Cookies.
Can you use cake icing for cookies?
Absolutely! However since cake frostings are soft and don't dry hard, these cookies cannot be stacked. They still taste fantastic though!
What cookies can you pair with Christmas cookie frosting?
Soft frosted sugar cookies are the best. Try my Soft and Chewy Sugar Cookies Recipe. It's the most perfect and classic pairing.
If you prefer crispy cookies and want to do a cut out design, try these classic vanilla Cut Out Sugar Cookies (Small Batch) or if you prefer chocolate, try these Cut Out Chocolate Sugar Cookies.
This icing pairs great with seasonal and fruit-based cookies too such as Orange Cookies or Lemon Cookies and Red Velvet Cookies (With Cake Mix).
You can even make cookie sandwiches by filling this icing between 2 cookies. Use my Best Chocolate Chip Cookies recipe.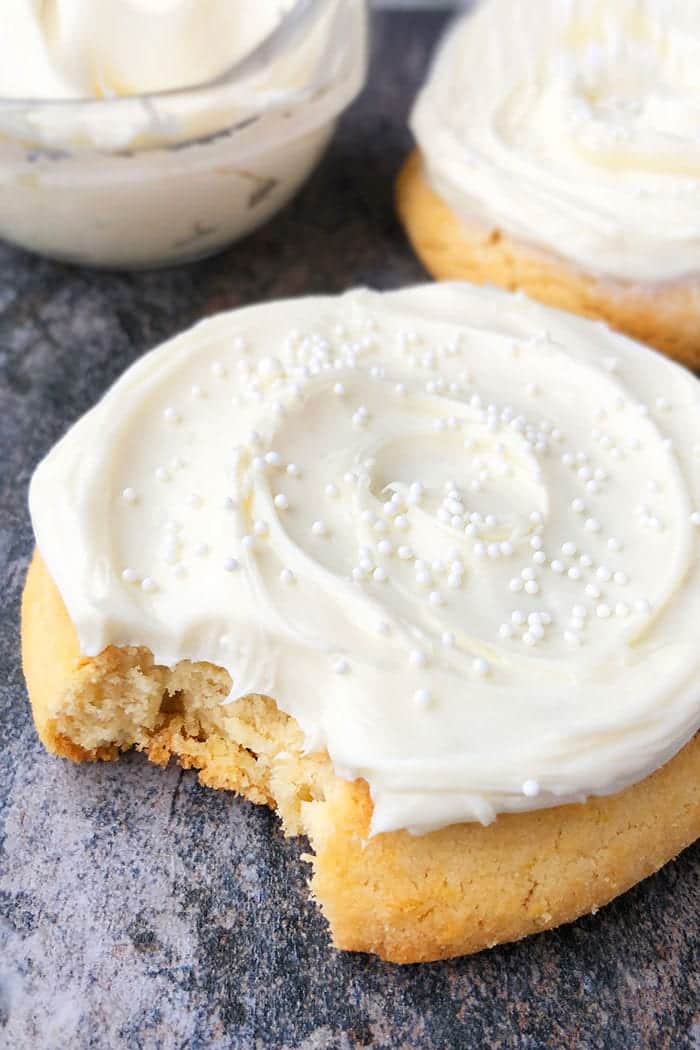 Variations for Vanilla Buttercream Frosting for Cookies
Color it– Use gel colors rather than liquid food coloring because they are more concentrated and a little goes a long way. Also, they are thicker, ensuring that it won't alter the frosting consistency.
Add chocolate- Mix in some chocolate chips or you can also mix in some cocoa powder.
Add crushed Oreos– This will create a cookies and cream flavor.
Add sprinkles– This will make a colorful funfetti frosting, great for kids birthday parties.
Sugar cookie cream cheese frosting– Mix in 1/4 cup- 1/3 cup cream cheese to add a little tanginess. You may have to add a little more powdered sugar to thicken it again though. You can also use this Cream Cheese Frosting instead.
Use other zests or extracts– Such as lemon zest, lime zest, orange zest or peppermint extract, mint, caramel extract, coconut, pumpkin pie spice e.t.c.
Pipe cool designs– Use decorating tips, attached to a piping bag to make fun design such as stars, flowers, stripes e.t.c.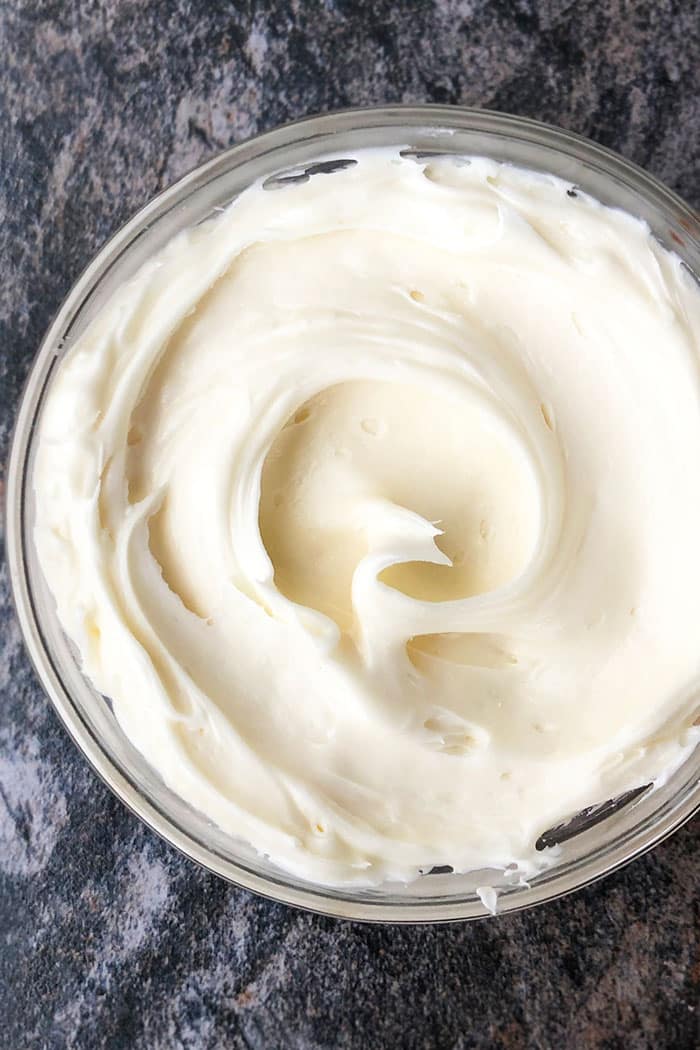 Tips and Techniques
How make icing thicker? Mix in more powdered sugar.
How to make icing thinner? Mix in a little more heavy cream or milk into the mixture to make it thinner. Don't add too much, or else it will become runny.
How much frosting is needed for cookies? This depends on the size of your cookies. The bigger the cookie, the more icing you will need. The quantity also depends on whether you are spreading a thin buttercream layer with a spatula or if you are piping a thick design on top of the cookie. A 3 inch cookie will need about 1 tbsp frosting.
All ingredients should be at room temperature. Because they blend together smoothly and evenly.
Use unsalted butter– Because this prevents the icing from becoming too salty. A salty frosting is not that tasty.
Sift the powdered sugar– Because this removes any lumps and clumps to yield the smoothest results.
Heavy Cream substitute– Use whole milk or 2% milk or even evaporated milk. Heavy cream is ideal because it has a higher fat content.
Can you use only butter? Yes, you can do that but I prefer using half butter and half shortening because it makes the icing more stable and less likely to melt quickly in warmer temperatures.
Can you use only shortening? No, because shortening does not add as much flavor and richness as butter. The overall flavor won't be great.
Watch the quantity of almond extract- It has a very strong flavor and aroma. A little amount goes a long way. Don't add too much!
Use clear extracts– Because this prevents the icing from becoming discolored and "off-white."
Chill overnight- This is an optional step but if you let the icing sit in the fridge overnight, it will allow the extract flavors to deepen and develop further.
Can you freeze this frosting? Yes. It is perfect to make ahead of time and then, freeze it in a sealed container for up to 1 month. When you are ready to use it, just let it thaw in the fridge overnight and then whip it again to make it fluffy.
Does this icing need to be refrigerated? Yes. That's because it has some heavy cream/ milk, which can go bad, if it sits out at room temperature for too long.
Make a bigger batch- By doubling or even tripling all the ingredients.
More Frosting Recipes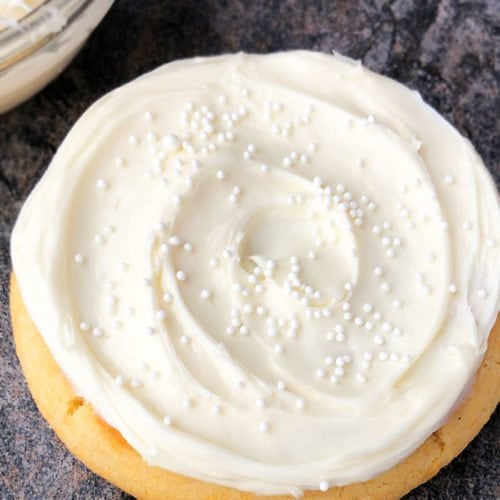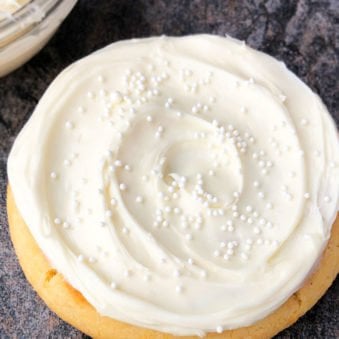 Easy Sugar Cookie Frosting
Quick and easy sugar cookie frosting recipe, homemade with simple ingredients. Soft, creamy, fluffy, perfect for cookie decorating and holds its shape.
Yield: Cups
Ingredients
1/2 cup Butter, Unsalted, Room temperature
1/2 cup Shortening
4 cups Powdered sugar
2 tsp Vanilla extract, Use clear extract for pure white frosting
1/4 tsp Almond extract
4-5 tbsp Heavy cream
Instructions
Add the remainder of the powdered sugar and a little more heavy cream (as needed) and mix until soft and fluffy. Go easy on the heavy cream. A little amount goes a long way. If you add too much, the icing will be very runny.

Spread this icing on top of your sugar cookies with a spatula in a circular pattern and toss some sprinkles. Enjoy!

Optional: Cover and chill icing in the fridge overnight. When you are ready to use it, let it sit on the counter for 20-30 minutes to soften. This extra time in the fridge allows the extract flavors to really deepen and develop. I always do this and highly recommend it. But, please note that the frosting still tastes great, when used immediately too. I am just fussy!
Notes
Read all my tips above.
Leftovers can be stored in a sealed container in the fridge for up to 1 week. It can also be frozen in an airtight container for up to 1 month. Thaw overnight in the fridge and whip to make fluffy again. 
Nutrition
Calories: 1273kcal, Carbohydrates: 160g, Fat: 72g, Saturated Fat: 32g, Cholesterol: 108mg, Sodium: 282mg, Potassium: 15mg, Sugar: 156g, Vitamin A: 1240IU, Calcium: 22mg, Iron: 0.1mg
Until next time, tata my lovelies!