Jumbo Gingerbread Men Cookies
Jumbo, giant sized, easy gingerbread men cookies recipe, homemade with simple ingredients and spice cake mix. Perfect cut out cookies for Christmas holidays!
For holidays this year, I made these festive cookies, using this fantastic Easy Cake Mix Gingerbread Cookies Recipe. These were given to family and friends as a homemade gift. They are fun to make, easy to decorate and taste delicious with the perfect balances of spices. They also have the best texture- firm enough on the outside to be decorated but slightly chewy on the inside. You get the best of both worlds! Best of all, they are humongous giant cookies!
These are not my Soft Ginger Cookies. That's a different recipe- A really good one but not suitable for what we are doing today.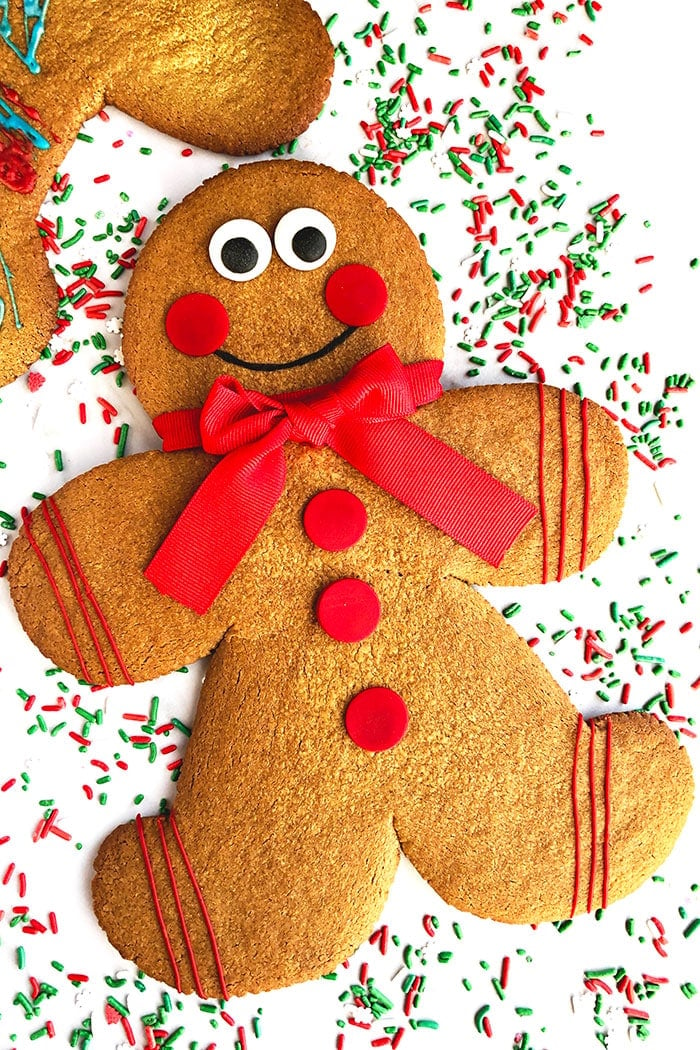 How to make gingerbread men cookies with cake mix?
Make dough- Mix together butter, egg, cake mix and flour until combined.
Chill dough- This makes it easier to handle.
Cut out shape– Use a template and sharp knife.
Bake– Until cookies are firm.
Enjoy- Decorate them any way you like!
How to decorate jumbo gingerbread man cookies?
For decorating, you can use store-bought or homemade Marshmallow Fondant. Color them in any shade you like with gel colors.
Try Royal Icing, if you want an icing that dries hard. Glace Icing also dried hard and it's dairy free (made with no egg whites).
Kids love to use American Buttercream Frosting. Just tint it with gel colors or even liquid food coloring.
Melted chocolate is another great option. You can use candy melts. They are already pre-colored.
For details, use various candies and sprinkles, especially the seasonal kind.
Do you decorate gingerbread cookies before after baking?
No, they are typically decorated after baking. However, if you just want to cover them in sanding sugar, that should be done before baking.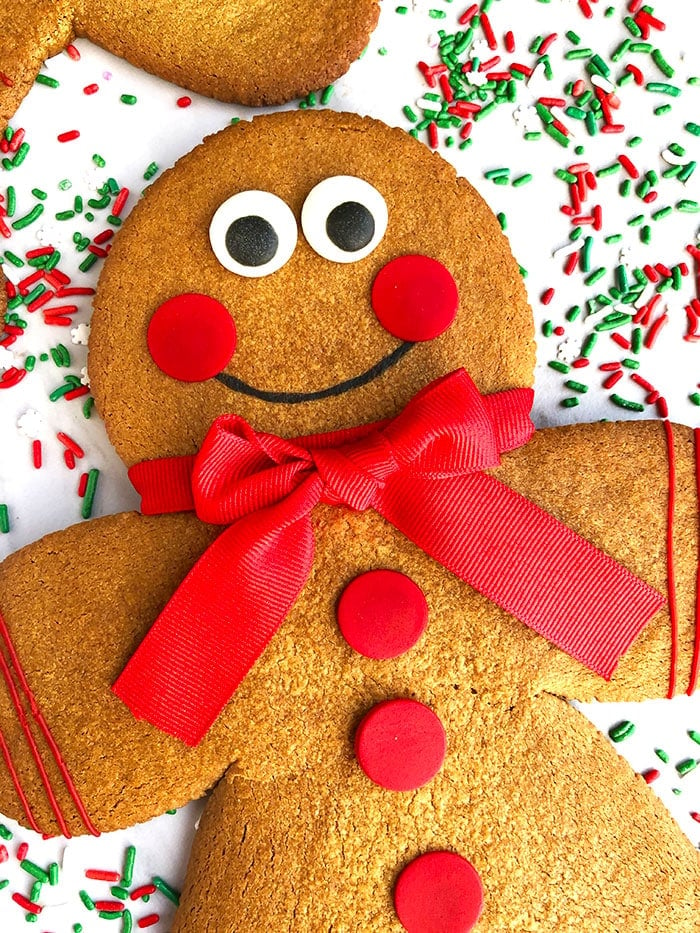 Other Christmas Cookie Options
If you like, you can also use Cut Out Sugar Cookies. There is no chilling, no spreading, they hold they shape and they taste amazing. However, this is a small batch recipe. So, you will have to double or even triple the quantities, depending on how many cookies you want.
Or you can also make Chocolate sugar cookies (Cut Outs), which are superb as well.
Also, be sure to check out my massive list of Best Christmas Cookies for gifting or just enjoying for yourself. There is something in that list for everyone and everything is organized properly to make life easier for you.
Jumbo Gingerbread Cut Out Template/ Cutters
You can buy jumbo cutters online or in the seasonal aisle of grocery stores. I just made a template and printed it out on thick paper. The, I used scissors to cut the perfect shape
Just place the template on rolled out cookie dough and use a sharp knife or blade to cut along the edges. It's super easy!
Packaging Cookies
These make a wonderful homemade gift. Once all the decorations are dry, wrap each cookie individually in parchment paper and stick it with tape. Place them in a festive cardboard box, heavily lined with gift/tissue paper. Add more tissue paper on top. Then, put the cover on and wrap it tightly with a bow.
Check out this post on 9 Ways to Package Edible Gifts for more ideas and inspiration.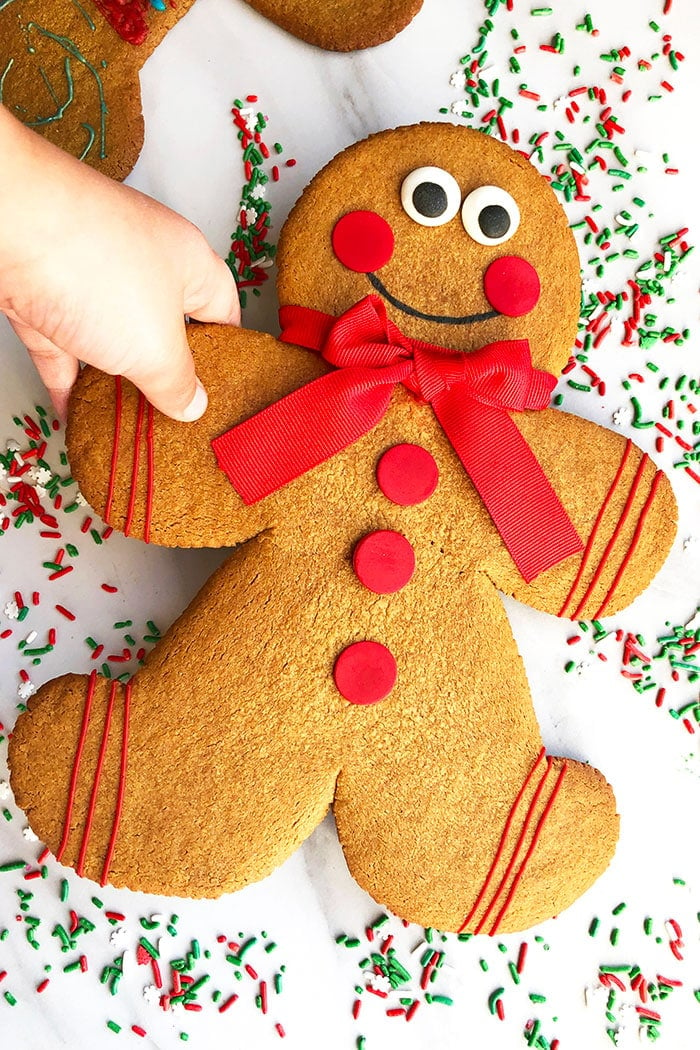 Other Gingerbread Cookie Shapes
Although the traditional holiday cookie shape is a gingerbread man, you can have fun and get creative.
I learnt that you can make many different characters from a single gingerbread man shape. First off, you can make cute gingerbread children! I made two boys and one girl. You can also make a gingerbread snowman. I found this to be the easiest among them all. Obviously, we can't forget good old gingerbread Santa Claus (although I think I messed up his eyes a bit). Surprisingly enough, you can use the same gingerbread man cutter to make gingerbread Rudolf with his cute red nose. Just turn your gingerbread man upside down and decorate.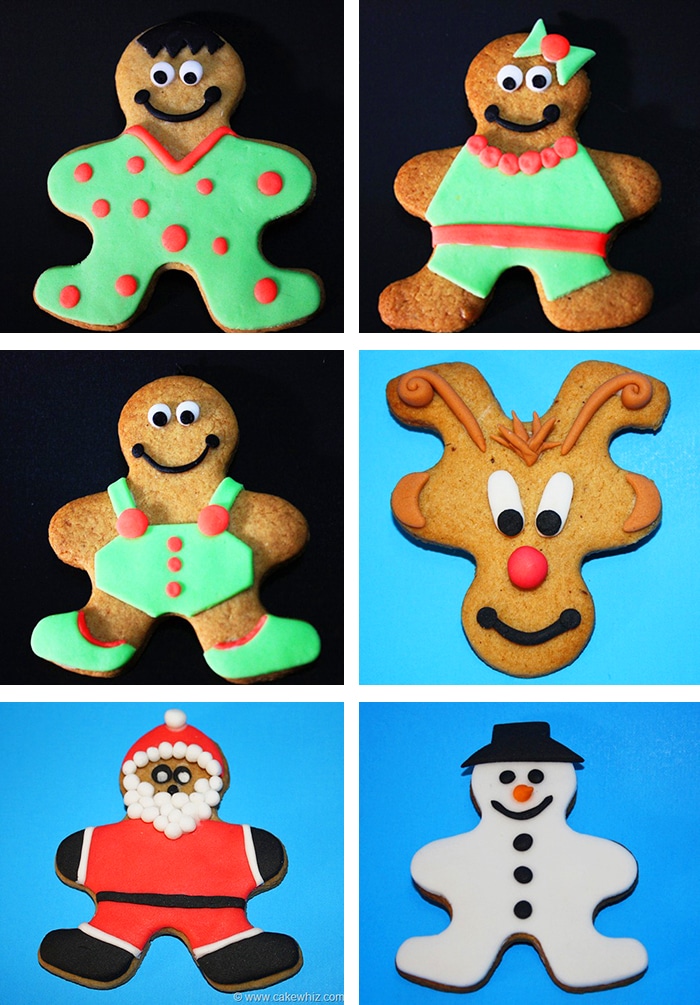 Tips and Techniques for Gingerbread Cookie Recipe
Why are my cookies breaking? You removed them from the oven too quickly and they did not get a chance to become firm enough. Please understand these are large cookies and will take longer to bake and they need to bake longer than normal to become hard. Also, they need to cool down completely before being remove from parchment paper.
Why did my cookies spread? You did not chill the dough long enough. That allows them to hold their shape during baking.
Why is my cookie dough sticky? Your measurements may not have been accurate. Please use measuring cups. You also have to chill the dough to reduce the stickiness.
Are these cookies supposed to be hard? Yes, they are harder than typical cookies but still slightly chewy in the center.
Roll between 2 sheets of parchment paper- Because this prevents the dough from sticking to the rolling pin plus the top of the cookies is much smoother.
Use unsalted butter- Because this prevents the cookies from becoming too salty.
How to keep cookies from spreading? Chill the dough! This is NOT an optional step. It makes the dough easier to handle and also prevents cookies from spreading too much and loosing their shape, while baking!
Sift the boxed cake mix flour- Do this at least once to get rid of the little lumps.
The batter will become crumbly– Don't add any type of liquid to thin it out! Just use your hands to gently knead the dough and the warmth of your hands will bring it together.
Use any cake mix flavor of your choice– Obviously spice cake mix had the classic Christmas holiday flavors but you can apply this same recipe to any cake mix flavor you like.
Don't use this recipe for gingerbread houses- These cookies can't handle the weight of all the candies and decorations that are typically done in gingerbread houses. However, you can check out this Gingerbread House Tutorial for my firm and strong cookie recipe.
Make regular shaped cookies- Instead of large-sized cookies, you can use basic cutters to make smaller holiday cookies.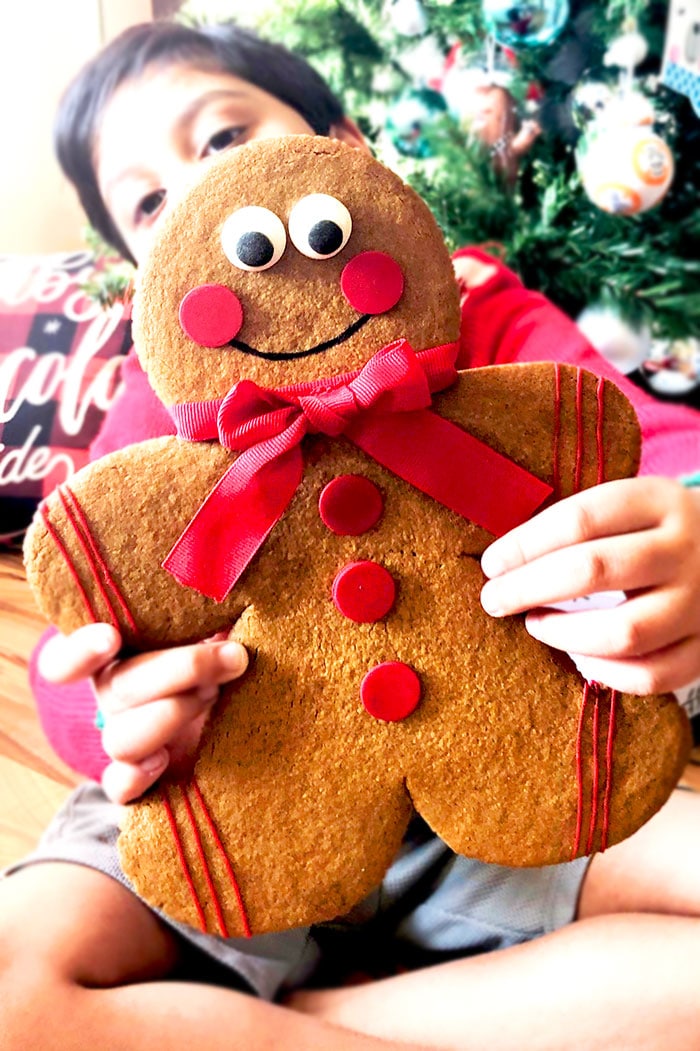 Storage
Refrigerate– In a sealed container for up to 1 week.
Freeze– Undecorated baked cookies can be frozen in a sealed freezer-tight container for up to 1 month.
Room temperature- Store in a cardboard box for up to 3 days.
More Christmas Desserts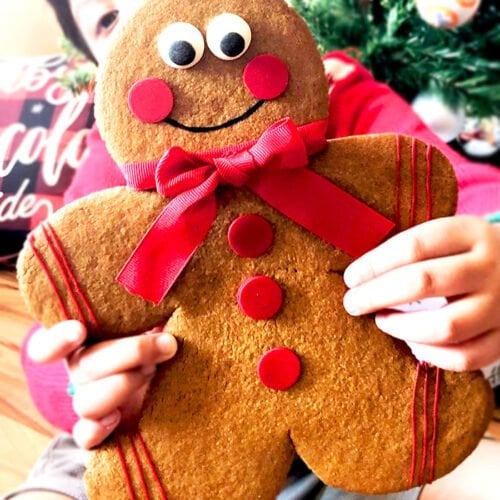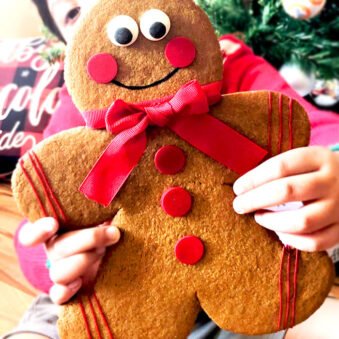 Jumbo Gingerbread Men Cookies
Jumbo, giant sized, easy gingerbread men cookies recipe, homemade with simple ingredients & spice cake mix. Perfect cut out cookies for Christmas!
Yield: Jumbo cookies
Instructions
Mix until all ingredients are combined.

Chill dough in fridge for about 1-2 hours so that it's easier to handle. It also prevents cookies from spreading too much while baking and they hold their shape better.  

Divide the dough into 2 equal portions and roll into balls.

Roll out each ball of dough between two sheets of parchment paper.

Remove the top sheet.

Place your paper template on top of the rolled out dough and use a sharp knife to cut along the edges.

Remove excess dough around the gingerbread man.

Place the entire sheet on a large baking tray. Don't remove the cookie cut out from the parchment paper.

Bake at 350 degrees F for about 15-20 minutes or until the edges are firm and centers are only slightly soft. For these cookies, it's best to over-bake rather than under-bake because this prevents them from breaking later.

Allow the cookies to cool down completely.

Then, gently remove them from parchment paper. Do not try to remove them from the parchment paper before they have completely cool down or else they will break.

Decorate with royal icing or frosting or melted chocolate and candies or anything you desire. Tie a ribbon around its neck, if you like.

Use leftover cookie dough to make smaller cookies with cookie cutters. The bake time for those will obviously be shorter (8-10 minutes). Enjoy!
Notes
Read all my tips above.
Leftovers can be stored in a covered box at room temperature for up to 3 days. 
Nutrition
Calories: 439kcal, Carbohydrates: 1g, Protein: 3g, Fat: 48g, Saturated Fat: 30g, Cholesterol: 204mg, Sodium: 439mg, Potassium: 30mg, Sugar: 1g, Vitamin A: 1537IU, Calcium: 26mg, Iron: 1mg