Snowball Cookies (Wedding Cookies)
The best, quick and easy snowball cookies recipe (Mexican wedding cookies), homemade with simple ingredients. Rich, buttery, tender, loaded with chopped pecans and powdered sugar.
They look like snow and are a classic Christmas cookie that you would find on many holiday dessert tables and platters. They are so easy to make that even kids can help out, just like these Cranberry Orange Cookies (Shortbread) or these Church Window Cookies.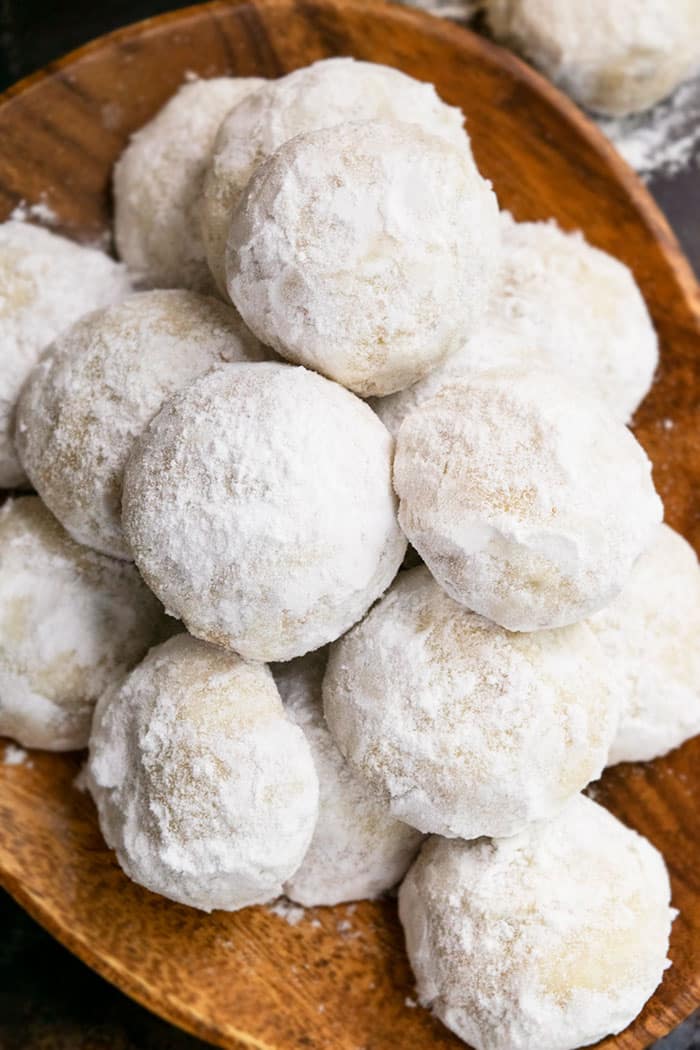 What are snowball cookies?
They are also known as Mexican wedding cookies or Russian tea cakes. They are ball-shaped cookies that are made up of ground nuts (typically pecans or walnuts), lots of butter, flour and flavored with vanilla. Then, they are coated heavily in powdered sugar to look like a snowballs.
Are Russian tea cakes the same as Mexican wedding cookies?
Yes, they are the same. They are both rich and buttery and packed with chopped nuts and have a similar flavor, appearance and texture. However, the quantity of the ingredients may differ but the ingredients are still the same- butter, powdered sugar, flour, chopped nuts.
How to make snowball cookies?
Cream butter and sugar- Until mixture is fluffy.
Add vanilla– And mix until smooth.
Add flour– And mix until just combined.
Mix in pecans– chop the pecans and add them to the dough
Roll balls– scoop out small portions or the dough and roll them into balls.
Chill- Place them on a cookie tray and chill in the fridge.
Bake– At 350 degrees F for 13-14 minutes or until golden brown.
Roll in powdered sugar– Until they are fully coated.
Cool completely– Let the cookies to cool completely and roll in more powdered sugar again and enjoy!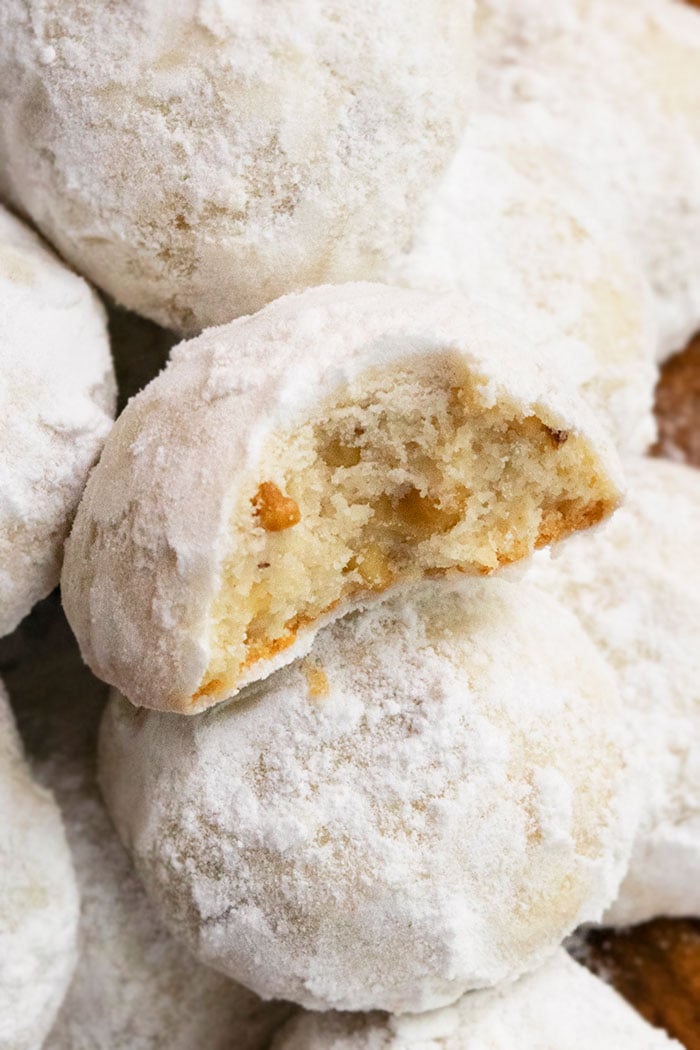 Storage of pecan snowball cookie recipe
Room temperature- They can be stored in a cookie jar at room temperature for up to 3 days. This is the best way to store them!
Refrigerator- I don't recommend this because they become sticky and watery in the fridge because of the moisture and humidity.
Can you freeze wedding cookies? Yes, you can freeze baked cookies without the powdered sugar coating in an airtight container for up to 1 month. Let them thaw overnight in the fridge and then roll them in powdered sugar. If you freeze them with powdered sugar, they will become a wet sticky mess when they thaw.
Variations
Chocolate snowball cookies– Mix in some mini chocolate chips or add some cocoa powder.
Walnut snowball cookies– Omit the pecans and add chopped walnuts to the mix.
Use other nuts– I used pecans but you can use a variety or a combination of other nuts such as pistachios, walnuts, cashews, almonds, macadamia nuts, pine nuts, hazelnuts, peanuts.
Add dried fruits- Although this is a not a traditional addition, it adds a lovely fruity flavor. Try dried cranberries, raisins or even dried mangoes. Make sure they are finely chopped.
Christmas version– Use red or green food coloring to tint the dough and mix in some mini red and green M&M candies.
Add zests- Try some lemon zest or orange zest or even lime zest for a citrus boost.
Add coconut– Add shredded coconut, coconut flakes, or toasted coconut flakes for a tropical spin.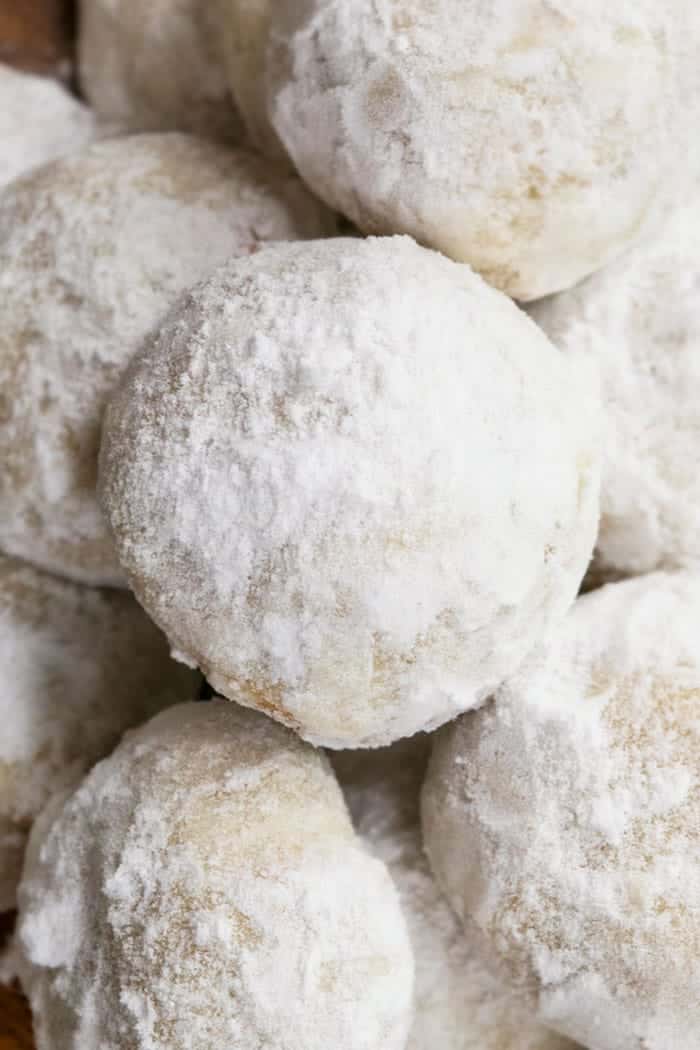 Tips and Techniques
Why did my snowball cookies flatten? There could be a few reasons for this. One reason could be incorrect measurements. You may have added too much butter and too little flour and powdered sugar. The excess butter would cause the cookies to spread heavily during baking. Please make sure you are using measuring cups and measuring spoons. Another reason could be that you didn't chill the cookie dough balls, which firms up the dough.
The flavor of the cookies may vary- This depends on the kind of nuts you use. I used pecans.
You must use powdered sugar- Please note that granulated sugar cannot be used in this recipe and using it would alter the texture of these cookies dramatically.
Use unsalted butter- Because it prevents these cookies from becoming too salty.
Butter must be at room temperature– Because it blends together with the rest of the ingredients smoothly and evenly.
Roll the cookies in powdered sugar twice– Rolling it the first time is crucial because the slight heat from the cookies allows the cookies to melt and stick to the cookies. Rolling it the second gives it a beautiful white appearance.
There are no eggs or leavening agents in this recipe- These cookies are not supposed to rise and thus, those ingredients are not required. Please don't add them since they will completely change their texture and cause them to spread.
Nuts must be finely chopped– Because this allows them to be evenly distributed in the dough and you can enjoy the nutty flavor in each bite.
Use high quality vanilla extract– Since there are such few ingredients in this recipe, the quality of ingredients really matters to make the end results phenomenal. Rodelle and Nielsen Massey extracts are both amazing.
Chilling cookie dough balls is important– Because it allows the cookies will hold their round shape better during baking.
How to fix sticky cookie dough? Chill the bowl of down in the fridge for 30-40 minutes until it firms and is easier to handle.
How to fix dry and crumbly cookie dough? This may have happened because you added too much flour and measured incorrectly. Moisten your hand with some water or add a little water (1 tsp at a time) and use your hands and fingers to bring the dough together.
Why use powdered sugar in baking? Because they have a little bit of cornstarch which makes baked goods super soft and tender.
More Classic Christmas Cookies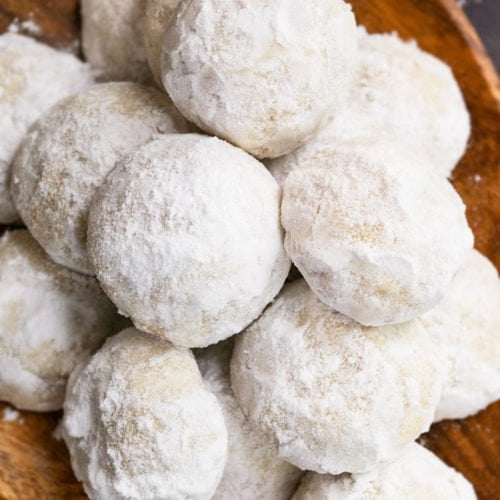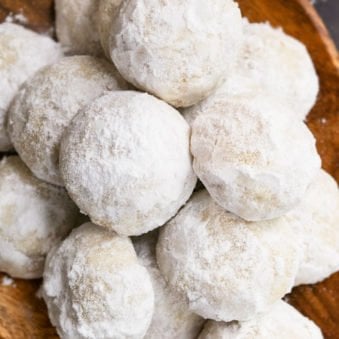 Easy Snowball Cookies (Mexican Wedding Cookies)
Quick, easy snowball cookies recipe (Mexican wedding cookies), homemade with simple ingredients. Rich, buttery, tender, loaded in pecans and powdered sugar.
Yield: Cookies
Instructions
Add flour gradually, while mixing. The dough will be crumbly but it will eventually come together.

Mix in chopped pecans.

Scoop out small portions of the dough and roll into balls.

Place them on a cookie tray, lined with parchment paper.

Chill in the fridge for 20 minutes.

Then, bake at 350 degrees F for 13-14 minutes or until cookies are firm along the edges and golden brown.

Allow the cookies to cool down for 5 minutes or until they are cool enough to handle.

Then, remove them from the tray and roll warm cookies in a bowl of 1 1/4 cup powdered sugar until fully coated. Since the cookies are warm, they will melt the sugar slightly and become slightly sticky but don't worry.

Let these cookies cool down completely.

Then, roll them in powdered sugar again and enjoy!
Notes
Read all my tips above.
Leftovers can be stored in a cookie jar at room temperature for up to 3 days. 
Nutrition
Calories: 116kcal, Carbohydrates: 11g, Fat: 7g, Saturated Fat: 3g, Cholesterol: 14mg, Sodium: 47mg, Potassium: 20mg, Sugar: 6g, Vitamin A: 170IU, Calcium: 5mg, Iron: 0.4mg
Until next time, tata my lovelies!