This recipe for small batch healthy peanut butter chocolate chip cookies is easy to make with just a few basic ingredients! They are very soft and chewy.
*This shop has been compensated by Collective Bias, Inc. and its advertiser so that I can make small batch healthy peanut butter chocolate chip cookies. All opinions are mine alone.#HelloNutchello #CollectiveBias*
I think cookies must be the ultimate comfort food out there.
Don't get me wrong… I LOVEEEE cake!
But if I am ever having a rough day, I bake cookies instead of cakes.
Maybe it's coz they are FASTER to make…
And even EASIER to eat 😉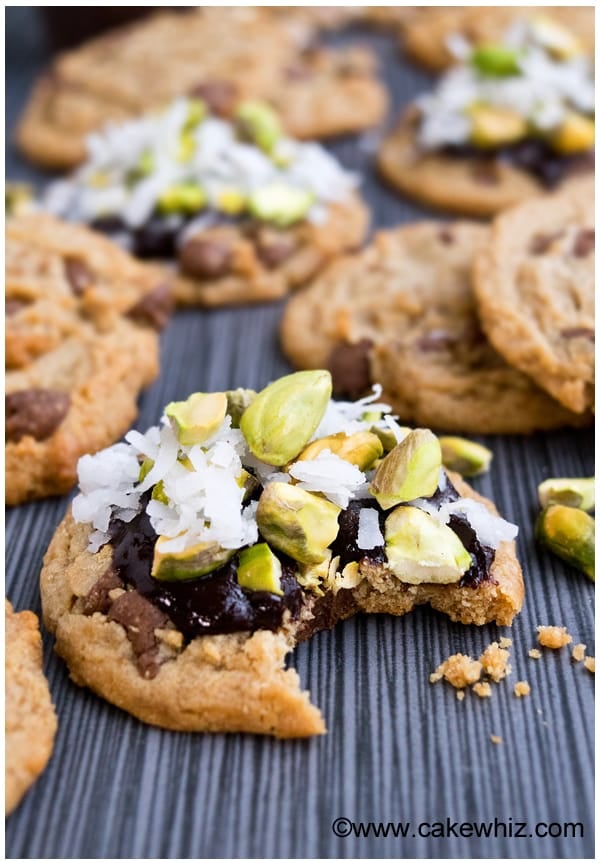 These small batch healthy peanut butter chocolate chip cookies are my absolute FAVORITE cookies to make when I am trying to cheer myself up and/or craving peanut butter…heheh

MY OTHER RECIPES
They are even topped off with melted dark chocolate, chopped up pistachios and shredded coconut… YUMMMMMM!
Best of all, these cookies are on the "HEALTHIER" side.
They are FLOURLESS (gluten-free) and made with oats and they also have NO butter or margarine.
Also, they don't use granulated sugar and instead, they are made with coconut sugar (which is considered a better alternative!)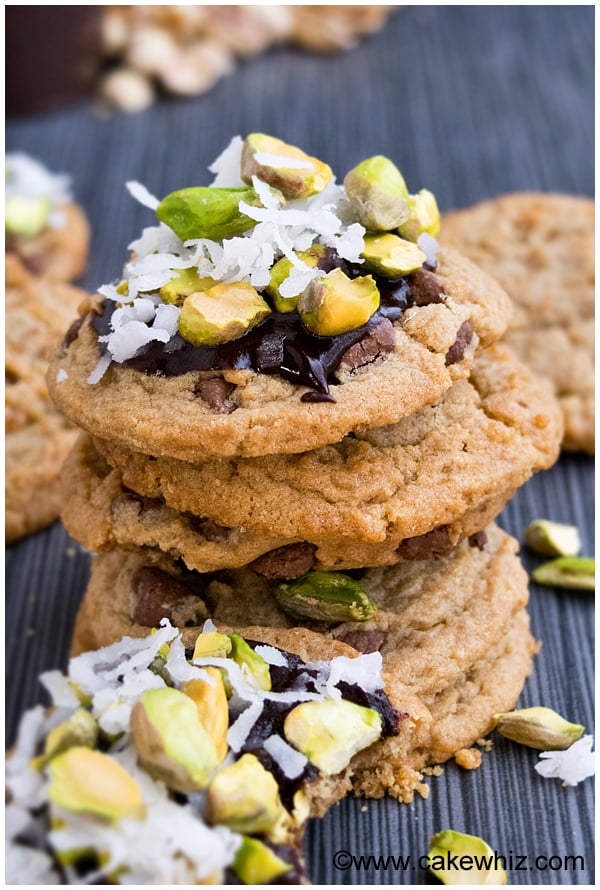 By the way, one thing that really ANNOYS me about most cookie recipes is that they yield SO MANY cookies.
Well, this recipe for SMALL BATCH healthy peanut butter chocolate chip cookies will only yield 8-10 medium cookies…Yay!
These cookies taste INCREDIBLE when they come out of the oven and you would want to eat them straight from the pan!
But, I urge you not to skip the topping coz that's what takes these cookies over the top!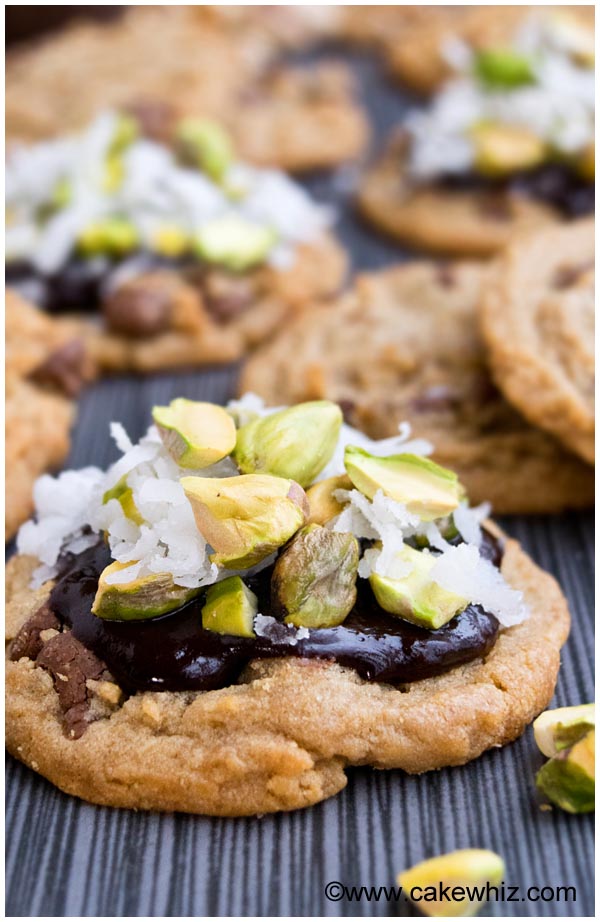 I was watching the Oscars yesterday and dunking these cookies in a glass of Nutchello and it was pure bliss 😀
Have you guys tried Nuchello? It's sooooo good!
There are a few flavors available but I am CRAZY  about the dark chocolate and walnut flavored one.
It's rich and creamy and has less than a 100 calories per serving and pairs perfectly with these NUTTY and CHEWY cookies 🙂
Moreover, it also has no artificial colors or saturated fats and is very refreshing, when poured over ice!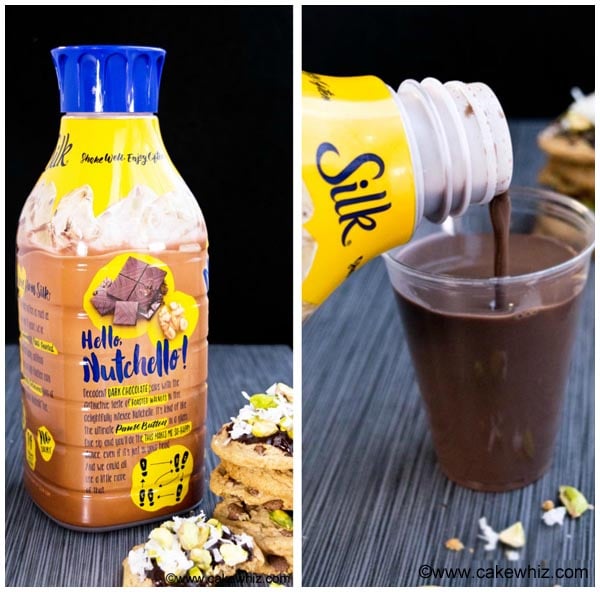 Small Batch Healthy Peanut Butter Chocolate Chip Cookies
Prep time:
Cook time:
Total time:
This recipe for small batch healthy peanut butter chocolate chip cookies is easy to make with just a few basic ingredients! They are very soft and chewy.
Ingredients
Cookies:
¾ cup old fashioned oats
⅓ cup chocolate chips
¼ cup coconut sugar
1 egg
2 tbsp peanut butter
2 tbsp coconut oil (softened)
¼ teaspoon baking soda
¼ teaspoon baking powder
1 tsp vanilla extract
Topping:
¼ cup melted dark chocolate
¼ cup chopped pistachios
14 cup shredded coconut
Instructions
Add oats in a blender or food processor and make oat flour.
In a mixing bowl, whisk together the oat flour, baking powder and baking soda.
In another mixing bowl, add egg, peanut butter, coconut oil, coconut sugar and vanilla extract and mix thoroughly.
Dump the dry mixture into the wet mixture and mix until just combined.
Stir in chocolate chips and refrigerate the cookie dough for 45 minutes.
Scoop out small portions of the dough and roll them into balls.
Bake at 350 degrees for 8-10 minutes or until the cookies are golden brown and firm around the edges.
When the cookies cool down completely, pour melted chocolate on top of each cookie and toss some pistachios and coconut.
And you are done!
Notes
- This is a small batch cookie recipe and it will yield only 8-10 medium sized cookies.
Well, that's all for today.
If you liked this post, you may like some of these other peanut butter recipes too…
Peanut butter and jelly thumbprint cookies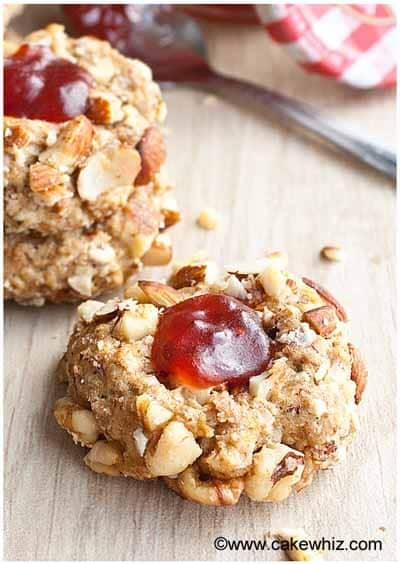 Chocolate peanut butter cracker bark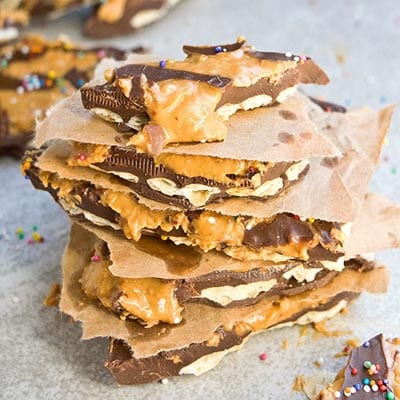 Until next time, tata my lovelies!
*This shop has been compensated by Collective Bias, Inc. and its advertiser so that I can make small batch healthy peanut butter chocolate chip cookies. All opinions are mine alone.#HelloNutchello #CollectiveBias*