Easy Ginger Cookies
Quick, easy ginger cookies recipe, made with simple ingredients. Packed with fresh ginger, cinnamon, molasses. Crispy but soft and chewy on the inside!
Today, I am sharing the most amazing Swedish ginger cookies ever! They are soft and chewy on the inside but crispy and crunchy on the outside. They have a warm spiced flavor and is great for Thanksgiving and Christmas. Similar to these cookies, my Molasses Cookies and these Cinnamon Cookies from my blog archives have incredible aromatic spices like cinnamon, nutmeg cloves and ginger.
These ginger molasses cookies are loaded with spices!
There's cinnamon, ginger, nutmeg. You can also add some ground cloves, if you like.
These are the best soft ginger cookies!
I like the that tops are crispy and crunchy, which balances the soft center perfectly. A big thanks goes out to my husband's colleague, Clare, who was kind enough to share her recipe with me.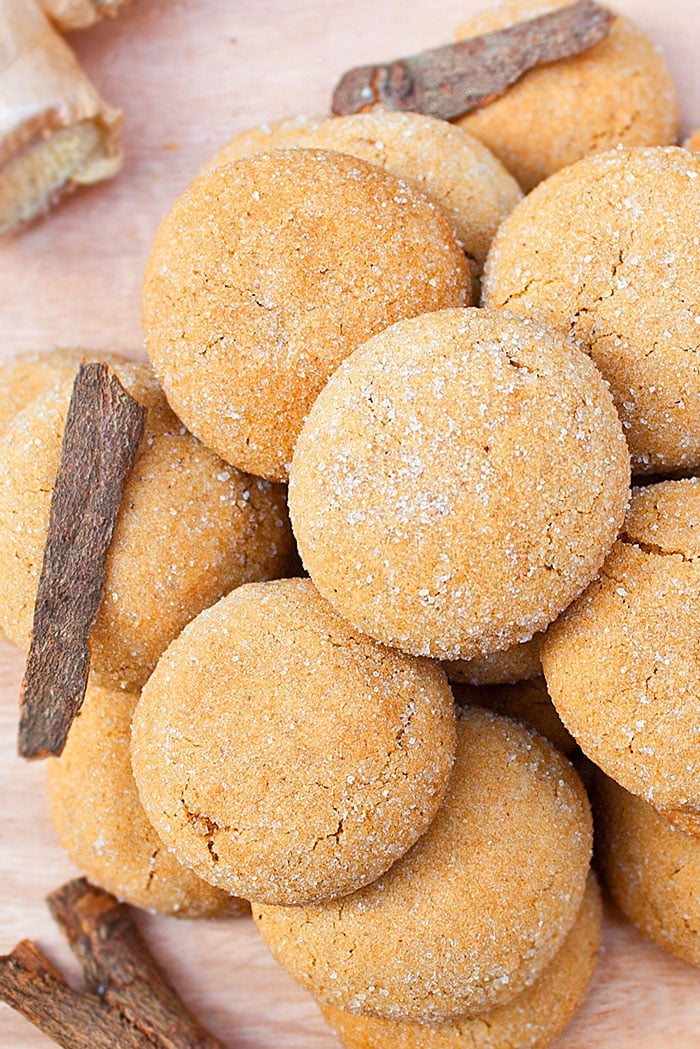 How do you make ginger cookies chewy? How to make ginger cookies?  How do you make ginger sugar cookies?
Cream together butter and sugars.
Mix in egg and molasses until smooth.
Add spices, ginger, baking soda, flour and mix until you have a thick dough.
Make small cookie dough balls and roll them in a bowl of sugar.
Bake and enjoy.
Are gingersnaps and molasses cookies the same thing?
They have similar spiced flavors but the key difference is that ginger cookies and even molasses cookies are chewy while ginger snaps are firm, crispy and snappy in texture.
What can I use instead of molasses? (Molasses substitute)
I don't recommend any substitutions because the flavor and texture does change because molasses have a very deep and rich flavor. Typically, maple syrup and honey are considered to be a good replacement.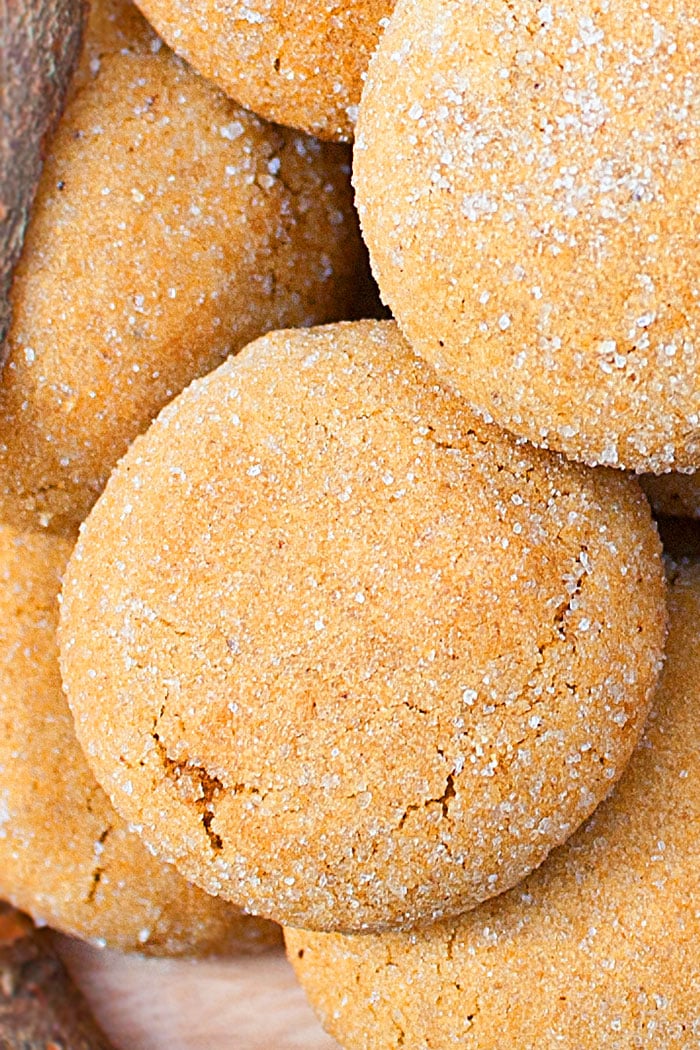 Ginger cookies with fresh ginger
I usually make ginger cookies with just freshly grated ginger but for family and friends who enjoy a stronger ginger flavor, I use 3 fresh, crystallized and powdered ginger altogether.
Triple ginger cookies
Use 3 sources of ginger:
Crystallized ginger (Chopped)- Add 1/4 cup of this in the recipe.
Ginger powder- Add 1/4 tsp of this in the recipe.
Fresh ginger (Grated)- This is already in the recipe below. Reduce it to 1/2 tsp.
Lemon ginger cookies
Add 1-2 tsp lemon zest in this recipe.
Crunchy ginger cookies
These cookies are only crunchy on the outside. If you want to make them super crunchy, you can flatten the dough balls, prior to baking and also bake for a little longer. They will become firmer and even more crunchier as they cool down.
Chewy ginger cookies
This chewy texture generally comes from molasses and brown sugar, which are two crucial ingredients in this recipe.
Big soft ginger cookies
I like to make small cookies because they are easier to eat and package for holiday gifts but you can make larger/ bigger cookies. However, remember to bake them for a little longer.
These are not healthy ginger cookies!
You need the fat from butter and and all the sugars to create the richest flavor and the best texture. If you make any replacements, the results will be drastically different.
These are not ginger snap cookies!
Those cookies are firm, crisp and can snap. They are not chewy. This is my Gingersnap Cookies Recipe.

Tips for easy ginger cookies
Use both, salted and unsalted butter, because that creates the best flavor profile. It's not too sweet and not too salty and is very balanced.
If the dough is too soft to roll into balls, chill in the fridge for 30-40 minutes to make it easier to handle.
There is NO baking powder in this recipe. Only baking soda is used and that helps to create the crackly appearance. Do not replace baking soda with baking powder.
Adjust the amount of spices, based on your preference.
Both, granulated and brown sugar, are required in this recipe to create the perfect texture. Don't replace one with the other.
Stir in 1/4 cup finely chopped to really amplify the ginger flavor.
All ingredients must be at room temperature so that they blend together evenly.
Bob's Red Mill 1 to 1 gluten free blend works well in this recipe.
Other Cookie Recipes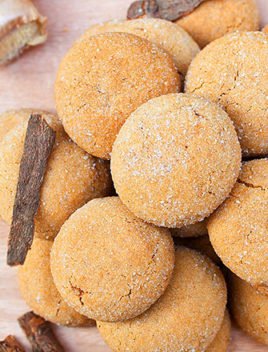 Easy Ginger Cookies Recipe
Quick and easy ginger cookies recipe, made with simple ingredients and packed with many spices. Crispy on the outside but soft and chewy on the inside!
Yield: Cookies
Instructions
In a large mixing bowl, add salted butter, unsalted butter, granulated sugar, brown sugar and cream until light and fluffy.

Add egg and molasses and mix until smooth.

Now, add flour, baking soda, salt, cinnamon, ginger and mix until you end up with a thick dough. Note: I found it easier to just mix/knead with my hands rather than a mixer, at this point. 

Scoop out small portions of the dough and roll them into walnut –sized balls. Then, roll them in a bowl full of sugar.

Place them on a cookie tray lined with parchment paper. Bake at 375 degrees for 5 minutes. Then, rotate the tray and bake for another 4-5 minutes or until the tops of cookies start to crack and the edges will become slightly brown.

Let these cookies cool down on the cookie tray for about 3 minutes and then place them on a wire rack to cool down. You will end up with A LOT of cookies (about 5 to 6 dozen) but they will be gone in no time. Enjoy!
Notes
Read all my tips above.
Leftovers can be stored in a cookie jar at room temperature for up to 3 days. 
Tip: If the cookies start to become a little hard after a day, add a slice of sandwich bread in the cookie jar and seal the lid. The next morning, remove and discard the slice of bread. All the moisture from the bread would have transferred to the cookies, making them soft again.
Nutrition
Calories: 101kcal, Carbohydrates: 15g, Fat: 4g, Saturated Fat: 2g, Cholesterol: 13mg, Sodium: 84mg, Potassium: 37mg, Sugar: 9g, Vitamin A: 125IU, Calcium: 9mg, Iron: 0.5mg
Until next time, tata my lovelies!