Easy Stained Glass Cookies
Quick and easy stained glass cookies recipe, made with simple ingredients. These beautiful classic Christmas sugar cookies are filled with rock candy.
These pretty stained glass cookies are great for Christmas, Mother's Day or even Valentine's Day. You can even hang them on branches and make a centerpiece out of them. They also make a great homemade gift for the holidays and are also very fun to make with kids. They have a clear candy center so that light can shine through them.
Also known as stained glass window cookies!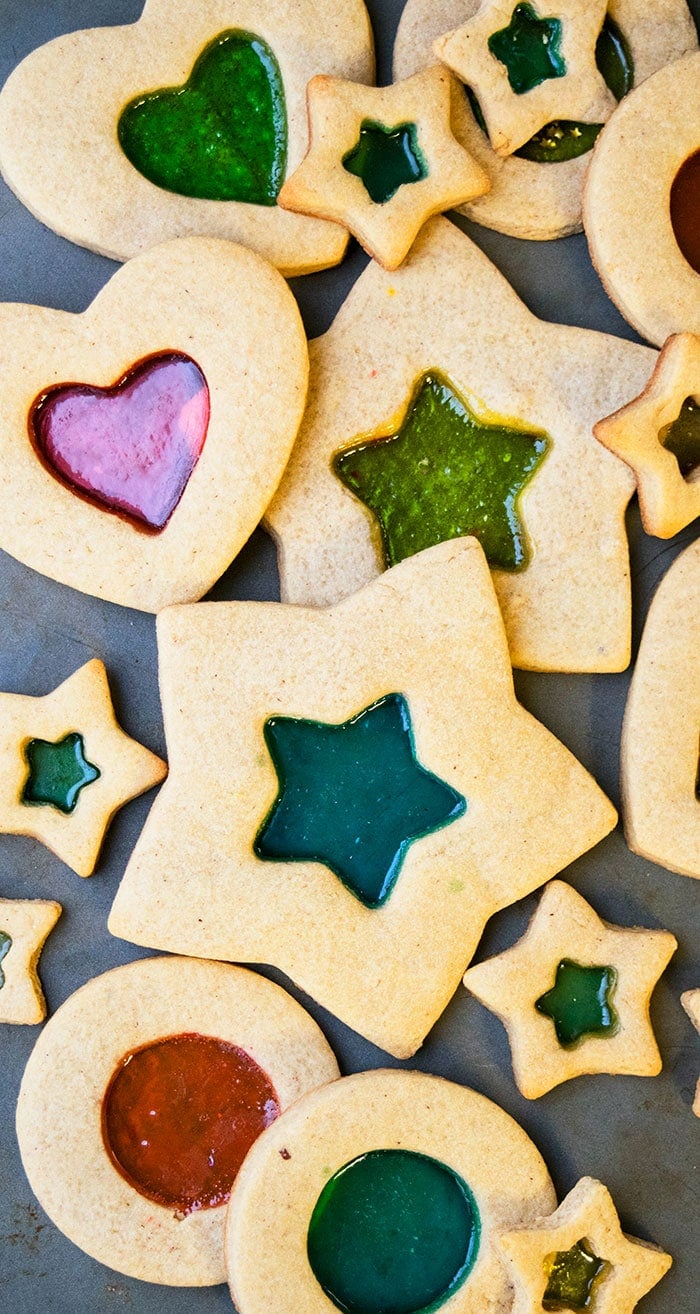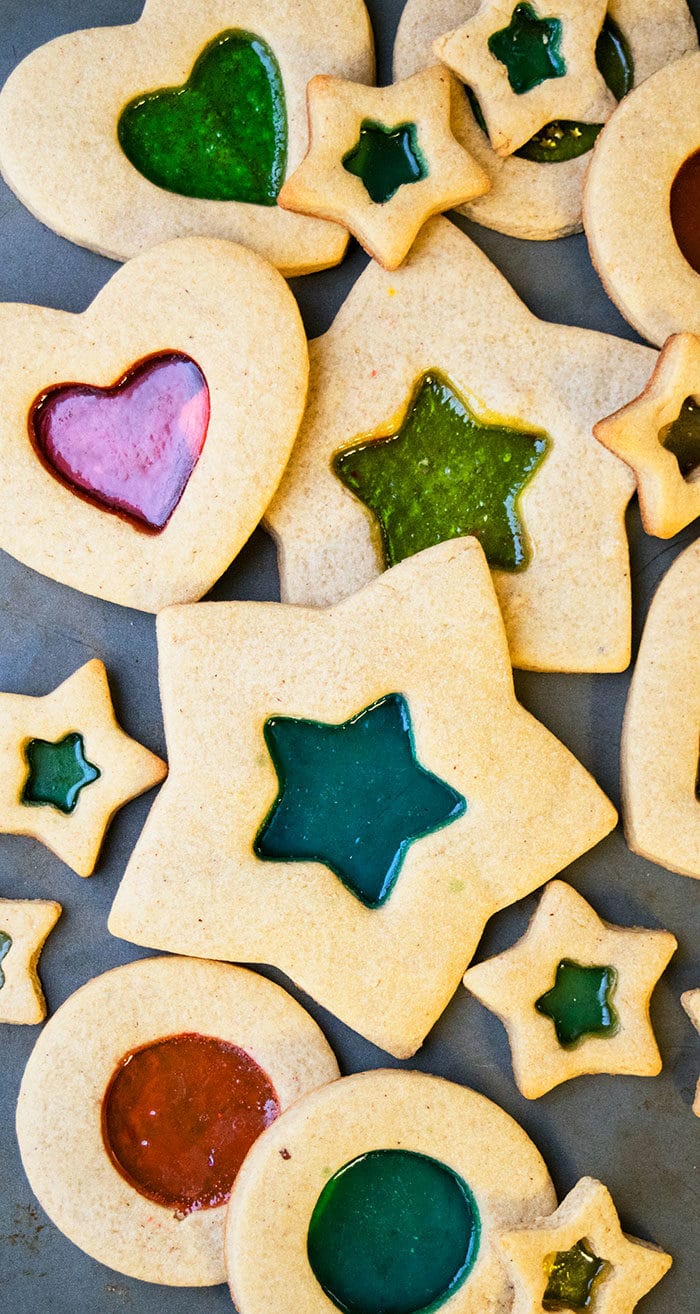 Best candy for stained glass cookies
After trying a few different candies, I found that hard rock candies like Life Savers and Jolly Ranchers work the best plus they have beautiful vibrant colors.
How to make stained glass cookies? How do you make stained glass cookies?
Prepare cookie dough and roll it out.
Use a cutter to cut out a big pieces and use a small cutter to hollow out the center.
Place cookies on a baking tray and fill the centers with candy.
Bake, cool and enjoy.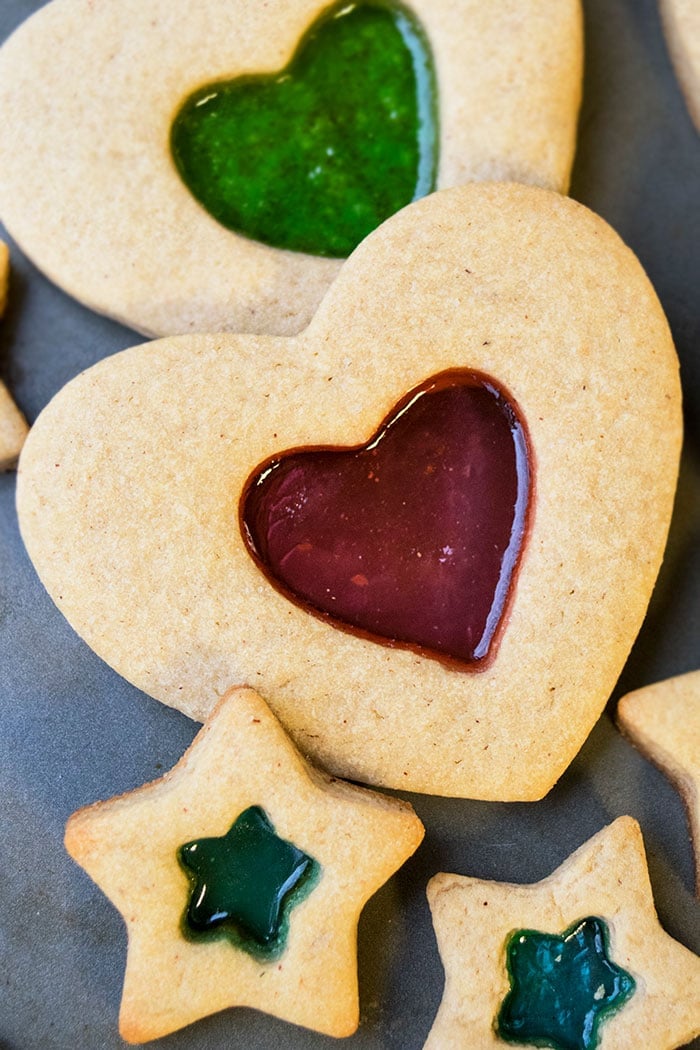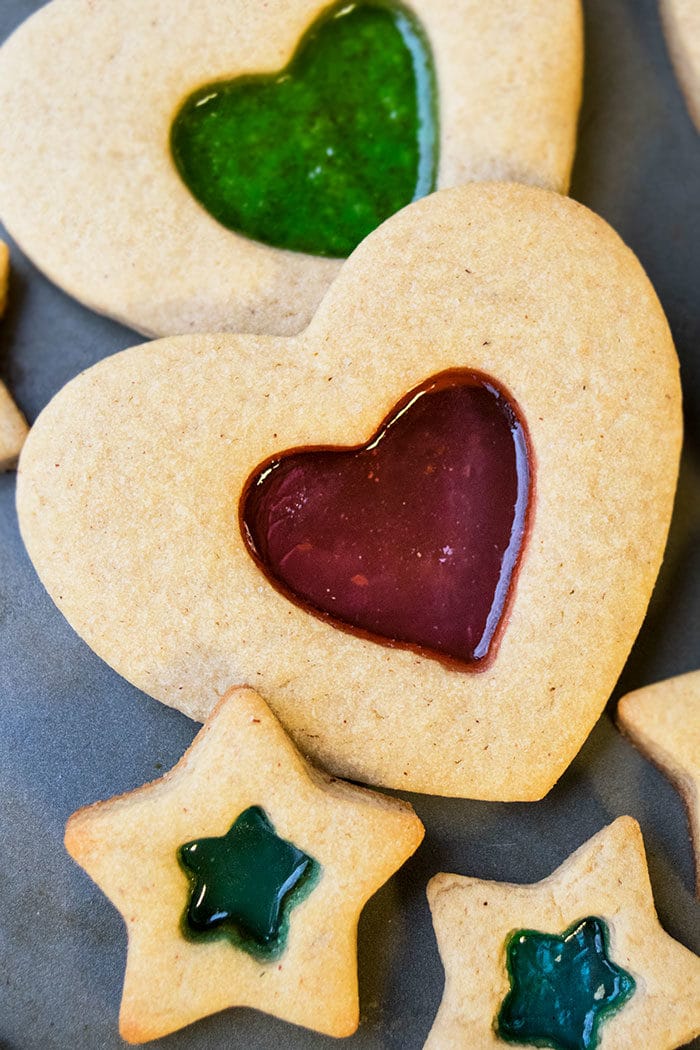 Tips for stained glass sugar cookies recipe
Make sure all ingredients are at room temperature so them blend together smoothly and evenly.
Cookies need to be rolled thick to handle the weight of the rock candy. Half inch thickness works best.
Don't overfill the cookies with candy because they can overflow during baking and make a sticky mess.
You can also bake hollow cookies without rock candy and when they cool down, fill them with melted chocolate and sprinkles and let it set.
Any cut out cookie recipe would work well here. I used sugar cookies but you also use Chocolate Sugar Cookies or Gingerbread Cookies.
Don't use cutters that have a diameter of less than 3 inches because these cookies look best when they are a bit large.
Don't store them in the fridge because the candy center can become sticky due to the moisture.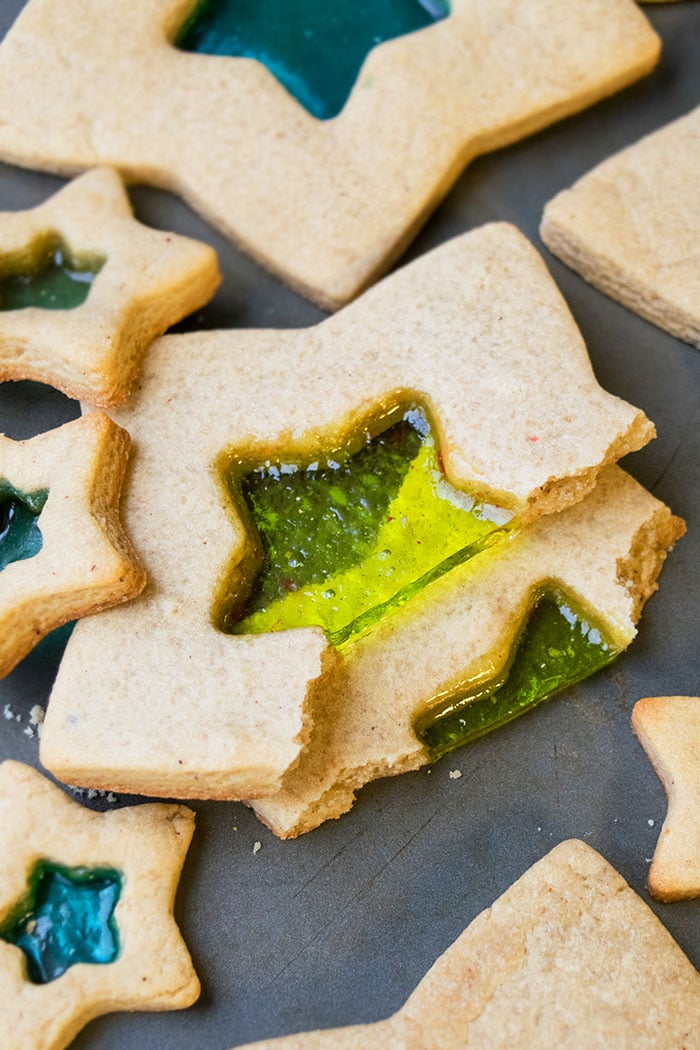 You can also fill and/or decorate these stained glass cookies with:
Sprinkles- Toss them along with the crushed candy, prior to baking.
Royal icing- Use this to pipe intricate designs on top of the stained glass, once the cookies cool down completely.
Marshmallows
Jam
Gumdrops
That being said, I would highly discourage you from using marshmallows, gummies and jams during baking because it makes a sticky mess and doesn't adhere to the cookie's hollow center. I think those are good for filling Thumbprint Cookies and not these Christmas cookies.
Other fun cookie recipes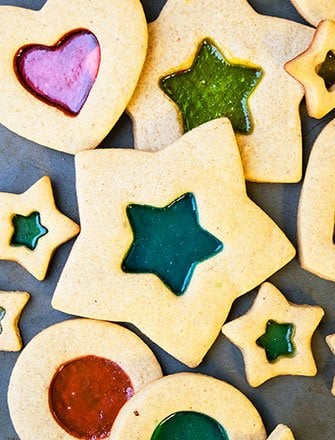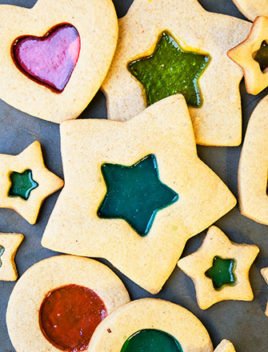 Stained Glass Cookies
Quick and easy stained glass cookies recipe, made with simple ingredients. These beautiful classic Christmas sugar cookies are filled with rock candy.
Yield: Cookies
Ingredients
15 Sugar cookies, Double the recipe
15 Rock candies, Crushed, Various colors, E.g. Jolly Ranchers or Life Savers
Instructions
Roll out cookie dough between 2 sheets of wax paper at half inch thickness.

Use a large cutter to cut out a piece and then, use a small cutter to cut out the center. Discard this little piece.

Place the large hollow cookie on a cookie tray, lined with parchment paper.

Add some crushed candy in the center and use a toothpick to spread it out evenly. Only fill halfway to prevent candy from overflowing. 

Bake at 350 degrees for 10-12 minutes or until edges are golden brown and candy is fully melted.

Let cookies cool completely before removing them from the tray. Enjoy!
Notes
Read all my tips above.
Leftovers can be stored in a box at room temperature for up 3 days. 
Nutrition
Calories: 104kcal, Carbohydrates: 20g, Fat: 2g, Cholesterol: 2mg, Sodium: 52mg, Potassium: 10mg, Sugar: 11g, Vitamin A: 10IU, Calcium: 3mg, Iron: 0.3mg
Until next time, tata my lovelies!