Caramel Snickerdoodle Cookies
Quick and easy caramel snickerdoodle cookies recipe, made with simple ingredients. It's a twist on classic soft and chewy snickerdoodles. Perfect for Fall.
I made these caramel snickerdoodle cookies by slightly adapting my classic snickerdoodles cookies recipe, which people LOVE and has over 151,000 repins!
This is the best snickerdoodle recipe!
You can enjoy it stuffed with caramel or with a light chocolate drizzle on top or just simple and plain.
Easy snickerdoodle recipe/ Easy snickerdoodle cookies
These cookies are made with simple, easy -to- find ingredients that most of you probably already have in your kitchen pantry. There are no complicated steps or instructions either.
Caramel stuffed snickerdoodles
There are so many flavors of caramel candies ins stores now. Use whatever flavor you like. My son's favorite are caramel cookies stuffed with chocolate caramel candies. They are AMAZING!
Soft snickerdoodle recipe /Chewy snickerdoodle recipe
This recipe yields the best soft and chewy texture. You don't have to compromise one texture for the other. These homemade snickerdoodle cookies are a soft and chewy in the center and slightly crispy on the outside, alone the edges.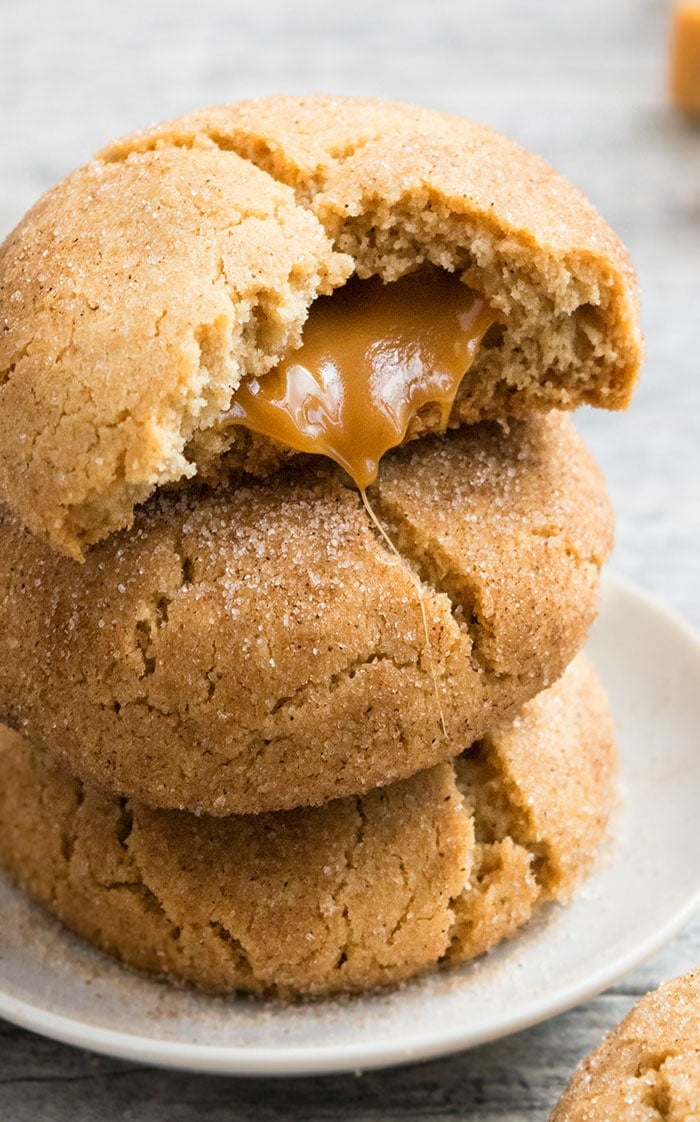 Snickerdoodle recipe without cream of tartar
The classic version is always made with cream of tartar but YES, you can make them without that ingredient. REPLACE baking soda and cream of tartar quantities in this recipe with 2 tsp baking powder.
However, I still urge you not to omit it.  Based on my research, cream of tartar is the main ingredient, responsible for giving these cookies a bit of a tangy flavor and chewy texture. It also helps activate the baking soda.
Snickerdoodle recipe without shortening
My recipe uses butter instead of shortening because it creates the best texture. Shortening made the cookies very greasy.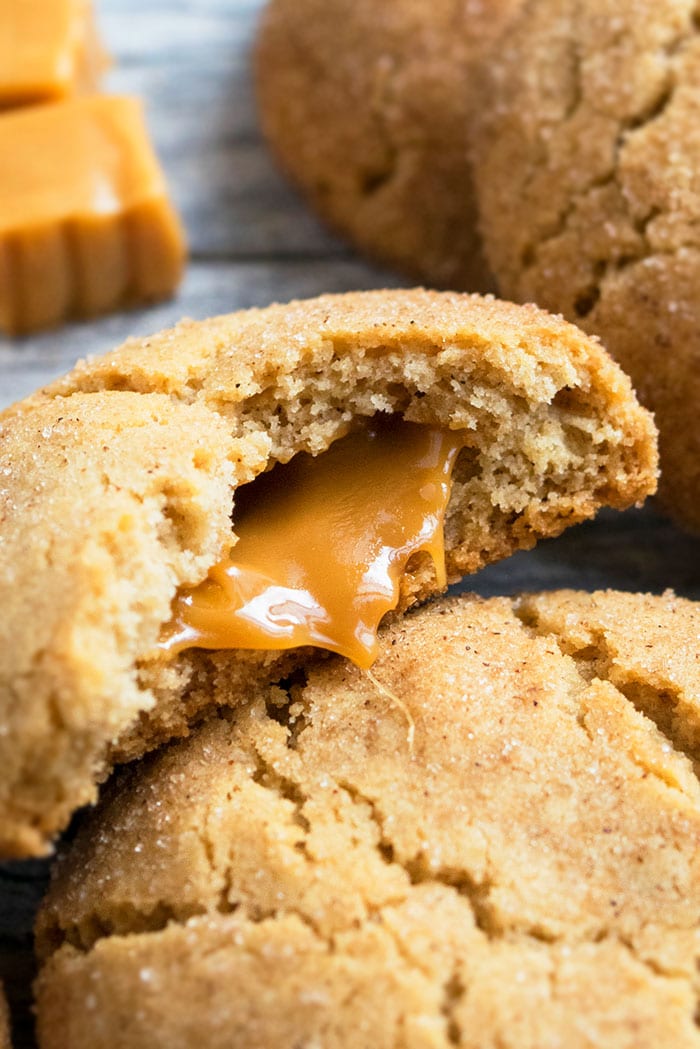 How to make snickerdoodles? How to make snickerdoodle cookies?
Cream together butter and sugar.
Mix in eggs.
Add flour, baking soda, cream of tartar, cinnamon powder, salt and mix until just combined.
Chill cookie dough.
Make small balls, flatten them and stuff them with a caramel.
Roll them into a ball shape again and toss them in a cinnamon sugar mixture.
Bake and enjoy!
What is a snickerdoodle?
It's a classic cookie that's very popular during the holiday season, especially during Fall, Thanksgiving and Christmas. It has a soft and chewy texture and a strong spiced cinnamon flavor. The main difference between this cookie and all other cookies out there is the use cream of tartar.
Snickerdoodle bars/ Snickerdoodle blondies
You can use this recipe to make bars. Just spread the batter on a cookie tray, lined with parchment paper and bake. Once it cools down completely, use a sharp knife to cut bar shapes. Drizzle some caramel sauce on top or just ice it with buttercream or cream cheese frosting.
You can also toss in chocolate chips or chopped nuts in the cookie dough before spreading it in the pan.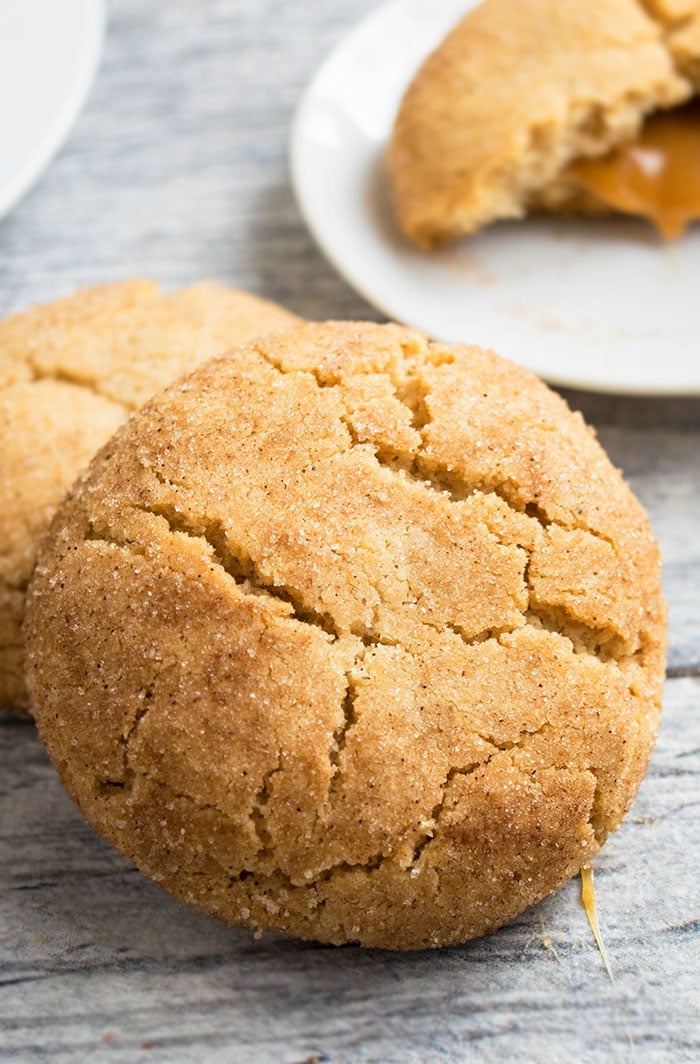 Variations of this easy snickerdoodles recipe:
Brown Butter Snickerdoodles– Brown butter first and use that in this recipe instead of regular butter.
Small Batch Snickerdoodles– You can halve this recipe to make a smaller batch.
Sea Salt Caramel Snickerdoodles– Use salted caramel candies instead of regular caramels.
Snickerdoodle Cheesecake Bars– Make these snickerdoodle bars and top them off with cream cheese frosting.
Caramel Snickerdoodle Bars– Can be made with or without caramel sauce.
Cake Mix Snickerdoodles– Use this cake mix cookies recipe but use a spice cake mix and roll the cookie balls in cinnamon sugar, prior to baking.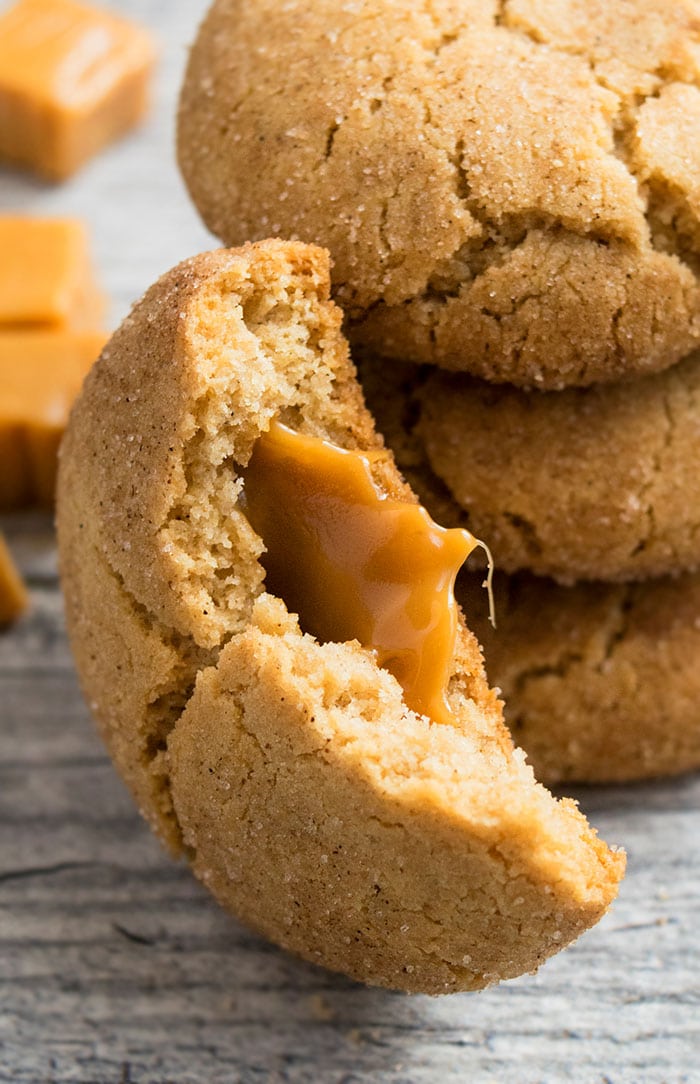 Tips for perfect snickerdoodle cookie recipe:
If you don't have cream of tartar, REPLACE baking soda and cream of tartar quantities in this recipe with 2 tsp baking powder but I highly recommend using cream of tartar.
Don't use 2 eggs. It's 1 whole egg plus 1 egg yolk. If you use 2 eggs, your dough will be too wet.
To PREVENT the cookies from spreading too much wile baking, always CHILL the dough for at least 1 hour.
DON'T skimp on cinnamon! These cookies are packed with cinnamon powder and that's what makes them so flavorful.
This cookie dough can be made into small balls and frozen to be baked later (Bake within 1 month). Make sure they are packed in sealed freezer bags.
The longer you bake these cookies, the crispier they will get. The cookies will be ready when the edges start to set and become golden brown and the center is still slightly soft.
If you want a very thick snickerdoodle cookie, make cookie dough balls, then roll them in cinnamon sugar and place them on a cookie tray but DON'T flatten them and bake as usual.
If you want thinner and crispier snickerdoodles, flatten the cookie dough ball slightly and bake a little longer than normal (1 or 2 extra minutes).
DON'T replace butter with shortening, margarine or coconut oil because that will alter the texture dramatically.
Other Classic Cookie Recipes:
The caramel snickerdoodles video can be seen below.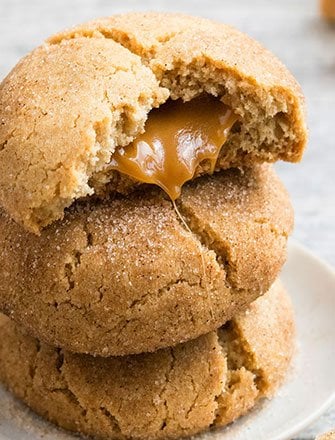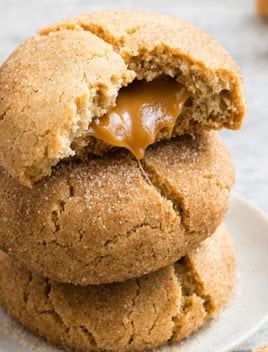 Caramel Snickerdoodle Cookies Recipe
Quick and easy caramel snickerdoodle cookies recipe, made with simple ingredients. It's a twist on classic soft and chewy snickerdoodles. Perfect for Fall.
Yield: Cookies
Instructions
In a mixing bowl, cream together the butter, granulated sugar and brown sugar.

Add the egg and egg yolk and mix until thoroughly combined.

Dump this dry mixture into the wet mixture and mix until just combined. Don't over-mix!

In a separate bowl, whisk together the flour, cinnamon powder, cream of tartar, baking soda and salt.

Chill this dough for at least an hour so that it's easier to handle.

Scoop out small portions of the dough and shape them into small balls. Flatten them on the palm of your hands and place a caramel in the center. Then, roll them into a ball shapes again.

Roll the cookie dough balls in this bowl of cinnamon sugar. Place them on a cookie tray, lined with parchment paper. If you like, you can flatten them slightly with the palm of your hands (results in thinner cookies).

Bake at 350 degrees for 10-12 minutes or until the edges are firm and golden brown and the centers are slightly soft. Enjoy!
Notes
Read all my tips above.
Leftovers can be stored in a cookie jar at room temperature for up to 3 days. 
Nutrition
Calories: 218kcal, Carbohydrates: 33g, Protein: 2g, Fat: 8g, Saturated Fat: 5g, Cholesterol: 38mg, Sodium: 189mg, Potassium: 73mg, Sugar: 20g, Vitamin A: 280IU, Calcium: 16mg, Iron: 0.9mg
Until next time, tata my lovelies!