Nutella Cookies
These quick and easy chewy chocolate Nutella cookies are addictive. They are rich and fudgy and have a brownie-like texture. Great for cookie exchanges.
If there is anything in this world I love MORE than chocolate, it's NUTELLA and these Nutella cookies have stolen my heart!
I swear a batch DOESN'T last longer than a day at my place…hehe.
Seriously, these Nutella chocolate chip cookies are AMAZING!
They are CRISPY and crackly on the outside but CHEWY on the inside.
They are really rich and FUDGY and it almost feels like you are eating brownies 😀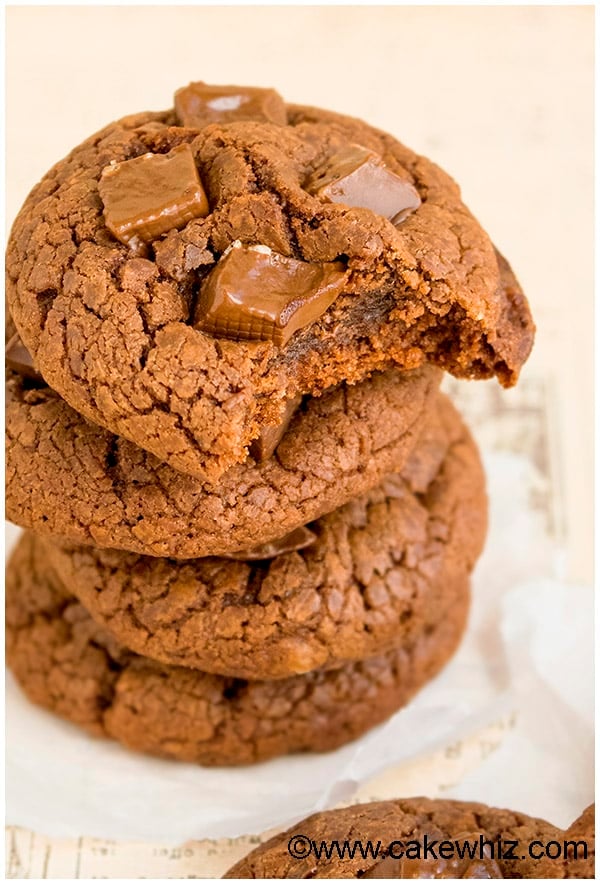 These Nutella cookies are made WITHOUT cocoa powder, without butter, shortening or oil.
The ingredients in the Nutella spread are enough to REPLACE all those key ingredients that we usually see in traditional cookie recipes.

MY OTHER RECIPES
To be honest with you,  sugar is not really necessary in these cookies either but I still like to add  a few tablespoons of brown sugar.
That ENHANCES the "chewy" texture of these cookies.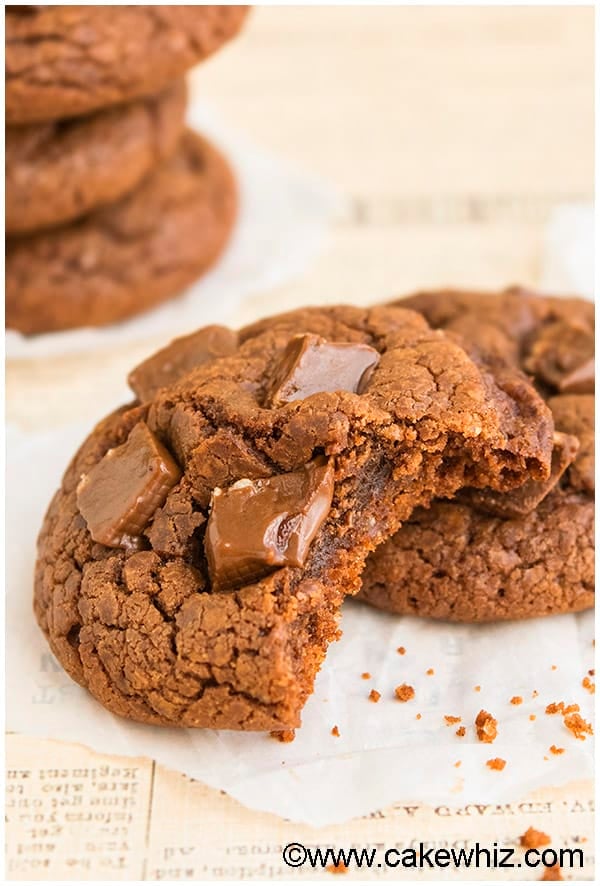 Here are some TIPS for making perfect Nutella cookies:
Don't skip the step where you have to chill the cookie dough balls or else your cookies will spread, while baking.
I used roughly chopped chocolate chunks in these chocolate Nutella cookies but you can easily replace that with good quality semisweet or dark chocolate chips.
You can halve this recipe to make a small batch of Nutella cookies. However, since it is difficult to half an egg, I would suggest using egg beaters instead of an egg.
Don't replace baking powder with baking soda.
This easy Nutella cookies recipe does NOT include butter, shortening, oil or cocoa powder. It's NOT a typo! Please do not add those ingredients.
These chewy Nutella cookies taste best when they are warm and fresh out of the oven. They are so ooey gooey!
Store all leftovers in an airtight container at room temperature and try to finish them off within 3 days. You can always microwave the cookies for 10 seconds and they will taste like they are fresh out of the oven again.
I have tried making these Nutella cookies without flour, without eggs and even a batch with oatmeal. All of them had a very unusual texture and they were flat and looked nothing like a cookie. So, I don't recommend those substitutions and changes.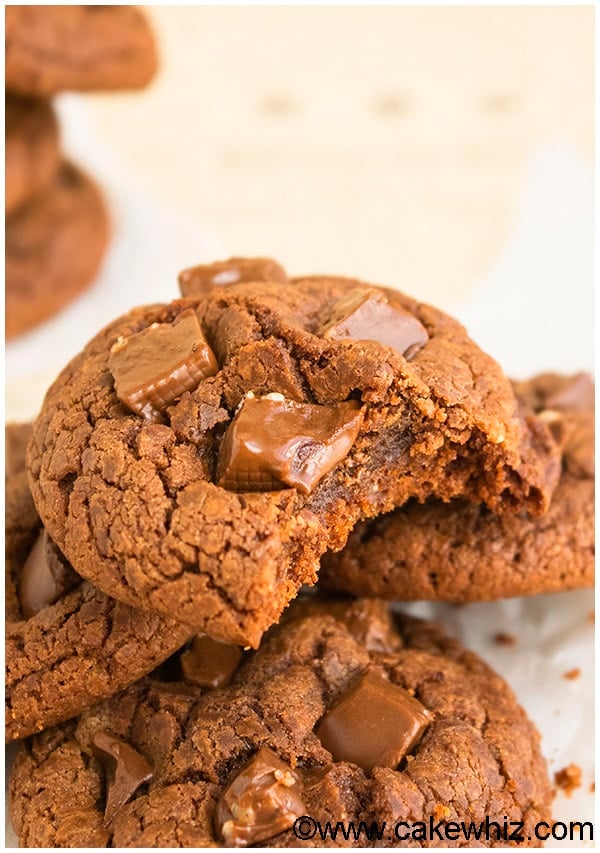 By the way, if you are crazy about Nutella like I am, be sure to check out some of these other Nutella recipes:
Nutella syrup
Homemade gourmet chocolate (filled with Nutella)
Mini Nutella, peanut butter and Oreo trifle
Flourless Nutella brownies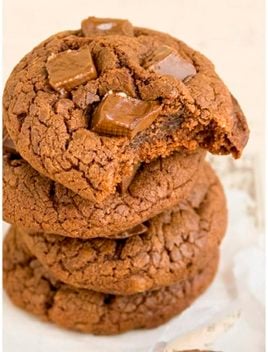 Nutrition Facts
Nutella Cookies
Amount Per Serving
Calories 110 Calories from Fat 45
% Daily Value*
Total Fat 5g 8%
Saturated Fat 4g 20%
Cholesterol 6mg 2%
Sodium 8mg 0%
Potassium 90mg 3%
Total Carbohydrates 14g 5%
Dietary Fiber 1g 4%
Sugars 9g
Protein 1g 2%
Vitamin A 0.2%
Calcium 2.6%
Iron 5%
* Percent Daily Values are based on a 2000 calorie diet.
Nutella Cookies
These quick and easy chewy chocolate Nutella cookies are addictive. They are rich and fudgy and have a brownie-like texture. Great for cookie exchanges.
Servings: 24 cookies
Course: Cookies
Cuisine: American
Calories: 110 kcal
Ingredients
¾ cup Flour All-purpose
1 Egg Large
1 cup Nutella
2 tbsp Brown sugar
1 tsp Baking powder
⅓ cup Chocolate Roughly chopped semisweet
¼ cup Chocolate additional roughly chopped semisweet for topping
Instructions
In a mixing bowl, beat the egg until light and fluffy.

Add Nutella and mix until smooth.

Add flour, sugar and baking powder and mix until just combined.

Stir in chocolate chunks.

Scoop out small portions of the dough and roll them into little balls. Place them on a cookie tray, lined with parchment paper.

Refrigerate the tray for 15 minutes.

Bake at 350 degrees for 8-10 minutes or until the edges have set.

Before the cookies have a chance to cool down, push a few more chocolate chunks on top of each cookie.

Now, let the cookies cool down completely. Then, store in an airtight container at room temperature for up to 3 days.
Recipe Notes
- Read all my tips above.
Well, that's all for today.
Until next time, tata my lovelies!