Easy Meringue Cookies
Easy meringue cookies recipe, homemade with simple ingredients. A classic Christmas cookie that's delicate, light, airy cloud-like and packed with vanilla flavor.
Meringues are very fun and festive whether you enjoy them as pie topping or in the form of cookies. These cookies are a great addition to holiday parties and birthday parties or even cookie exchanges just like my Jam Thumbprints Cookies and Chocolate Crinkle Cookies.
Now, some people consider this to be a cookie but others classify it as a candy. Regardless of what you think, all that matters is that they taste delicious and have the most unbelievable texture ever!
What are meringue cookies? What do they taste like?
They are cookies that are mostly made up of whipped up egg whites, sugar and any type of flavoring. The have a sweet, sugary taste with an airy, light, and crispy texture.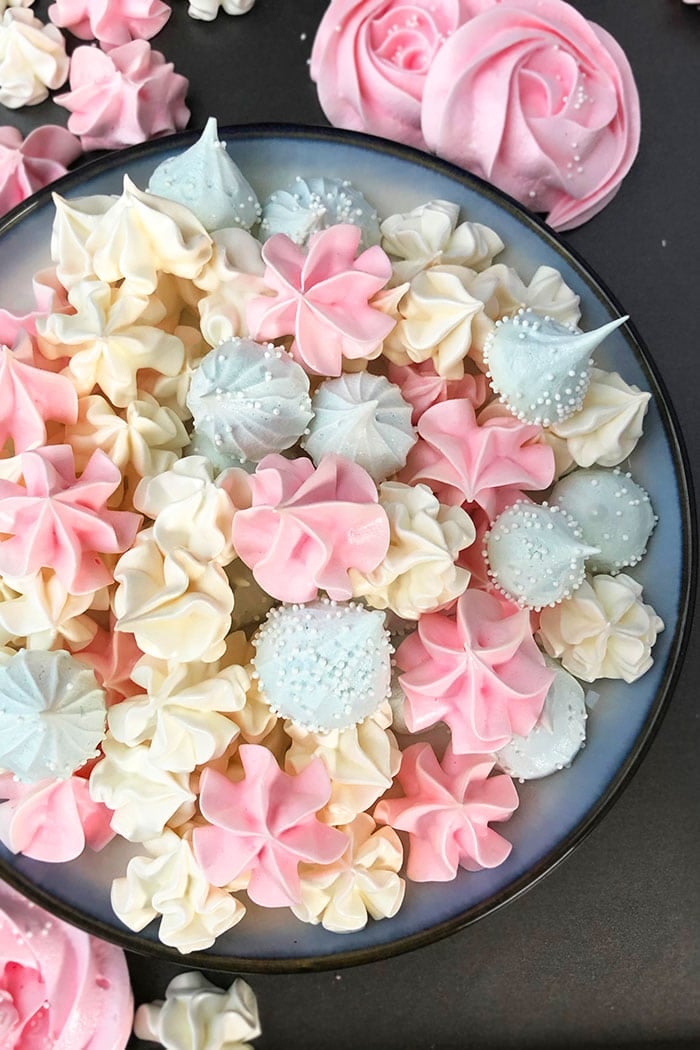 How to make meringue cookies?
Beat the egg whites– Beat egg whites and cream of tartar until becomes they become frothy.
Add sugar– Do this gradually, while mixing.
Beat until stiff peaks form– The sugar should dissolve completely and peaks should not go flat.
Add flavors– Mix in vanilla extract
Add food coloring– Use gel coloring. This is optional.
Fill into piping bags- Fill a piping bag with the meringue mixture and attach a large decorating tip such as Tip # 1M (Star tip) or Tip # 4B (French star tip) or Tip # 1A (Round tip).
Pipe meringues- Pipe onto a cookie tray lined with parchment paper.
Bake– Place the cookie trays in the oven at 225 degrees F for 45 minutes. DO NOT take them out immediately when they are done. Turn off the heat and leave them in the oven to cool for another 1.5 hours.
Enjoy!– Gently remove the cookies from the parchment paper and dig in.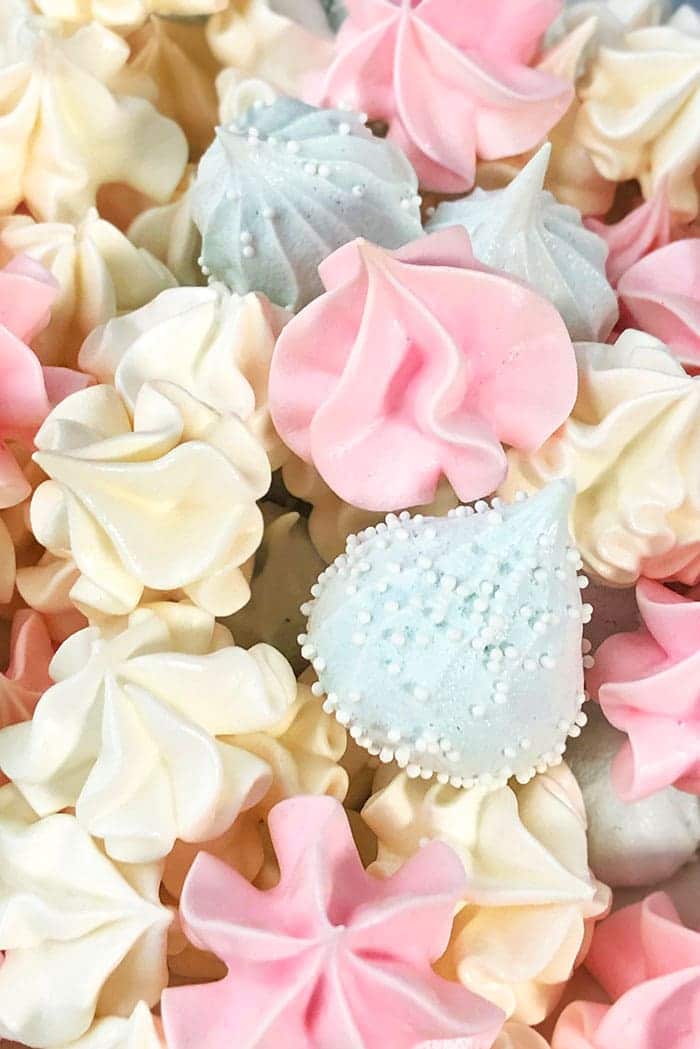 How to make meringues without cream of tartar?
First, let's answer the question: What is cream of tartar? It's also called potassium bitartrate and is a byproduct of the winemaking process. For meringues, it keeps the protein in the egg whites from sticking together giving us that smooth and stiff consistency.
If there is no cream of tartar to be found, a teaspoon of white vinegar or two teaspoons of lemon juice could be a good cream of tartar substitute. The acid will work well to give the meringue the stiff peaks it needs. I, personally, don't think the substitute works as well as cream of tartar and creates a slightly sticky meringue. If too much vinegar or lemon juice is added, they could also alter the whole flavoring of the meringue.
Variations for Vanilla Meringue Cookie Recipe
Lemon meringue cookies– Add some lemon juice or lemon zest for sweet and sour treat, along with yellow food coloring.
Chocolate meringue cookies- Add a little unsweetened cocoa powder in the mixture,
Chocolate chip meringue cookies– Gently fold in some mini chocolate chips to get a nice chocolate pop.
Flavored meringue cookies– The sky is the limit here. Use vanilla, peppermint, mint, cinnamon, espresso/coffee, strawberry, raspberry, chocolate, orange and any other flavor you like. You can use extracts or emulsion oils or even ground spices.
Dip them- Only dip the base in melted chocolate. Then, coat them in chopped nuts (almonds, pistachios, pecans, walnuts, almonds) or crushed peppermint or even shredded coconut.
Add sprinkles– Prior to baking, toss some sprinkles on top of these cookies to give them a pop of color.
Vegan version– I have not tried this myself but some people have used chickpea water or aqua faba successfully as a substitute for egg whites and it's supposed to whip up really well.
Add color– Use gel coloring rather than liquid food coloring because that prevents the mixture consistency from changing. Use any color you like. Match it with the holidays. E.g. Red and green for Christmas, white and black for Halloween e.t.c.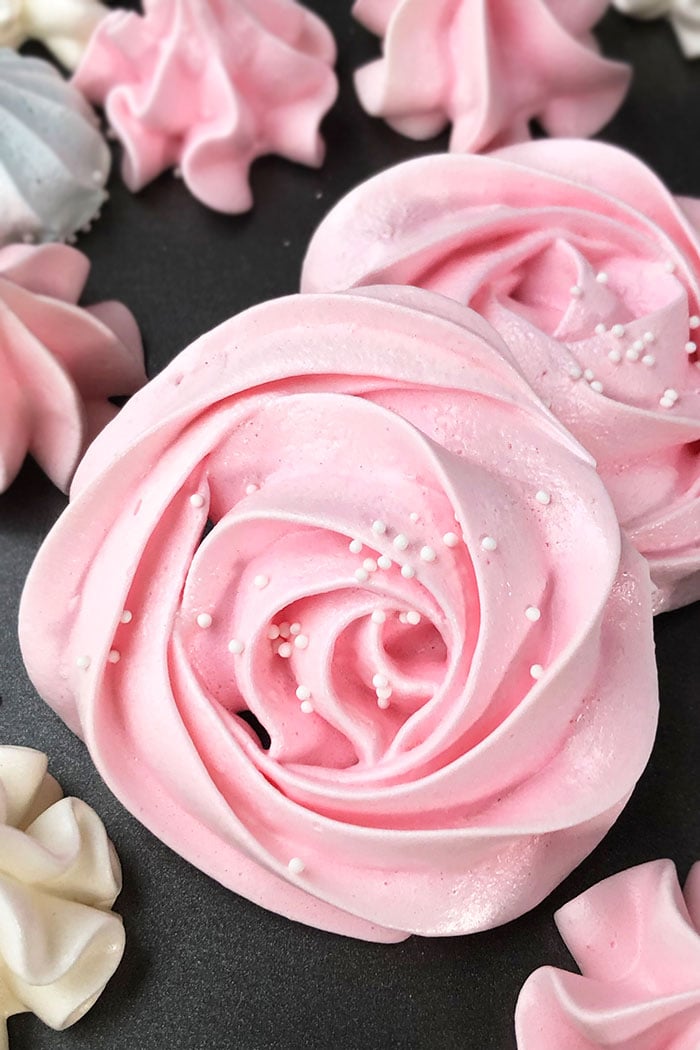 Storage
How to store meringue cookies? They can last at room temperature in an airtight container for up to 2 weeks
How long do these cookies last? They can last at room temperature for two weeks.
Do these cookies need to be refrigerated? Can they be frozen? They should not be refrigerated or frozen because that exposes them to moisture and makes them loose their crispy texture.
Troubleshooting
Why did my meringue cookies crack? The cookies have been taken out of the oven right away and cooled off too fast. They need to cool off nice and slow with the heat turned off. Another reason for cracking is high oven temperature. If the baking temperature is too high, the air bubbles in the mixture expand very quickly causing cracks.
Why are my meringues chewy and sticky? They were exposed to too much moisture. The sugar in these cookies absorb extra moisture in the air when they are taken out of the oven too fast. Once again, the key is to turn off the heat and leave the cookies in the oven after they bake, to prevent them from absorbing any moisture.
How to pipe meringue cookies? Fill piping bags with the mixture and attach big piping tips and position your hand at a 90 degree angle or 45 degree angle to pipe any design you like on a cookie tray, lined with parchment paper.
Why did my meringue cookies deflate? Once reason could be over-mixing the egg whites which creates very large, unstable air bubbles that tend to collapse during baking. Another reason could be contamination with fats/grease. The mixing bowl and attachments have to be squeaky clean without a speck of grease because it's the biggest culprit in causing beaten egg whites to deflate.
Why are my meringue cookies hollow? Over-beating the egg whites can create very large air bubbles and sometimes, that can lead to very hollow cookies.
Why are my cookies brown? They were baked at a very high temperature or they were over-baked.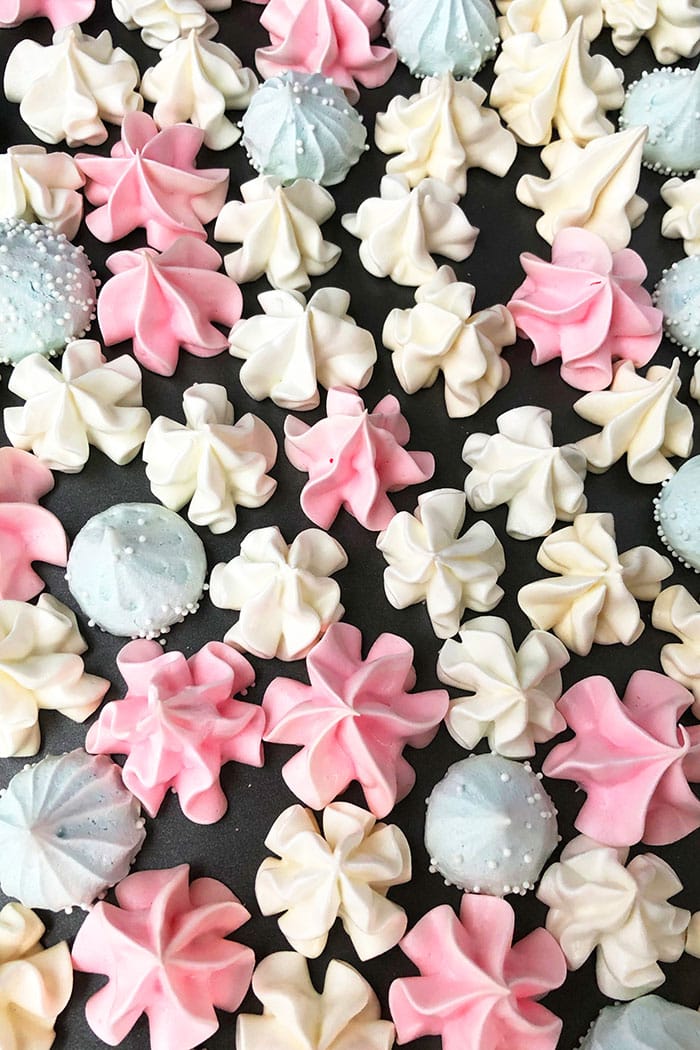 Tips and Techniques
Whipping egg whites is crucial- They must have firm peaks. Don't over-whip and also, don't under-whip! Once you get stiff firm peaks, stop mixing!
Note the long baking time at low temperature– Unlike typical cookies, too much heat will damage these cookies.
All bowls and attachments must be clean– Wash them with soap and water and make sure they are squeaky clean. They need to be absolutely free of greasy, oily residue and moisture, which can all drastically affect the cookie texture.
Use only egg whites. Any trace of egg yolks will alter the consistency and texture of of these cookies
Use a stand mixer or electric hand-held mixer– Because mixing by hand can be very exhausting and you may not end up with the best results.
Use clear vanilla extract- If you want pure white cookies, use clear extract to prevent discoloration.
Line cookie tray with parchment paper– This is very important because if you don't line the tray, cookies will stick to the pan and it would be impossible to remove them properly without breaking.
More Easy Cookie Recipes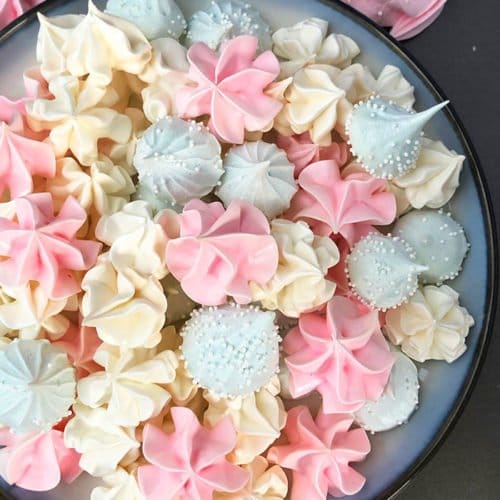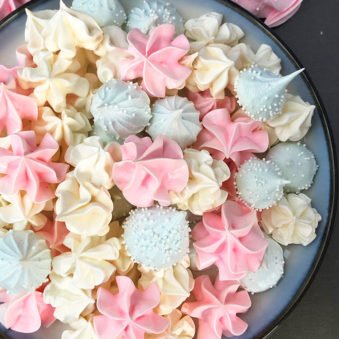 Easy Meringue Cookies
Easy meringue cookies recipe, homemade with simple ingredients. A classic Christmas cookie that's delicate, light, airy and packed with vanilla flavor.
Yield: Cookies
Ingredients
4 Egg whites, From large eggs, Room temperature
1/2 tsp Cream of tartar
1 cup Granulated sugar
2 tsp Vanilla extract, Use clear extract for pure white meringues
Instructions
In a large mixing bowl, beat the egg whites and cream of tartar together (using a whisk attachment) until frothy.

Gradually, add sugar (1 tbsp at a time), while constantly mixing.

Continue beating the mixture until sugar is dissolved and stiff peaks form. This can take up to 5 minutes.

Optional: Color the mixture with gel coloring, if you like.

Pipe meringues on cookie trays, lined with parchment paper. They can be piped close together because they don't expand or spread during baking.

Bake all the trays at the same time at 225 degrees F for 45 minutes. Then, turn off heat but DO NOT open the oven door. Let them cool in the oven for 1.5 hours.

Finally, remove trays from the oven and gently remove the cookies from parchment paper and enjoy!
Notes
Read all my tips above.
Leftovers can be stored in an airtight container at room temperature for up to 1 week. Be sure to keep it away from moisture. 
Nutrition
Calories: 21kcal, Carbohydrates: 5g, Sodium: 5mg, Potassium: 11mg, Sugar: 5g
Until next time, tata my lovelies.