Easy Peanut Butter Blossoms Recipe
Quick and easy peanut butter blossoms recipe, requiring simple ingredients. These classic peanut butter thumbprint cookies with chocolate are soft & chewy.
*Thank you Vital Proteins for sponsoring today's post so that I can share the recipe for these peanut butter blossoms cookies with all of you. As always, all opinions are mine.*
These EASY peanut butter blossoms from scratch might probably the most classic cookie recipe out there.
I am sure most of you have either baked them yourselves or bought them from bakeries.
They are especially popular during Christmas time and the Holiday season since they are perfect for cookie exchanges and mailing to family and friends too.
I seem to have a weakness for thumbprint cookies, in general.
One of my all- time favorites are these chocolate thumbprint cookies and these peanut butter and jelly thumbprint cookies remind me of my childhood…hehe.
Anyways, this recipe for peanut butter blossoms has:
No butter
No shortening
No margarine
No lard
Instead of those ingredients, I use coconut oil and I promise you can't even taste the coconut and it makes the cookies a wonderful soft texture.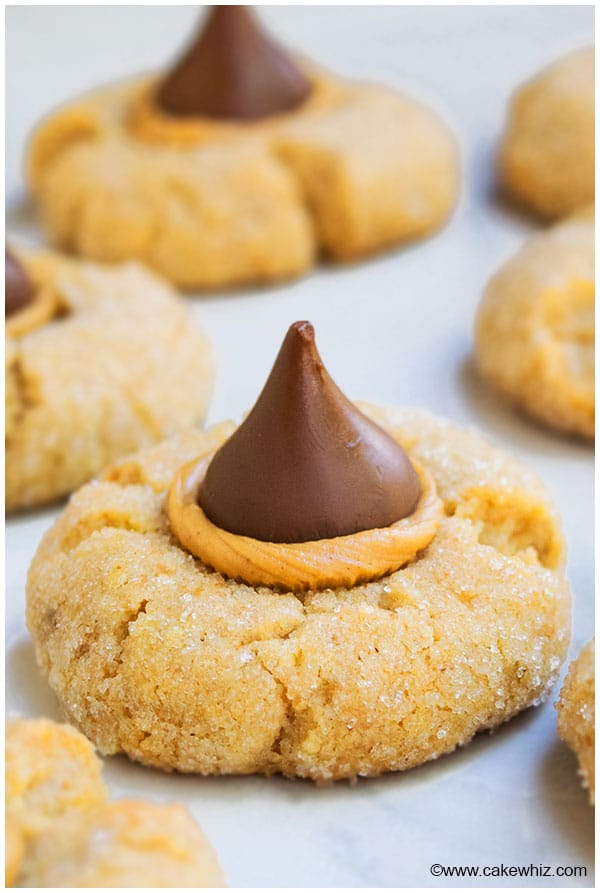 By the way, have you heard of those 3 ingredient peanut butter blossoms without flour?
For some reason, they are very POPULAR but I have made them twice and both times, they fell way BELOW my expectations.
That's why I always return back to my family's NO FAIL peanut butter blossom recipe.
They are ready in just 20 MINUTES and taste amazing, packed with peanut butter flavor and complimented by the chocolate flavor from the Kisses.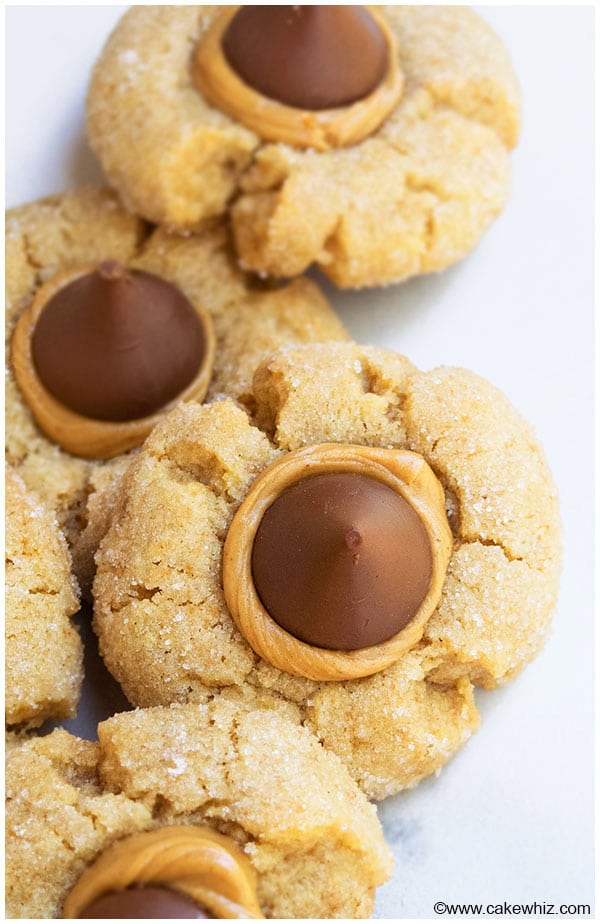 This time, I added a packet of Vital Proteins collagen peptides in this recipe.
It's a superb way to add a boost of nutrition to your food without affecting the flavor, color or texture.
No one, including kids, could tell these cookies had them. How AWESOME is that?!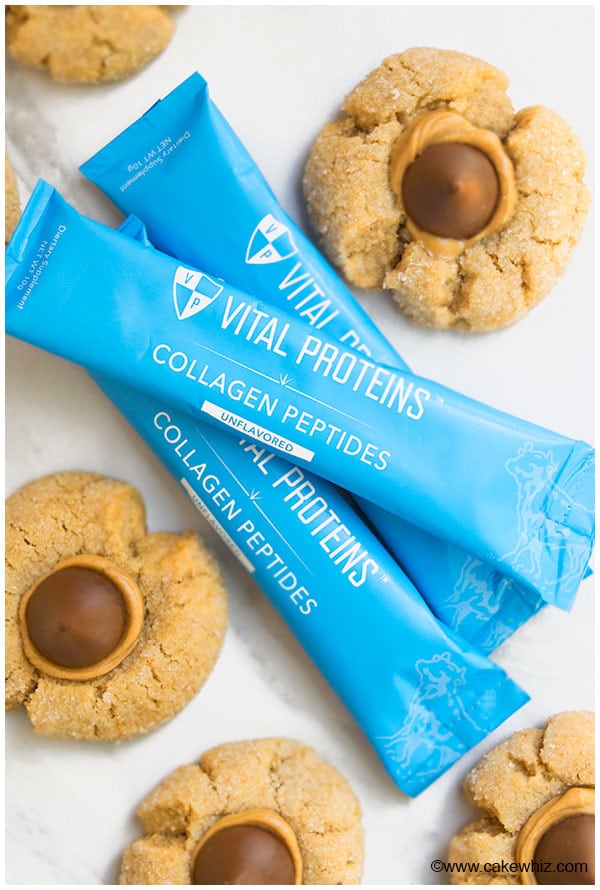 Here are some TIPS for classic peanut butter blossoms cookie recipe:
You must use BOTH granulated sugar and brown sugar. Don't replace one with the other because the texture of these cookies will change.
Use creamy peanut butter without any crushed peanuts since that yields the best results.
Coconut oil can be REPLACED with unsalted butter without affecting the recipe but coconut oil is a healthier alternative obviously.
If the dough is too dry and crumbly, add a little more milk so that it becomes easier to form balls.
To make peanut butter blossoms with Reese's cups OR peanut butter blossoms with Rolo's, just replace Hershey's kisses with mini Reese's cups or Rolo candies. Don't use the big ones.
To make Christmas peanut butter blossoms, fill the center with festive candies and obviously.
To make peanut butter chocolate chip thumbprint cookies, stir in 1/2 cup mini chocolate chips in the dough.
Recipe can be easily DOUBLED to feed a bigger crowd.
I use both all-purpose flour and whole wheat flour to give these cookies the best chewy texture.  DO NOT use only whole wheat flour.
The thumbprint in the cookies will fill in during baking. To fix that, press the back of a wooden spoon in the center again after baking before cookies have a chance to cool down.

How to make peanut butter blossoms without shortening?
My recipe below uses no shortening. Start off by mixing together coconut oil, peanut butter, milk, vanilla extract, granulated sugar, brown sugar. Then, add whole wheat and all purpose flour, egg
How to store peanut butter blossoms? How long do peanut butter blossoms last?
Store them in a sealed container or cookie jar at room temperature for up to 3 days.
How to keep peanut butter blossoms soft?
Make sure to store them in a sealed cookie jar to prevent them from drying out.
How to freeze peanut butter blossoms?
After making cookie dough balls and coating them in sugar, place them on a cookie tray and freeze the tray until the balls become hard. Then, transfer these unbaked cookie dough balls into a sealed ziploc bag or freezer bag, making sure to get rid of all the air, to prevent freezer burns. Place this bag in the freezer for up to 1 month. When you are ready to bake, remove as many of these balls as you like. Place them on a cookie tray and bake for 2-3 minutes longer than the time, stated in your recipe. There is no need to thaw them first. Enjoy.
How to pack, ship, package peanut butter blossoms?
Pack them tightly in a plastic container with a sealed lid. Place container in a mailing box, surrounded with bubble wrapping so that it's secure and doesn't move around too much. Then, mail it off.
How to keep peanut butter blossoms from flattening?
Make sure to chill the cookie dough balls before baking to prevent them from flattening.
Why are my peanut butter blossoms flat?
There is too much oil or butter in your recipe.
Why are my peanut butter blossoms falling apart? Why are my peanut butter blossoms dry? crumbly?
There is not enough moisture in the cookies. Your recipe needs more milk/water or butter/oil.
If you liked these simple peanut butter blossoms, you should check out some more of these peanut butter recipes:
Homemade Granola Bars Recipe (Peanut Butter Granola Bars)
Peanut Butter Cookie Dough Bars (Eggless)
Chocolate Peanut Butter No Bake Energy Balls
Small Batch Peanut Butter Chocolate Chip Cookies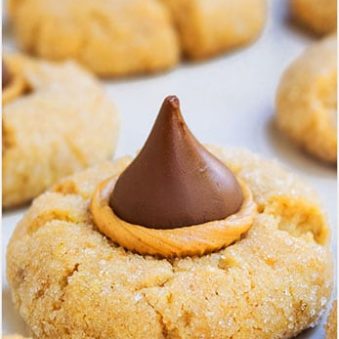 Easy Peanut Butter Blossoms Recipe
Quick and easy peanut butter blossoms recipe, requiring simple ingredients. These classic peanut butter thumbprint cookies with chocolate are soft & chewy.

Yield: Cookies
Ingredients
1/2 cup Coconut oil
3/4 cup Peanut butter, Creamy
1 tsp Vanilla extract
2 tbsp Milk, Whole
1/3 cup Brown sugar
1/3 cup Granulated Sugar
1 1/2 cup All-purpose flour
1/4 cup Whole wheat flour
1/4 tsp Baking powder
1/2 tsp Baking soda
1/4 tsp Salt
1 Egg, Large
1 packet Vital Proteins Collagen Peptides, Optional
1/2 cup Sugar, For rolling cookie dough balls
1/2 cup Peanut butter, For filling cookies
32 Hershey's Kisses, For filling cookies
1/3 cup Melted chocolate, For drizzling, Optional
Instructions
In a mixing bowl, add coconut oil, peanut butter, vanilla extract, milk, brown sugar, granulated sugar and mix everything together until smooth.

Add all-purpose flour, whole wheat flour, baking powder, baking soda, salt, egg, collagen peptides and mix everything until mixture becomes crumbly.

Scoop out small portions of the dough and form balls.

Roll the balls in a bowl of granulated sugar.

Place them on a cookie tray, lined with parchment paper. Gently press your index finger in the center of each cookie to make a dent.

Chill tray for 10 minutes to prevent spreading.

Bake at 350 degrees for about 10 minutes or until the edges are firm and golden brown.

If the centers of the cookies have filled in during baking, use the back of a wooden spoon to deepen the holes again. Do this quickly before the cookies have a chance to cool down.

Once the cookies cool down, fill the centers with peanut butter and a Hershey's kisses. Drizzle with melted chocolate (optional) and Enjoy!
Notes
Read all my tips above.
The dough will be crumbly but if it's hard to handle and form into balls, add a little more milk.
Heat peanut butter in the microwave to make it easier to fill cookies.  
Leftovers can be stored in a cookie jar at room temperature for up to 3 days. 
Nutrition
Calories: 176kcal, Carbohydrates: 18g, Protein: 3g, Fat: 10g, Saturated Fat: 5g, Cholesterol: 6mg, Sodium: 91mg, Potassium: 90mg, Fiber: 1g, Sugar: 11g, Vitamin A: 5IU, Calcium: 20mg, Iron: 0.6mg
Until next time, tata my lovelies!