Oatmeal Lace Cookies {Crispy & Buttery}
Classic, old fashioned, quick and easy oatmeal lace cookies recipe, homemade with simple ingredients. Thin, crispy, delicate, buttery cookies with little bubbles and filled with melted chocolate. Also known as Christmas lace cookie recipe
These delicious cookies are a sight to behold, just like my White Chocolate Cranberry Cookies and Jam Thumbprint Cookies. They always stand out on cookie trays and are very popular with our family and friends during Christmas holidays and Thanksgiving.
What are lace cookies?
They are very thin cookies that are made of butter, sugar, oats and almond flour. Their name comes from their fragile and see-through appearance, similar to fancy laces.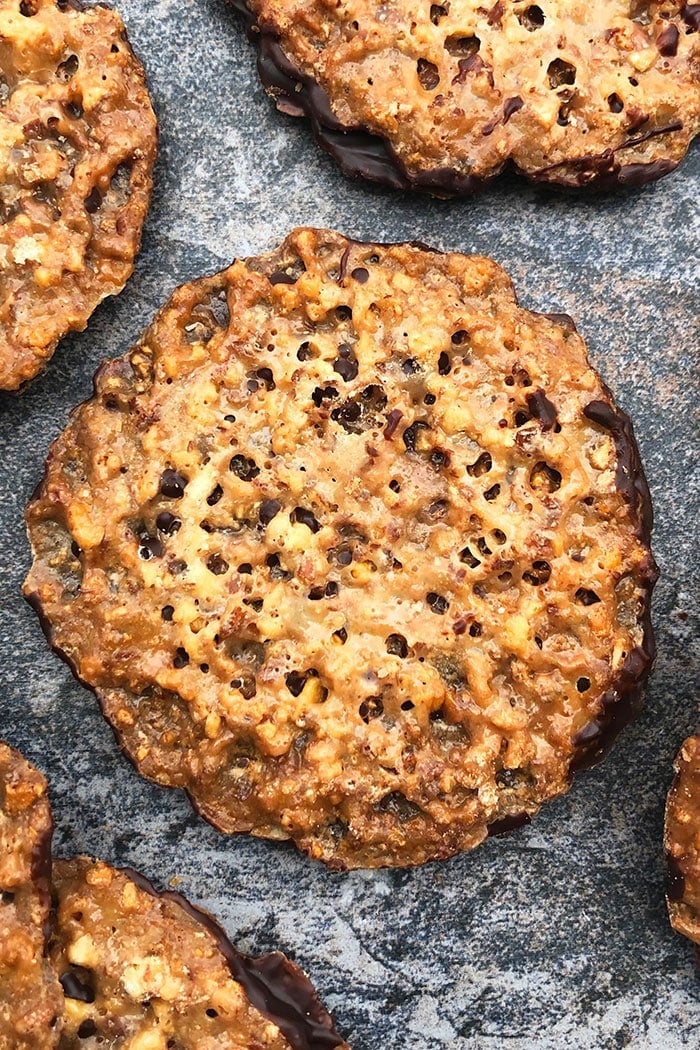 How to make lace cookies recipe?
Melt butter– Heat butter in a saucepan until fully melted.
Add sugar, flour and corn syrup– Whisk until sugar has dissolved.
Add vanilla extract– Turn off the heat and add flavor.
Cool mixture– Do this for at least 10 minutes.
Bake– Add spoonfuls of mixture on cookie tray, lined with parchment paper. Bake at 350 degrees F for 6-8 minutes.
Let them cool– Remove trays from oven and let them cool completely. Then, gently remove them from parchment paper.
Add chocolate– Drizzle melted chocolate on top of the cookies or spread them on the bottom of one cookie and stick another on top to make a cookie sandwich.
Enjoy– Let the chocolate set for about 5 minutes and then, dig in!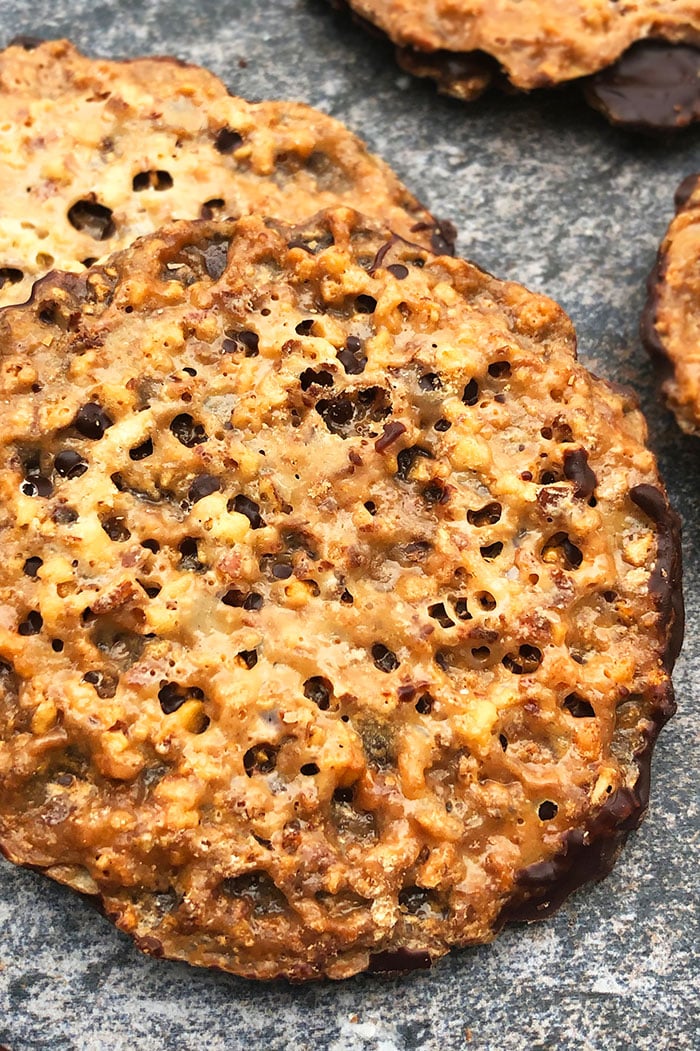 Variations
Chocolate lace cookies– Add mini chocolate chips in the batter.
Almond lace cookies– Chop up some whole almonds and mix that into the batter for a nutty crunch.
Add other nuts– Such as pecans, hazelnuts and walnuts or a mix of all.
Florentine lace cookies– This particular version contains dried fruit and nuts. More specifically, they tend to contain hazelnuts, almonds and candied cherries.
Add other flavors– By using different extracts such as almond, maple, coconut e.t.c. or even using some citrus zests.
Add chocolate drizzle- Instead of sandwiching cookies with melted chocolate, you can dip each cookie halfway in chocolate or simply drizzle chocolate on top of them.
Use white chocolate– I used semisweet chocolate but you can use white chocolate too.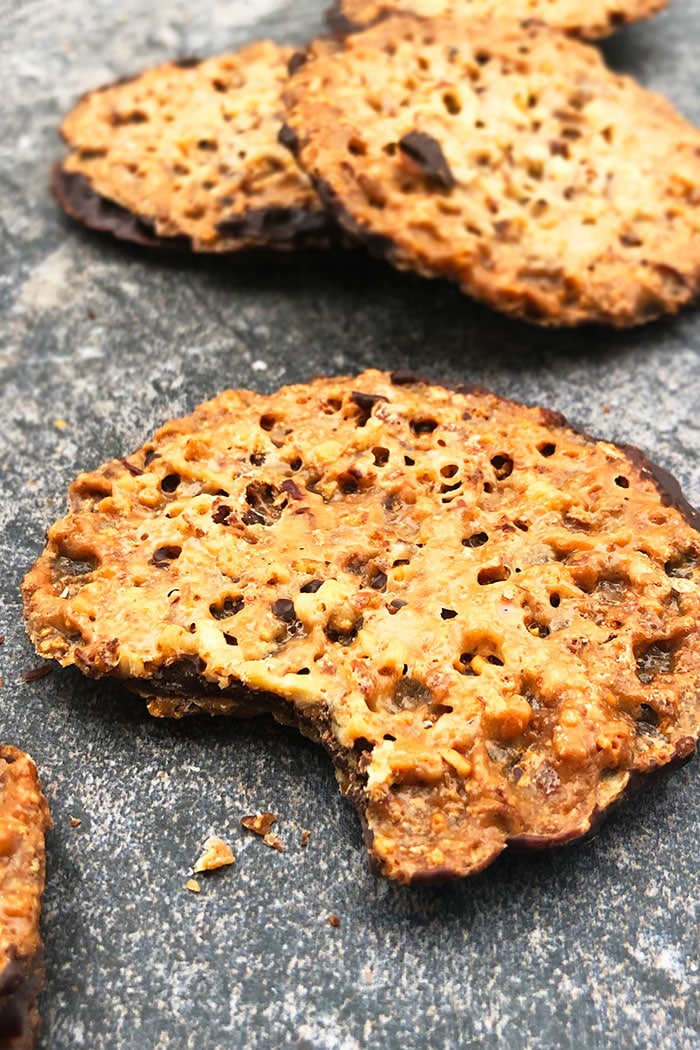 Tips and Techniques
How to know cookies are done baking? Their edges will be firm and they will also be covered in lots of tiny bubbles.
How to store these cookies? They can be stored on top of each other, layered with parchment paper in an airtight container and last for 1 week in the fridge.
Can you freeze these cookies? Yes, they can be frozen in a sealed airtight container for up to 1 month. Let them thaw overnight in the fridge.
Use nonstick saucepan- Because this prevents the batter from burning and sticking.
You must cool the batter– Because the mixture thickens, as it cools.
Mixture will be thin- It's similar to a cake batter rather than a typical cookie dough. Don't be alarmed and don't thin out the batter with extra milk or water.
These cookies spread a lot during baking– Therefore, make sure the cookies are spaced out well to allow them to spread while baking without overlapping.
Use dark or semisweet chocolate for filling or drizzling– Since the cookies are already so sweet, that you need the bitterness to balance it out.
Don't use all-purpose flour– Because it doesn't allow the cookies to spread thin like they should. The only two options are almond flour or oat flour. I use a combination of both.
Homemade oat flour– Pulse old-fashioned oats in a food processor until smooth. For this recipe, I prefer it to be roughly pulsed because it adds a wonderful texture.
No margarine, shortening or coconut oil can be used– Because these will altar the texture of the cookie and make them very soft.
Don't replace brown sugar with granulated sugar– Because this will not give the cookies that wonderful dark golden brown color and also the lovely toffee-like flavor.
Parchment paper or silicon mat? Either can be used. You cannot bake these cookies directly on the pan because they will stick to the pan and it will not be possible to remove them.
Use unsalted butter– Otherwise, these cookies would become very salty.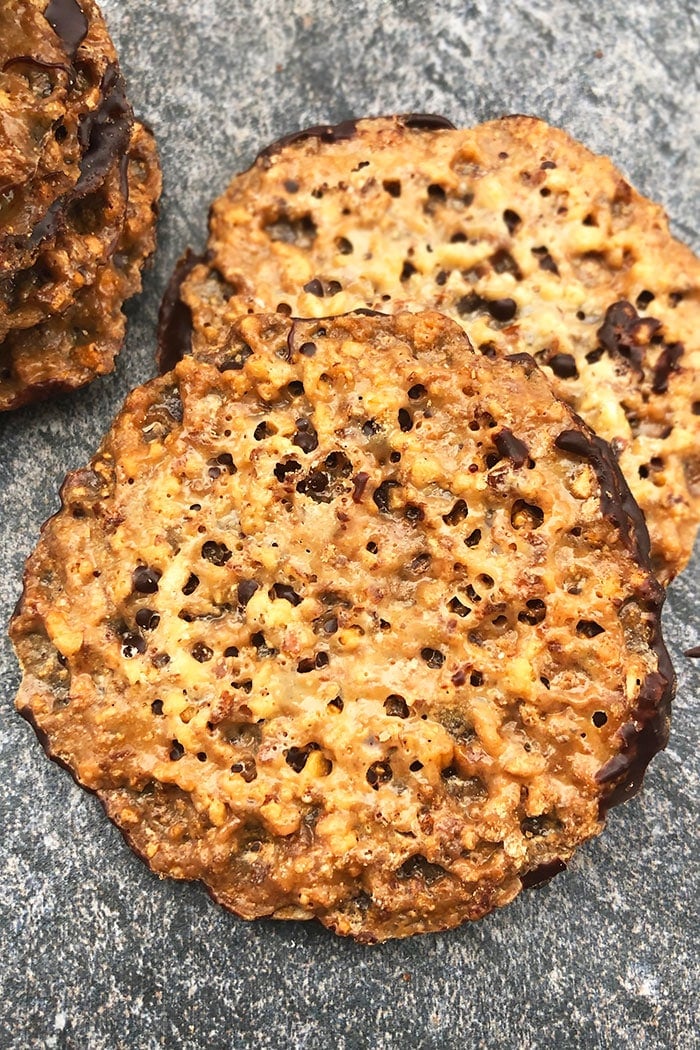 More Classic Cookie Recipes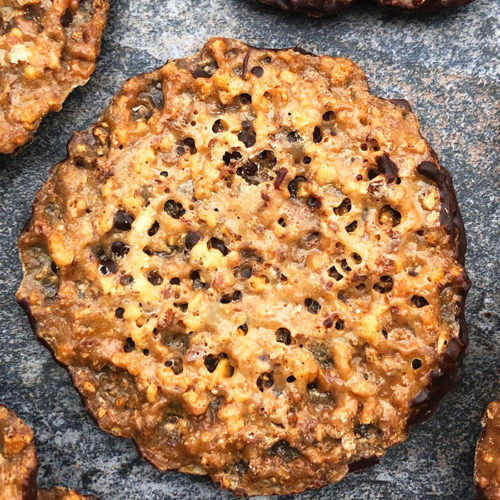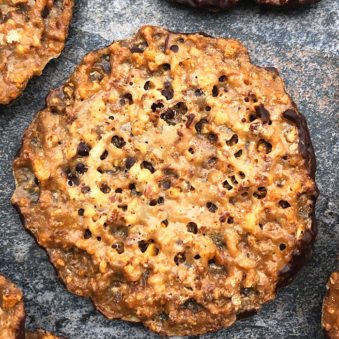 Easy Oatmeal Lace Cookies
Quick and easy oatmeal lace cookies recipe, homemade with simple ingredients. Thin, crispy, delicate, buttery cookies, filled with melted chocolate.
Yield: Cookies
Ingredients
1/2 cup Butter, Unsalted
2/3 cup Brown sugar
1/2 cup Almond flour
1/4 cup Oat flour, I like to roughly pulse old fashioned oats it in a food processor OR use store-bought oat flour
1 tbsp Milk, Whole or 2%
1 tbsp Corn syrup
1 tsp Vanilla extract
1 cup Semisweet chocolate, Melted, For filling
Instructions
Add brown sugar, almond flour, oat flour, milk, corn syrup and whisk it all together for 2-3 minutes until sugar has dissolved and mixture is combined. 

Let the mixture sit for at least 10 minutes. This allows it to thicken slightly, as it cools. 

Drop mixture by 1 tsp full on multiple cookie trays, lined with parchment paper. Make sure there is at least 2-3 inch space between each cookie drop because they will spread a lot during baking. 

Bake at 350 degrees F for 6-8 minutes or until edges are firm and cookies are golden brown and there are lots of tiny bubbles.

Remove trays from oven and let the cookies cool completely and become crisp. Then, gently remove them from the parchment paper.

Drizzle melted chocolate over the cookies OR spread melted chocolate at the bottom of one cookie and and stick another cookie on top of the chocolate like a sandwich.

Let the chocolate set for about 5 minutes and enjoy!
Notes
Read all my tips above.
Leftovers can be stored in a cookie jar at room temperature for 3 days or in a sealed container in the fridge for up to 1 week. 
Nutrition
Calories: 94kcal, Carbohydrates: 8g, Fat: 6g, Saturated Fat: 3g, Cholesterol: 8mg, Sodium: 29mg, Potassium: 43mg, Sugar: 7g, Vitamin A: 95IU, Calcium: 14mg, Iron: 0.5mg
Until next time, tata my lovelies!