15+ Pink Treats for Valentine's Day
This roundup of pink treats for Valentine's day has everything your heart desires… beautiful cakes, cupcakes, cookies and so much more!
These pretty pink treats for Valentin's day are sure to make your life easy next month, when you are coming up with ideas for romantic desserts.
For many people, Valentine's Day is as IMPORTANT as birthdays and anniversaries but for me, not so much.
However, I LOVEEE how everything around us gets a PINK makeover!
From clothes to decor and especially, desserts… everything goes pink and I find that so cute!
To celebrate my love for pink desserts on Valentine's day, I have gathered 15 of the most prettiest PINK treats you have ever seen!
Whether you are looking for pink cakes or cupcakes or cookies to serve on V-day… you will find it in this roundup! Trust me 😉
Well, let's get started…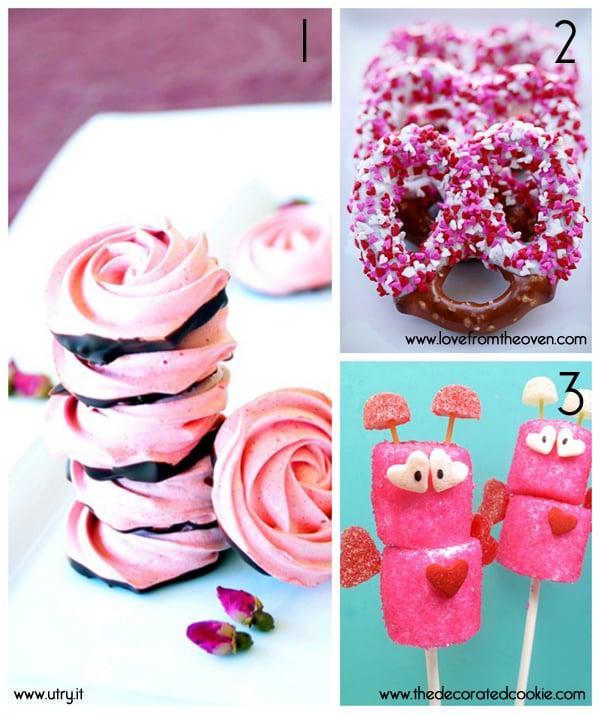 1. Chocolate dipped strawberry meringue roses from utry.it
If these drop-dead-gorgeous meringue roses don't say: "I love you"… I don't know what will 😉 
2. Chocolate covered pretzels from Love from the Oven
These pretzels are super easy to make and even kids can make them in no time!
3. Marshmallow love bugs from The Decorated Cookie
These are the CUTEST love bugs I have ever seen! So cute that I don't even think I can eat them…heheh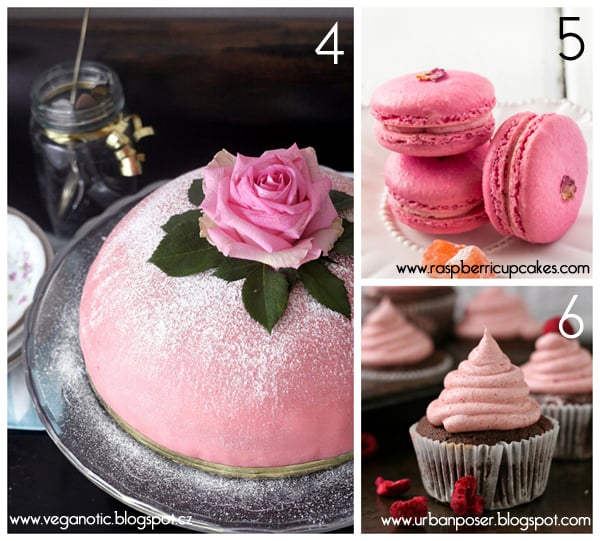 4. Swedish princess cake from Cruelty Free Hedgehogs
I am a big fan of dome shaped cakes and this cake took my breath away… simply stunning and sounds delicious too!
5. Strawberry rose macarons from Raspberri cupcakes
These are the prettiest macarons I have ever seen and the flavor combination sounds fantastic! 
6. Double chocolate cupcakes with strawberry cream from The Urban Poser
You gotta have chocolate cupcakes on V-Day! It's such a classic and once you top them off with strawberry cream, you would be in heaven 😉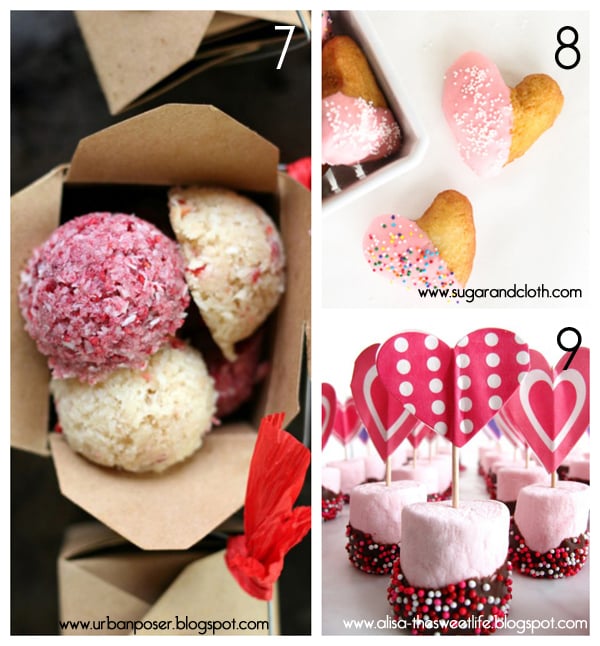 7. Vanilla-strawberry and raspberry coconut macaroons from The Urban Poser
Now, if only my macaroons could look this lovely. This recipe is packed with flavor and sure to knock your socks off! 😀
8. Heart shaped donuts from Sugar and Cloth
Anything heart shaped is perfect for Valentine's day such as these donuts but once you dip them in a pink glaze and cover them in sprinkles, you have got yourself something truly special 😉 
9. Easy marshmallow Valentine treats from The Sweet Life
I am always on the lookout for easy treats to make with my little one and I bet he's gonna have a blast making these cuties!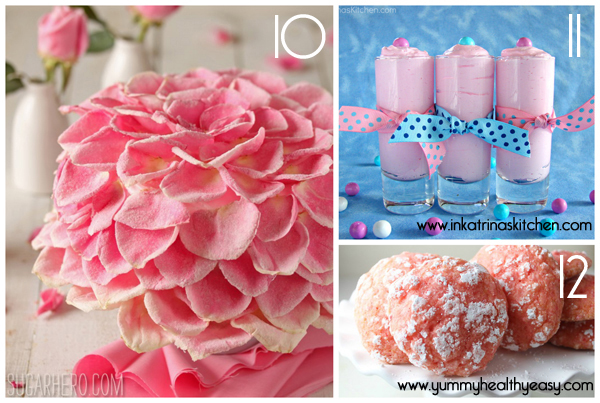 10. Raspberry rose cake from Sugarhero
Believe it or not but there is a cake underneath all those rose petals! Yes…A cake! Gorgeous! 
11. Cotton candy mousse from In Katrina's Kitchen
The only phrase that comes to mind is: "Get in my tummy asap!" hahaha. This would be something a little unique to serve on V-day 🙂
12. Strawberry cool whip cookies from Yummy Healthy Easy
These cookies have it all… they are pink, they have a cool crinkly top with an awesome texture and they are very easy to make 😉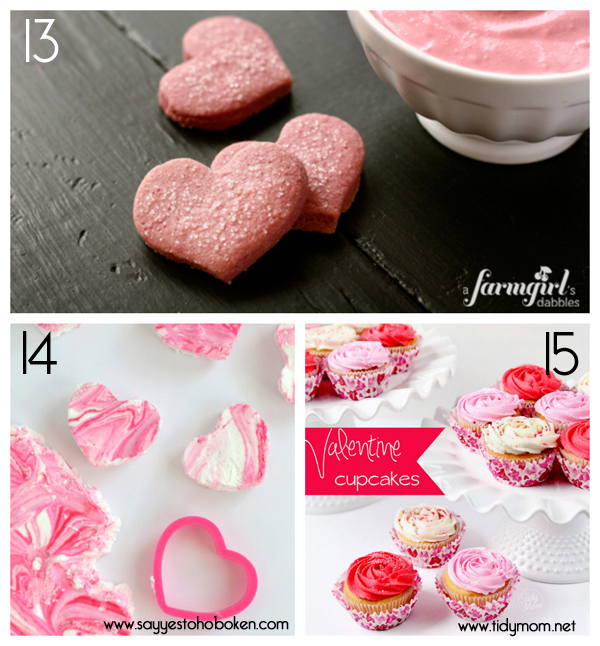 13. Raspberry shortbread hearts and raspberry cream cheese marshmallow dip from A Farmgirl's Dabbles
That's quite a mouthful but totally worth it. Imagine dunking pink raspberry shortbreads in a pink marshmallow dip… Drooool!
14. Heart shaped peppermint marshmallows from Say yes to Hoboken
Such a cute idea and wayyy better than store-bought marshmallows!
15. Valentine rose cupcakes from The Tidy Mom
Everything about these cupcakes screams perfection and in case you can't see it, there are roses piped on top of those cupcakes! So pretty 🙂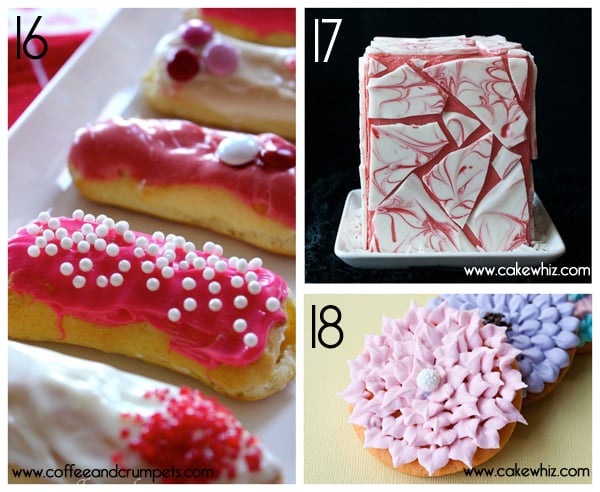 16. Eclairs with white chocolate cream from Coffee and Crumpets
Eating Eclairs is compulsory on V-day! And those that are as pink and sprinkly as these would be gone in no time…lol 😉 
17. Chocolate bark cake from meeee 😉
Imagine biting into a delicious chocolate cake, covered in rose water frosting and pieces of rose syrup chocolate bark. Swoooon!
18. Daisy cookies from meeee 😉
For the ladies out there who are allergic to flowers, I am sure they would appreciate these pink daisy cookies 🙂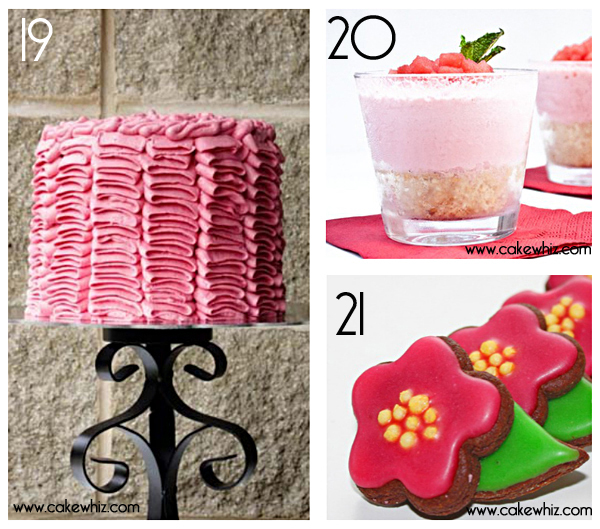 19. Ruffle cake from meeee 😉
Much easier to make than it looks and it's sure to impress your Valentine 😉
20. Mini watermelon ice cream pies from meeee 😉
I know it's too cold to be eating ice cream but anything goes on V-day …right?! These individual, no-fuss, easy peezy watermelon ice cream pies will be ready in a few minutes without turning on your oven 😀
21. Flower and leaf cookies from meeee 😉
I made these during Spring a few years ago but they are pink and I think they would be great for V-Day too 😛
Now, wasn't that a "pinka-licious" roundup?! 
I hope you guys enjoyed checking out those treats and meeting new bloggers.
Obviously, a BIG THANKS goes out to all the lovely ladies who made today's roundup possible. You guys are AWESOME!
Here's a handy collage of ALL the pretty pink treats for Valentine's day…
Feel free to SHARE it with others and INSPIRE them this Valentine's Day!

Well, that's all for today.
Until next time, tata my lovelies 🙂