Raspberry Mousse
This smooth and creamy fresh raspberry mousse just melts in your mouth. Easy to make and perfect for Valentine's Day or Summer parties!
*Thank you Vital Proteins for sponsoring this post so that I can make this easy raspberry mousse. As always, all opinions are mine.*
Remember these super fudgy eggless brownies I made a couple of months ago?!
Well, they have become somewhat of my FAVORITE brownie ever and I am always making them when those chocolate cravings hit me…lol.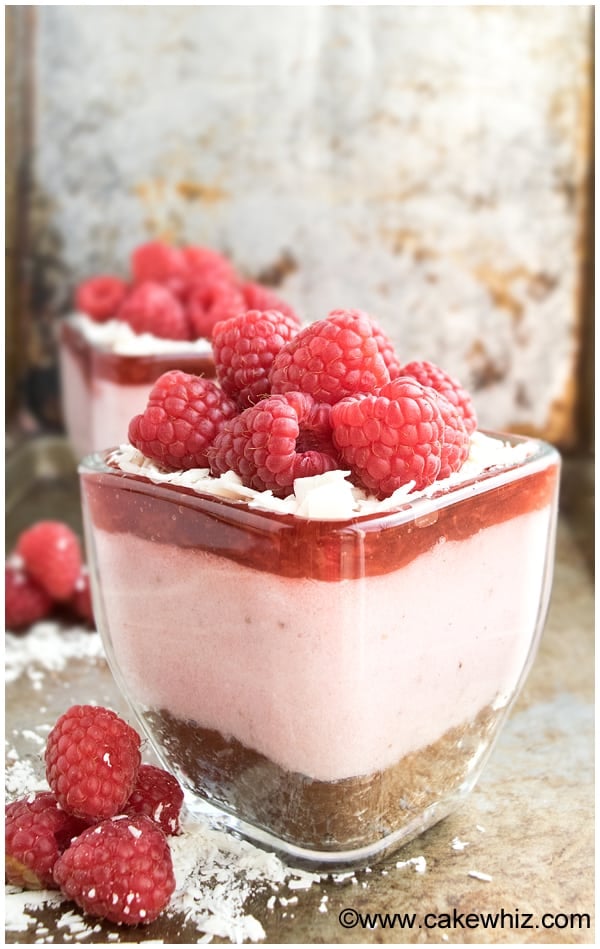 But this time, I did something different… I made a brownie bottom raspberry mousse.
It's a GORGEOUS layered dessert with brownies at the bottom, which is then topped off with raspberry mousse and raspberry jam/preserve and finally decorated with some fresh raspberries and shredded white chocolate!
Makes your mouth water… doesn't it?!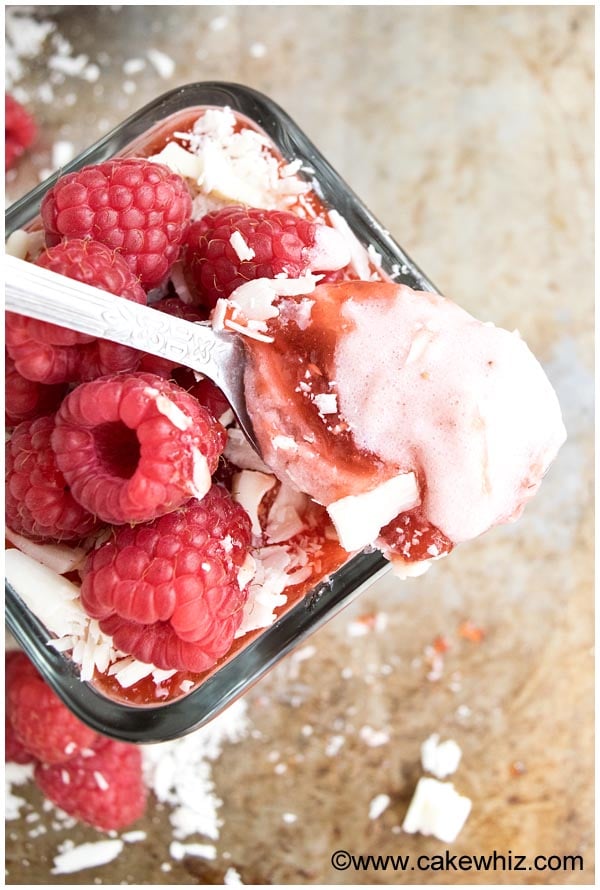 This mousse is sooooooo smooth and creamy that it just MELTS in your mouth.
And it's so BERRY-LICIOUS that it would be the perfect treat for Summer time!
Plus, that gorgeous pink color makes it PERFECT for Valentine's Day or even Mother's Day…Don't ya think?
Surprisingly, the first time I ever tried raspberry mousse was only last Summer at a dinner party.
I can't believe I waited that long to try it.
I instantly fell in LOVE with the flavor and texture.
After trying a few recipes, I settled on my cousin's recipe… it was the BEST one of all!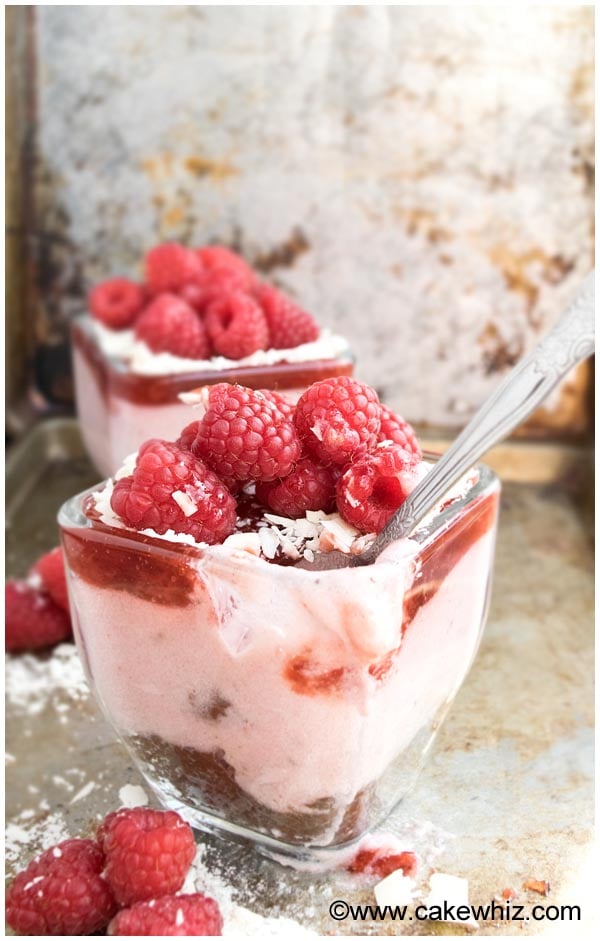 You can also use strawberries instead of raspberries to make strawberry mousse.
Just follow the same directions.
Also, you can use small cake pieces at the bottom of the mousse instead of brownies or fresh fruit medley or whatever else you fancy.
That's the beauty of this dessert… it's so VERSATILE that you can play around with it for any occasion!
I used Vital Protein's gelatin to set the mousse.
The great thing about this gelatin is that you can still enjoy your favorite dessert but with the added BENEFIT of collagen proteins that aid in the growth of your nails, bones, skin and even joints!
It's also FLAVORLESS and ODORLESS and doesn't affect the taste of your desserts at all… Woohoo!
You can find more delicious recipes, using gelatin at the Vital Proteins blog.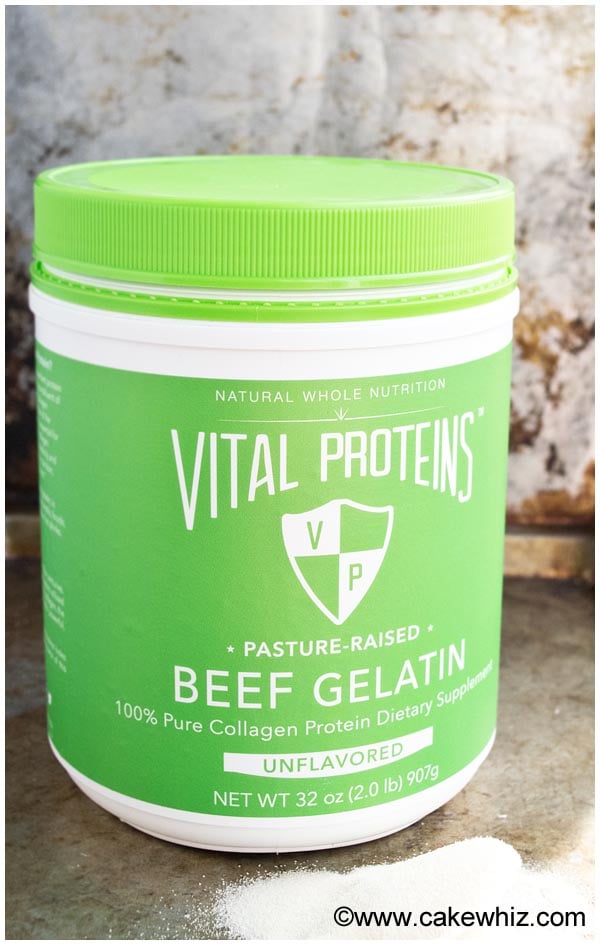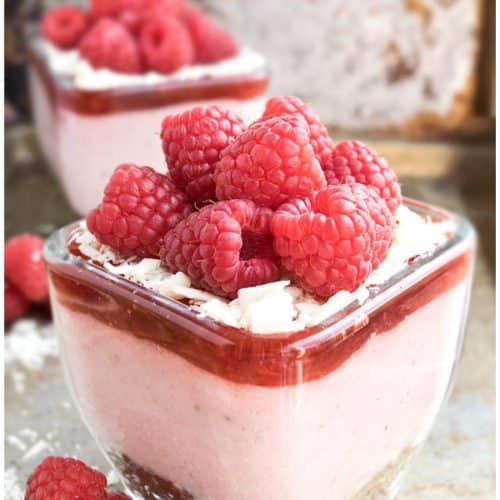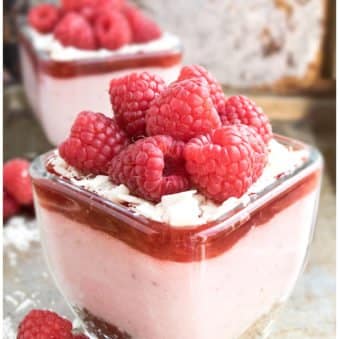 Raspberry Mousse
This smooth and creamy fresh raspberry mousse just melts in your mouth. Easy to make and perfect for Valentine's Day or Summer parties!
Yield: Servings
Ingredients
Raspberry mousse:
2 cups Raspberries, Fresh
½ cup Sugar, Granulated
2 tsp Gelatin
1 cup Heavy cream, Cold full fat
2 tbsp Lemon juice , Or water
Pink food coloring, Or red, Optional
Brownie layer:
Decoration:
½ cup Raspberry jam, or preserves
1 cup Raspberries, fresh
½ cup White chocolate, Shredded
Instructions
Puree the raspberries in a food processor.

Use a mesh strainer to strain the raspberry puree and remove all seeds.

Add this seedless raspberry puree and sugar in a

saucepan

and cook on medium heat until you have a thick "syrup-like" consistency.

While the puree is cooking, add gelatin and water (or lemon juice) in a small bowl and let it sit for about 2 minutes until you end up with a "gel-like" mixture.

Now, pour the gelatin mixture into the raspberry mixture and mix until thoroughly combined.

Let this mixture cool down to room temperature. You can speed up the process by popping the saucepan in the fridge for 10 minutes but be careful since the gelatin will start to set fairly quickly.

While the raspberry mixture is cooling down, whip heavy cream in a cold mixing bowl until soft peaks form. Add red/pink food coloring, if you like.

Now, gently, fold the whipped cream into the raspberry mixture with a spatula and mix until just combined. DON'T OVER-MIX or else the texture of this mousse will totally change.

Let's put it all together now... Cut out small square brownie pieces and place them at the bottom of your serving cup. Use the back of a spoon to press the brownie pieces down at the base of the cup.

Spoon the raspberry mousse on top of the brownie, leaving about a 1 inch gap at the top.

Cover the serving cup with saran wrap and chill in the refrigerator for 5-6 hours until the mousse sets.

Prior to serving, spread a few teaspoons of raspberry jam or preserve on top of the mousse. Top it off with fresh raspberries and shredded white chocolate. Enjoy!
Nutrition
Calories: 564kcal, Carbohydrates: 76g, Protein: 5g, Fat: 27g, Saturated Fat: 16g, Cholesterol: 84mg, Sodium: 56mg, Potassium: 260mg, Fiber: 6g, Sugar: 59g, Vitamin A: 895IU, Vitamin C: 30.6mg, Calcium: 103mg, Iron: 0.8mg
Well, that's all for today.
Until next time, tata my lovelies!