Easy Flower Cookies
Use this cookie decorating tutorial to make quick and easy flower cookies with marshmallow fondant. Great for weddings, birthdays or use as party favors.
Making pretty cookies is usually a time-consuming process but I have figured out ways to make it easier, as you can see from these Easy Stained Glass Cookies or these Snowflake Cookies or even these Nutter Butter Penguin Cookies.
Cookie decorating does not have to take you forever, especially when you are using fondant. Overall, today's design is very fuss-free and simple yet still manages to look beautiful. Also, you only need a few basic cutters and supplies that you already have on hand. You can serve these decorated flower sugar cookies at fancy tea parties or use them as party favors at weddings or bridal showers.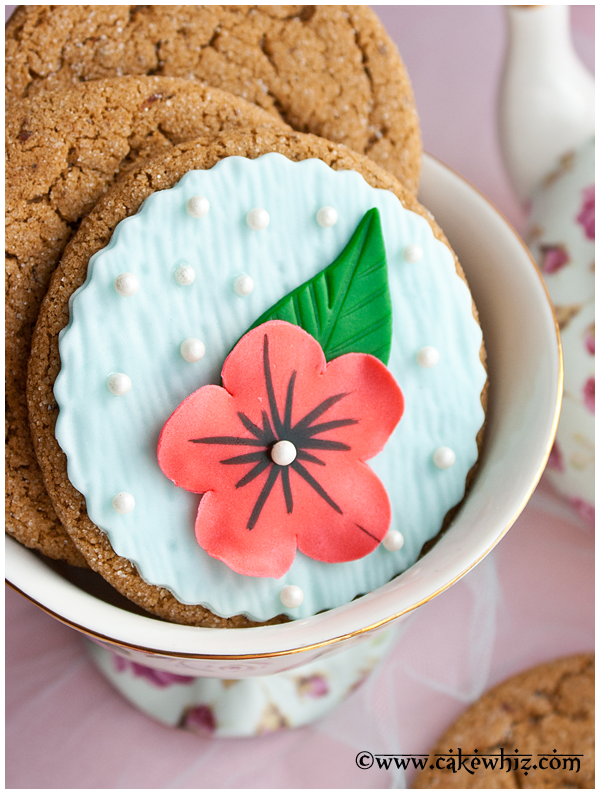 How to Make Flower Cookies?
Bake cookies- And let them cool completely.
Color fondant- With gel colors.
Decorate- With various cutters, edible markers, toothpicks, knife.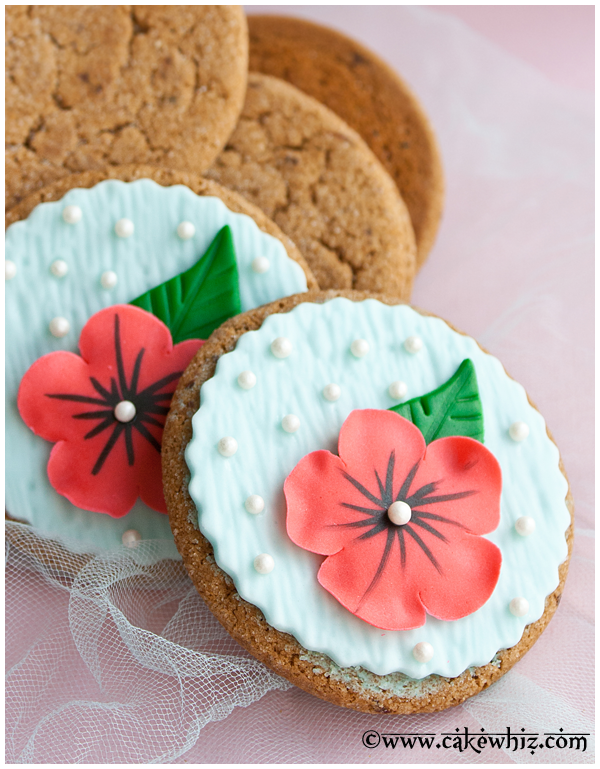 Cut out sugar cookies are the the most popular choice when it comes to cookie decorating. You can also make Molasses Crinkle Cookies but you will have to flatten the cookies into discs and then bake them so as to prevent them from becoming "poofy and rounded." That would make them impossible for me to decorate.
Tips and Techniques
Use store-bought cookies- This would save you some time. Furthermore, consider using box cookie mixes to make your life even easier.
Do piping work- If you are good with piping, you can make the same flower design with Royal icing or Glace icing, using various tips. It will be a more tedious and time-consuming process though.
Try different colors- I used a light blue, pink and green color combination but feel free to get creative and try whatever colors you like. You can also choose colors, based on the theme of your event.
Flavor fondant- Mix in extract of your choice to change the flavor which would compliment the cookie flavor.
Use other cut out cookies- Try these Chocolate Sugar Cookies or these Cranberry Orange Cookies (Shortbread) or the Best Shortbread Cookies (3 Ingredients). Please note the cookies need to have a flat surface for decoration. If the cookie surface is bumpy, the decorations will also be bumpy.
Don't decorate warm cookies- They need to cool down completely or else the decorations will become a sticky mess.
Homemade fondant vs. Store-bought fondant- Either can be used but homemade version tastes and smells so much better. You really need to try it once and I am sure you won't go back!
Use lollipop sticks- If you bake cookies with a lollipop stick in them, you can decorate them as per these instructions and enjoy cookies on a stick.
Watch the quantity of water- Use a small paintbrush use as little amount as you can because too much water can make the fondant very sticky.
Storage
Room temperature– Store in a covered box for up to 1 week away from moisture, direct sunlight and heat. This is the best way to store decorated cookies.
Refrigerate- This is not recommended because the moisture in the fridge makes the fondant decoration sticky.
Freeze– Undecorated cookies can be frozen for up to 1 month in a sealed container and thawed at room temperature. However, decorated cookies cannot be frozen because the fondant decorations become sticky.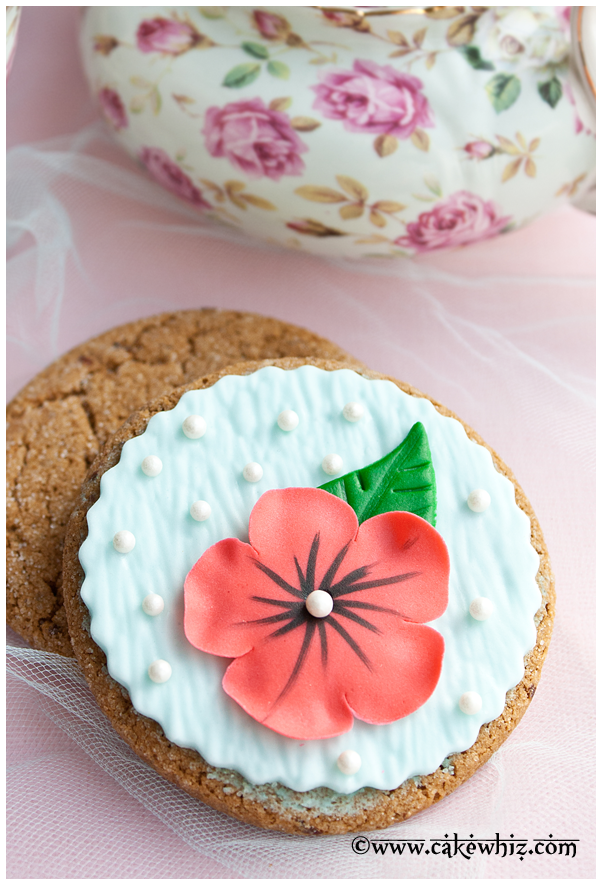 More Decorated Cookies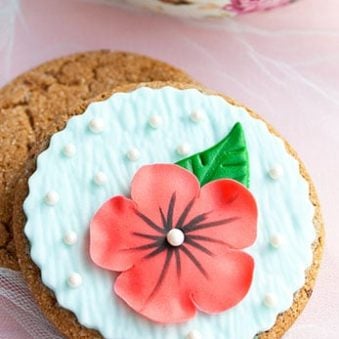 Easy Flower Cookies
Use this cookie decorating tutorial to make quick and easy flower cookies with marshmallow fondant, sugar cookies. Great for weddings, birthdays or use as party favors.
Yield: Cookies
Ingredients
12 large Sugar cookies, Round cut out shapes, Or flattened molasses crinkle cookies
2 cups Marshmallow fondant, Light blue, pink, green colors
2 tbsp Corn syrup
2 tbsp Water
Instructions
Roll out light blue fondant. Place the impression sheet on top of it and press it hard until the pattern transfers onto the blue fondant.

Use a round scalloped cutter to cut out a piece.

Brush corn syrup or frosting on top of your cookie and stick the blue piece here.

Roll out red fondant and use a flower cutter to cut out a piece.

Place it on a foam pad and use the balling tool to thin out the edges of the petals.

Use a black edible marker to draw lines in the center.

Brush some water in the center and stick a white pearl here.

Roll out green fondant and use a leaf cutter to cut out a piece.

Use a knife to add details on this leaf.

Brush corn syrup on top of your fondant-covered cookie and stick the leaf and flower.

Stick some white pearls randomly. Enjoy!
Notes
Read all my tips above.
Leftovers can be stored in a covered box at room temperature for up to 1 week.
Nutrition
Calories: 100kcal, Carbohydrates: 19g, Protein: 1g, Fat: 2g, Saturated Fat: 1g, Cholesterol: 2mg, Sodium: 65mg, Potassium: 10mg, Fiber: 1g, Sugar: 12g, Vitamin A: 9IU, Calcium: 4mg, Iron: 1mg