How to Make Homemade Fruit Popsicles
Learn how to make quick and easy homemade fruit popsicles from scratch with 4 simple ingredients. Packed with fresh juices without artificial colors or preservatives!
*Thank you Jamba Juice for Sponsoring today's post so that I could share this recipe with all of you. As always, all opinions are mine.*
The weather's finally getting warm, making it the perfect time to enjoy frozen desserts like these Homemade Chocolate Fudgesicles or these Coffee Popsicles or even these Chocolate Banana Popsicles.
How to make homemade fruit popsicles from scratch?
Prepare mixture– By blending together, fruits, yogurt, juice and honey.
Pour in molds- And add the lids or popsicle sticks.
Freeze- Overnight is best.
Remove from molds- By running under warm water.
Can you make healthy popsicles without mold?
Yes. Simply use small drinking plastic cups or paper cups or ice cube trays or even a cupcake pan. Stick a popsicle stick or spoon in the center and freeze.
Variations for fresh or real fruit smoothie popsicles
Try different molds- There are so many different shapes and sizes to choose from these days.
Add fruit pieces/ chunks- Such as raspberries, blueberries, blackberries, diced strawberries, pineapples or peaches into the prepared mixture. They should be small in size.
Creamy popsicles- Mix in some coconut milk or Greek yogurt. Pureed fruits, especially bananas also create a very creamy texture.
Add vegetable juices- This is a great way to sneak in veggies for your kids who won't be able to tell at all. Jamba juice drinks are awesome.
Make smoothie popsicles- Just pout leftover smoothie in molds and you have a healthy treat for later. Try this Coffee Smoothie (Mocha Smoothie) or this Blueberry Smoothie or this Green Kiwi Smoothie.
Add acidity– By squeezing in some lemon juice, lime juice, grapefruit juice, pomegranate juice or orange juice.
Try other sweeteners– Such as granulated sugar, brown sugar, honey, molasses, maple syrup, agave syrup.
Omit sweetener altogether- Some fruits already have a lot of natural sweetness like bananas and additional sugar may not be necessary.
Try different flavors of yogurts- Such as vanilla or fruit based ones.
Add extracts- For additional flavor. Vanilla is a popular choice.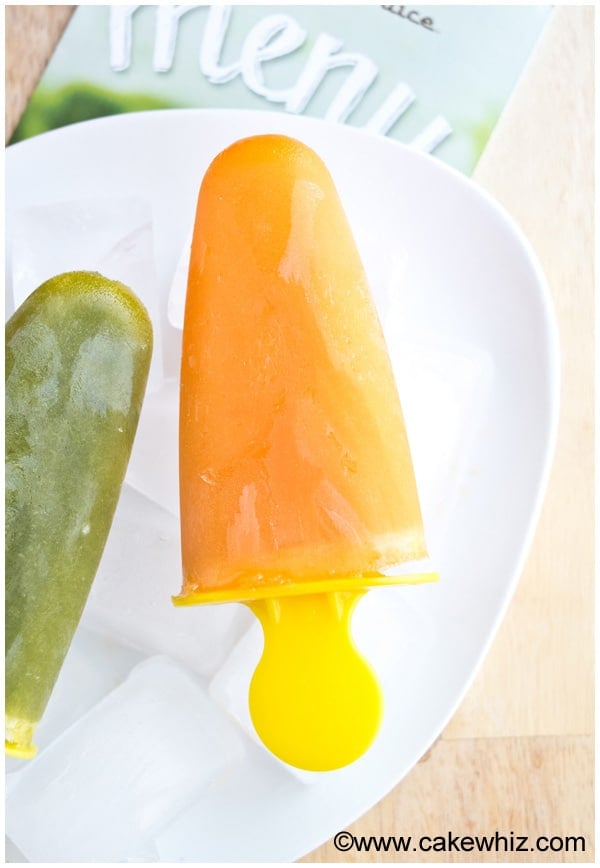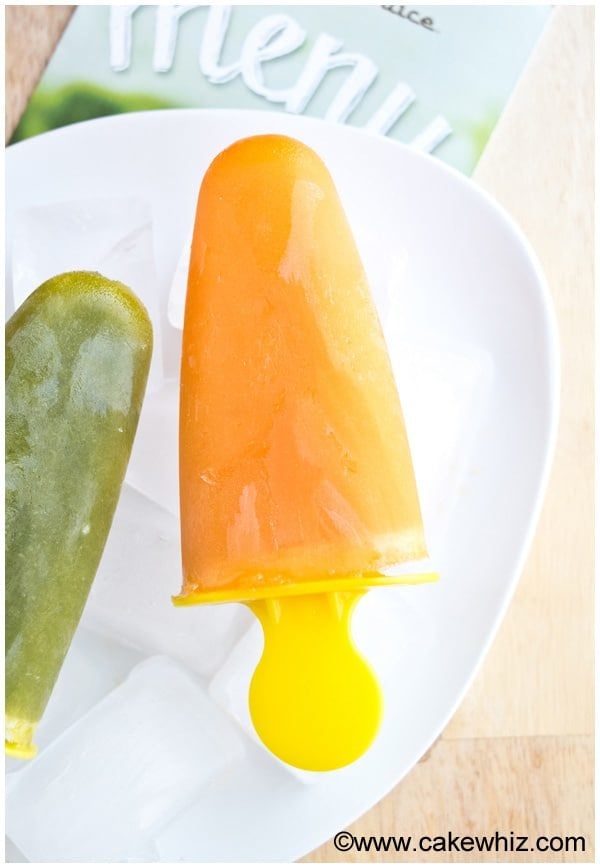 Tips and Techniques for frozen fruit bars
Freezing time may vary- Typically, 4-6 hours are needed but I prefer freezing overnight for a very firm sold form. However, the freezing time greatly depends on the ingredients. Fruit chunks will take longer to freeze than just liquid juices.
Number of servings will vary- This depends on the size of your mold.
Use unsweetened full fat yogurt- Greek yogurt is best because it's so rich, creamy and flavorful.
Use unsweetened juices- To keep these popsicles healthy.
Fresh fruits vs. Frozen fruits- Either can be used. Frozen fruits typically yield a thicker consistency.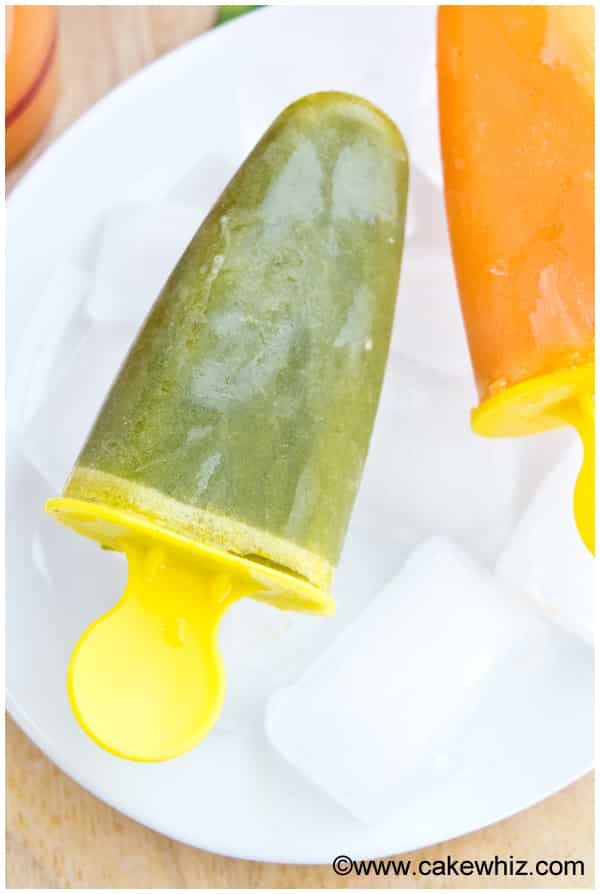 Storage
Freeze– This is the only method of storing these treats. If you keep them in the fridge or room temperature, they will melt.
More Frozen Desserts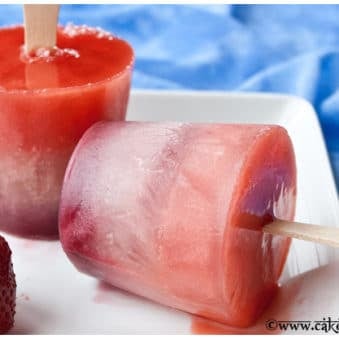 Homemade Fruit Popsicles
Learn how to make quick & easy homemade fruit popsicles from scratch with simple ingredients. Full of fresh juices. No artificial colors or preservatives!
Yield: Popsicles
Ingredients
3/4 cup Yogurt, Full fat
2.5 cups Fruits, Fresh or Frozen, Such as blueberries, raspberries, blackberries, strawberries, pineapples, peaches, watermelon, oranges, bananas, mangoes, kiwis
2-3 tbsp Honey, Or maple syrup
1 cup Juice, Such as apple juice, orange juice, green juice, pineapple juice, lemonade, cranberry juice or even coconut water
Instructions
Add all the ingredients in a blender.

Blend until smooth.

Pour mixture in popsicle molds and add relevant lid or popsicle sticks

Freeze for 4-6 hours or overnight until solid.

To remove popsicles from mold, run the mold under warm water for 10-15 seconds and it will easily come out.

To make layered popsicles, make three different colors/ flavors of mixtures. Pour 1/4 cup of the first mixture in the mold and freeze for 1 hour. Remove mold from freezer and pour second mixture gently on top. Freeze again for 1 hour. Remove mold from freezer and pour third mixture gently on top. Push a popsicle stick into the middle of the cup until it sticks into place. Freeze again until solid. Enjoy!
Notes
Read all my tips above.
Once removed from the molds, they can be stored in the freezer in a sealed bag for up to 1 month. 
Nutrition
Calories: 115kcal, Carbohydrates: 26g, Protein: 2g, Fat: 1g, Saturated Fat: 1g, Cholesterol: 4mg, Sodium: 21mg, Potassium: 181mg, Fiber: 2g, Sugar: 22g, Vitamin A: 329IU, Vitamin C: 3mg, Calcium: 46mg, Iron: 1mg