Champagne Jelly Shots
Quick and easy champagne jello shots recipe, made with a few simple ingredients. Great for serving at New Year's parties with many flavor possibilities.
*Thank you Vital Proteins for sponsoring today's post so that I can share this champagne jello shots recipe with all of you. As always, all opinions are mine.*
2018 will be here in less than a week and should be celebrated with these sparkling jelly shots!
It's an ADULT version of jello…hehe.
It's jiggly and is not overwhelmingly sweet and so pretty.
I got a bottle of cranberry flavored non-alcoholic champagne as a gift and used that in this recipe but you can use whatever champagne you like.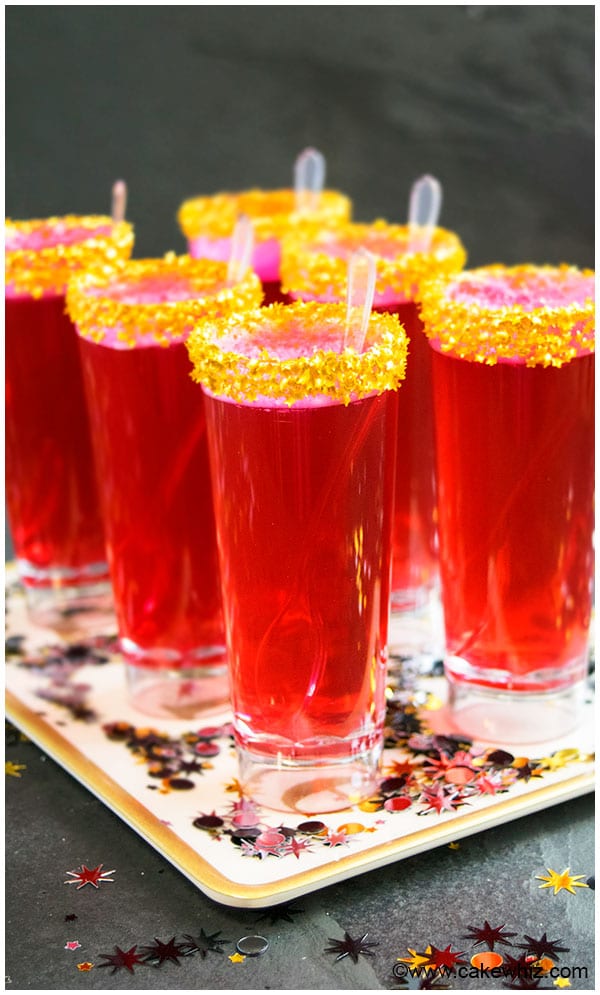 You can serve these champagne jello shots at:
New year's parties
Oscar parties
Weddings
21st birthday partiees
Christmas parties
Bachelorrette parties
Here are some TIPS for making these shots:
Use UNFLAVORED gelatin if you don't want to change the flavor in any way.
You can line the RIMS of shot glasses with sprinkles or even pop rocks.
Instead of shot glasses, you can pour the mixture in molds OR you can even pour them in a square pan and cut slices when the jelly sets completely. Make sure to grease the molds/ pan to prevent jello from sticking.
The number of shots you will get from this recipe will depend on the size of your shot glasses.
Food coloring in entirely OPTIONAL but I think they make them so festive and colorful.
Here are some flavor variations you can try:
Make champagne jello shots with cream soda by replacing ginger ale with cream soda.
Make strawberry champagne jello shots, peach champagne jello shots or even cherry and raspberry champagne jello shots by adding relevant frozen fruits into the shot glasses. Then, pour champagne mixture into each glass.
Make champagne jello shots with pop rocks by sprinkling some pop rocks on top of each shot glass, just prior to serving.
You can use various EXTRACTS to enhance the flavor even further.
Top off each shot with some whipped cream to add a bit of CREAMINESS.

How to make champagne jello shots?
Start off by heating water and gelatin in a saucepan. Once the gelatin dissolves, add champagne and ginger ale. Mix together and then pour into shot glasses. Chill until jello sets and enjoy!
How do you make sparkling jello?
Use sparkling champagne or sparkling cider instead of alcoholic champagne.
How do you make strong jello shots?
Use vodka instead of champagne.
What alcohol can be used in Jello shots?
I used champagne but some people also like to use vodka. Based on my research, it seems like pink moscato champagne jello shots are quite popular.
How long does it take for Jello shots to set in the fridge?
This can depend on how cold you keep your fridge but in general, it takes 3-4 hours.
Can you freeze jello shots to make it set faster?
Yes, you can but it's a little TRICKY. If you leave them inside for too long, they will freeze and become rock solid like popsicles. You need to keep checking on them frequently if you are setting them in the freezer.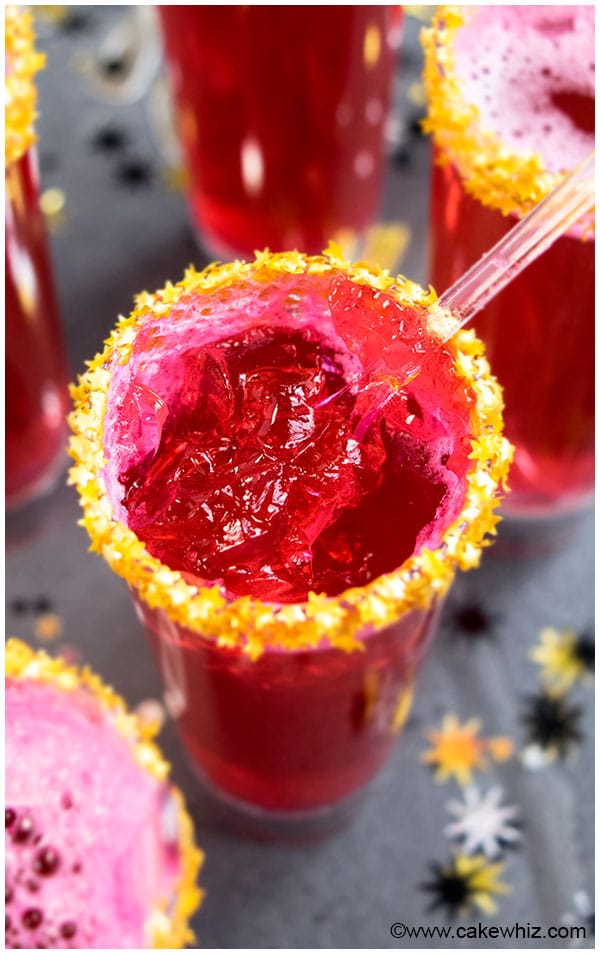 I used Vital Protein's gelatin, which worked wonderfully in these glitter champagne jello shots.
It's UNFLAVORED, which means it won't affect your recipes.
It's also HEALTHY and good for your health with no artificial flavors.
It's also gluten-free, paleo-friendly and whole 30- approved.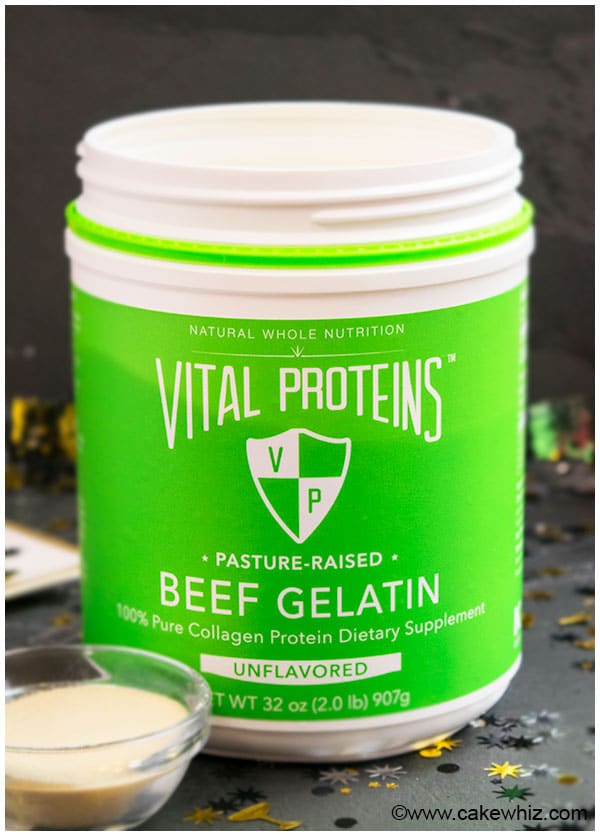 Well, that's all for today.
If you liked this recipe for champagne jello shots, you may like some of these other champagne recipes too:
Champagne Cupcakes with Champagne Buttercream Frosting
Champagne Cookies with Champagne Buttercream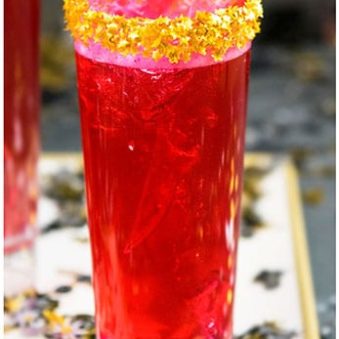 Champagne Jelly Shots Recipe
Quick and easy champagne jello shots recipe, made with a few simple ingredients. Great for serving at New Year's parties with many flavor possibilities.
Yield: Shots
Ingredients
2 tbsp Corn syrup
1/4 cup Edible gold stars, To decorate the rim of glasses
1/2 cup Water
2 tbsp Gelatin, Unflavored
2 cups Champagne
1/2 cup Ginger Ale , Or Sprite Or 7UP
Food coloring, Pink OR Red, Optional
Instructions
Brush corn syrup on the rims of shot glasses and flip them over to a plate, filled edible gold stars until rims are fully coated. Keep aside.

In a non-stick saucepan, add water and gelatin and cook for 2-3 minutes until the gelatin is fully dissolved, stirring constantly.

Remove from heat.

Add champagne, ginger ale and food color (optional) and mix everything together.

Pour into shot glasses. Add a tiny spoon in each glass, if you like,

Refrigerate for 3-4 hours or until jelly sets. Enjoy!
Notes
Non-alcoholic champagne or sparkling cider can be used to make non-alcoholic shots. 
Leftovers can be stored in the fridge for up to 5 days. 
Nutrition
Calories: 32kcal, Carbohydrates: 4g, Sodium: 7mg, Potassium: 27mg, Sugar: 4g, Calcium: 3mg, Iron: 0.2mg
Until next time, tata my lovelies!