This creamy and nutty lightened up mocha almond fudge recipe has no butter and no heavy cream and even includes some pumpkin puree to make it healthy.
Today's easy mocha almond fudge recipe is for all my coffee loving chocoholics out there!
The inspiration for this recipe comes from my mom who is a candy making pro!
My Mom has LOTS of delicious fudge recipes but there's this one kinda "healthy" fudge recipe that I am CRAZY about!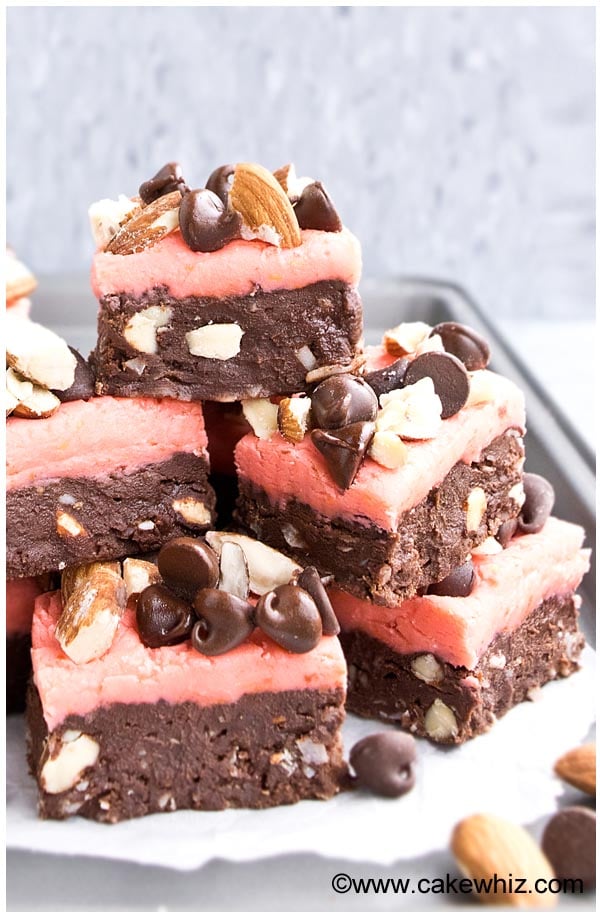 This LIGHTENED UP fudge has NO butter, NO heavy cream and some of the condensed milk is SWAPPED out with pumpkin puree.
YES… pumpkin puree!
It may sound weird but I promise you CAN'T taste or even smell the pumpkin at all!
I modified my mom's recipe slightly by adding espresso powder and made a LAYERED mocha almond fudge.
This fudge is the BEST…It's rich, creamy and nutty and packed with chocolate and coffee flavors.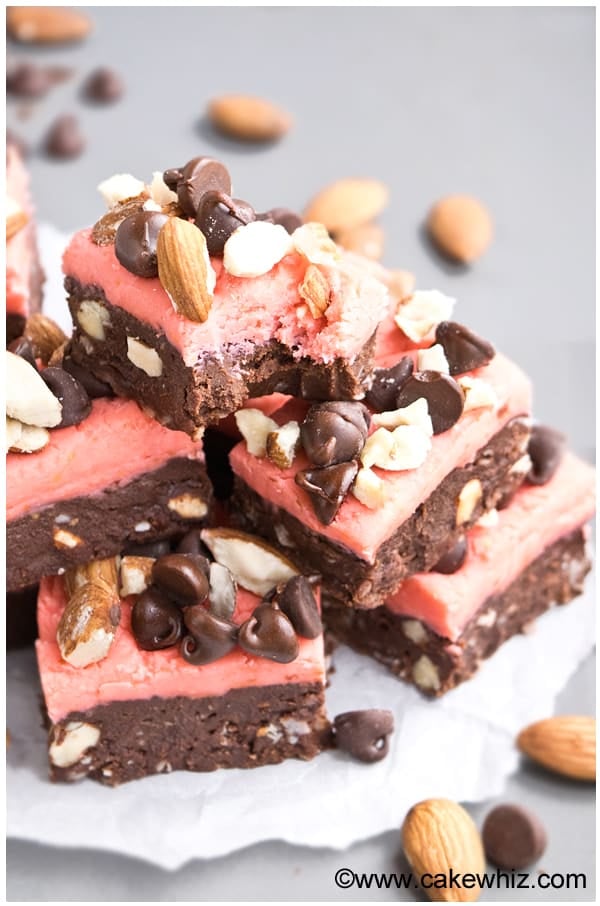 To give this chocolate coffee fudge a pop of COLOR, I added a layer of pink colored white chocolate fudge on top of the mocha fudge.
That made it look very PRETTY.
This fudge is PERFECT for Valentine's Day, Mother's Day and it would also make a wonderful homemade gift for the Christmas holidays.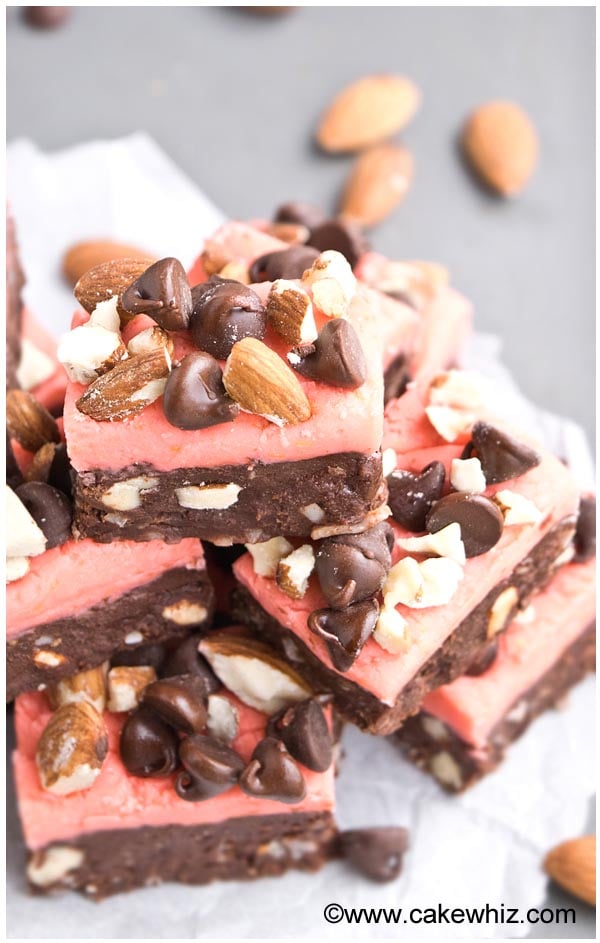 If you liked this mocha fudge recipe, you should check some of these other mocha recipes:
Mocha caramel cookie dough truffles
Mocha pancakes with mocha syrup
Mocha cupcakes with mocha frosting
Mocha whoopie pies
Mocha brownies
Mocha cake roll with raspberries
Mocha smoothie
Mocha crinkle cookiesf

Mocha almond fudge
Author: CakeWhiz
Recipe type: Dessert
Prep time:
Cook time:
Total time:
Serves: 16 pieces
This creamy and nutty lightened up mocha almond fudge recipe has no butter and no heavy cream and even includes some pumpkin puree to make it healthy.
Ingredients
Mocha layer:
3 cups semisweet chocolate chips
1 tbsp espresso powder
¼ cup pumpkin puree
¾ cup condensed milk
⅓ cup chopped almonds and shredded coconut
Pink layer:
3 cups white chocolate chips (or 3 cups of leftover chopped up white/pink chocolate barks)
¾ cup condensed milk
Pink candy coloring
Toppings:
½ cup chopped almonds and chocolate chips
Instructions
Melt the chocolate chips in the microwave.
Add condensed milk and espresso powder and mix again.
Add the pumpkin puree and mix again. The mixture will become thick.
Spread this chocolate mixture into a cake pan (Dimensions: 8x8x2) lined with parchment paper.
Pop this tray in the freezer for 1 hour.
Now, prepare the pink fudge and spread it gently on top of the chocolate layer.
Toss some chopped up almonds and chocolate chips on top.
Chill the pan of fudge in the freezer for about 5 hours.
Once the fudge has set, remove it from the pan and peel off the wax/foil paper.
Use a sharp knife to cut into square pieces.
Notes
- You can omit the pink layer and just make mocha fudge.
- To make the pink layer, you can actually try using different flavors of chocolate (such as peppermint, strawberry, cherry). The recipe will not change at all :)
- If you can't find pink candy coloring, you can use a small amount of red candy coloring.
Well, that's all for today.
Until next time, tata my lovelies!